Whether you celebrate All Hallows' Eve, Samhain or just plain ol' Halloween, October 31 has been commemorated, one way or another, since the days of the druids.
While Halloween's origin is still up for debate, one thing's for sure: the ghoulish holiday has been around for hundreds of years and shows no sign of slowing down anytime soon.
In fact, fans of the black and orange-themed holiday spend around $10 billion a year on costumes and candy, as well as decorations, many of which are throwbacks to vintage Halloween decorations from days gone by.
Before there were 12-foot skeletons and inflatable vampires for the lawn, celebrants used either what they had around the house — like apples, pumpkins and bedsheets — or made their own decorations from scratch.
Decades later, those retro looks are the basis for a new wave of Halloween accessories and costumes that pay tribute to the past.
To help inspire a few crafty ideas of your own, we've gathered some of our favorite vintage Halloween decor photos, featuring charming black cats, glamorous witches, old-school jack-o'-lanterns and even a few creepy images scary enough to make you sleep with the lights on.
So, kick back, add a few old-timey tunes to your Halloween playlist and prepare to take a stroll down (spooky) memory lane.
1865: Pumpkinhead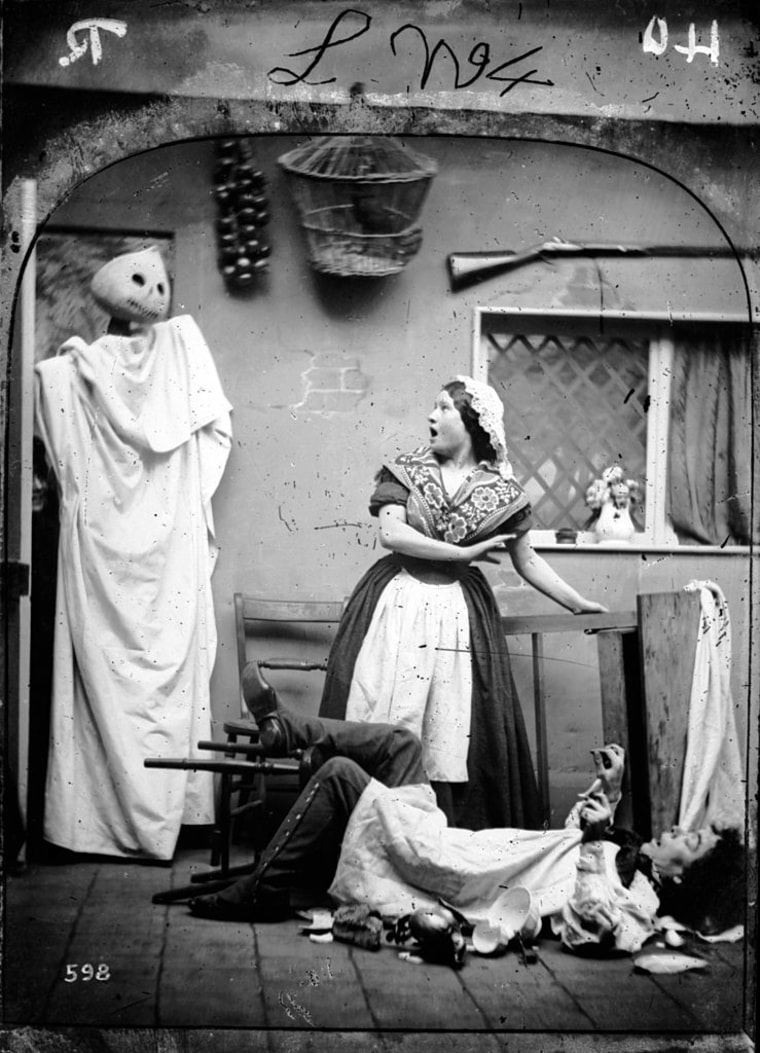 We'd totally fall over in fright if this Pumpkinhead apparition showed up in our kitchen. This photo dates back to 1865, which just goes to show we've been scaring ourselves silly for centuries.
Early 1900s: Carved pumpkins and apples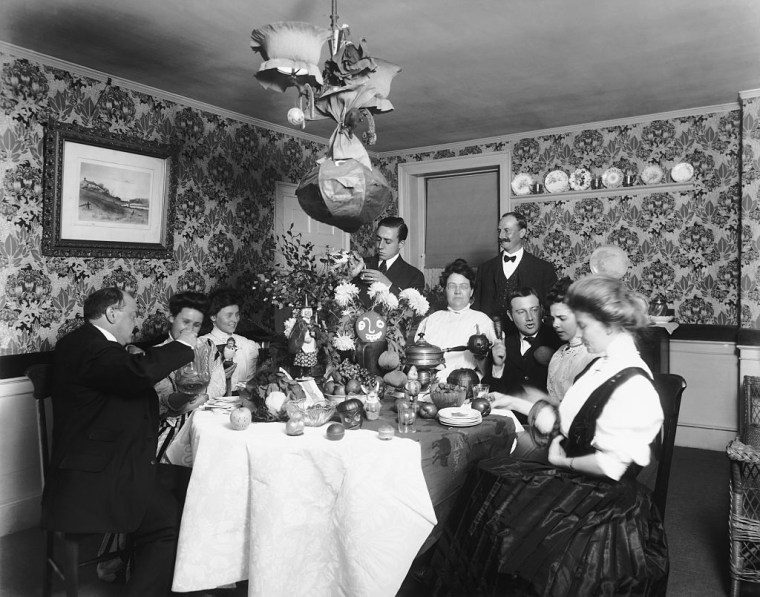 Talk about a well-dressed table! They added height to their table display by mixing fresh florals with carved pumpkins and apples. Any guesses on what's hanging from the light?
Early 1900s: Vintage Halloween fireplace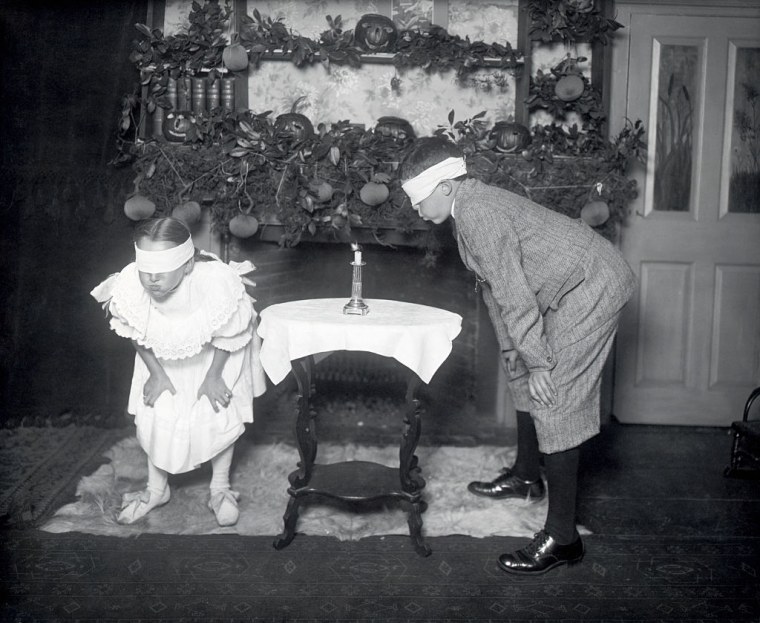 Here, we see children engaged in the old American Halloween tradition of trying to find a lit candle, then blowing it out all while being blindfolded. It's the decked-out fireplace behind them, however, that has our attention.
1910: Creepy skeleton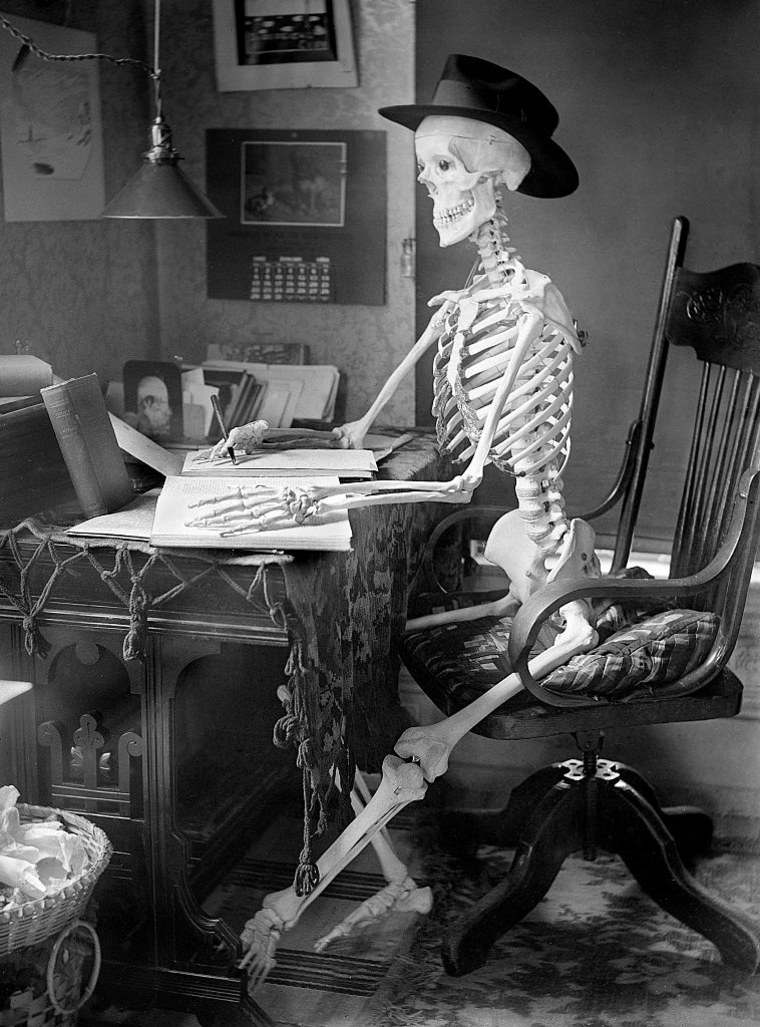 Welp, this pretty much sums up how we all feel after sitting at our desk for hours. This skeleton looks like the real deal, top hat and all.
1920s: Witchy pumpkin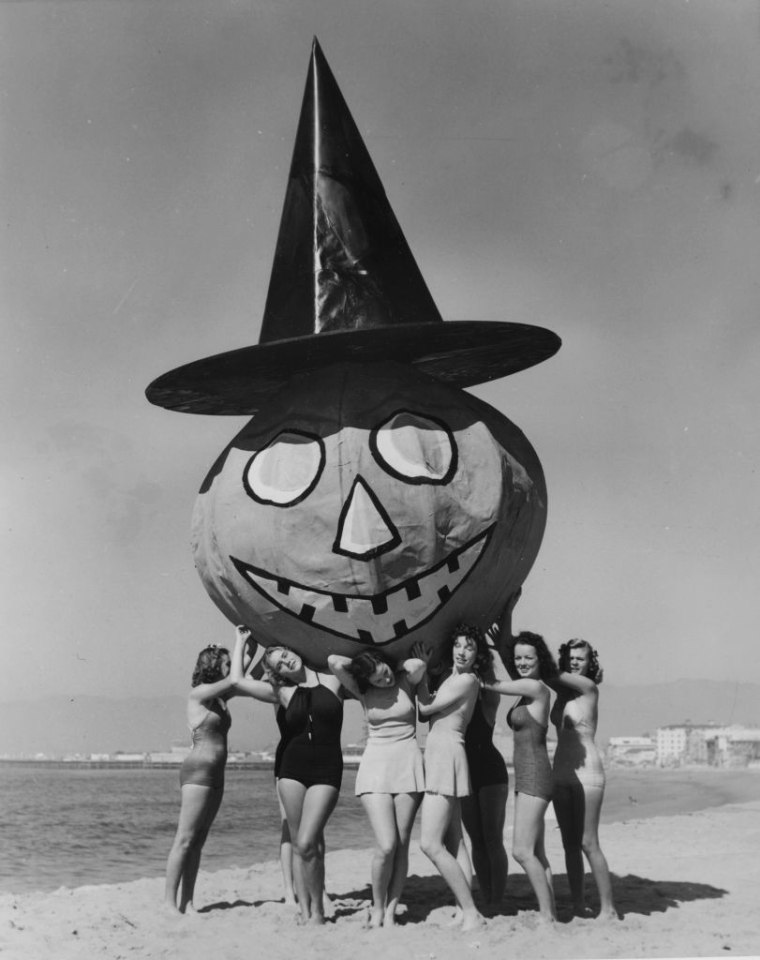 No day at Venice Beach is complete without … a giant jack-'o-lantern? We're totally down for this witchy pumpkin at the beach or anyplace else for that matter.
1927: Glowing jack-o'-lantern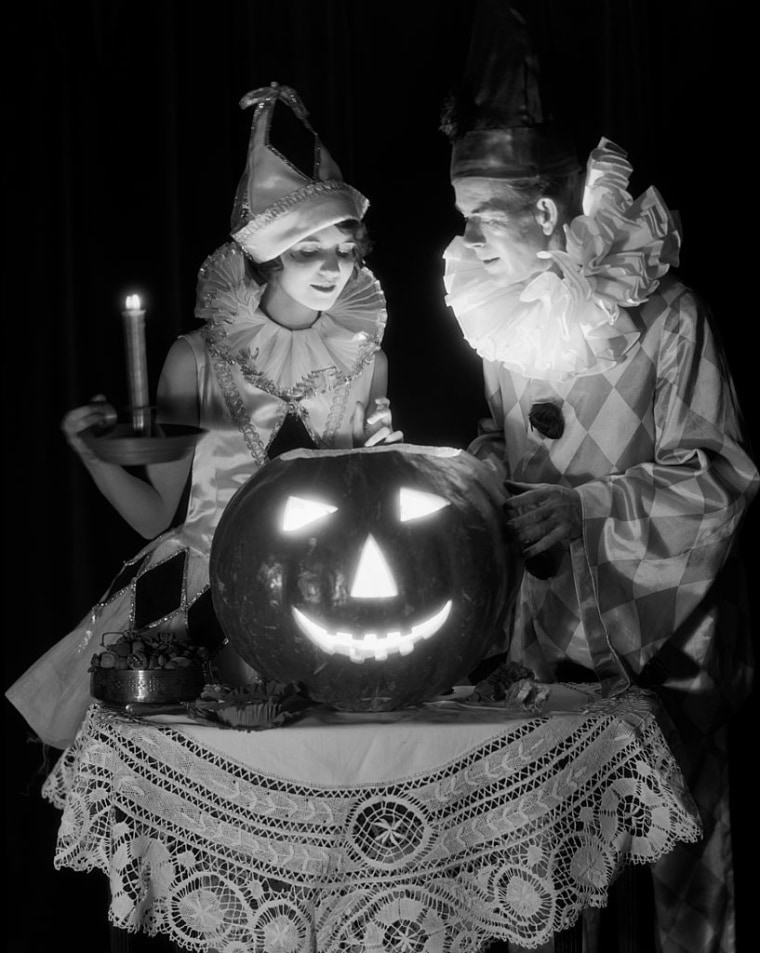 This jack-o'-lantern really casts a glow. The lace tablecloth completes the look — and really makes the carved pumpkin pop.
1928: Fancy Halloween party
You can practically hear a big band playing in the background. We're swooning over these outfits ("The Great Gatsby," anyone?) at this Halloween dinner party. See if you can spot the devil hiding in the corner.
1929: Halloween backdrop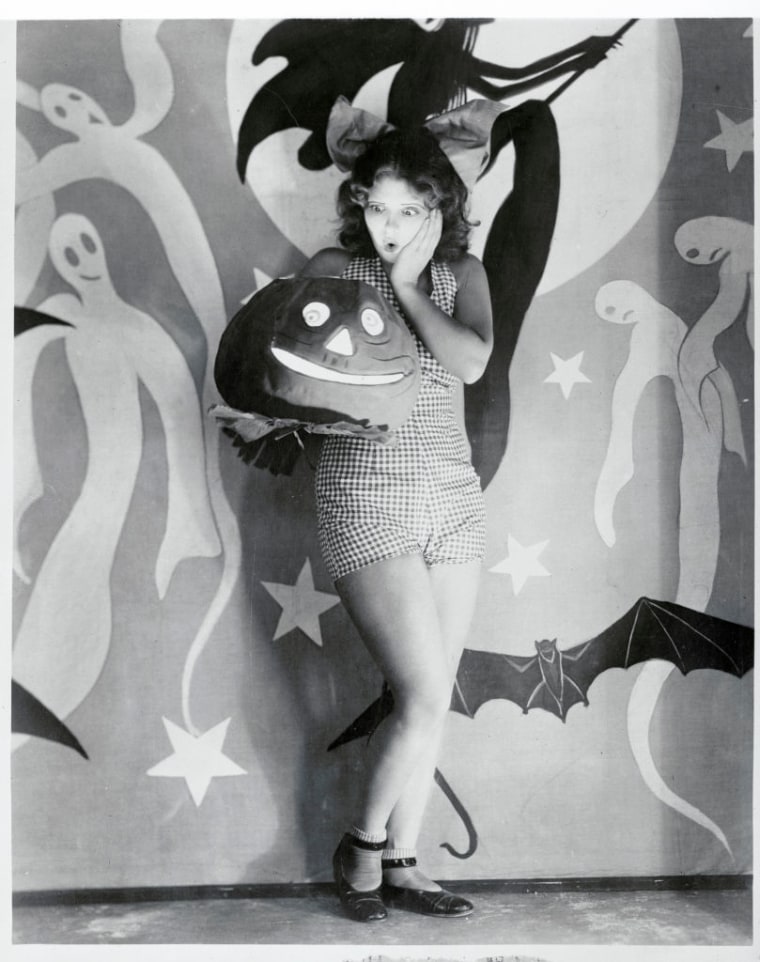 Actress Clara Bow was the "It Girl" in her day — and she had the style to prove it. Her pin-up style may have stolen the show, but the ghosts and witches in the background still catch our eye.
1930s: Halloween staples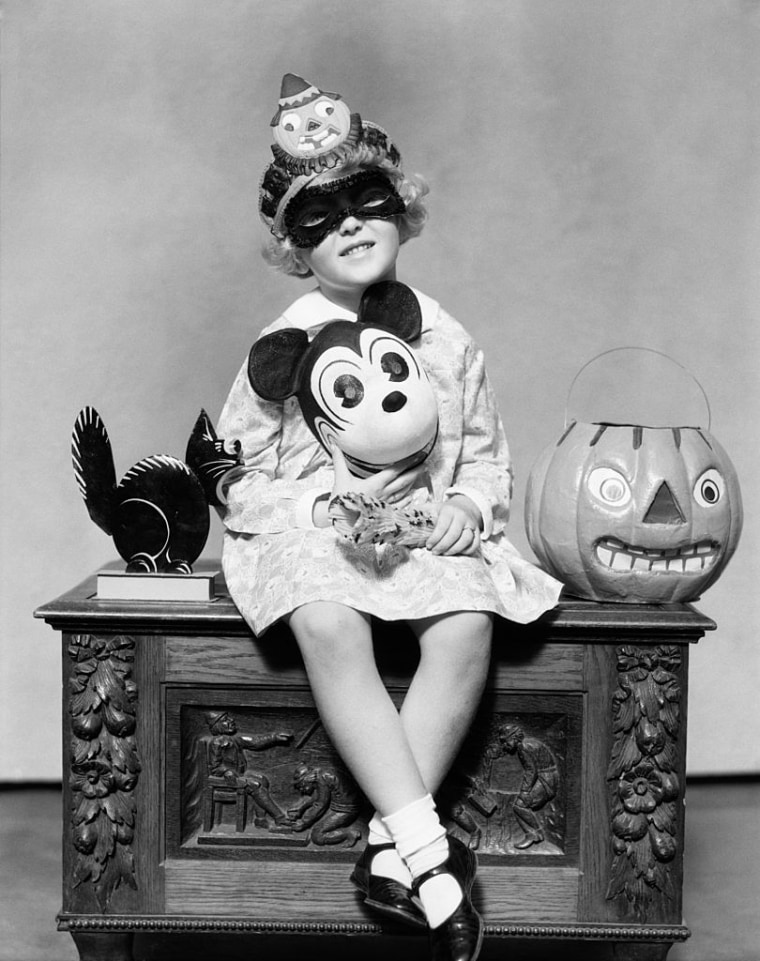 Every vintage Halloween decoration in this photo gets a trophy, especially the little girl's festive headband and the black cat cut-out beside her.
1930s: Paper-mache pumpkin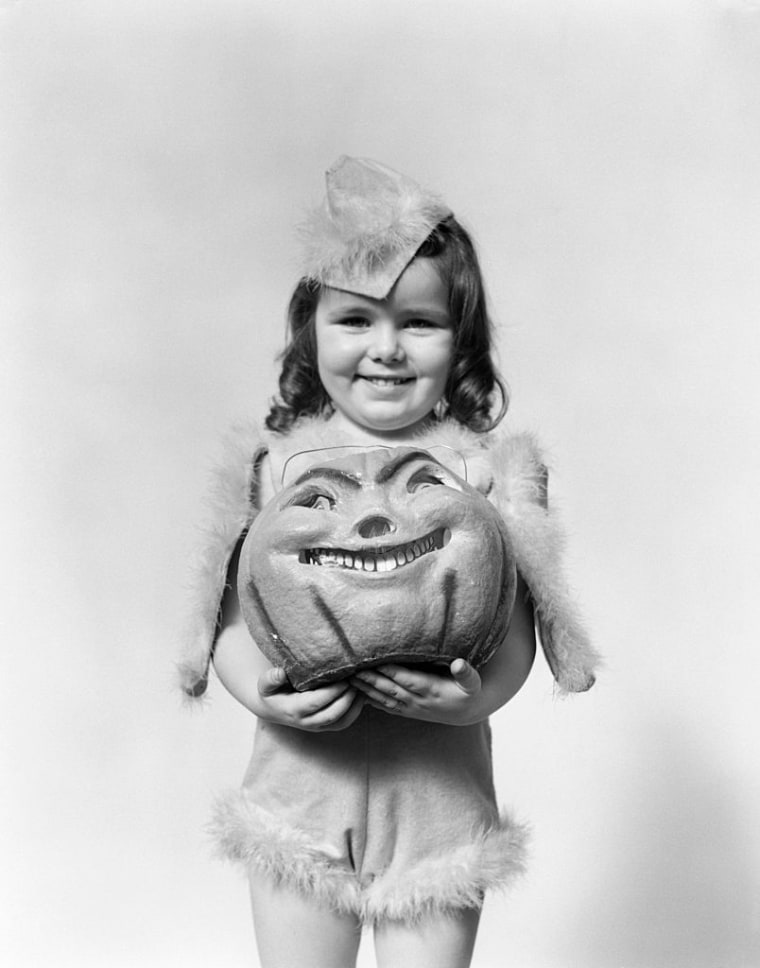 We're not exactly sure what this little girl is dressed up as for Halloween, but the paper-mache pumpkin she's holding is outstanding.
1930s: Vintage Halloween painting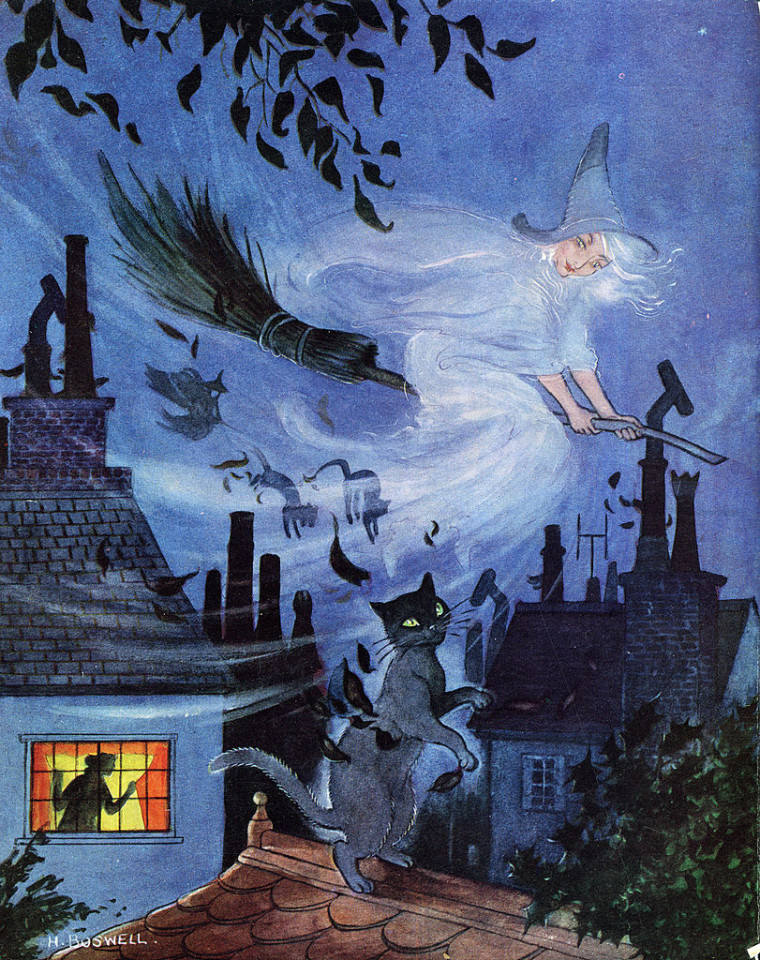 This painting by H. Boswell captures the holiday's hallmarks: a beguiling witch on a broomstick, bevy of black cats and a spooky Halloween night.
1935: Cat tablecloth and spooky accessories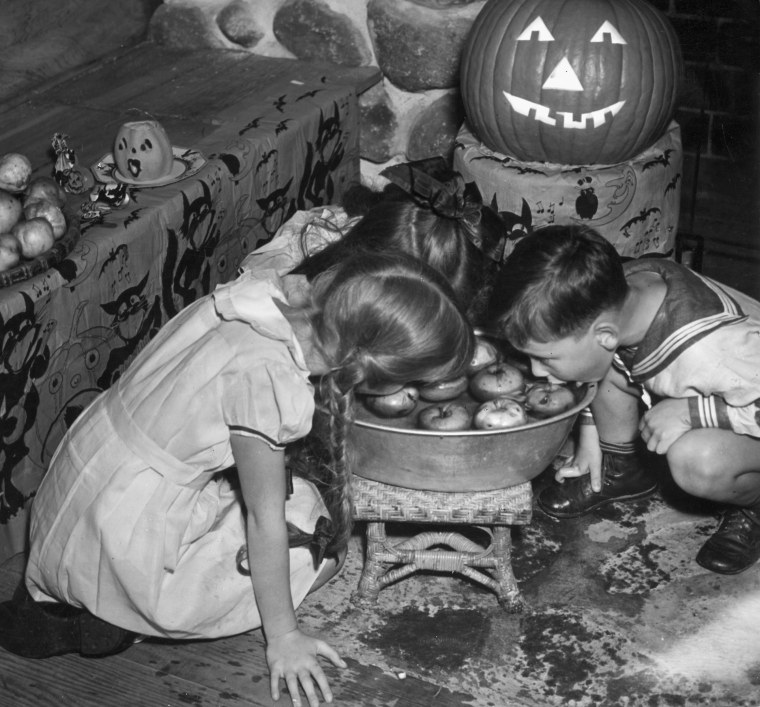 Behind these kids bobbing for apples (the Halloween activity of choice back in the day), you'll see the whimsical Halloween tablecloth complete with a black cat playing a banjo and an assortment of accessories including a headless horseman and pumpkin candle holder.
1935: Simple pumpkin centerpiece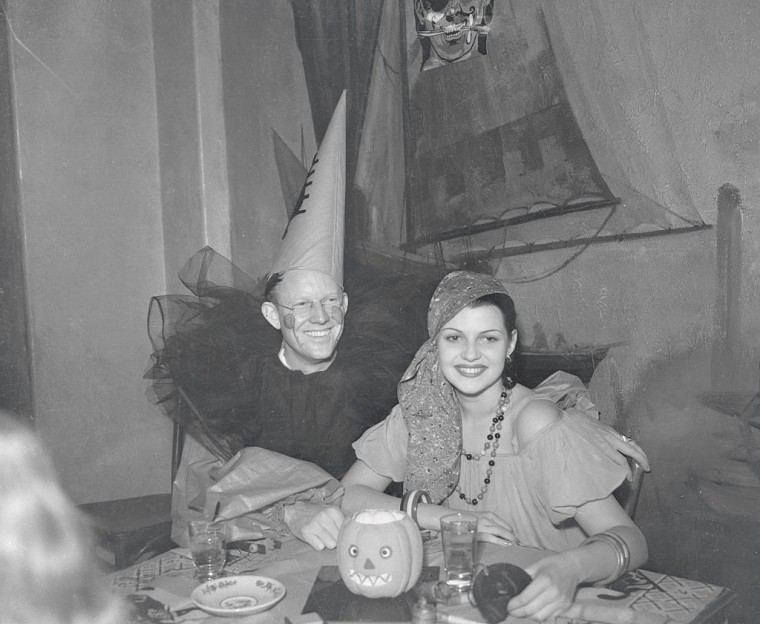 No clowning around here: That's Rita Hayworth at a Halloween party in 1935. Although understated, the pumpkin centerpiece adds a festive finish.
1935: Movable skeleton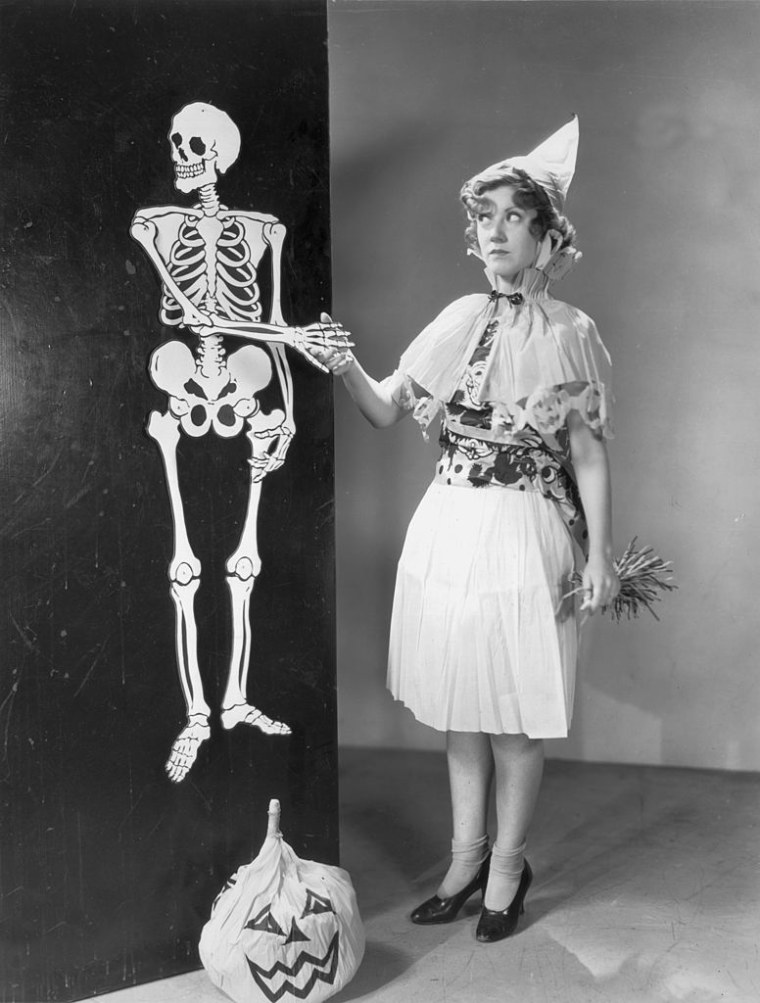 Oh, hello! Although this woman doesn't look too sure about shaking hands with Mr. Bones, we think he looks friendly ... enough.
1935: Flying skeletons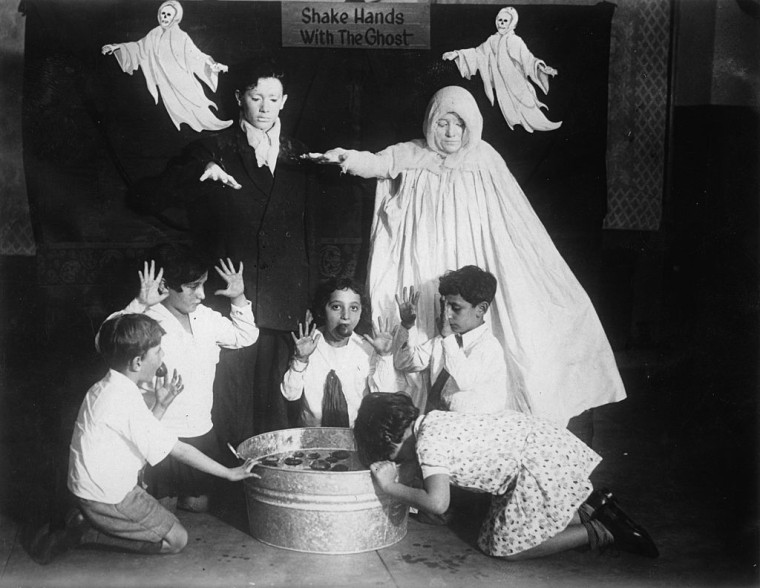 We definitely don't want to shake hands with the ghost in this photo. We will, however, take the two flying skeletons in the background.
1939: Giant jack-o'-lantern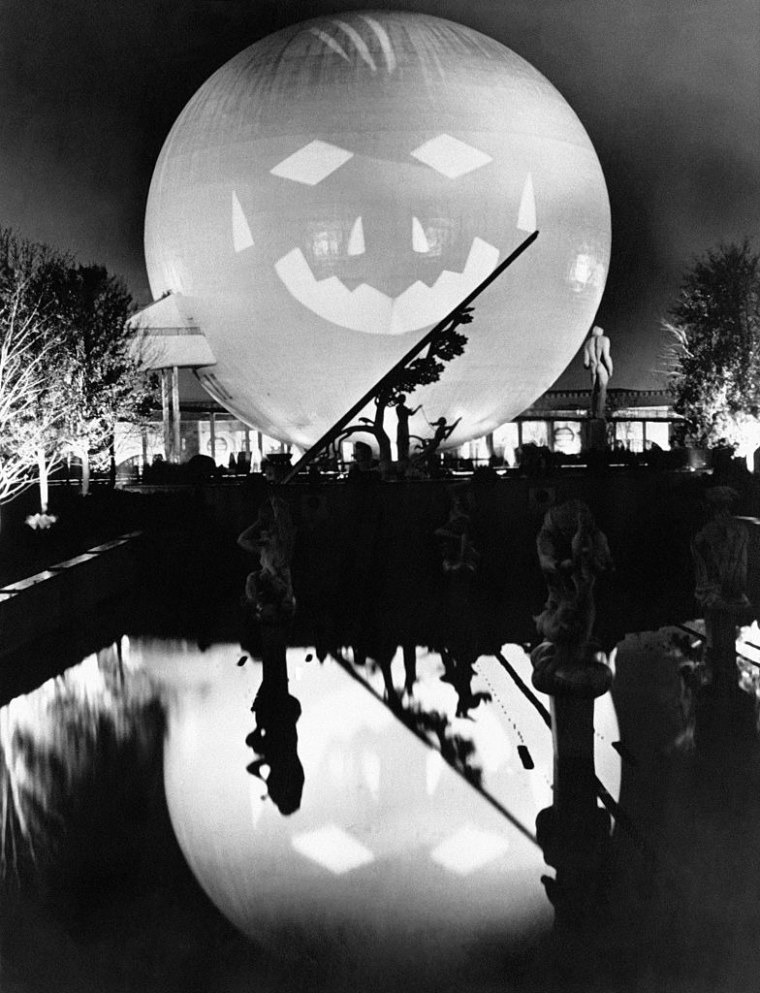 This giant jack-o'-lantern was set up at the New York World's Fair in 1939. Some inspiration for your front yard, don't ya think?
1940s: Classic Halloween decorations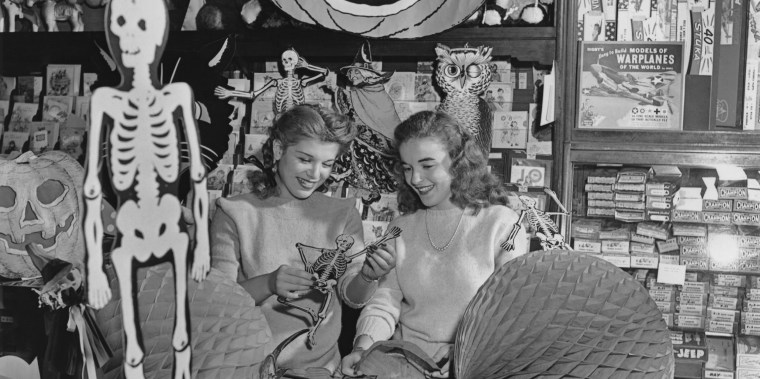 We'll take one of everything! There's a giant pumpkin, black cat, winking owl and plenty of other holiday haunts.
1945: Pumpkin trick-or-treat bucket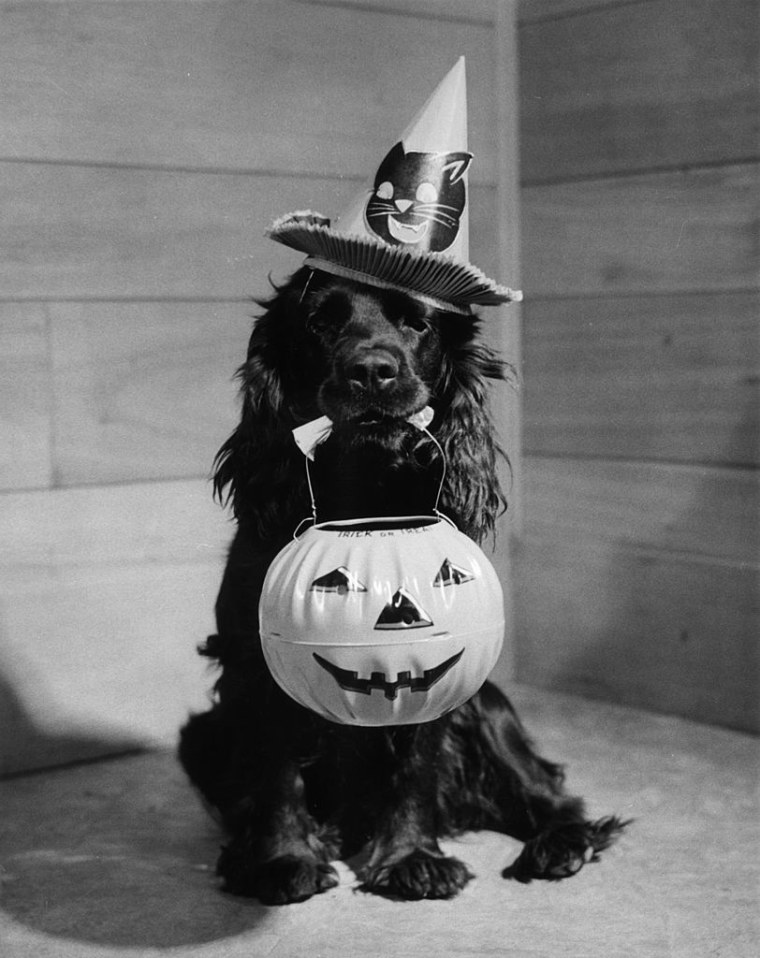 Puppies and Halloween go together like trick-or-treating and candy! This cute pup joined in the fun by wearing a party hat and carrying a sweet pumpkin bucket for treats.
1948: Scarecrow and cat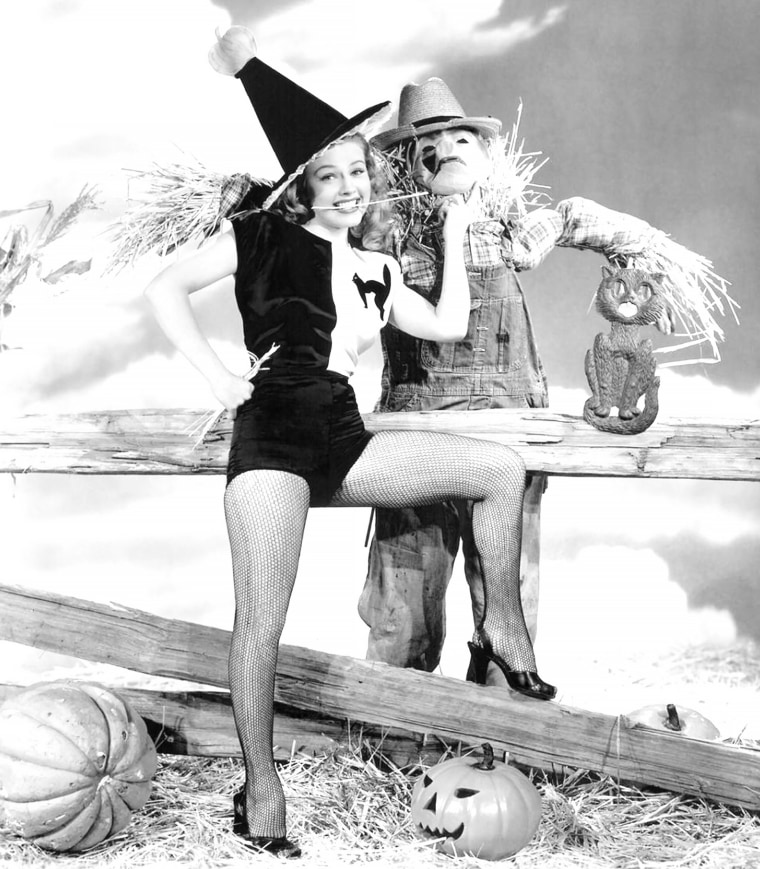 Actor Barbara Bates poses with a traditional scarecrow outfitted with a flannel shirt, corn pipe and straw hat. The cute (but surprised) cat makes the ideal companion for Bates' black and white witch costume.
1955: Winking moon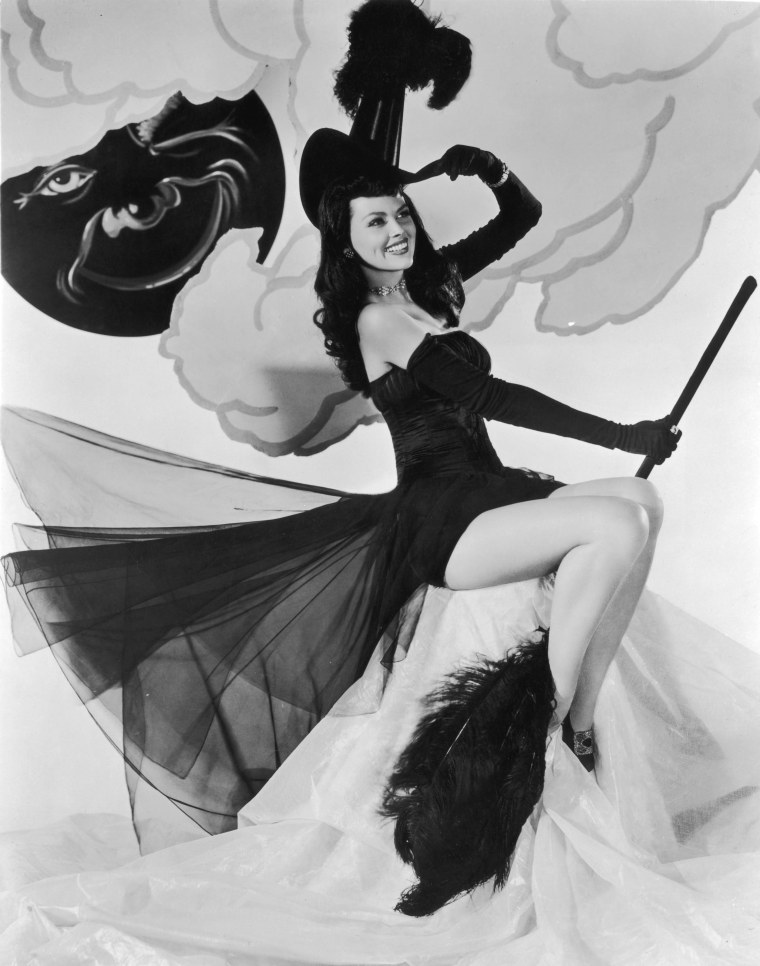 Actor Dusty Anderson takes flight aboard a feather broomstick and ends up with her head in the clouds. She's joined by a sassy moon decoration who gives the witch a cheeky little wink.
1955: Black cats, pumpkins and a witch's hat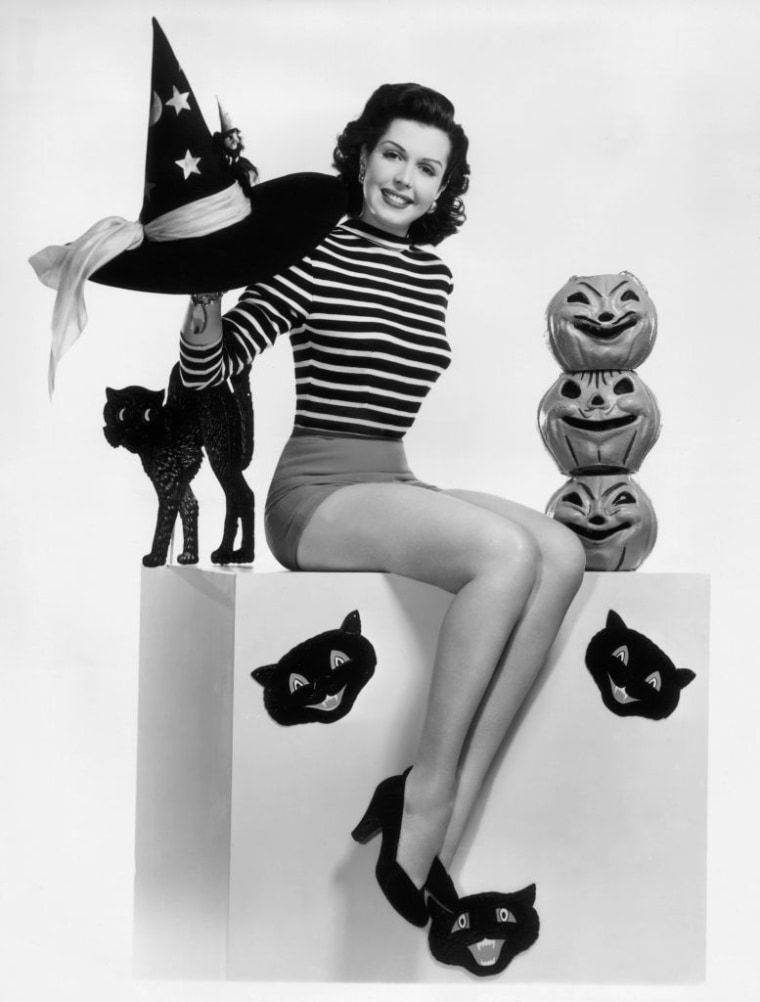 Actor and dancer Ann Miller delightfully poses with a stack of grinning pumpkins and a collection of black cats. However, it's the witch's hat that really has us bewitched.
1955: Halloween pumpkin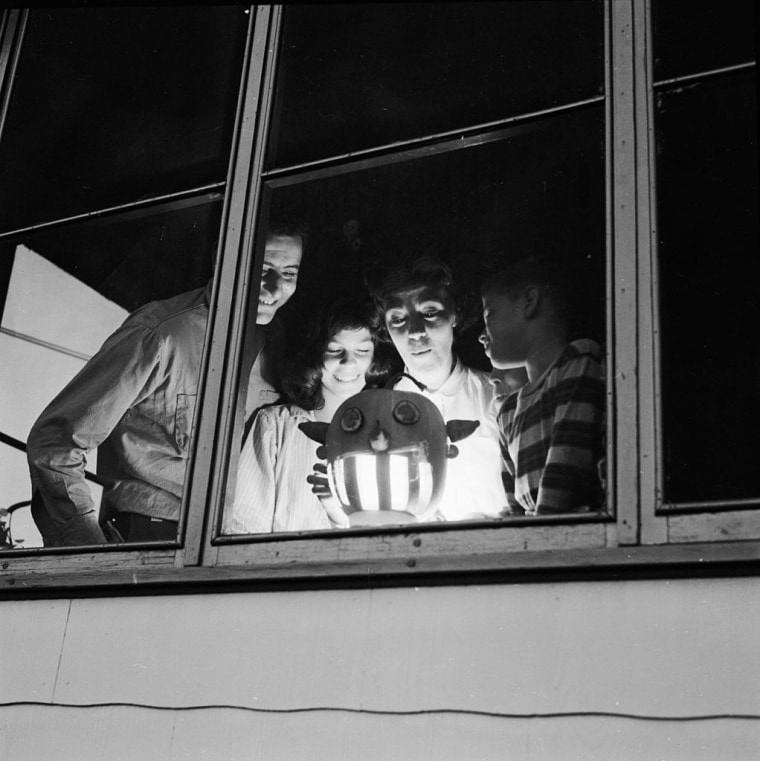 The family surrounding this glowing jack-o'-lantern doesn't looks ... happy? That's rare, especially on a day as spooky as Halloween.
1955: Vintage trick-or-treat bags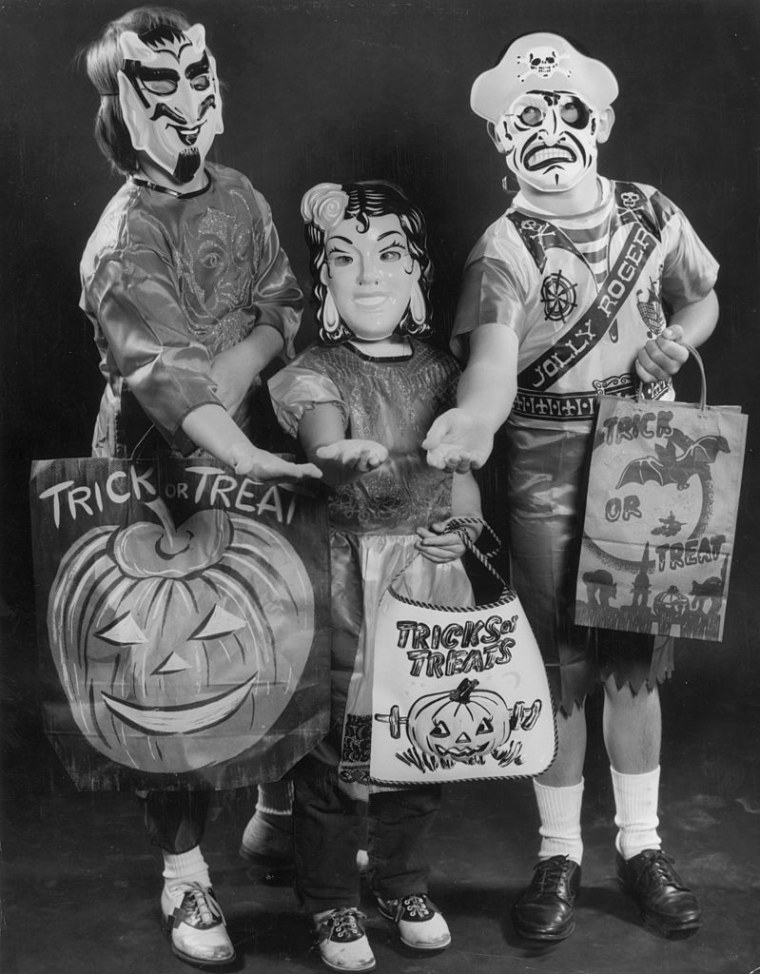 Ding-dong! Look out, the Jolly Roger and the devil are knocking at your door! Back in 1955, these trick-or-treaters stashed their candy in paper and cloth bags.
1956: Eerie entrance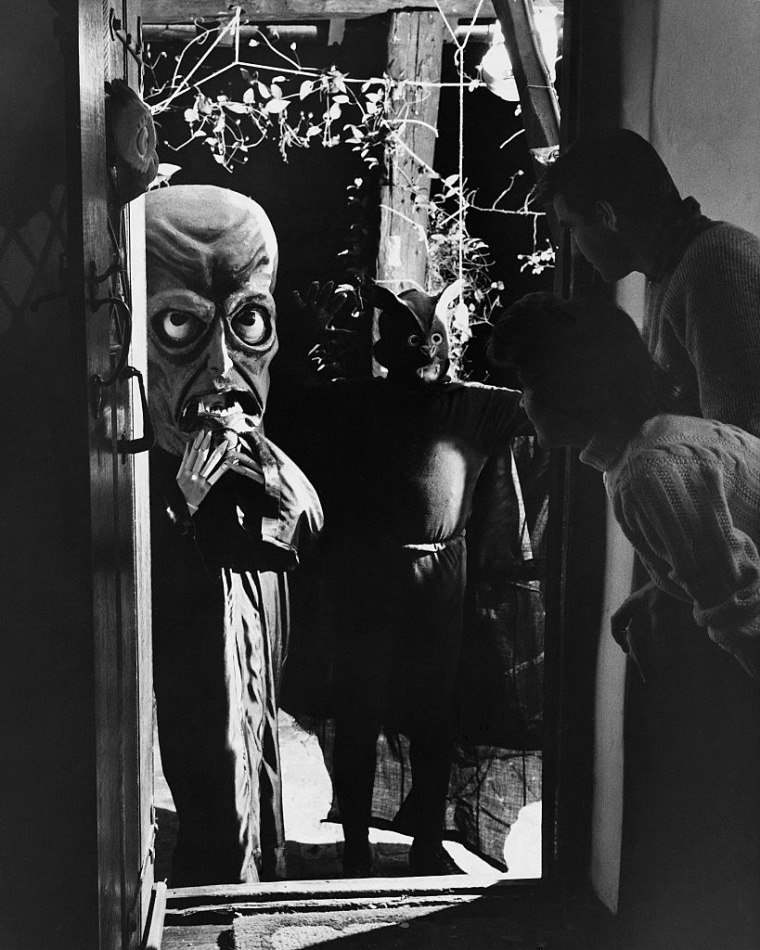 Here's hoping that this pair of ghouls skips ringing your doorbell this Halloween. Scary costumes aside, we love the look of the spooky branches in the doorway.
1957: Vintage Halloween table setting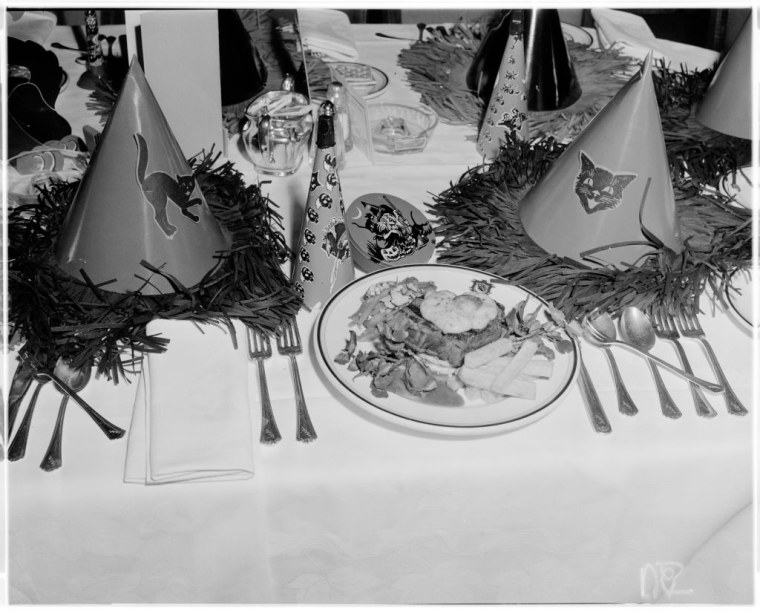 It's time to get the party started! Taken at a 1957 Halloween party held at the Los Angeles Athletic Club, these witches' hats and party horns double as tabletop decorations.
1958: Carved pumpkin display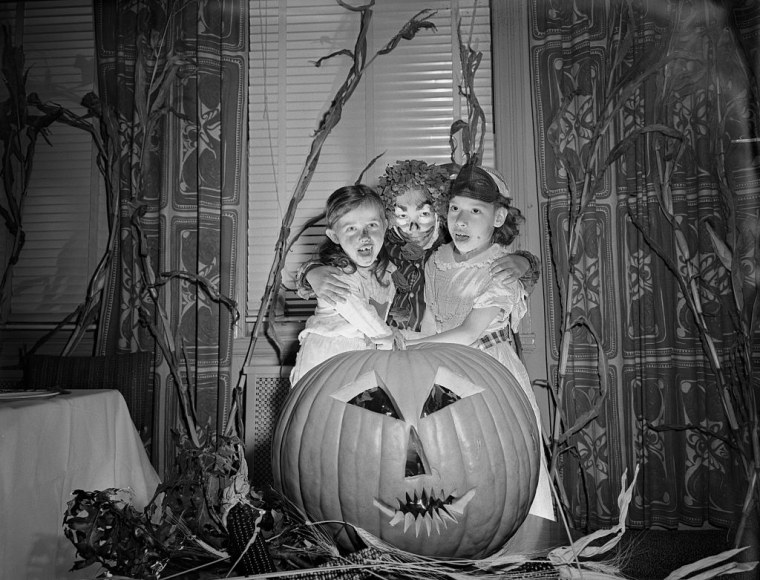 First question: Where do you even find a pumpkin this big? Second question: How long did it take them to scoop out the guts before carving? Either way, it looks amazing nestled among the corn stalks.
1959: Carved pumpkin trio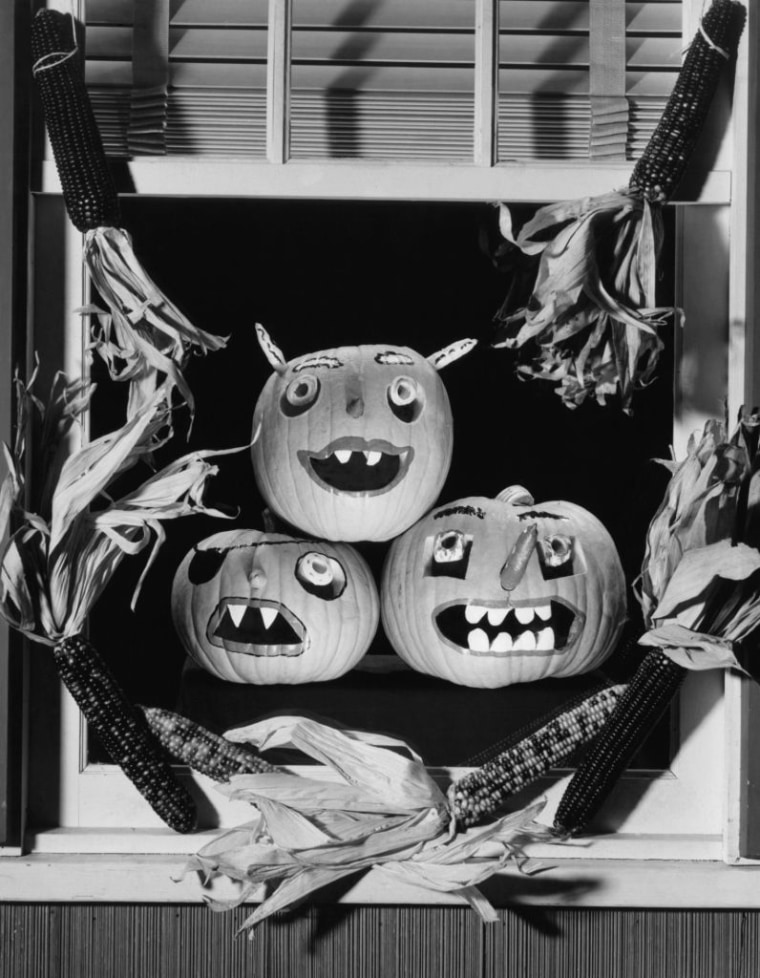 These jack-o'-lanterns guarding the window are way scarier than anything you can make with your basic pumpkin carving kit. The dried corn is a nice finishing touch.
1960s: Corn husks and Flint corn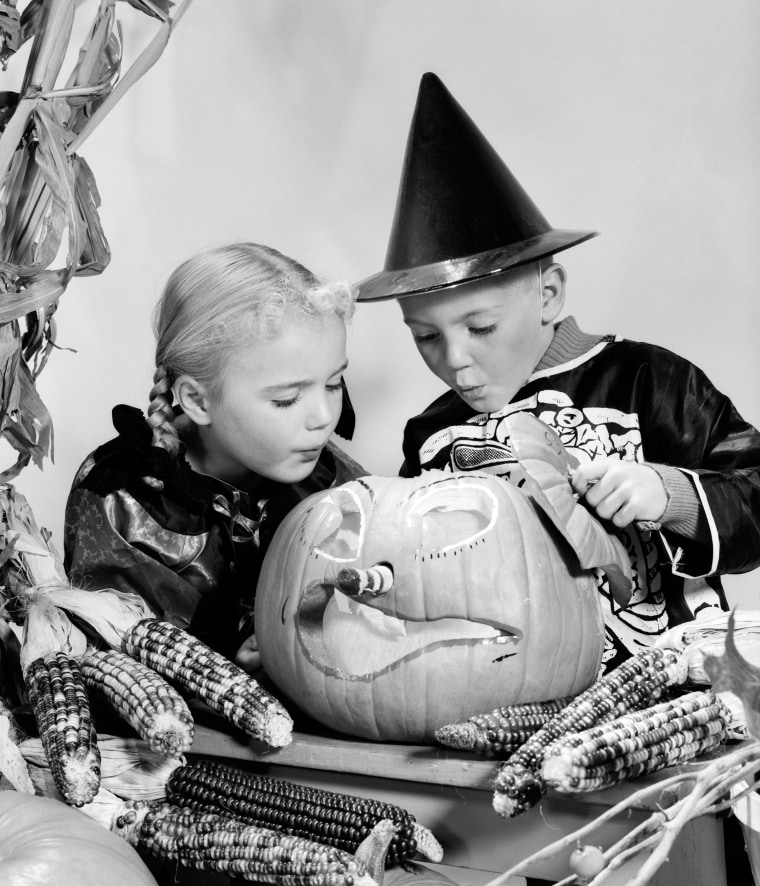 What's in the creepy jack-o'-lantern that has this pair so enchanted? We may never know. But take a look at the corn stalks and the Flint corn around them. Using corn to decorate for Halloween remains a popular tradition to this day.
1967: Cute Halloween cut-outs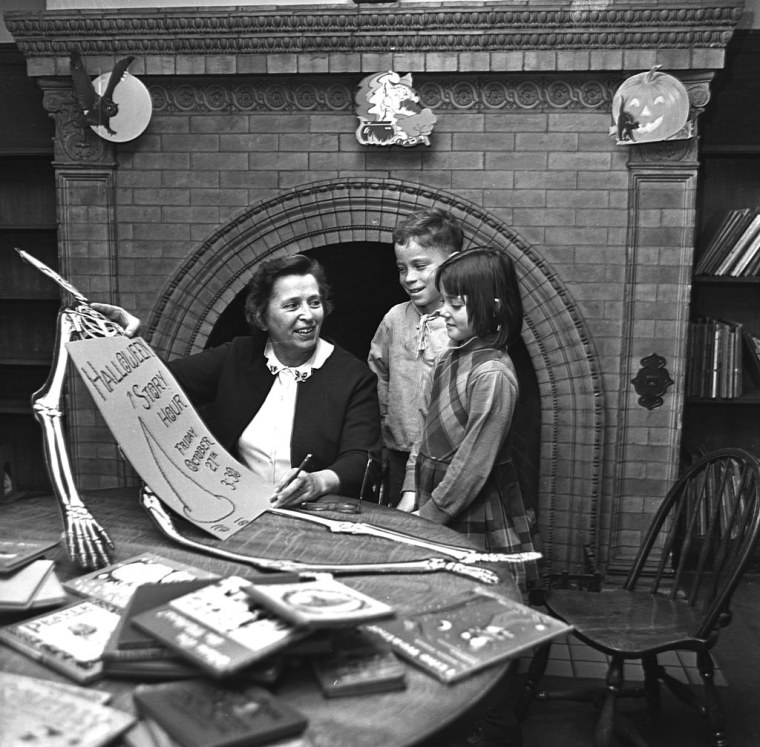 The charming cut-outs on the fireplace were standard fare when this photo was taken back in 1967 at the Baxter Library in Portland, Maine.
1970s living room decor
For full disclosure, this vintage Halloween photo isn't vintage, it's actually pretty recent. That said, with its crepe paper cutouts, streamers, barrel full of apples and wood paneling, this image perfectly captures what Halloween decorating was like in the 1970s.
1977: Vintage Halloween masks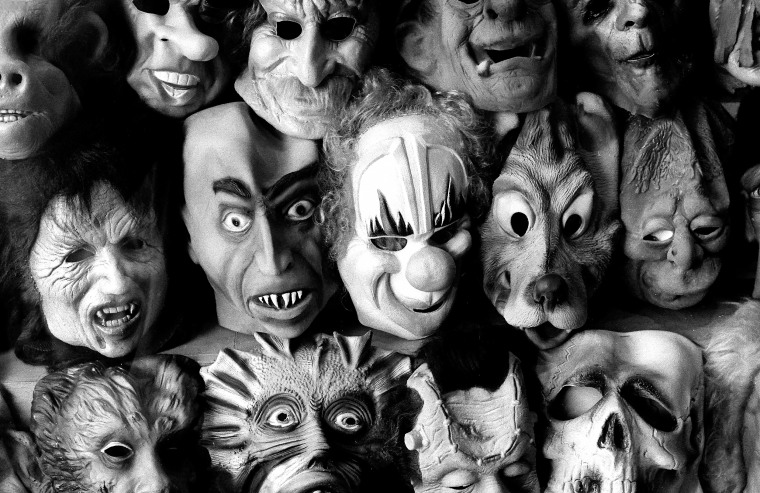 Throw a couple of these '70s masks, which include a creepy clown and old-school werewolf, in your window and the trick-or-treaters will be screaming in delight ... or terror.