For adults, Valentine's Day is all about the romance. But for kids? It's just an excuse to break out sugary-sweet candies, heart-tastic craft kits and festive games.
While you can always go and buy a game at the store, these DIY Valentine's Day games are made with love — and that's what the holiday is all about, right? Take some time before the sugar-crazed chaos sets in to embellish bingo boards, Jenga blocks or scavenger hunt clues with hearts (edible or otherwise), and all things red and pink.
Sure, most of the ideas on this list are geared toward the littlest valentines in your life (say, toddlers, school-age kids and tweens), adults will certainly get a thrill out of playing a round of Valentine's Day-themed trivia, "Family Feud" or another game of your choice.
It's not all fun and games, though. A lot of these DIY ideas incorporate some lovey-dovey messages and encourage participants to spread a little love as they play.
Want to up the ante? Pick up a few extra boxes of chocolate truffles, cards, sticker sheets or kid-friendly gifts to dole out to the winners. Because there's nothing anyone loves more than taking home a prize.
Love game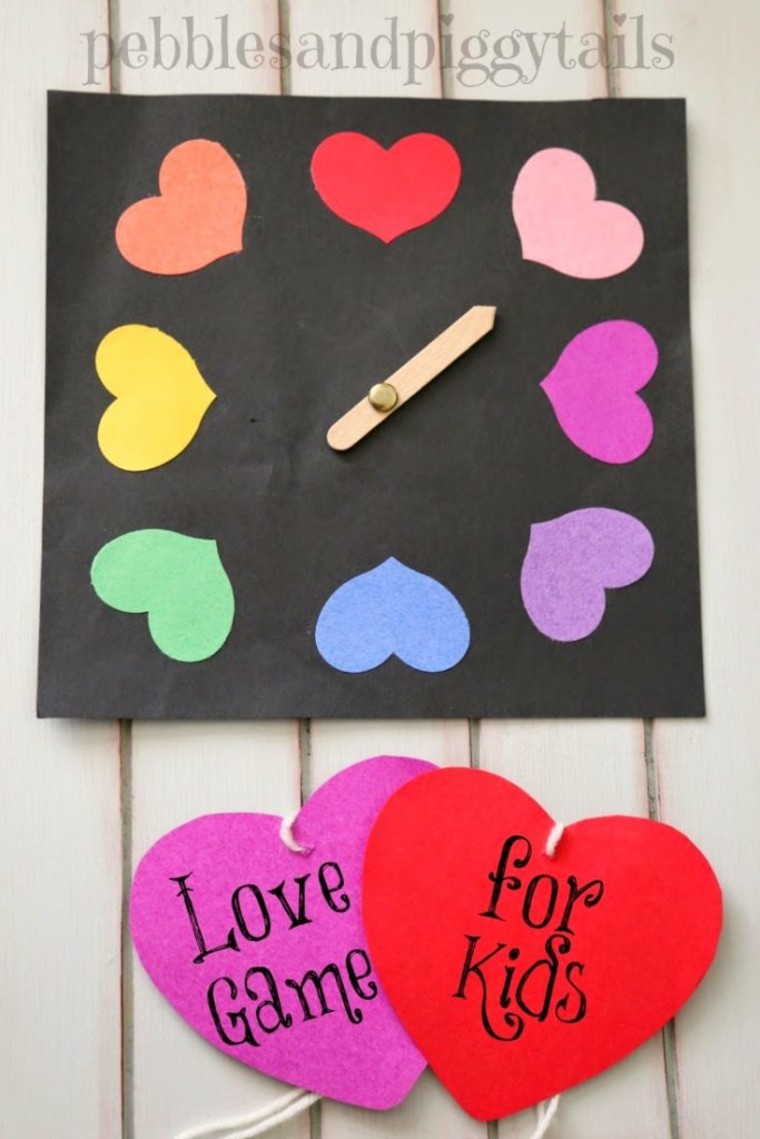 Give each person a colored heart to hold (or string around their neck), then pay 'em a compliment when the spinner lands on the matching color.
Get the tutorial at Making Life Blissful.
Conversation hearts bingo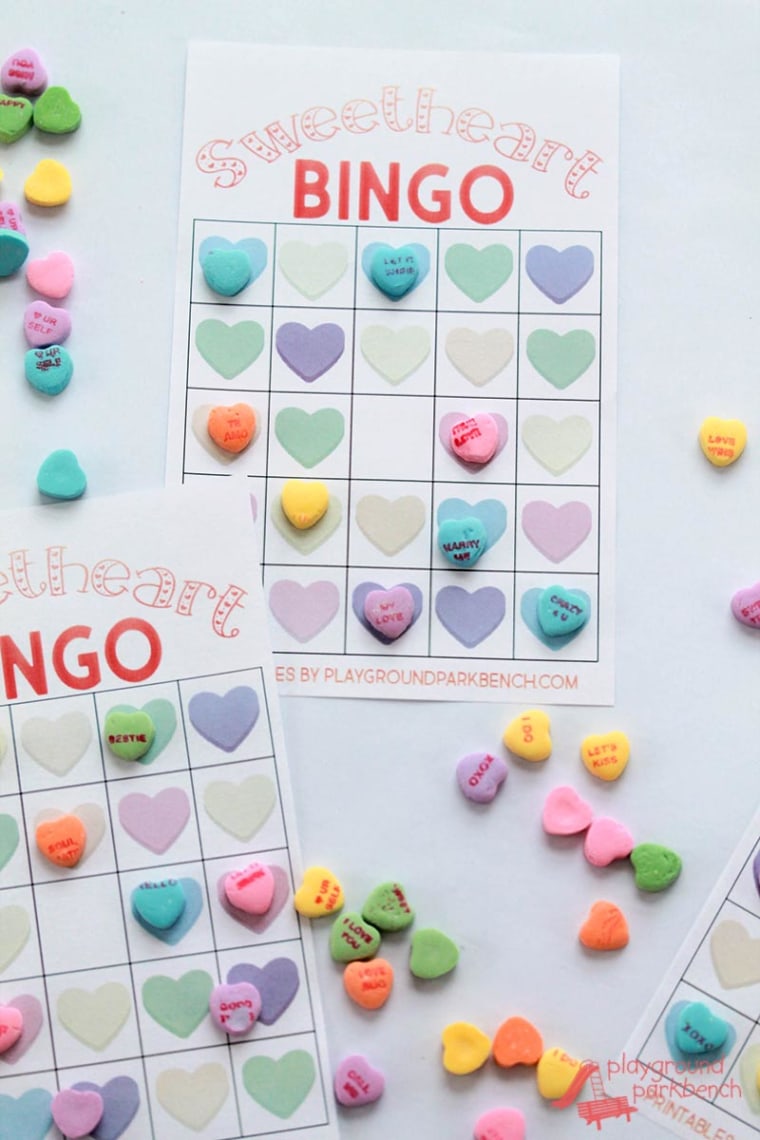 Now, here's the sweetest game of bingo we've ever seen. Draw hearts at random and have kids match the candies to the hearts on their board — or if you want to kick things up a notch, include the phrases on the board so kids have to match the phrase and the color.
Get the tutorial at Playground Parkbench.
Valentine's Day trivia game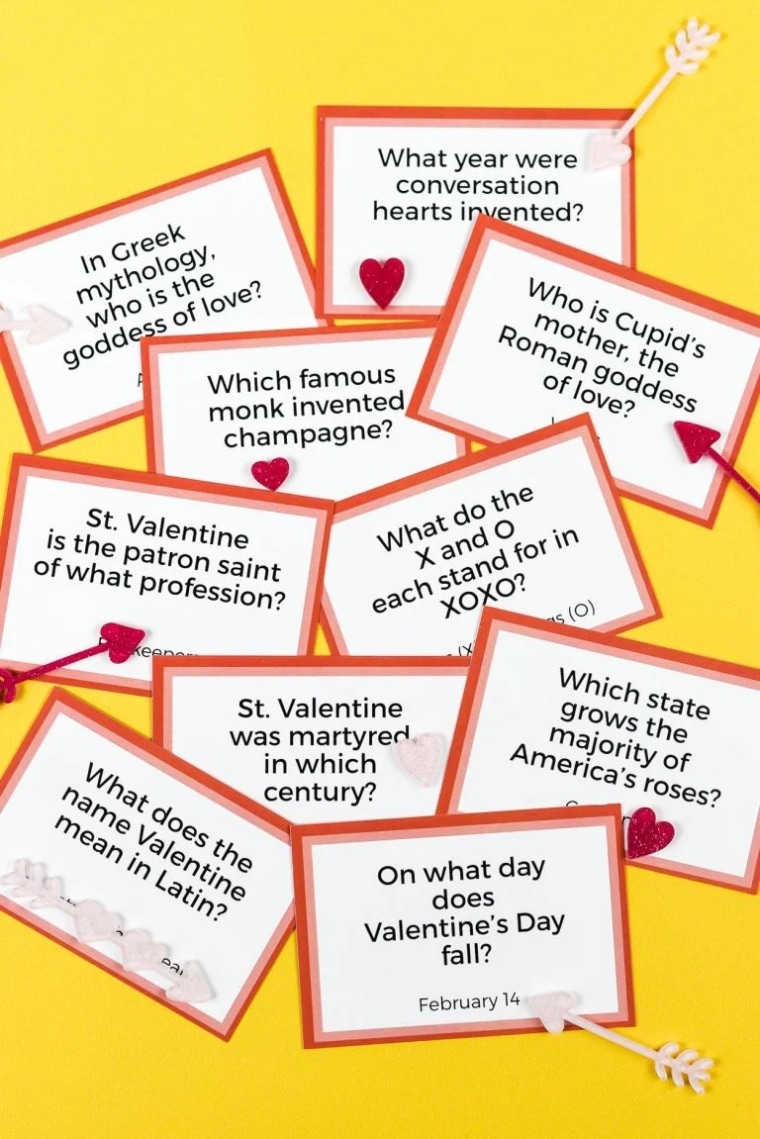 Looking for a Valentine's Day game to play with your big kids, co-workers or friends? Whip out this printable trivia game to test your knowledge about the romance-filled holiday.
Get the tutorial at Hey, Let's Make Stuff.
Tumble game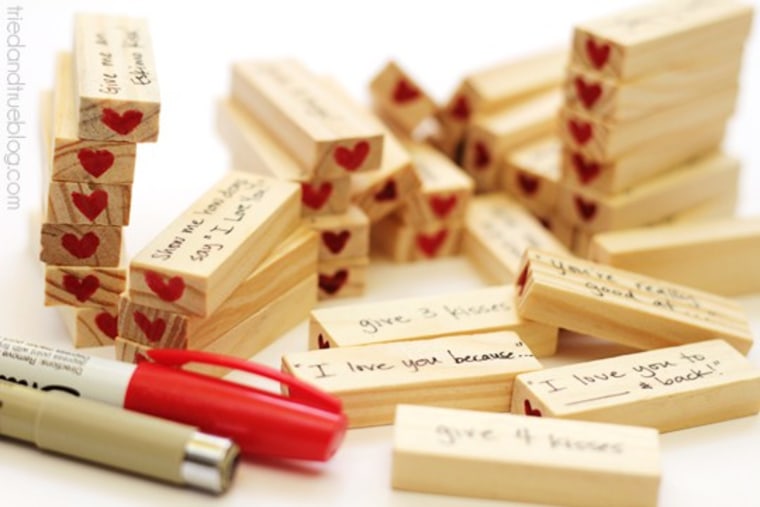 Here's a new version of Jenga that your kids are sure to love. Decorate wood blocks with red hearts and add sweet instructions to each one. When someone pushes out one of the blocks, you'll follow the handwritten instructions, answering prompts like "How much do you love me?" or "Give me one kiss."
Get the tutorial at Tried & True Creative.
Punch board game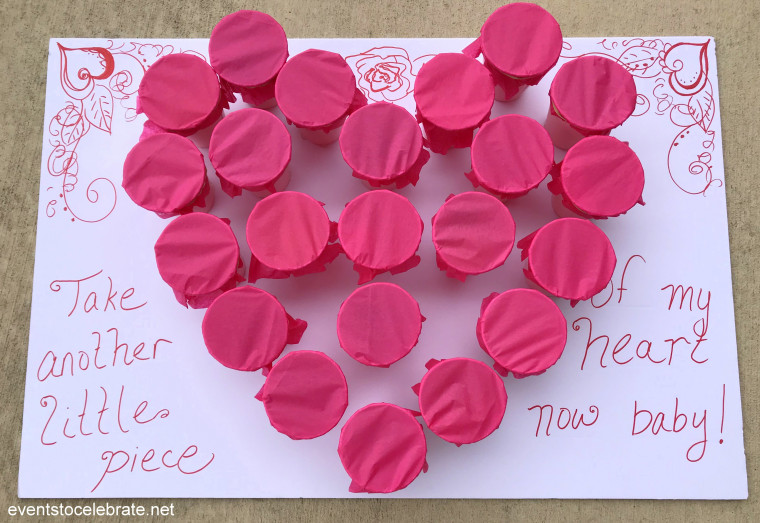 Here's a great Valentine's Day game to play in the classroom! Place toys and treats in pink paper cups, cover them with tissue paper and glue them to pre-cut foam board. Each child will take a turn "punching" the paper to win a prize.
Get the tutorial at Events to Celebrate.
Mittens and kisses game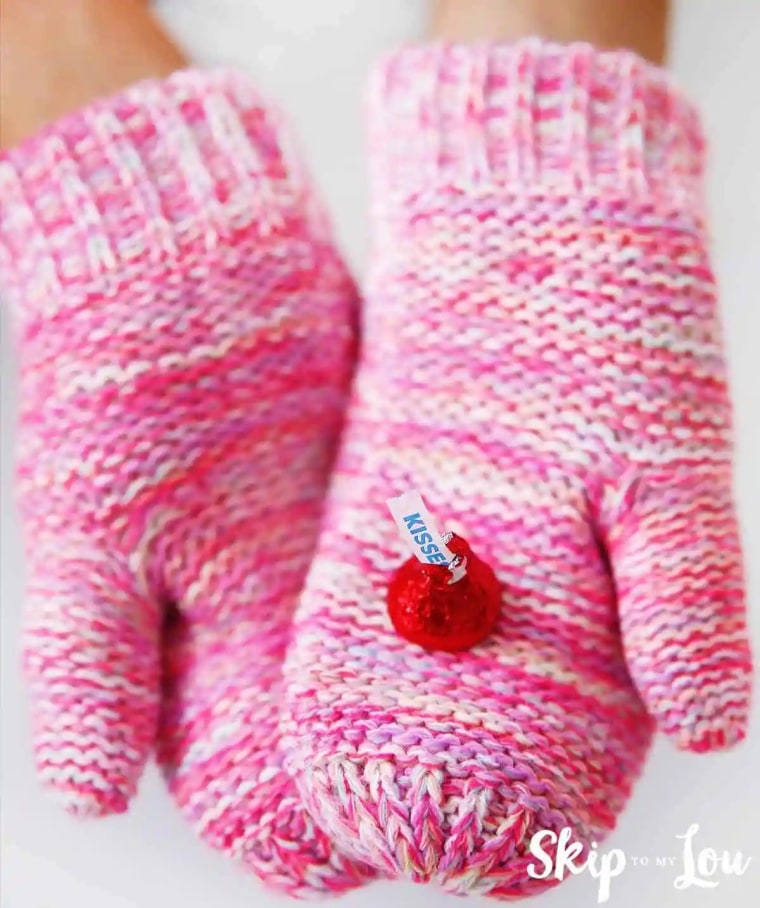 Lean into the sweetness of the holiday with this party-ready game. Have kids make two lines, then drop several Hershey Kisses onto a table in front of them while giving the person in front mittens to wear. They'll unwrap their chocolate treat, eat it and pass the mittens to the next person in line.
Get the tutorial at Skip to My Lou.
Spot the heart game
Elf on the Shelf season may be long gone, but that doesn't mean you can't capture the same kind of fun for Valentine's Day. Stick adhesive hearts in different places throughout your home or on objects, like a lunch bag or even on your dog's sweater. They'll count as they go to see how many hearts they can find.
Get the tutorial at Studio DIY.
'Family Feud' game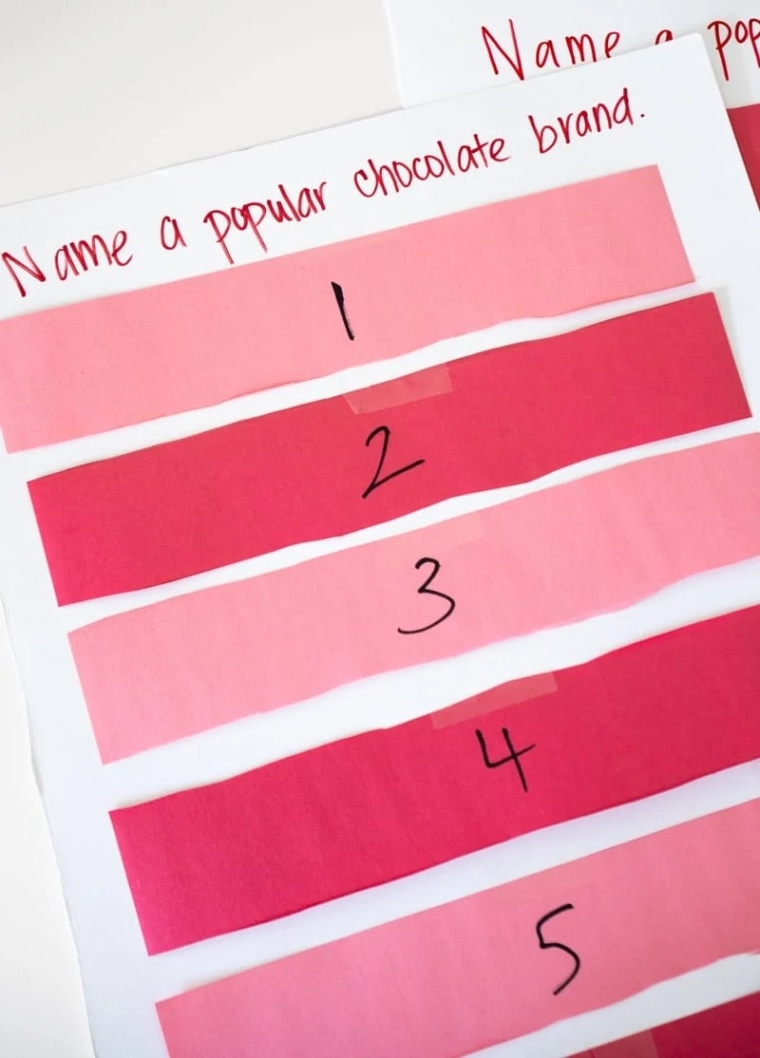 Gather your family for this fun game. You'll stage a Valentine's Day-themed version of "Family Feud" at home with customized poster boards.
Get the tutorial at Play Party Plan.
Tic-tac-toe game with conversation hearts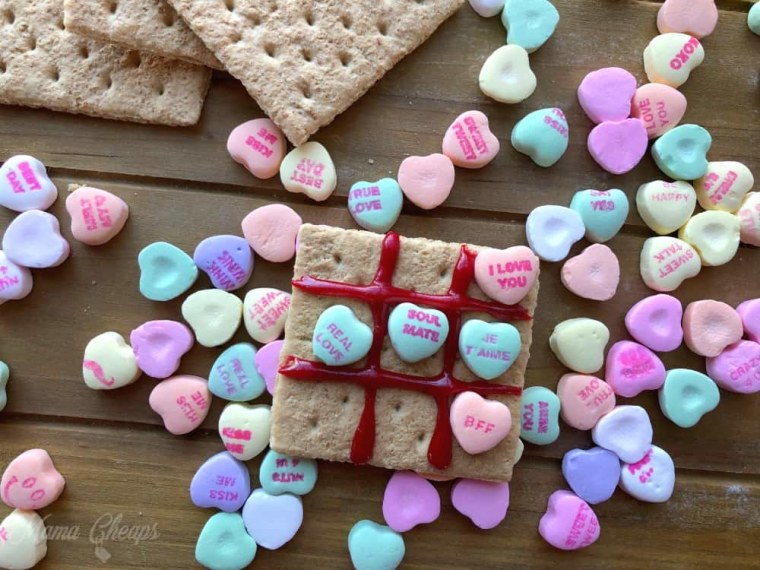 Who says you can't play a game and it eat it, too? Using graham crackers, icing and conversation hearts, play a game of tic-tac-toe before chowing down.
Get the tutorial at Mama Cheaps.
Heart zap game
Cover a wall with 40 hearts, all of which have various points written on them. Players will toss tennis balls at the hearts, but a "zap" will result in losing all their points.
Get the tutorial at Pint-Sized Treasures.
Cup and ball game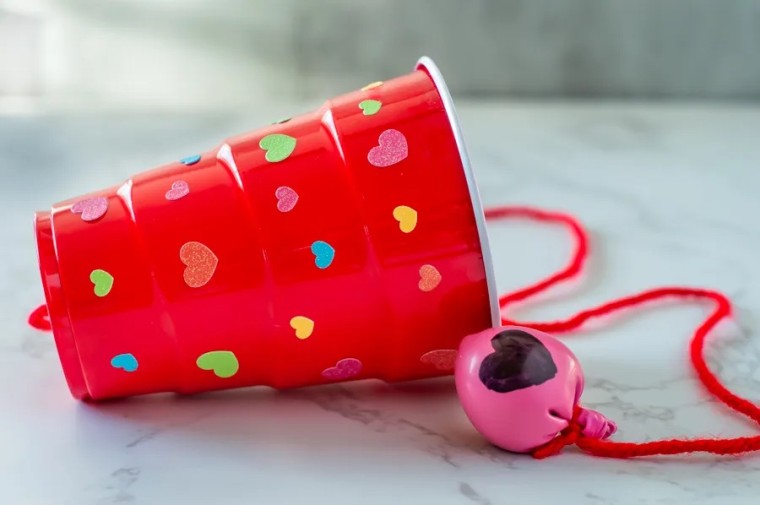 Remember those ball-and-cup games you played as a kid? Now you can help your children make one of their own for Valentine's Day.
Get the tutorial at Homan at Home.
Homemade tic-tac-toe game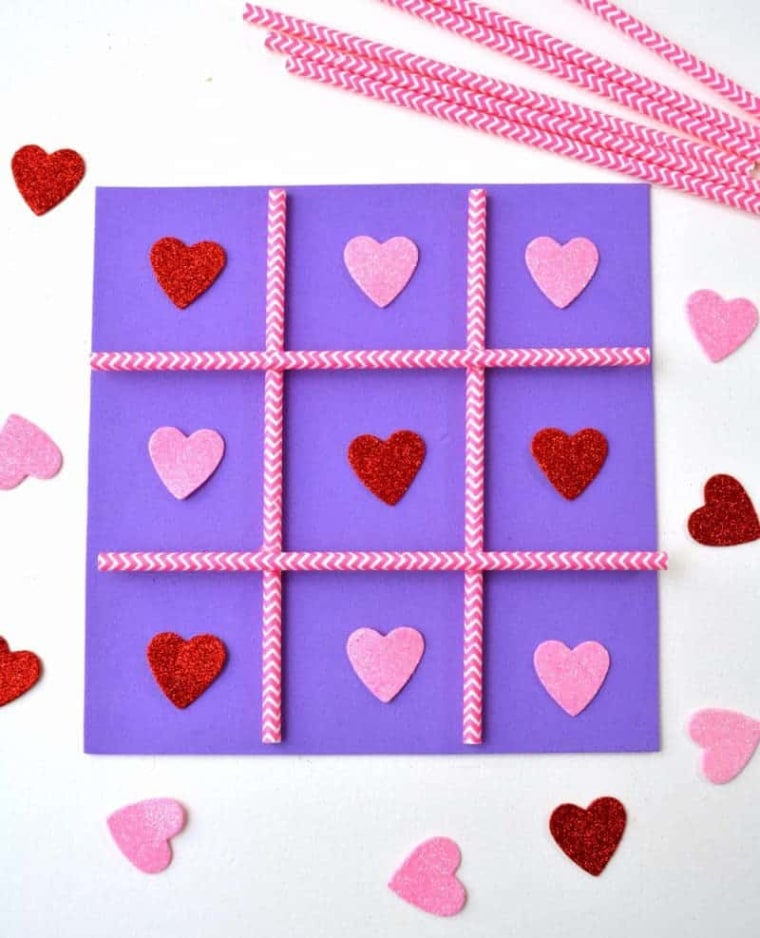 Crafting a game of tic-tac-toe is a lot more fun than playing it on paper! This one comes together with a foam sheet, paper straws and glittery hearts.
Get the tutorial at Crayons & Cravings.
Guess who game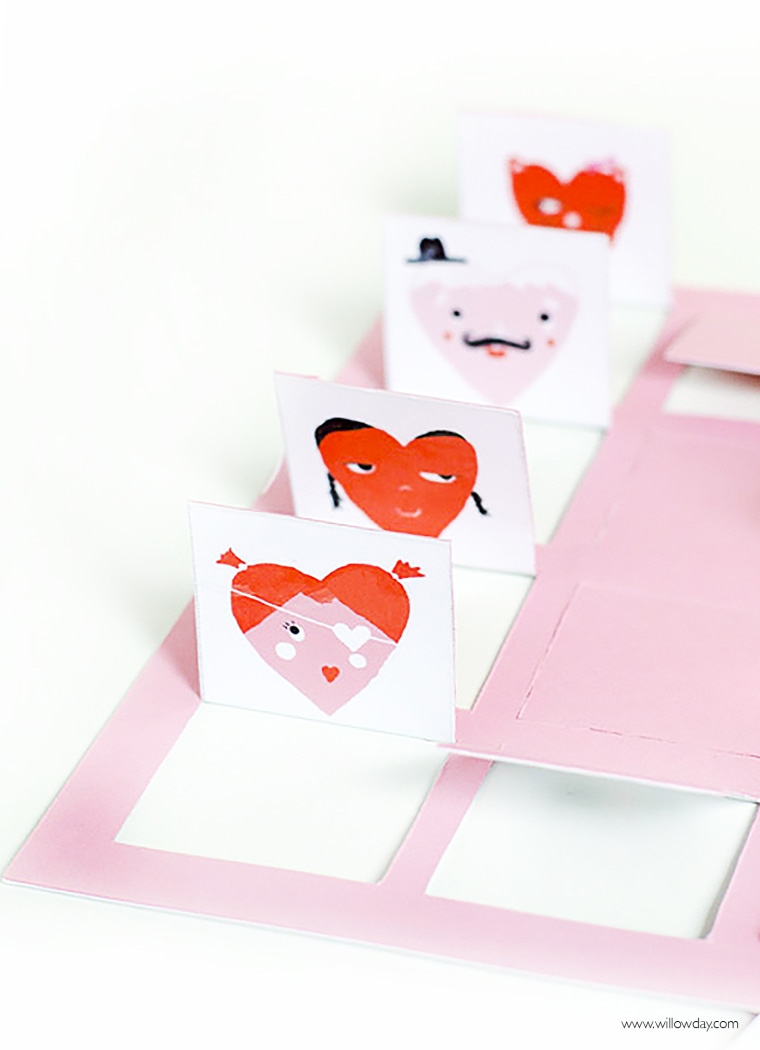 The classic guessing game makes a comeback with this DIY. Using a free printable, flip up the characters and ask questions about each one until you correctly guess the hidden character.
Get the tutorial at Willowday.
Punch-a-prize game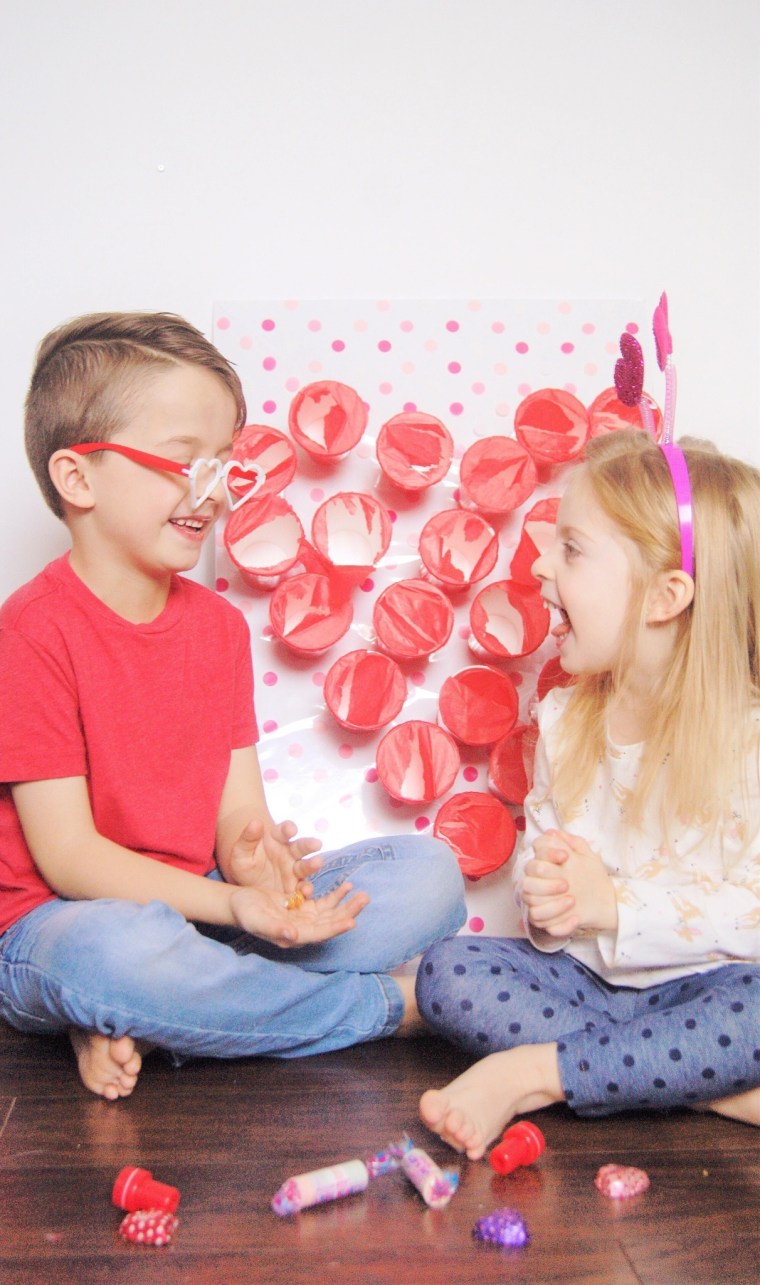 Pick a backdrop that's perfect for Valentine's Day, like a print with polka dots in shades of red and pink, and watch as your children "punch" their prizes with glee.
Get the tutorial at The Hungry Homemaker.
Scavenger hunt game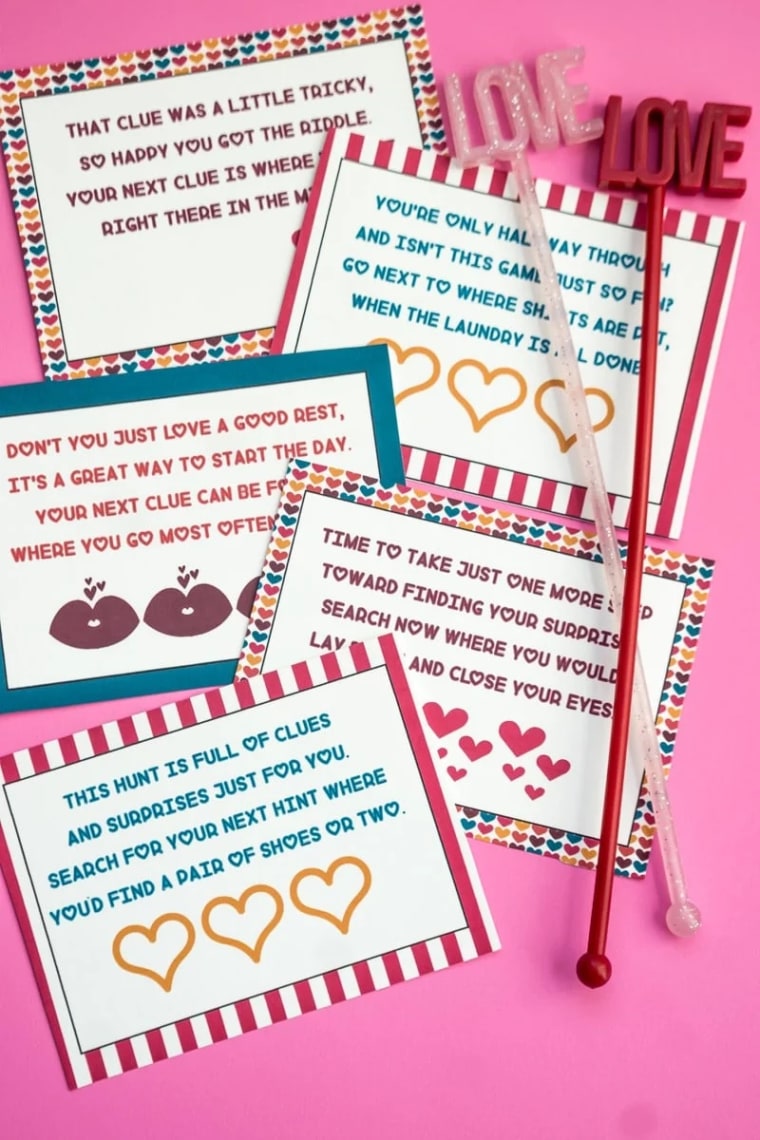 Make the most of a cold winter afternoon by putting together a scavenger hunt for all ages. Luckily, you use these printables as your guide.
Get the tutorial at Play Party Plan.
Maze valentine game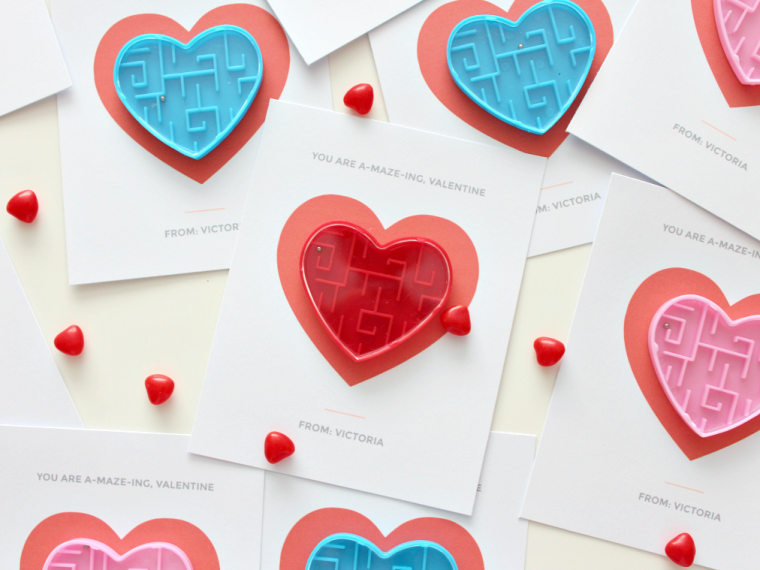 For a game that you can also give away as a valentine, look to this tutorial. Simply add a heart-shaped maze to each printable as a way to spread the love — and fun.
Get the tutorial at White House Crafts.
Matching hearts game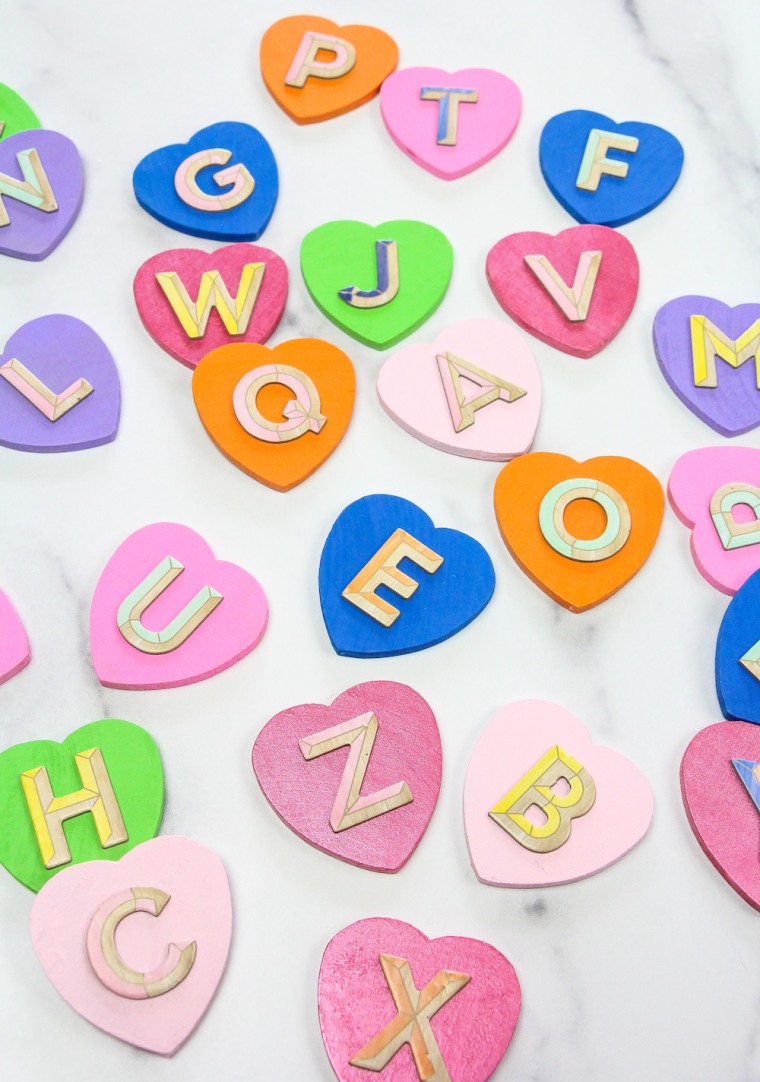 Perfect for toddlers, this candy-colored game challenges them to pair like-colored hearts and matching letters.