Jack-o'-lanterns and costumes might be the stars of Halloween, but they're really just the tip of the witch's hat when it comes to spirited activities to do in honor of the holiday.
There's trick-or-treating, watching scary movies, hosting a Halloween party for your pals and oh-so-much more to do to celebrate the season's most spooktacular event.
Beyond the basics, we've gathered a wickedly creative list of things to do on Halloween and throughout the whole month of October for nonstop fun.
In fact, you can start checking off these inspired ideas and happenings immediately, because when it comes to Halloween, it's never too early to get the party started.
From cute crafts to making a Halloween playlist, we've got a little something for just about everyone in the family, as well as activities for friends, couples and kids.
Ever thought of decorating a Halloween tree? How about planning a Halloween trivia night? Or, if you're thinking of something a bit more on the supernatural side, consider booking a local ghost tour, which, if nothing more, is sure to send at least a few chills down your spine.
Do one of these clever Halloween activities or tackle them all between now and Oct. 31. Either way, with so many frighteningly fantastic things to choose from, this year's bound to be skella-good.
Visit a Halloween store
What better way to get into the Halloween spirit than to take a gander at this year's hottest costumes and decorations? Giant spiders? Animatronic skeletons? Barbie getups? You'll find them all at any number of Halloween stores and pop-ups open and waiting for ghouls and guys to come through the door.
Halloween Horror Nights
Come September each year, Universal Studios in California and Florida get one heck of makeover. By day? Amusement parks. But come nightfall, the parks turn into a frighteningly fun mix of themed haunted houses, scare zones and ghoulishly delightful food offerings like Bloody Campground Poutine. All scary good. Halloween Horror Nights isn't recommended for kids under the age of 13.
Halloween dance party
Why go out when you can stay in and host a Halloween dance party at home? Challenge your friends to come over and do the Monster Mash or try learning the iconic "Thriller" dance. If it's a family night in, put on a cute Kids' Halloween songs playlist and bust a move with the little ones after trick-or-treating or anytime during the season.
Autumn spa day (or night)
Fall is pretty much everyone's favorite time of year. Celebrate the season with a little self-care. Get a autumn-inspired mani-pedi or Halloween nail art to show your spooky spirit. Then pick up a PSL and sip it slowly while watching a romantic movie that evokes all the feel-good things fall has to offer starting with "When Harry Met Sally."
Host a witches tea party
Witches are popular year-round, but it's Halloween time when they really come into their own. Plan a delightfully wicked witches' tea party to celebrate all things witchy. Have guests dress up, assume new witch names and serve on-theme cocktails and snacks, then watch "Hocus Pocus" or any of these other classic witch movies.
Switch up your Starbucks order
Put down the PSL — for now. Start your day on a sweet note by ordering the Witch's Brew Crème Frappuccino, an orange crème drink described as "more treat than trick." Or sink your teeth into a Frappula, a white chocolate mocha with a drizzle of strawberry puree to look like — you guessed it — blood.
But that's not all: There are tons of other scary-good sippers on the secret menu, which can be found here.
Host a trivia night
Do you know what the movie "Halloween" was initially named? Or the most popular Halloween candy? Well, study up and then impress everyone with your smarts. Invite friends and family over for a game night — and trick 'em with with some hard Halloween Qs.
Don't worry, we've got all the questions and answers right here.
Organize a trunk-or-treat
Instead of going door to door, take your Halloween festivities to the parking lot. Hear us out: Trunk-or-treating is just like trick-or-treating, but kids don't have to trek through the neighborhood to get their sugar fix. Find a spot for cars to gather like a school or church parking lot, then ask everyone to fill their trunks with trunks and treats for family-friendly fun.
Dig into a mystery box
Embrace the mystery of the unknown with this sensory game. Ask everyone to stick their hands inside the box to figure out what's inside without looking. Go with items that'll give them the heebie-jeebies upon first touch: cold noodles, sticky jelly, slimy grapes and so on.
Host a cookie exchange
Don't wait until December! Ask everyone to bake a batch of Halloween cookies, then pick a date to swap 'em. That way, everyone will get to taste all the treats (and steer clear of the treats).
Go on a ghost tour
Get your scary on by signing up for a haunted ghost tour. While the tour is sure to send a shiver down your spine, it's also an excellent way to learn more about the local history of the area.
Jam out to a Halloween playlist
Make a playlist of Halloween tunes to embrace the spirit of the season. Whether it's Michael Jackson's "Thriller" or Bobby Pickett's "Monster Mash," playing the best Halloween songs of all time will help get the party started.
Dine in costume
Think of this as the perfect opportunity to show off your Halloween decorations. Plan an intimate dinner party for friends or family. Then get all dressed up in costumes and serve Halloween fare like witch's brew cocktails and Frankenstein cheesecake.
"Boo" your friends and neighbors
Take trick-or-treating to the next level this Halloween. Leave a bundle of Halloween treats on your neighbors' or friends' doorsteps along with a note that says, "You've been booed!" Recipients must do the same for others.
Decorate your house
Chances are, you've already got all your Halloween decorations up —and then some. But if not, what are you waiting for? A little goes a long way, even if it's just some spider-webbing and spooky window decals.
Make devilishly delicious desserts
Who doesn't love dessert? More importantly, who doesn't love Halloween dessert? Whip up a batch of scary-good treats, everything from Halloween candy brownies to Coconut-Banana Ghost Pops, and serve 'em at your Halloween party (or, ya know, keep them for yourself).
Sip on some cider
Sure, you can drink apple cider all year long, but it just tastes better during the autumn months. Maybe it's the falling leaves or the chill in the air. Whatever the reason, head to a local cidery to sample a flight of hard or regular cider.
Host a Halloween potluck
If hosting an elaborate Halloween dinner party is a stretch this year, host a Halloween potluck instead. Ask everyone to come with a dish or dessert to share. It cut'll the work in half, giving you more time and energy to finish putting up Halloween decorations and making your kid's costumes.
Have a costume contest
This one's pretty straightforward. But, seriously, if you've never hosted your own costume party, why not give it a try? Give your guests incentive to go all out by awarding prizes for the best, scariest, punniest and most out-there costumes.
Read scary ghost stories
Shut off all the lights, light some candles and break out the scariest book you can find. Even if you've read the story a million times, you'll still get spooked. Trust.
Visit a haunted house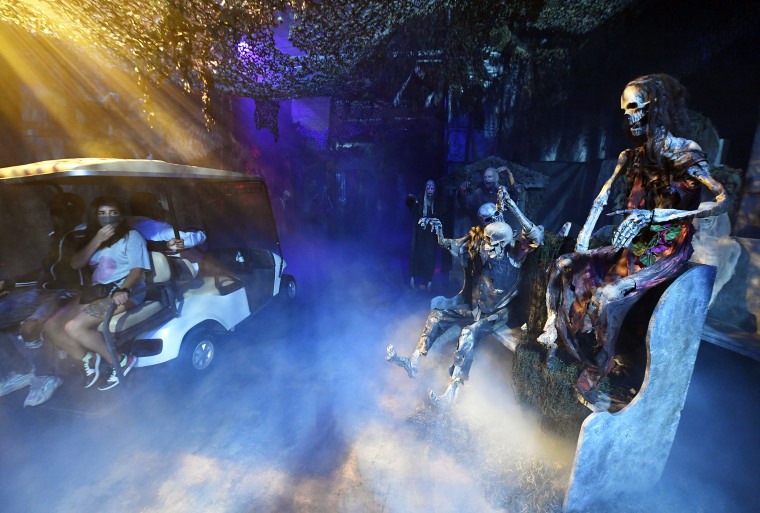 There's nothing more thrilling than walking through a haunted house on or around Halloween. They will most certainly scare the daylights out of you, but that's the whole point ... right?
Decorate a Halloween tree
What's more fun than decorating a tree with little goblins, ghouls and ghosts? Exactly. Dress a fake tree in its Halloween best, then transition it to Christmas with twinkle lights and pretty baubles.
Host or attend a murder mystery party
It seems like practically everyone is having a murder mystery party these days. Like "Clue," but real life: It's a themed event where everyone dresses up and attempts to solve a whodunnit murder mystery.
Get creative with pumpkin carving
Nothing beats the fun that comes along with pumpkin carving. Turn your gourd into something seriously spooky or silly. Want to avoid the gunky mess altogether? Transform your pumpkin with paint and pretty embellishments.
Hold a mummy relay race
Divide your guests into two teams and see how fast the players can turn their teammates into toilet paper mummies. The first team to finish wins!
Go on a Halloween shopping spree
Make a pilgrimage to the Halloween store for new decorations, costumes and party favors. If you're on a budget, hit the local dollar store instead. Most of them have tons of affordable Halloween decorations and accessories to choose from.
Watch a scary movie marathon
Horror movies hit different in October. Show one a day for the entire month of October or watch a few of your favorite scary horror movies on Halloween night. Either way, prepare to be very, very afraid!
Have a backyard movie night
Take the movie outside and project it onto the side of your house, a sheet or projector screen. Invite friends, family and neighbors over for kid-friendly Halloween movie — or if it's an older audience, go with something a little scarier.
Visit a corn maze
If you enjoy doing mazes on paper, imagine how much fun it is finding your way out of one plowed into a corn field. Go during the day or scare yourself silly by visiting a haunted corn maze at night.
Make ghoulish Halloween cocktails
Adults agree: Halloween is all about the boo's. So, if you're planning a scary soirée, mix up a batch of themed cocktails like Vampire's Elixir or Witch's Cauldron Punch.
DIY a Halloween costume
Store-bought costumes are great and all, but there are so many homemade costumes that you can easily throw together at a fraction of the cost. If you're up the the task, take the time to DIY a truly memorable costume for yourself, best friend or the entire family.
Get crafty with the kids
Get little hands involved in the Halloween fun. Buy pre-made craft kits or let your kids pick out a frighteningly festive project on their own — monster handprints, black cat cut-outs, you name it. It's a win for parents, too: Display the completed creations every year as part of a new Halloween tradition.
Camp under the stars
A spooky backyard campout is the perfect Halloween activity (if the weather allows, of course). Because there's nothing scarier than sleeping under a full moon after telling ghost stories around the campfire.
Build a haunted graveyard
A haunted graveyard is every trick-or-treater's Halloween dream. To make your own, place a few tombstones (buy or DIY them) throughout your yard, making it look old and neglected. Up the creep factor by incorporating skeleton body parts into the scene and turning on the fog machine.
Plan a Halloween getaway
If your heart bleeds orange and black, then plan a spooky getaway to one of Halloween's most popular destinations like Salem, MA, or Sleepy Hollow, NY. Book a stay at a haunted hotel for the fright of your life.
Make trick-or-treat bags
Trick-or-treaters love your neighbors because they give out full-size candy bars. Beat them at their own game by handing out treat bags stuffed to the brim with treats, toys and trinkets. Pick up candy and other items in bulk, then assemble as many as possible before the big night.
Catch up with Charlie Brown
"It's the Great Pumpkin, Charlie Brown" has been delighting kids and adults for generations. Invite your friends or family over for a watch party. When it's over, surprise them all with tiny gifts or trinkets from the Great Pumpkin.
Make matching Halloween t-shirts
When done right, matching t-shirts can be worn as a costume. Once you and your squad agree on a design, head to the craft store for t-shirts, iron-ons and other supplies.
Go apple picking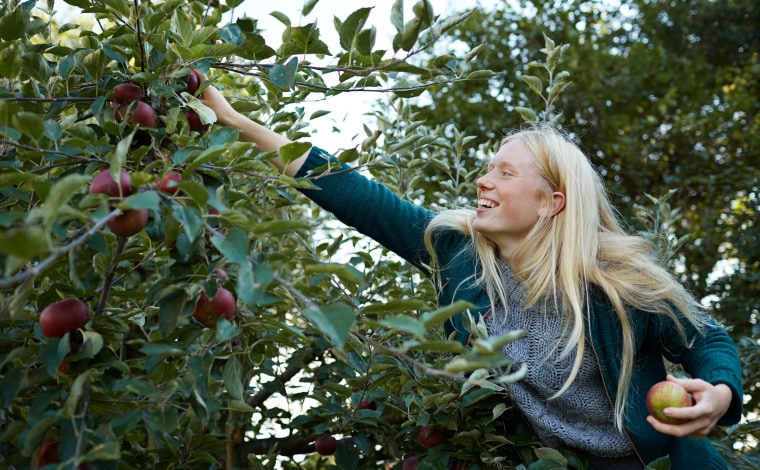 While apple picking season typically peaks in September, that doesn't mean you can't still go in October. Once you fill up your basket, figure out what you're going to do with your bounty. Say, warm apple crisp or party-ready candy apples?
Arrange a Halloween treasure hunt
Getting candy is easy these days — all you need to do is put on a costume, head to the neighbor's house and, voila, there you go! Make it more exciting by hiding treats throughout your house and yard for kids to find.
Visit a pumpkin patch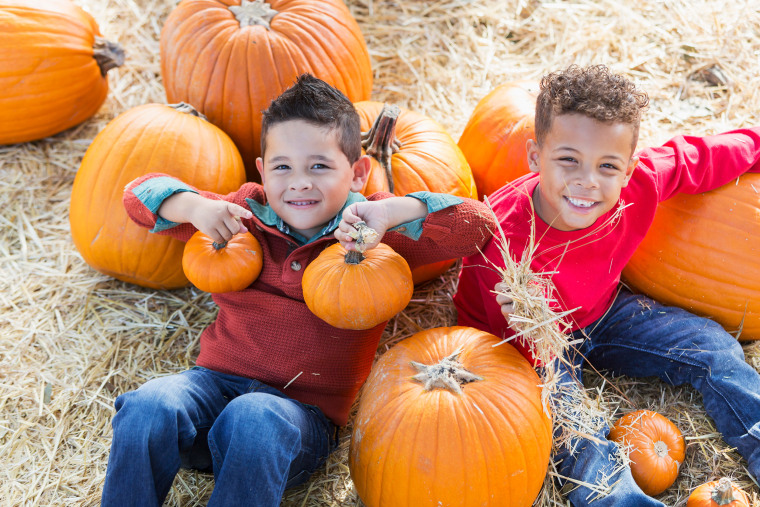 It's super easy to just toss a couple of pumpkins in the cart at the grocery store, but it's way more fun to pick them out at an actual pumpkin patch. Just think about all the pictures you can post on Instagram!
Survey your party guests
Everyone has a favorite Halloween candy. Lean into the holiday's sweetness by doing an informal survey to find out what everyone else in the gang likes, then give their favorite a try. It's a great — OK, sweet —way to break the ice.
Decorate your windows
Give your windows a Halloween makeover with store-bought decals and other decorations, You can even DIY your own bats and other Halloween shapes out of poster board to greet approaching trick-or-treaters as they arrive. Sprinkle in some twinkle lights to make your house really shine.
Trick — and treat — everyone
Pranking has always played a part in the history of Halloween. Plan a fun (but safe and appropriate) Halloween prank to give your friends and family a jump scare. If you're successful, give 'em some candy to thank them for being a good sport.
Give your car a Halloween makeover
You've got your house and yard covered, but don't forget about your car! Show some spirit on the road with fake spider webs, battery-powered lights or other car-safe Halloween decorations.
Attend an autumn festival
If the pumpkin patch just isn't cutting it, level up and find a nearby autumn festival to visit instead. Although festivals vary, most of them include everything you love about the season: pretty pumpkins, warm apple cider and other seasonal eats.
Run a Halloween 5K
Here's one way to get you to run fast! If you're a regular runner, then this is the perfect Halloween activity for you. Even if you aren't, it's a a great way to work up a sweat with other Halloween lovers.
Dress up your pet
You fur baby is part of the family, which means one thing: They also need a Halloween costume. Just make sure that Fido or Fifi is outfitted appropriately for the holiday in a costume that coordinates with everyone else's.
Send out Halloween cards
If you didn't get around to mailing Christmas cards last year, you can make up for it by sending Halloween greetings to the people you love most. And since you're sending cards out now, that means you don't have to do anything come December. Unless you really want to, of course.
Weave a spider web
String fake spider webs everywhere — from bushes, across windows, along your haunted graveyard or just about anywhere else. Throw in a few plastic spiders to make it look like the real thing.
Haunt your family photos
Trick everyone by swapping out your family photos with pictures of scary monsters. Keep the originals nearby, so you can put them back in the picture frames on November 1.
Leave a glowing message
Kids can use glow-in-the-dark sidewalk chalk to draw Halloween scenes or write chilling messages for trick-or-treaters to read as they walk up to your door. A bonus for you: It'll keep them busy, giving you ample time to finish making their costume ... in peace!
Plan a surprise for trick-or-treaters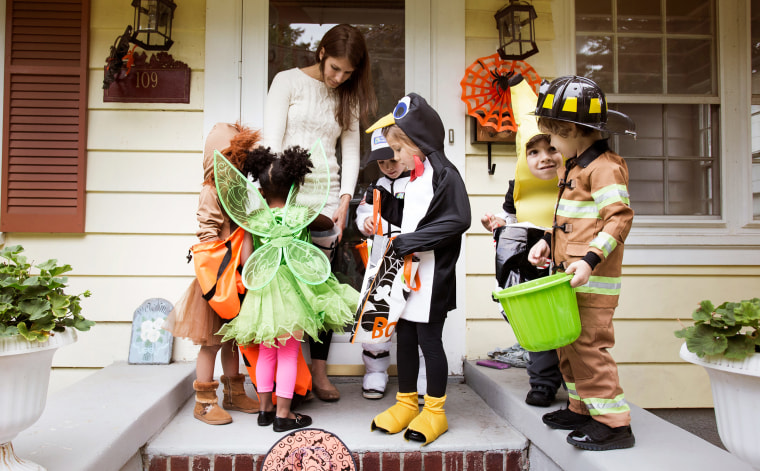 Give trick-or-treaters something to remember when they come to your home. While you can always dress up in a costume, we're all for sitting in a chair and pretending to be a scarecrow. But we'll leave that up to you.
Whip up a fang-tastic dinner
Prepare a delicious Halloween dinner with all kinds of creepy offerings. Start with festive finger foods (like this skull made entirely out of meat and cheese) before getting to the main course and desserts.
Roast pumpkin seeds
Whoa, hold on a second, don't throw away those pumpkin seeds! Be sure to separate them from the guts and rinse them before toasting them in the oven. Keep them plain or season them with spices like rosemary, cinnamon and curry powder.