You don't have to be Irish to celebrate St. Patrick's Day. In fact, it's a holiday meant to be enjoyed by all — especially lovers of Guinness, corned beef and cabbage, and all things green.
Some St. Patrick's Day traditions come straight from Ireland and have been adopted here in the United States, like wearing green or "drowning the shamrock." While some traditions are geared toward grown-ups (sipping a Black Velvet Cocktail, for instance), most St. Patrick's Day activities are perfect for the littlest members of your family. Think: searching for leprechauns, eating Irish soda bread and playing St. Patrick's Day games.
It's also a holiday that brings about plenty of family time, too. Share some St. Patrick's Day trivia facts at the dinner table while you eat a heaping of corned beef and cabbage. Go to a parade and wear costumes. Or invite your kiddos to deliver green snacks to friends and family to let them know you're lucky to have them in your lives, making the day even more special.
We asked popular bloggers to share their favorite St. Patrick's Day traditions. Ahead, you'll discover a mix of of old and new to help you make the most of your holiday.
Watch an Irish movie
Press play and transport yourself to the rolling hills of Ireland. Let Colin Farrell and Brendan Gleeson show you what it's like to live on a remote island off of Ireland in "The Banshees of Inisheren," which took home the top prize at the 2023 Golden Globe Awards. Or warm your heart (and, well, break it) while watching "P.S. I Love You" starring Hilary Swank and Gerard Butler.
Listen to Irish music (and get dancing)
Throw together a playlist with all of your favorite Irish tunes, everything from the Dropkick Murphys to classic Celtic chants. Then crank it up and show off your step dancing skills.
Start with a St. Patrick's Day breakfast
Susan Buonpane, the blogger behind Crafting a Family Dinner, always starts St. Patrick's Day with a big, delicious breakfast. You can serve up some of her favorites to your family, like potato pancakes, breakfast sausage, applesauce and Irish coffee for the adults. Or come up with your own Irish-inspired foods to serve and make breakfast a yearly St. Paddy's tradition for your family.
Invite leprechauns to visit
"Leprechauns have been known to visit our house and make a little mischief from time to time," says Chelsea Foy, founder of Lovely Indeed and author of "The Happy Home" (out April 2023). She tells TODAY.com that if you have younger children, looking for leprechauns can add a bit of magic to their day. "Leave a little trail of tiny footprints (drawn on paper or made with flour on the kitchen counter) leading to a little pile of gold chocolate coins and a note from a friendly leprechaun. Your kiddos will be absolutely enchanted," Foy says.
Cindy Hopper of Skip To My Lou takes things to the next level and builds a DIY Leprechaun Trap with her children. "Kids will be so excited to try to catch a leprechaun," she tells TODAY.com.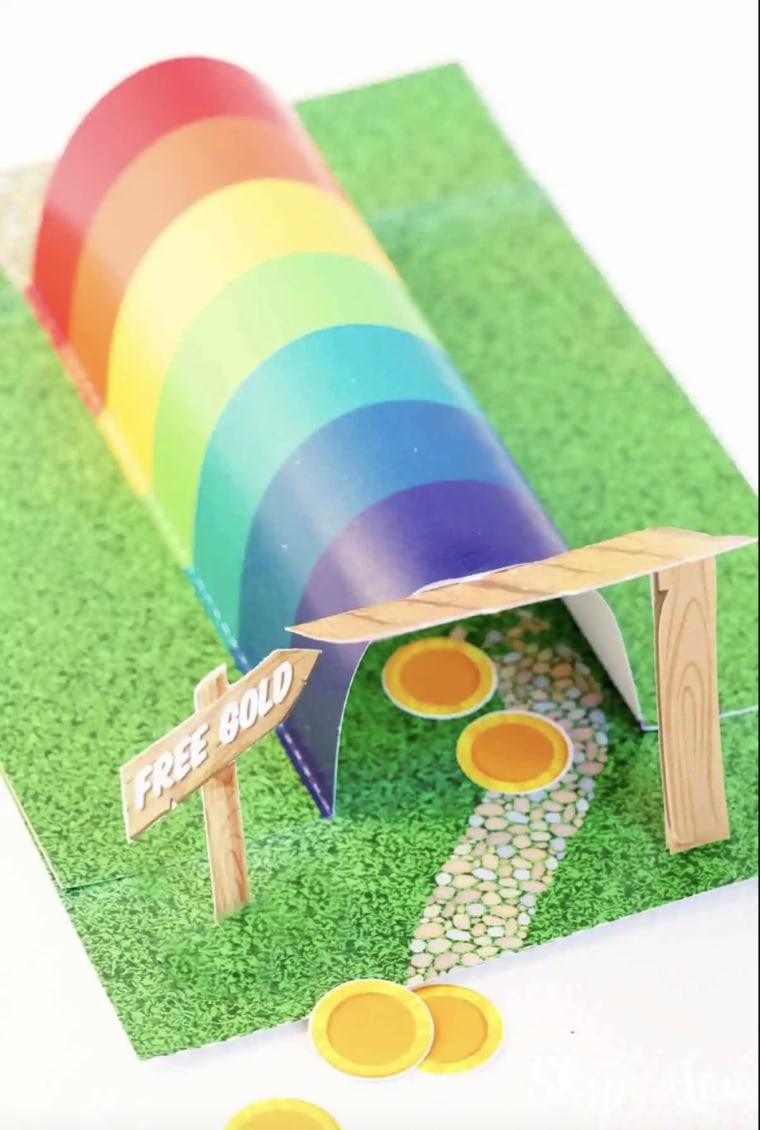 Put up decorations
Like any other holiday, St. Patrick's Day deserves some festive decorations. Buonpane says her family has always loved decorating their home for various holidays, and St. Patrick's Day isn't any different.
"We like to decorate our home with a variety of shamrock crafts," she says. "We have been making this beautiful and easy Shamrock Banner. We string it across our fireplace mantel every year." Go with the tried-and-true shamrock shapes, or simply decorate your home in top-to-bottom green to revel in the holiday.
Go to a St. Patrick's Day parade
Do you and your family go to a St. Patrick's Day parade every year? If not, it's definitely something you should do with your kids. If you live in a small town and a parade isn't scheduled, turn it into a fun trip by seeing a St. Patrick's Day parade in a big city, like Chicago or New York.
Foy says that when she lived in New York City, she and her family looked forward to their tradition of watching the St. Patrick's Day parade. 
"It's a legendary day in the city, with locals and tourists alike gathered to celebrate," she says.
Bake treats
One easy St. Patrick's Day tradition that you can carry out at home is making treats with your little ones. If your kids don't typically bake with you, this can be a fun opportunity to spend some time together. 
Buonpane says that she bakes treats with her kids every holiday, who eagerly anticipate making sugar cookies with a shamrock-shaped cookie cutter every year. To dress them up, they combine a simple milk and powdered sugar frosting with green food coloring and top them off with green sprinkles.
A bonus: These celebratory treats can also work as a decoration for the dinner table, too.
Read some Irish sayings
If your family's idea of fun is cozying up on the couch, here's a low-lift St. Patrick's Day tradition that you can do each year. Take turns reading iconic quotes that celebrate the holiday, like this classic from Bing Crosby: "When Irish hearts are happy, all the world seems bright and gay. And when Irish eyes are smiling, sure, they steal your heart away."
Wear green
St. Patrick's Day isn't really St. Patrick's Day until you're wearing green! Calling this a "fun, kid-friendly and very easy tradition," Foy says that wearing green "makes you invisible to leprechauns," according to legend. Plus, if you're not wearing green, you just might get pinched by a naughty leprechaun or another member of your family.
"Make sure to wear a little green or pin a shamrock on your kiddos and join in the fun," Foy says.
Mandy Kellogg Rye, the blogger behind Waiting on Martha, has kept up with this tradition since she was little. "My belief in leprechauns may have waned, but my desire to not be pinched all day is still going strong," she tells TODAY.com.
Sip on something brew-tiful
This one goes out to the adults celebrating St. Paddy's Day. After the kids are tucked in, sit down with your partner or a few friends and enjoy a pint of Guinness.
Or you could try a tradition that's straight from the Emerald Isle: "drowning the shamrock." When all the St. Patrick's Day festivities have come to an end, Rye dunks a shamrock (real or faux) into a glass of whiskey and then toast to a saint (or whomever you choose). After that, you'll toss the shamrock over your left shoulder for extra luck.
Share a family meal
End your day by sharing a warm and hearty meal with your family.
"Enjoying a meal of corned beef and cabbage around the table with the people you love is a perfect way to celebrate," Foy tells TODAY.com.
With food and drink "at the core" of her family's celebrations, Rye carries on the St. Patrick's Day dinner tradition from her childhood.
"Growing up, my mother would always make traditional corned beef and cabbage, which always felt like such an indulgence as it was the only time of year we'd feast on this traditional Irish meal," she says. "As I've grown up and adopted this tradition for myself and my family, I've added a whole week of traditional Irish dishes along with the corned beef and cabbage. Some of my favorites include Guinness beef stew and homemade Irish soda bread."
Try some trivia
Here's something you can do at the dinner table while savoring that Irish meal. Test your family's knowledge to see how much they know about St. Paddy's Day with some trivia about the holiday's history.
Make a green and gold cocktail
"One of the simplest but most eagerly anticipated ways my husband and I celebrate is with a cocktail in honor of St. Patrick's Day," Foy says. "I make a delicious Golden Irish Mule with edible gold flakes, and it's a perfect drink to share for the occasion. Having a traditional cocktail or mocktail for a holiday is a fun and festive tradition."
Share cocktails and turn St. Patrick's Day into a mini date night after your little leprechauns have gone to bed.
Learn some history
Buonpane says that one of her family traditions is to learn the history and origin of each holiday — St. Patrick's Day included. 
"As you cook and decorate for the St. Patrick's holiday with your family, sprinkle in the history and details about St. Patrick and the holiday," she says. Gather info from the internet or break out a book to share some interesting factoids.
Deliver sweets to friends and family
Hopper suggests using St. Patrick's Day to tell friends or extended family members how lucky you are to have them in your life. Mark this special occasion by delivering treats to your loved ones, complete with printable treat tags for St. Patrick's Day.
Play games
From a cookie-decorating contest to playing some shamrock bingo, St. Patrick's Day is the perfect chance to play some festive games that will inspire great memories and friendly competition.
Search for a pot of gold
One St. Patrick's Day tradition that Rye has adopted in recent years is what she calls "a spin on searching for that pot of gold."
She and her husband always try their luck by attempting to find some gold in the form of lottery scratch-off tickets. It's not exactly a pot of gold at the end of the rainbow, but it's something fun you can enjoy each year with other adults.