Sweater weather takes on a whole new meaning once an inch or two of freshly fallen snow hits the ground.
Even if you aren't necessarily a fan of winter (with shoveling and frigid temps, we don't blame you), the first flakes of the season are always exciting, especially if you love skiing and other cold-weather activities.
Whether that fresh blanket of white has you pulling the sled out of the garage or rushing to book a beach retreat, we're here to celebrate the season of freezin' with a collection of snow quotes.
Ring in Old Man Winter's arrival with snowy sayings from the likes of Robert Frost, William Shakespeare and Henry David Thoreau along with lyrics from classic holiday song like "Let it Snow" and "My Favorite Things."
And, good news, you don't even have to bundle up and go outside to use 'em if you don't want to. Feel free to snap a pic of the white stuff coming down outside your window while watching a Hallmark Christmas movie from the cozy confines of your couch.
Should you decide to brave the cold and have snowball fight with the neighbors, then capture the moment and share it on Instagram using one of these winter captions to top it off.
Either way, don't worry about coming up with the right words because while we can't help you scrape the ice off your car (sorry), we can offer some suggestions about what to say when you post about it.
Short snow quotes
"Nature is full of genius, full of divinity; so that not a snowflake escapes its fashioning hand." — Henry David Thoreau
"We have only this moment, sparkling like a star in our hand... and melting like a snowflake. Let us use it before it is too late." — Marie Beynon Lyons Ray
"Every avalanche begins with the movement of a single snowflake, and my hope is to move a snowflake." ― Thomas Frey
"No winter lasts forever, no spring skips its turn." — Hal Borland
"There are only two seasons ― winter and baseball." ― Bill Veeck
"Like snowflakes, the human pattern is never cast twice." — Alice Childress
"I'll own it's cold for such a fall of snow." — Robert Frost, "Snow"
"Even the strongest blizzards start with a single snowflake." — Sara Raasch
"The very fact of snow is such an amazement." — Roger Ebert
"How they tinkle, tinkle, tinkle, In the icy air of night!" — Edgar Allan Poe, "The Bells"
"Now is the winter of our discontent." — William Shakespeare, "Richard III"
"Snowfall rouses your inner child to dream and play once more." — Angie Weiland-Crosby
"The snow is sparkling like a million little suns." — Lama Willa Miller
"When snow falls, nature listens." — Antoinette Van Kleef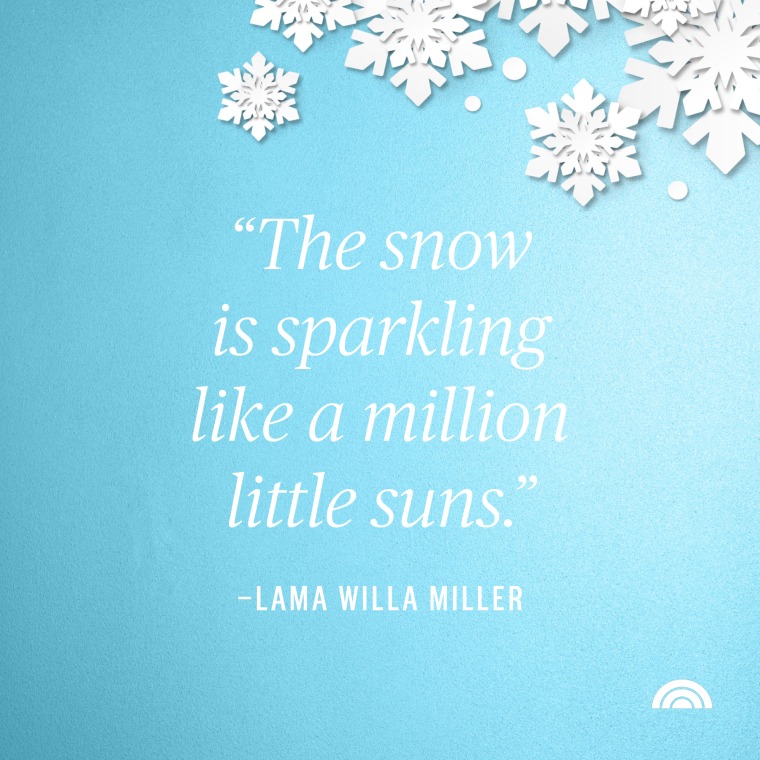 "Winter is not a season, it's a celebration." — Anamika Mishra
"Snowflakes are pretty patterns etched in water's dreams." — Anthony T. Hincks
"Like snowflakes your words fall silent. But my heart still hears your voice." — Angie Weiland-Crosby
"Always winter but never Christmas." — C.S. Lewis, "The Lion, the Witch and the Wardrobe"
"Winter passes and one remembers one's perseverance." — Yoko Ono
"Be like snow — cold but beautiful." — Lana Del Rey
"Do you want to build a snowman?" — Anna, "Frozen"
"What freezings have I felt, what dark days seen." — William Shakespeare, "Sonnet 97"
"You can't get too much winter in the winter." — Robert Frost, "Snow"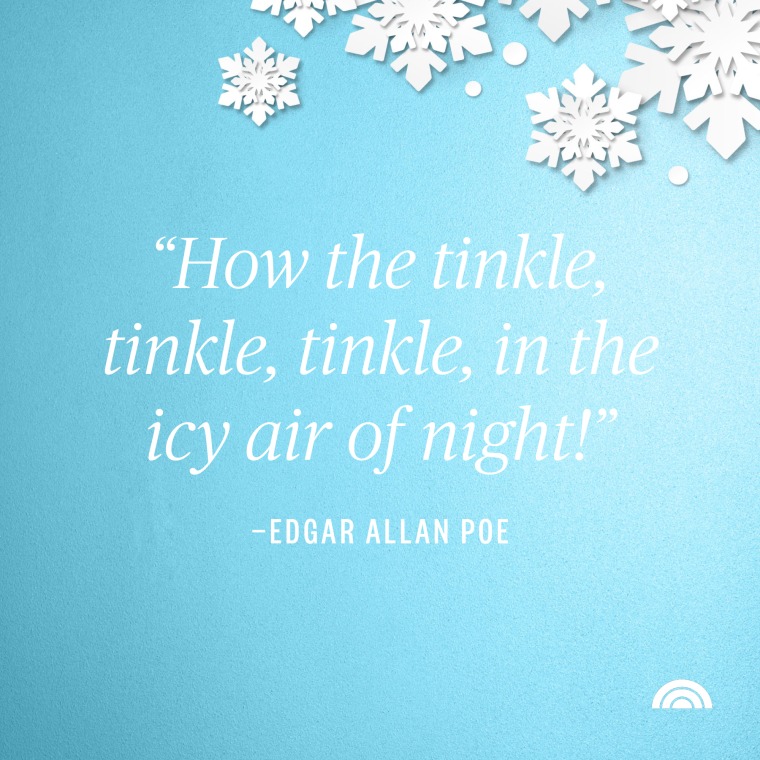 Quotes for the first snow
"A lot of people like snow. I find it to be an unnecessary freezing of water." ― Carl Reiner
"Snow flurries began to fall and they swirled around people's legs like house cats. It was magical, this snow globe world." ― Sarah Addison Allen, "The Sugar Queen"
"The woods are lovely, dark and deep / But I have promises to keep / And miles to go before I sleep." — Robert Frost, "Stopping By Woods on a Snowy Evening"
"Blow, blow, thou winter wind, Thou art not so unkind." — William Shakespeare, "As You Like It"
"Snow had fallen / Snow on snow on snow / In the bleak midwinter." — Christina Georgina Rossetti 
"Thou wouldst as soon go kindle fire with snow as seek to quench the fire of love with words." — William Shakespeare, "The Two Gentlemen of Verona"
"So comes snow after fire, and even dragons have their ending!" — J.R.R. Tolkien, "The Hobbit"
"We build statues out of snow, and weep to see them melt." — Walter Scott
"And finally Winter, with its bitin, whinin' wind, and all the land will be mantled with snow." — Roy Bean
"A snow day literally and figuratively falls from the sky, unbidden, and seems like a thing of wonder." — Susan Orlean
"Anne came dancing home in the purple winter twilight across the snowy places." — L.M. Montgomery, "Anne of Green Gables"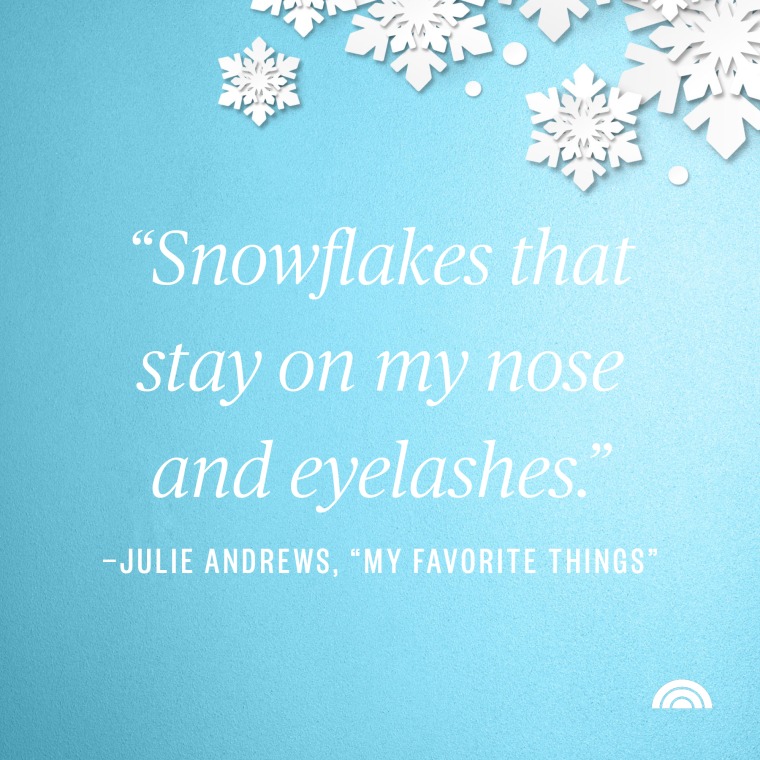 "A few feathery flakes are scattered widely through the air, and hover downward with uncertain flight." — Nathaniel Hawthorne
"The hollowness was in his arms and the world was snowing." — William Goldman, "The Princess Bride"
"One must have a mind of winter, to regard the frost and the boughs, of the pine-trees crusted with snow." — Wallace Stevens, "Harmonium"
"Silently, like thoughts that come and go, the snowflakes fall, each one a gem." — William Hamilton Gibson
"And the Grinch, with his Grinch-feet ice cold in the snow, stood puzzling and puzzling, how could it be so?" — Dr. Seuss, "How the Grinch Stole Christmas!"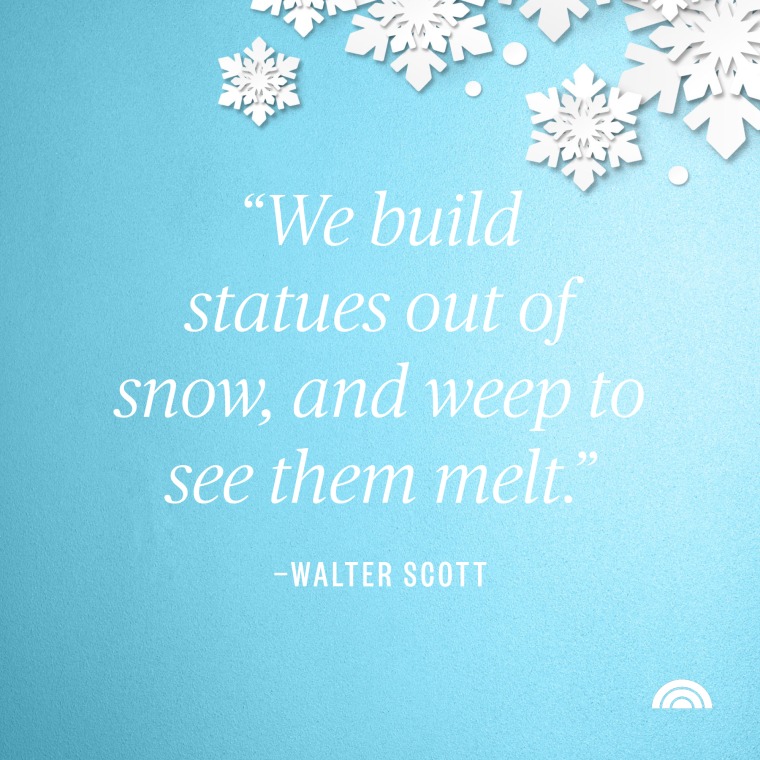 Snow quotes from songs
"Let it snow, let it snow, let it snow." — Dean Martin, "Let it Snow"
"Dashing through the snow / In a one-horse open sleigh/ O'er the fields we go / Laughing all the way." — James Pierpont, "Jingle Bells"
"The horse knows the way to carry the sleigh, through the white and drifted snow!" — Lydia Maria Child, "Over the River and Through the Woods"
"Soft white snowflakes, gently falling / Who has sent thee from the sky?" — Harvey W. Loomis, "A Song for Christmas Eve"
"I don't know if there'll be snow, but have a cup of cheer." — Burl Ives, "Holly Jolly Christmas"
"Snowflakes that stay on my nose and eyelashes," — Julie Andrews, "My Favorite Things"
"There's a tree in the Grand Hotel / One in the park as well / It's the sturdy kind that doesn't mind the snow." — Perry Como, "It's Beginning to Look A Lot Like Christmas"
"Outside the snow is falling and friends are calling, 'Yoo hoo!'" — Arthur Fiedler, "Sleigh Ride"
"Frosty the snowman, a fairytale they say / He was made of snow, but the children know he came to life one day." — Jimmy Durante, "Frosty the Snowman"
"I won't ask for much this Christmas / I won't even wish for snow / I'm just gonna keep on waiting underneath the mistletoe." — Mariah Carey, "All I Want for Christmas is You"
"Where treetops glisten and children listen to hear sleigh bells in the snow." — Bing Crosby, "I'm Dreaming of a White Christmas"
All hope is not frost: Find even more seasonal quotes right here