Is your dad the kind of guy who can't resist telling a corny joke or two?
Well, duh. The urge to make everyone roll their eyes with a bad (but oh-so-good) dad joke is pretty much in his DNA, making it essential to have a stockpile ready to launch on Father's Day.
Because in addition to doing something thoughtful for your dad, there's simply no better gift than laughter. And these Father's Day puns? We promise they'll do just that.
If he's a golfer, we've included a round (get it?) of clever puns that will suit him to a tee. Does Dad love to fish? Good news, there are a few on the list that are pretty, um, catchy. We've also included food puns, silly Star Wars references and just about everything else you can think of.
Post one of these punny gems as an Instagram caption or have the kids choose a favorite to include in their Father's Day message in the homemade card they crafted for Dad.
Either way, one thing's for sure: Your Dad will think — OK, confirm — that Yoda best.
Best Father's Day puns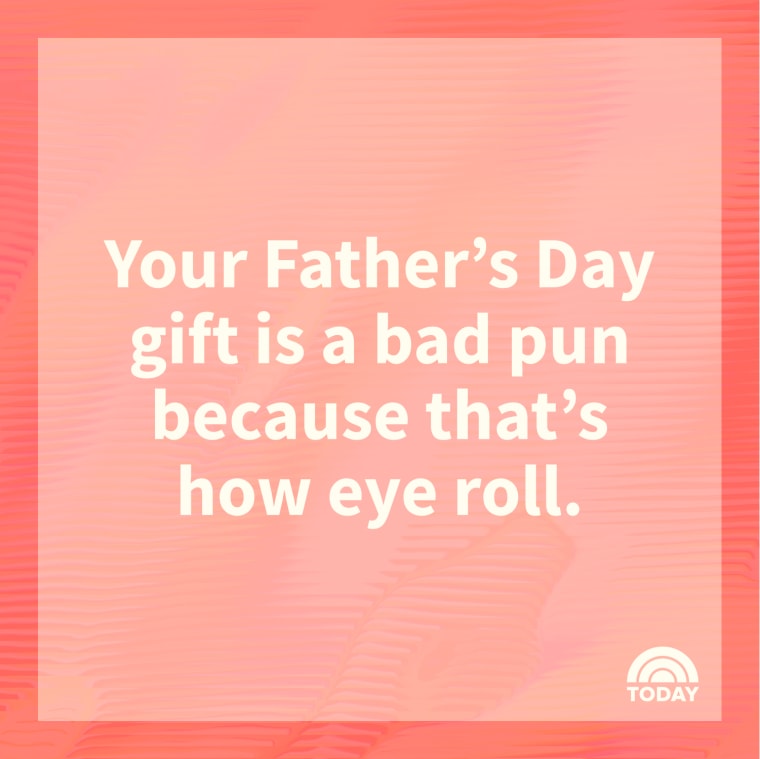 My dad is totally Jaw-some.
Dear Dad, sorry for being such a pain in the axe.
Dad, your corny jokes are sodium funny.
Your Father's Day gift is a bad pun because that's how eye roll.
I thought about getting you a new belt for Father's Day, but worried it would go to waist.
I'd call you later, but Mom says you prefer "Dad."
Happy Father's Day to a guy who doesn't need glasses. He drinks straight from the bottle instead.
Yoda best dad!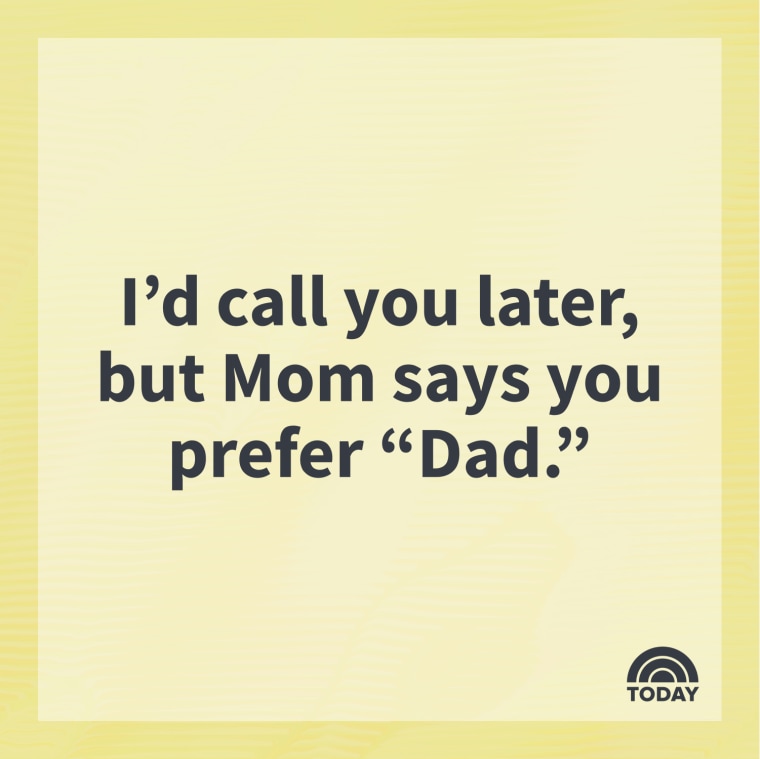 Dad, I used to hate your facial hair, but eventually it grew on me.
I mustache you to admit that I'm your favorite child, but if you're busy, you can shave it for later.
Dad, promise me you'll never fight a dinosaur, because I'm pretty sure you'll get jurasskicked.
I wanted to get you something groundbreaking for Father's Day. Hope you like the shovel.
No otter father is as awesome as you.
I got you a taser for Father's Day. It's stunning.
Happy Farter's Day
My dad is totally pawsome.
Happy Father's Day to the purr-fect dad.
I wouldn't say you've got a dad bod. It's more like a father figure.
I wanted to say something about fishing for Father's Day, but couldn't think of anything catchy.
If you can find a better fisherman than my dad, let minnow.
Father's Day golf puns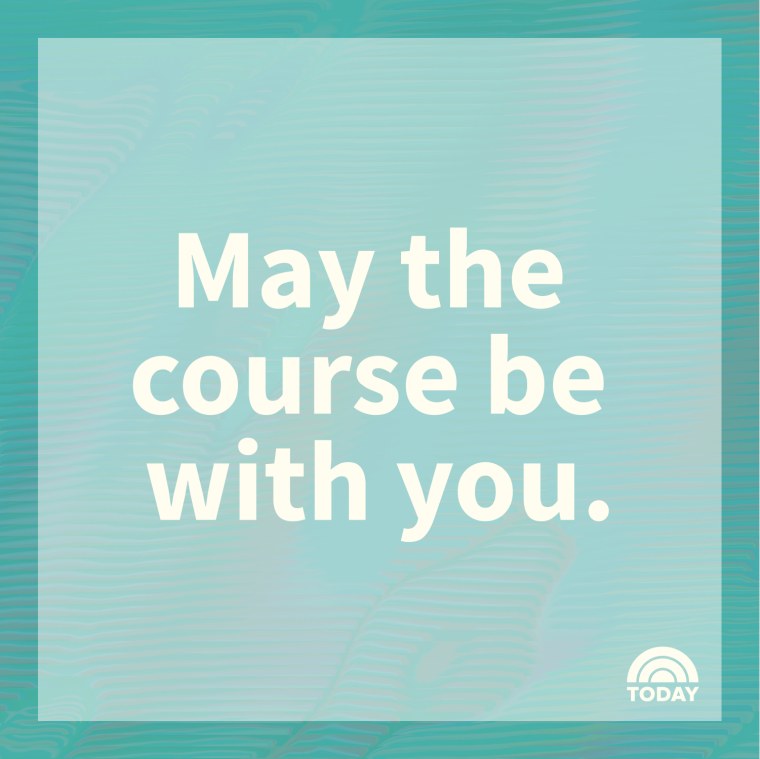 You're my favorite dad — by par.
This Father's Day, we're going to par-tee like it's 1999.
May the course be with you.
No surprise, I'm just a chip off the old block.
Fore you Dad? I'd do anything!
You're a putt above the rest!
Dad, you suit me to a tee.
Hope you have a chance to just putter around this Father's Day.
Hope your Father's Day is tee-riffic!
A little birdie told me that it's Father's Day.
No ifs, ands or putts, you're the best dad.
A long time ago on a fairway, par, par away, there was a stellar dad.
I know I drive you crazy, but you're still my favorite caddy.
Dad, thanks for spending so much quali-tee time with me.
For Father's Day, I got you an extra pair of golf pants. Just in case you get a hole in one.
Father's Day food puns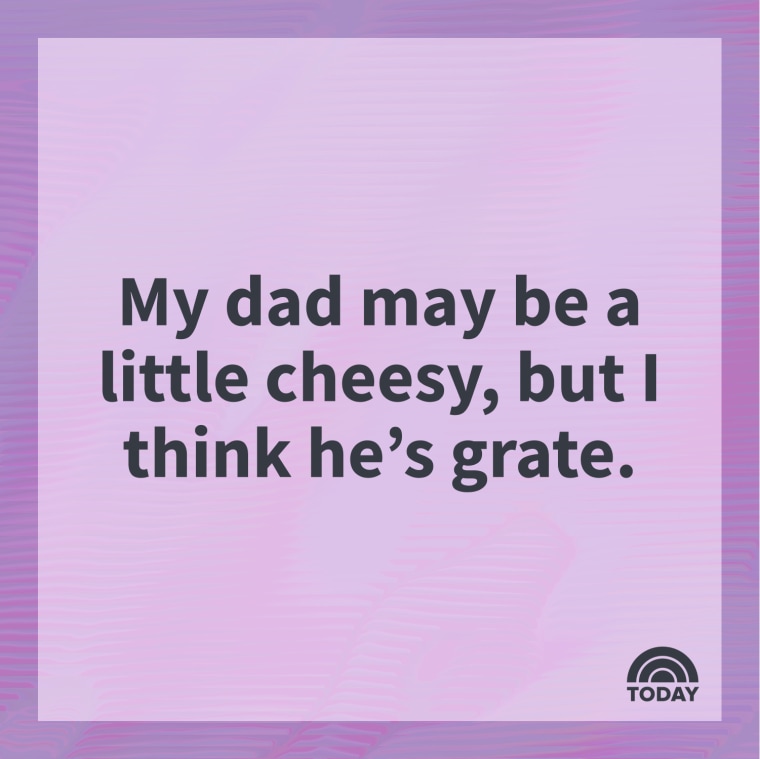 Dad, you'll always have a pizza my heart.
You're nacho average dad.
I couldn't have asked for a butter dad.
Happy Father's Day to a most egg-cellent dad!
Dear Dad, I love you a latte.
This Father's Day, we should definitely ketchup.
Nobody beets my dad.
I have so mushroom in my heart for you, Dad.
I'm your biggest flan.
My dad is the berry best.
Dad, you make miso happy.
I love you pho real.
My dad is one in a melon.
Hap-pea-ness is having a dad like you.
I love my dad a waffle lot.
Nothing's im-popsicle for my dad! He's the bombpop.
My dad may be a little cheesy, but I think he's grate.
Dear dad, I love you very mochi.
There's no butter pop than you.
When it comes to fathers, my dad take the cake.
I don't wanna brag, but my dad is a pretty big dill.
Dad, I love you from my head tomatoes.
There's no mi-steak, my dad's the best.
Me and my dad make quite a pear.
My dad and I are a matcha made in heaven.