Remember when you were young and would break out those Easter egg dyeing kits? While you can always keep to tradition, there are so many other clever ways to dip, dye and decorate your Easter eggs.
Go beyond the standard pastel hues and try something new. Whether you're using straight-from-the-coop eggs or craft versions that will last year after year, there's a DIY that will fit your style and crafting abilities. Into the modern look? Consider eggs swathed in artistic alcohol ink or covered in string art. For something that looks oh-so springy, pretty up your eggs with watercolor florals or a pink gingham pattern. And if you really want to go all-out for Easter, whip up eggs that look like the cutest bunny rabbits you've ever seen — besides the Easter Bunny, of course.
Adults can totally make these eggs as part of an Easter-themed crafternoon, but these designs are simple enough for kids and toddlers, too. They'll love coating eggs in shimmering glitter or painting them to look like teeny ice cream cones.
You really can't go wrong with any of these Easter egg ideas. Pick a design or two that catches your eye, then find a spot to display 'em so all of your guests can bask in their beauty (and, ya know, your decorating skills) on Easter Sunday.
Galaxy Easter eggs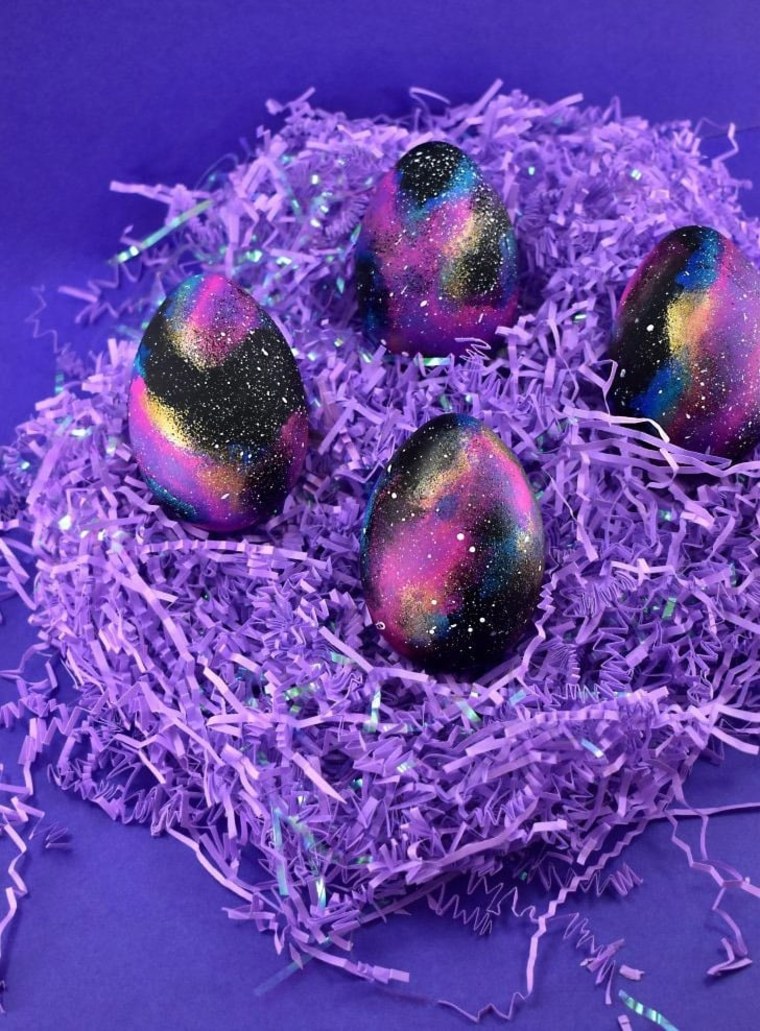 These eggs are seriously out of this world! If your kids are into stargazing (or just really love anything that sparkles and shines), then make these galaxy-inspired beauties.
Get the tutorial at Dream a Little Bigger.
Alcohol ink Easter eggs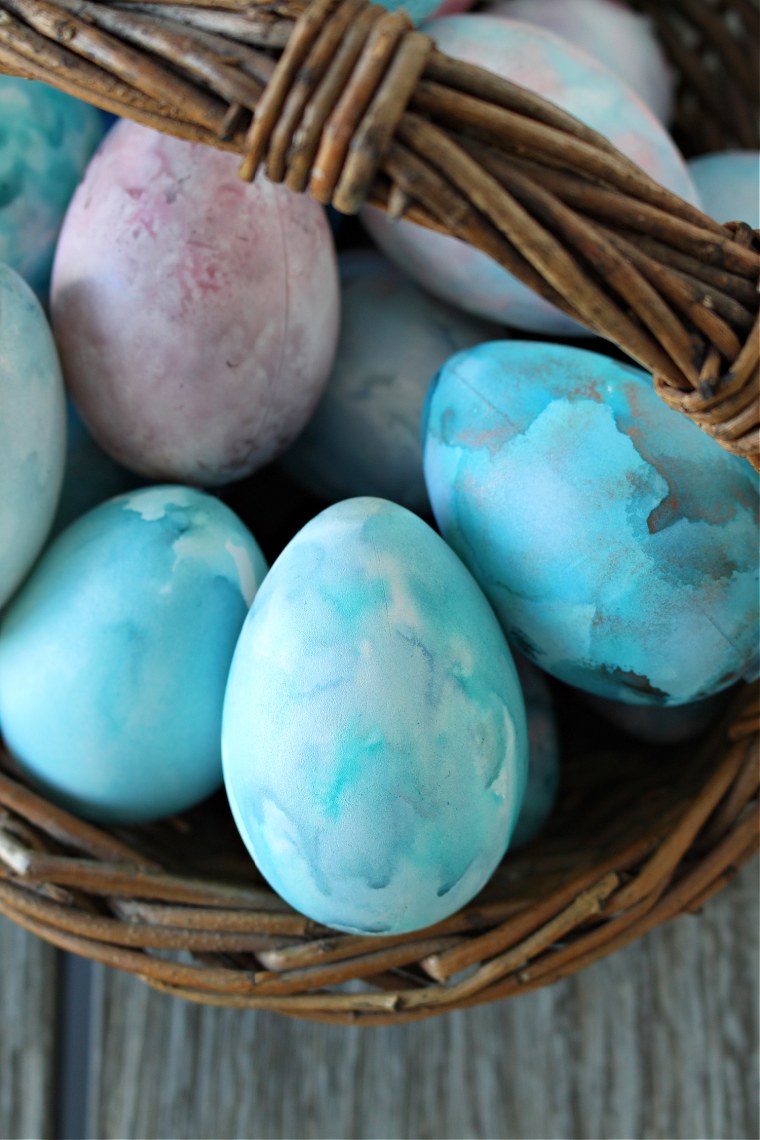 Using some vibrantly-hued, fast-drying alcohol ink, applicators and white plastic eggs, you can create Easter eggs that double as cool decor and will last season after season.
Get the tutorial at Dans le Lakehouse.
Easter Bunny eggs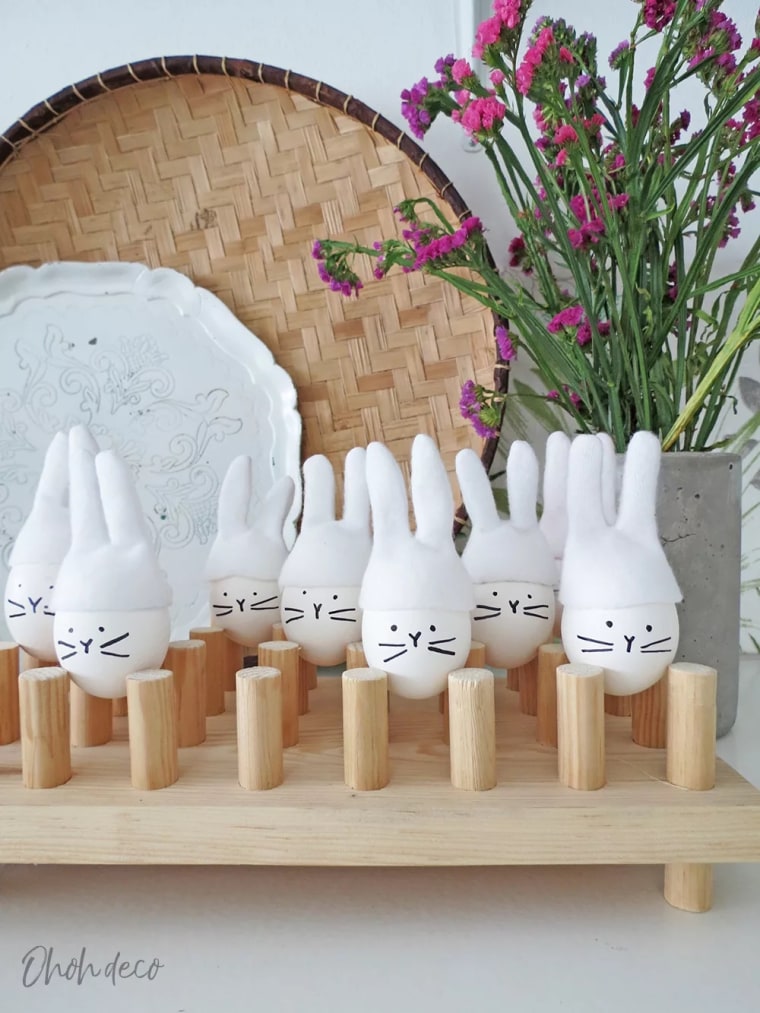 Complete with mini fleece hats and the sweetest little faces, you'll have a very hoppy Easter if you make these these bunnies.
Get the tutorial at Ohoh Deco.
String art Easter eggs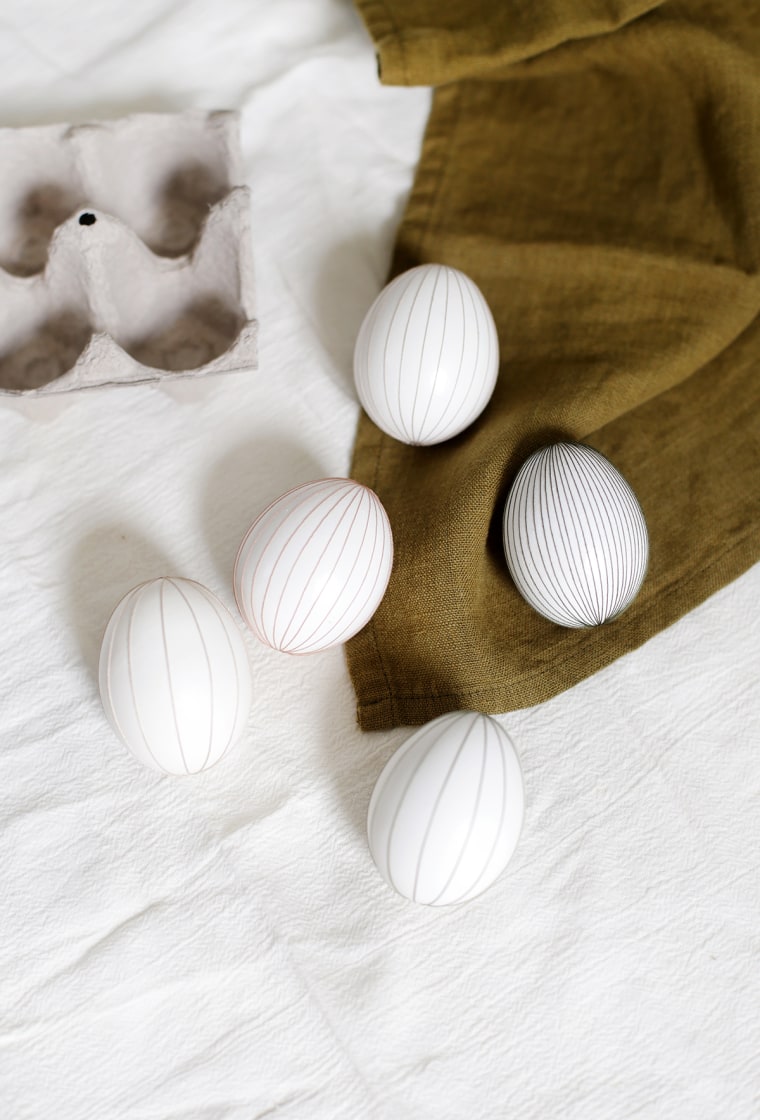 String art has been showing up in homes since the 1970s. Now you can apply this same technique to your Easter eggs, using the thread color of your choice.
Get the tutorial at The Merrythought.
Geode Easter eggs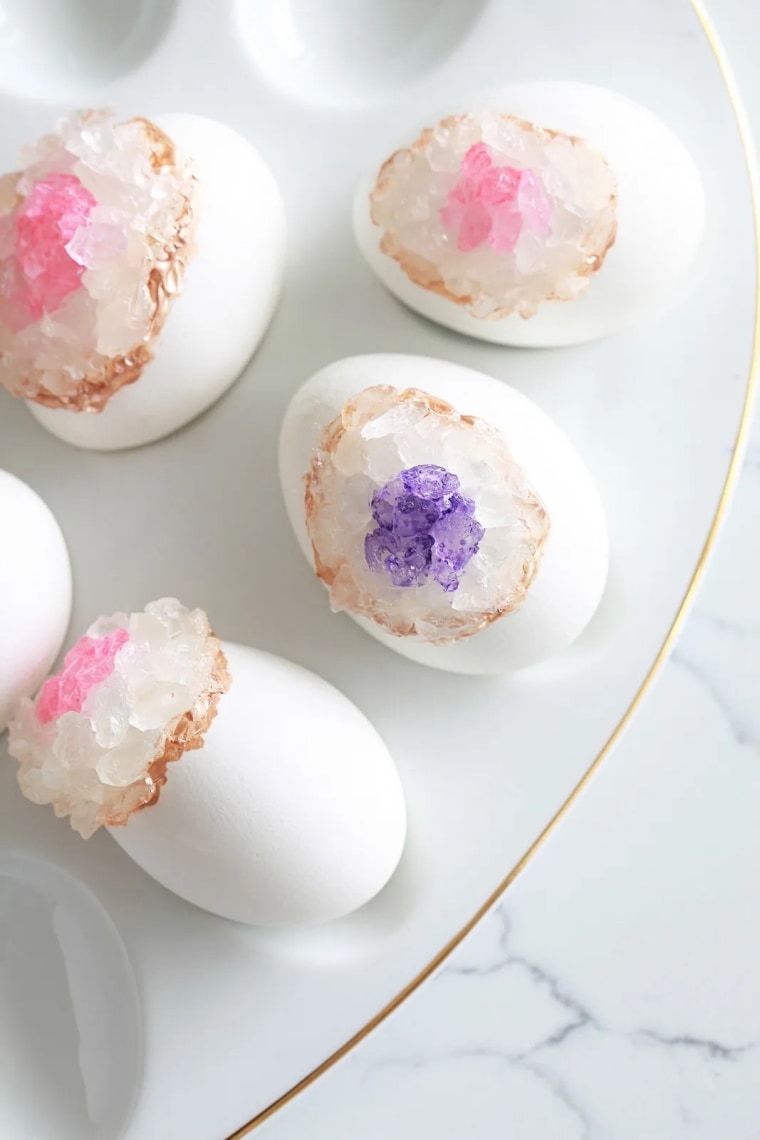 Is that a geode? Or an Easter egg? Adhere pink and purple stones to white eggs for a design that totally rocks.
Get the tutorial at Posh Little Designs.
Gingham Easter eggs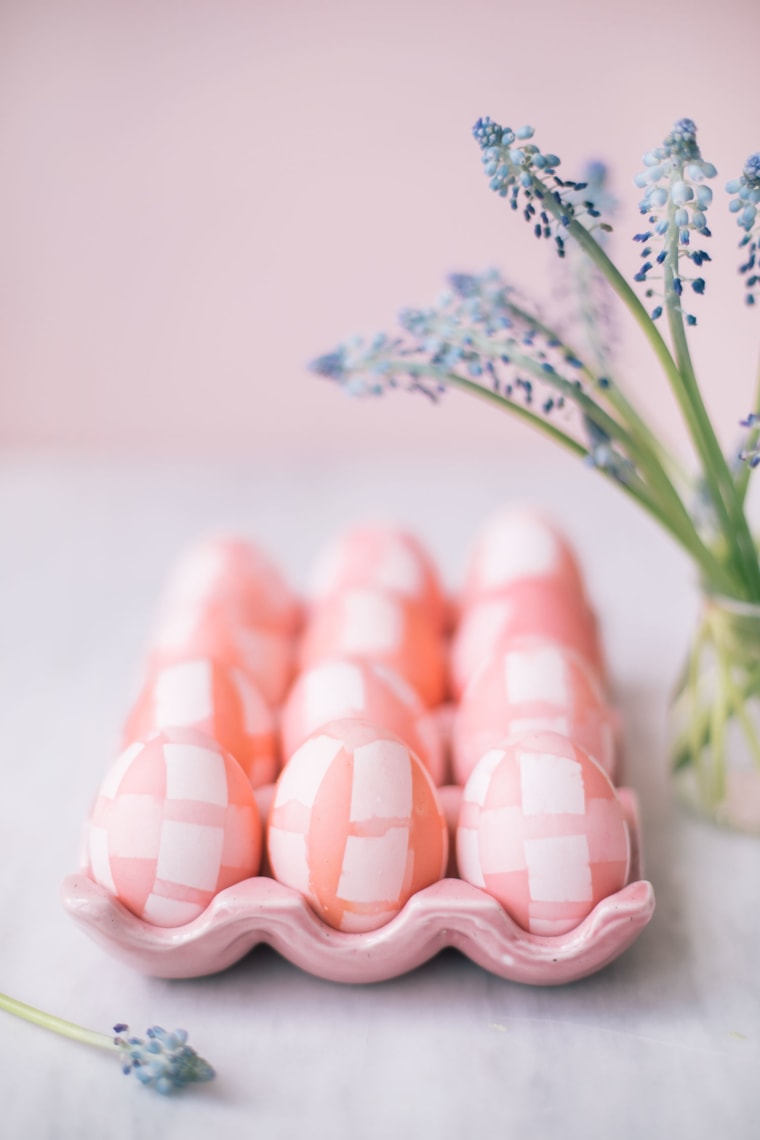 Wearing your Easter finest isn't limited to your ensemble! You can dress up your Easter eggs in their holiday best by trying your hand at a pink-hued gingham design.
Get the tutorial at The Blondielocks.
Spray paint Easter eggs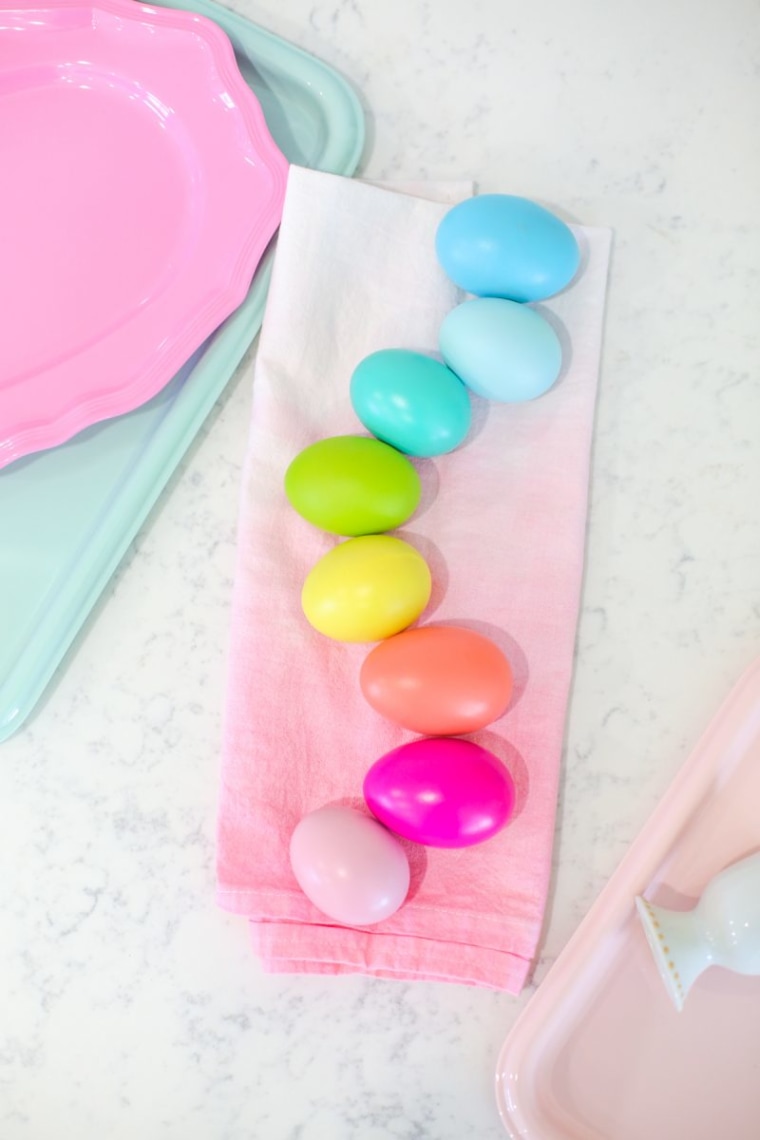 For a quick and speedy way to color eggs that's guaranteed to look bright and cheerful, try spray paint! This tutorial will show you how.
Get the tutorial at Lovely Indeed.
Tassel Easter eggs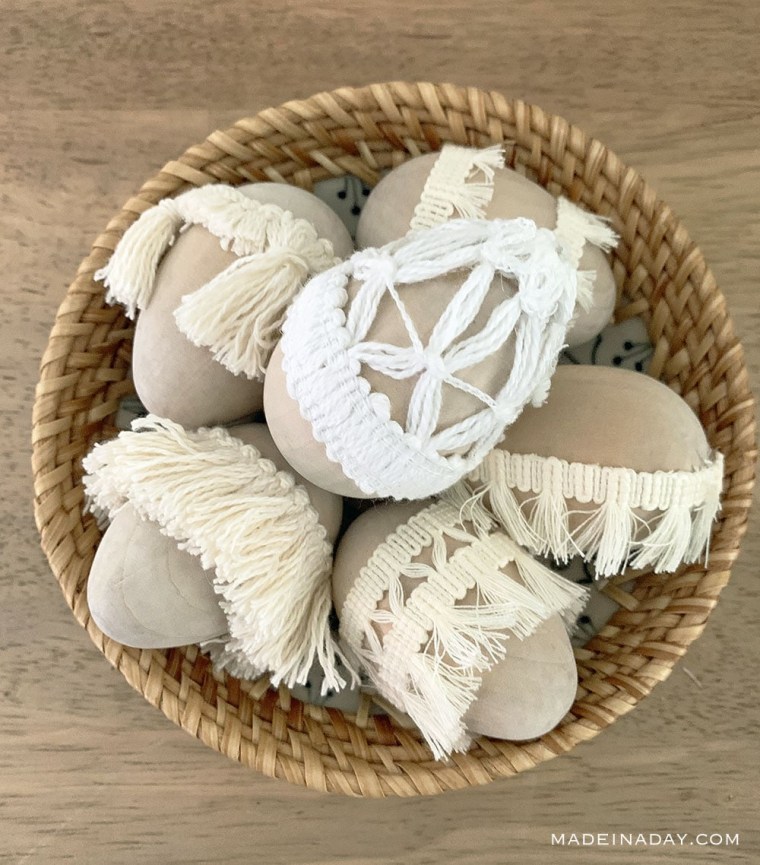 If your home's aesthetic leans bohemian, then these eggs will fit right in. Dress up wooden eggs with fringed accents that are reminiscent of a macrame wall hanging.
Get the tutorial at Made In a Day.
Burger Easter eggs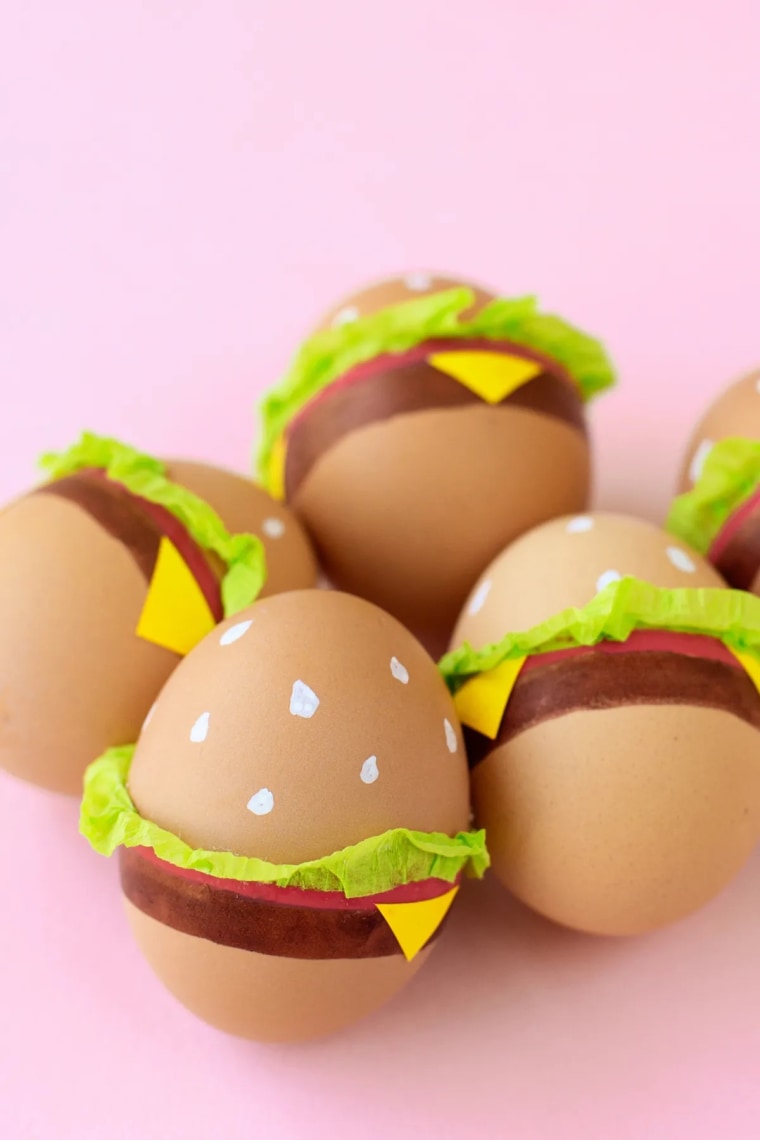 Are these Easter eggs making you hungry? Well, they should, because they look just like real sliders!
Get the tutorial at Studio DIY.
Folk art Easter eggs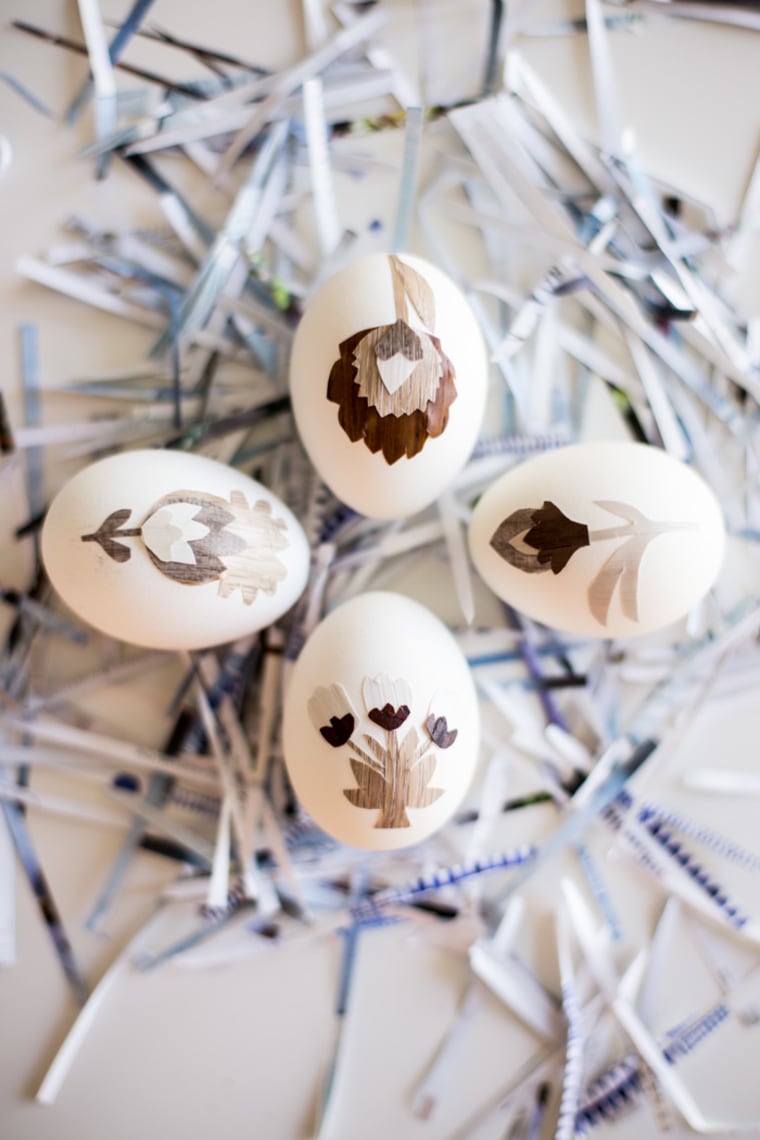 Give your Easter eggs a folksy spin with sheets of wood grain and a handy template.
Get the tutorial at Flax & Twine.
80s-inspired Easter eggs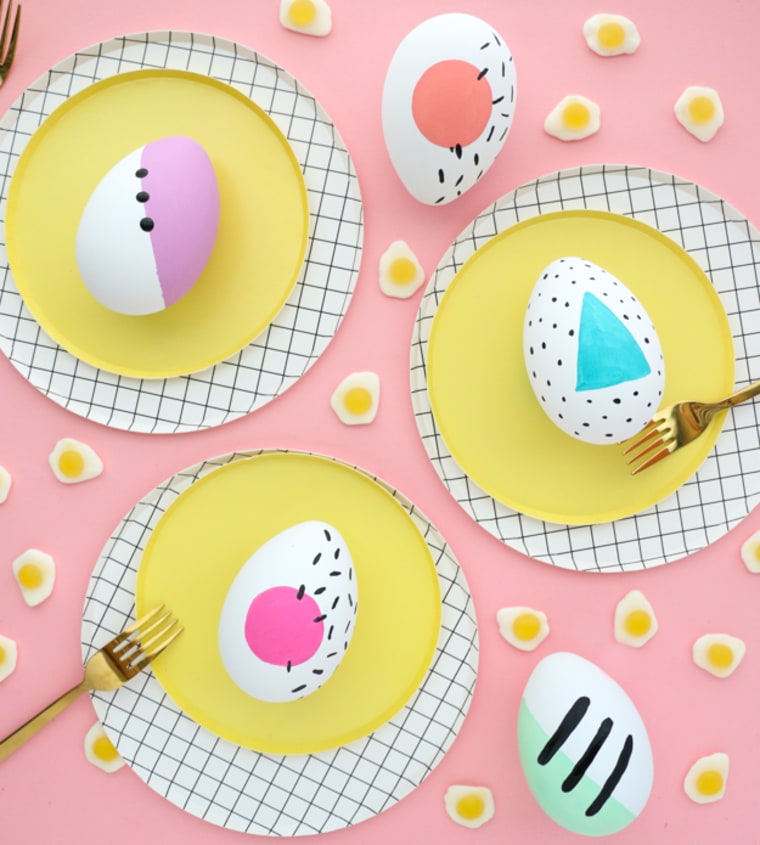 Made to look like the Memphis design that popped up during the 1980s, these Easter eggs will add a punch of color to any display.
Get the tutorial at A Kailo Chic Life.
Ice cream cone Easter eggs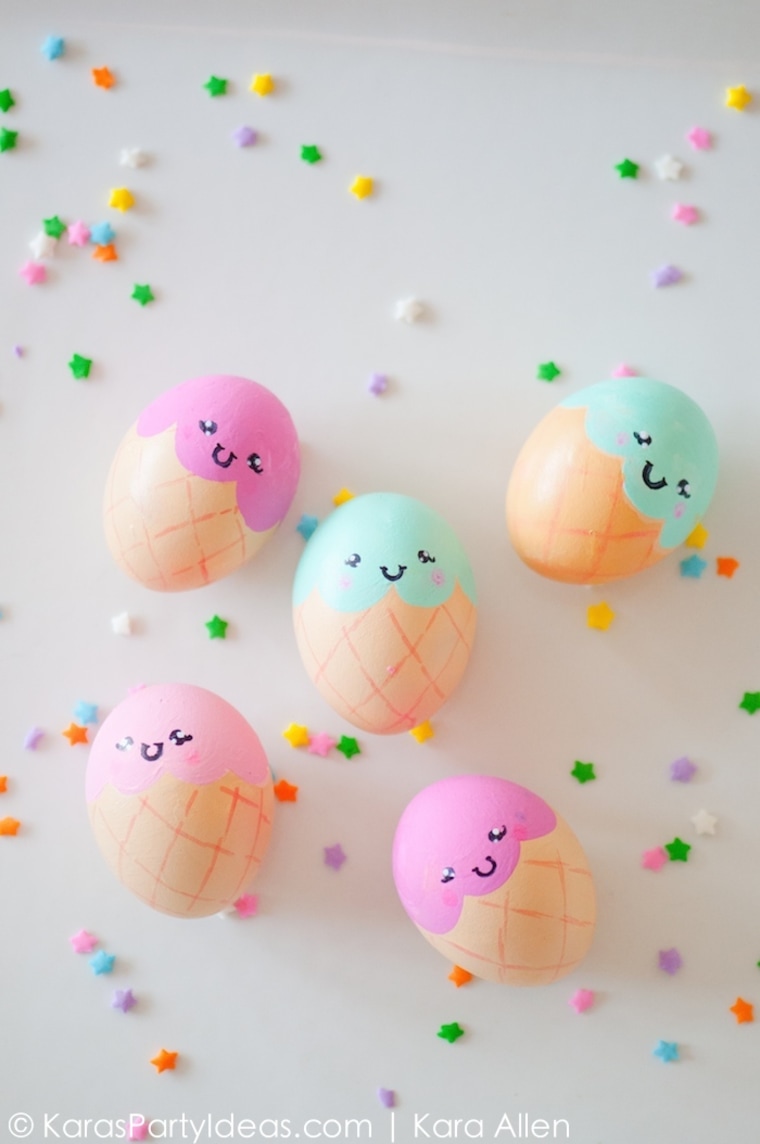 These little ice cream cones are too cute with their pastel shades and teeny grins.
Get the tutorial at Kara's Party Ideas.
Palm Springs Easter eggs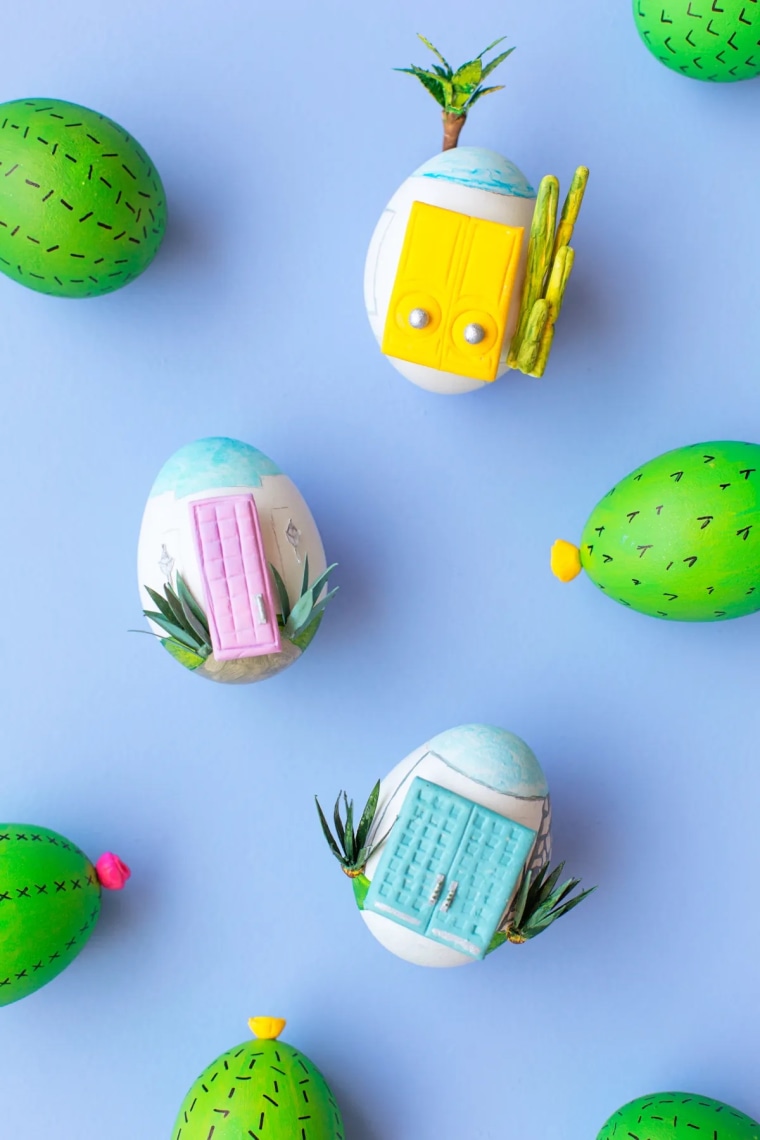 Looking as if they've been pulled right from the midcentury mecca of Palm Springs, California, these Easter eggs were made for vintage enthusiasts.
Get the tutorial at Studio DIY.
Moroccan painted Easter eggs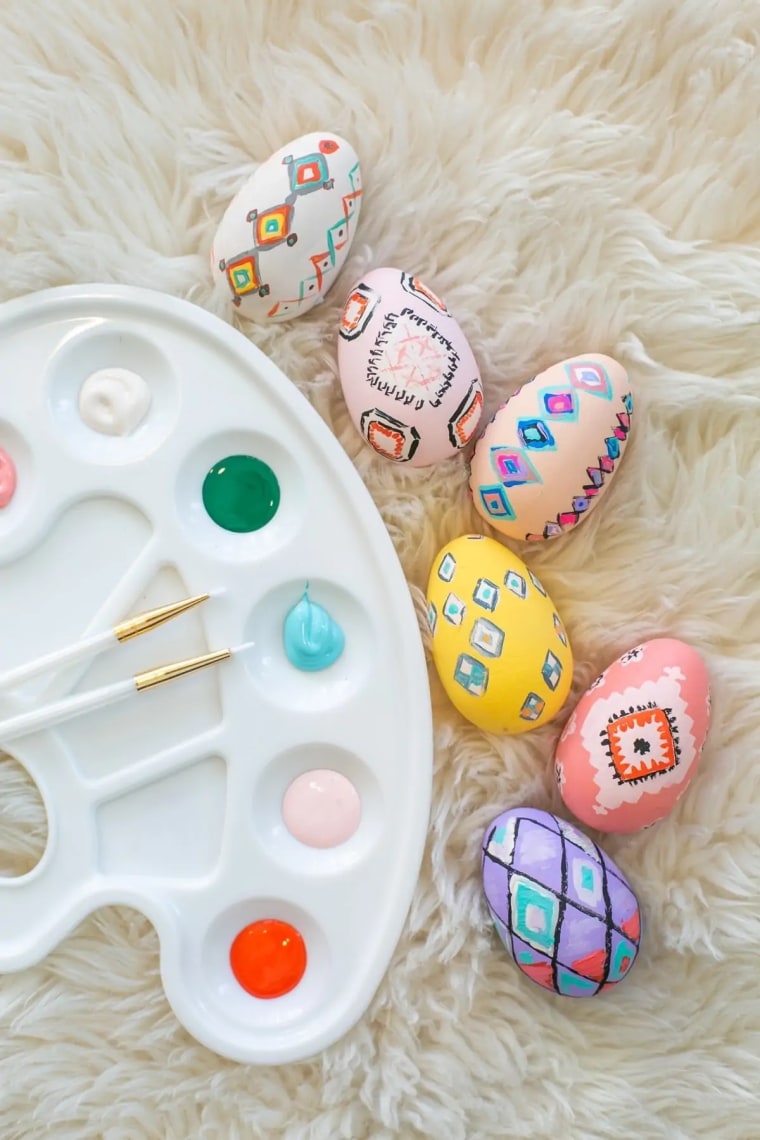 If you love the design of an antique Moroccan rug, these eggs are right up your alley! Follow the steps to create the boho designs and pick up some artistic tricks in the process.
Get the tutorial at Lovely Indeed.
Fruity Easter eggs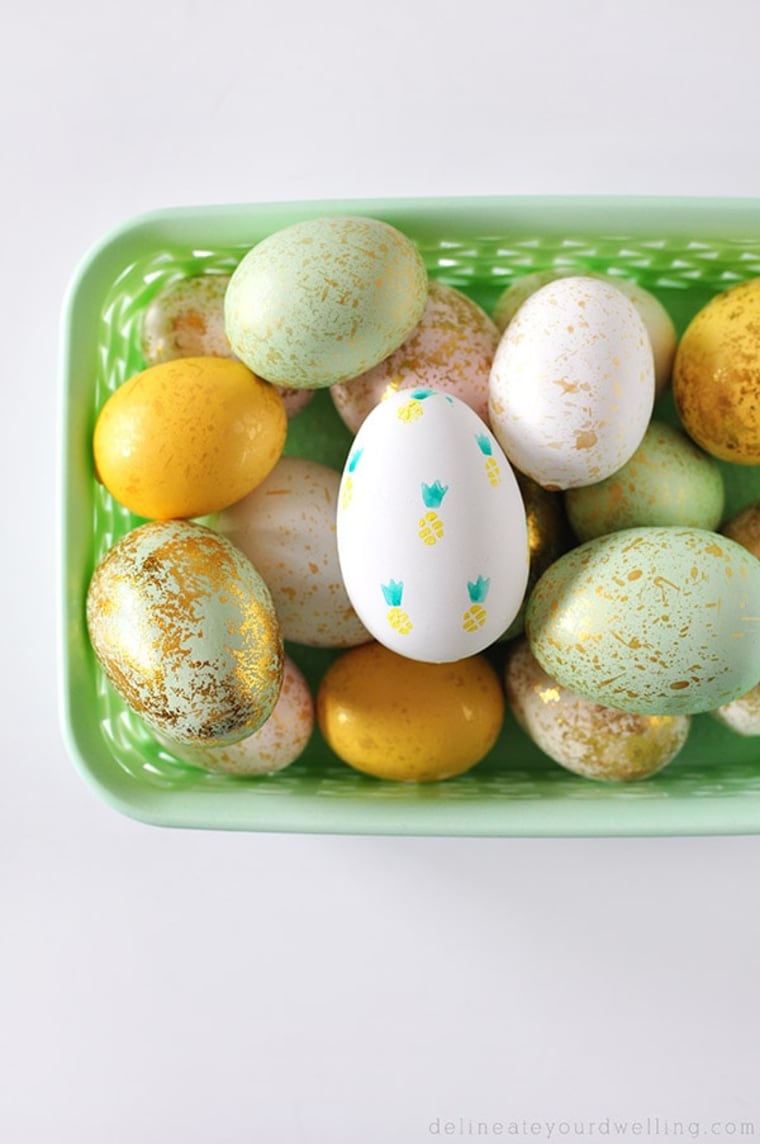 Using erasers and a stamp pad, make Easter eggs featuring the teeniest pineapples, apples and carrots you've ever seen.
Get the tutorial at Delineate Your Dwelling.
Temporary tattoo Easter eggs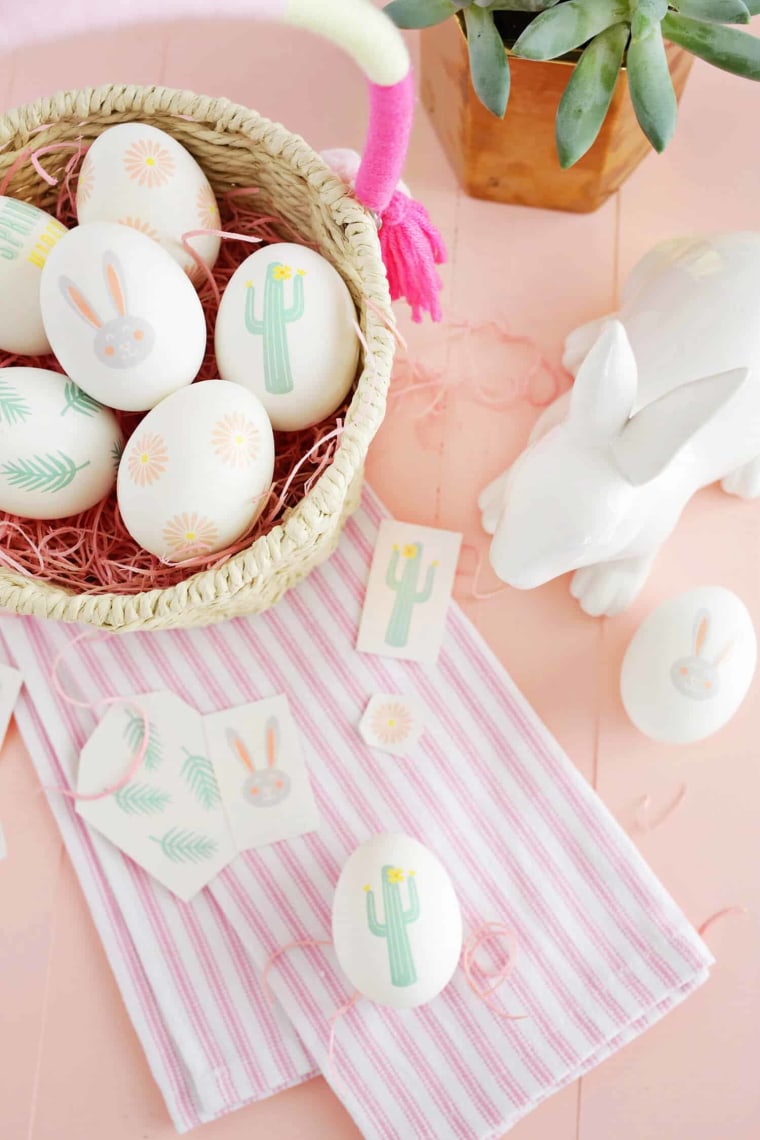 For a fast (and mess-free) way to decorate eggs, look to temporary tattoos. You'll print your own, attach them to the eggs and voila! Your basket will be filled with embellished eggs in no time.
Get the tutorial at A Beautiful Mess.
Spin art Easter eggs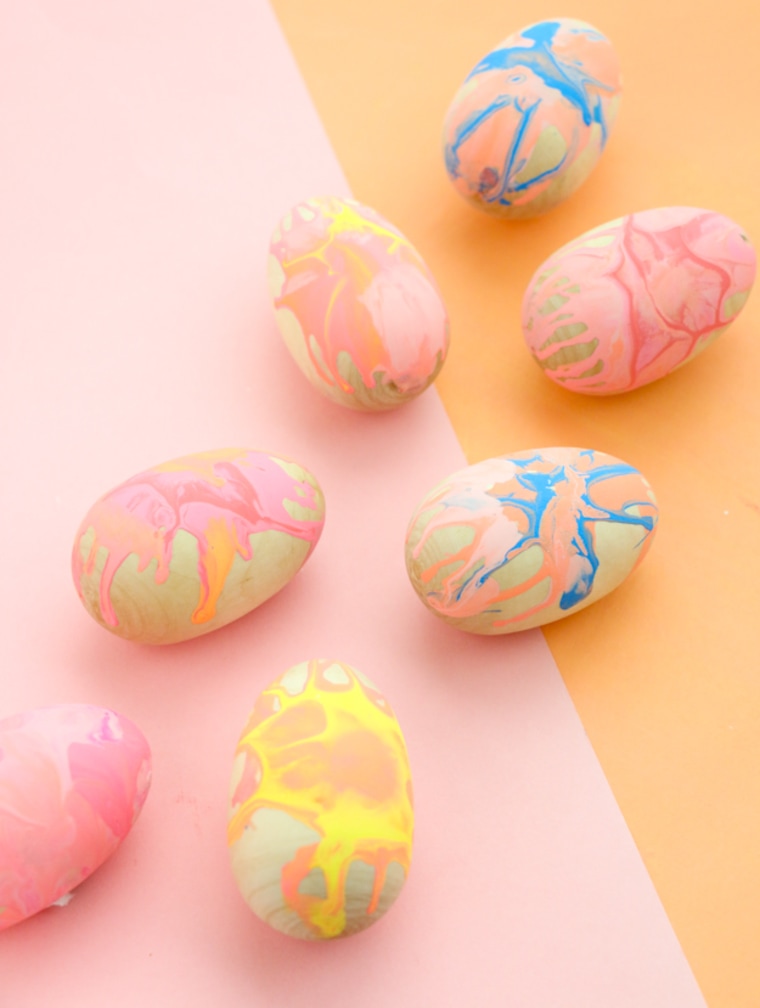 Remember doing spin art as a kid? Get nostalgic and try this design idea.
Get the tutorial at A Kailo Chic Life.
Dried flower Easter eggs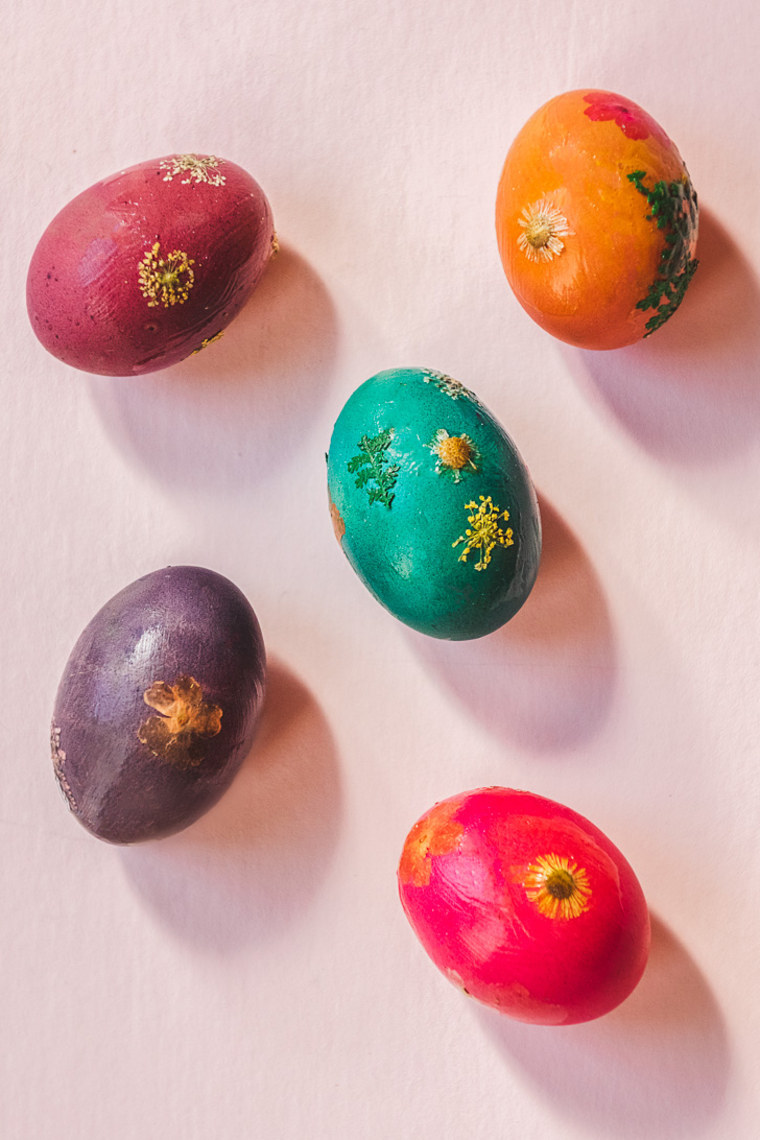 Take the outdoors in and glue some straight-from-the-garden blooms to an assortment of dyed eggs.
Get the tutorial at The House That Lars Built.
Confetti-dipped Easter eggs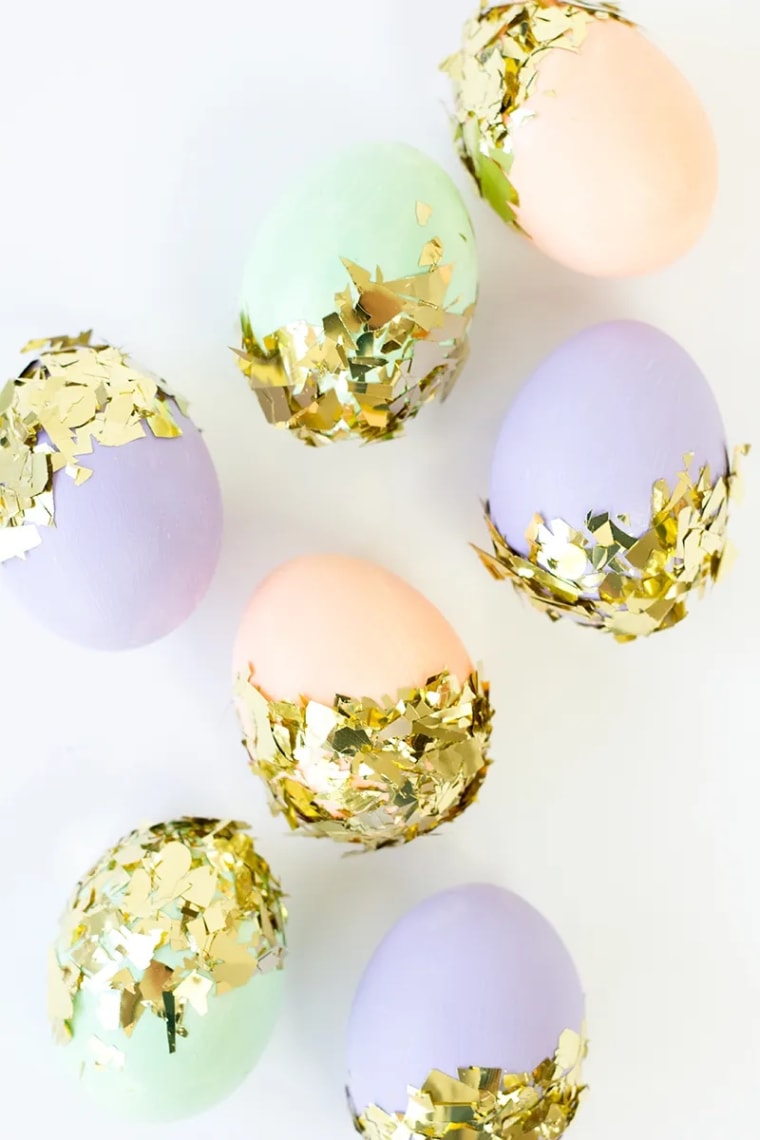 It's time to get your sparkle on! These Easter eggs are dressed for a party, complete with glitzy gold foil and pastel hues.
Get the tutorial at Studio DIY.
Watercolor floral Easter eggs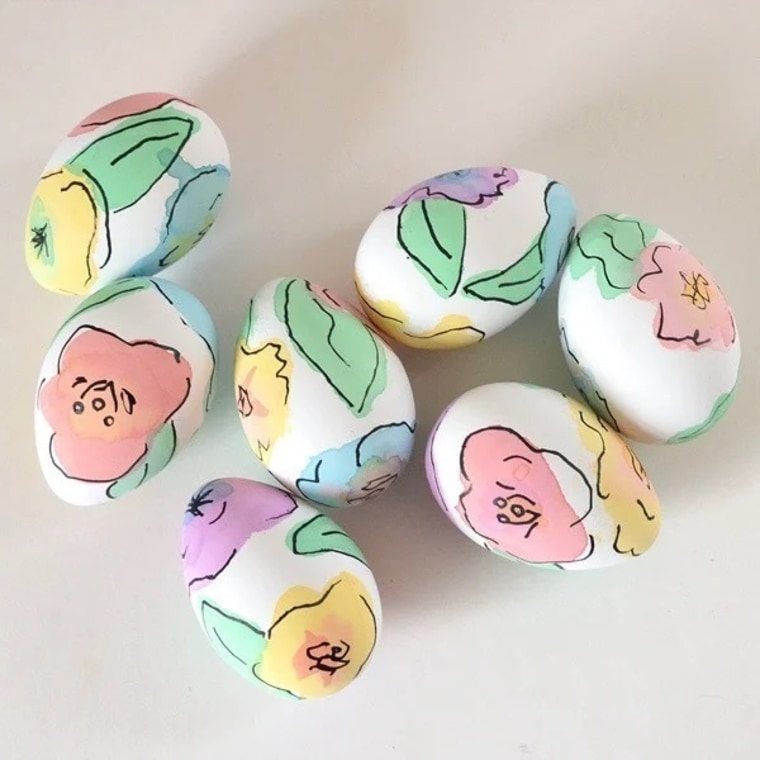 You'll feel like a true artist when you bust out your watercolors to personalize eggs with floral designs. The best part: There isn't an exact science, so you can take some creative liberties with your paint job.