If the thought of Easter puts a song in your heart, why keep it to yourself when you can share happy thoughts of jelly beans, decorated eggs and bunny cupcakes with the rest of your peeps?
There's no better way to spread a little sunshine than by sending Easter wishes in a greeting card or posting them on Instagram for all to see.
Whether you want to show off a stuffed a basket full of treats or the daffodils you planted in your garden, pair these Easter captions with a photo to remind everyone that spring has officially sprung.
Looking for a cute or religious message? Good news because we've got both. But if you're a fan of Easter jokes and puns, we've rounded up a bunch of funny captions for some holiday-inspired humor.
And why not? 'Tis the season, after all.
Even if Peter Cottontail is the one delivering chocolate eggs and marshmallow bunnies this year, you'll have everyone hopping with joy over these clever captions — and we promise, that's no egg-aggeration.
Short Easter captions
May Easter joy be yours this holiday.
Wishing you love and simple abundance this Easter.
Pretty eggs hidden in the grassy dew, a colorful bouquet just for you.
Colorful eggs, sunshine and spring, baskets of candy and Easter everything.
Easter greetings filled with all the joys of springtime.
Sending the sweetest of thoughts for a happy day.
May the light of Easter's renewal warm your heart.
Rejoice in the blessings of Easter.
Wishing you hope, light and peace this Easter.
Hoppy Easter greetings!
Here's hoping your Easter Sunday is filled with sunshine.
Easter Day, on my calendar it's true, sending fond wishes from me to you.
Eggs-cellent Easter wishes to one of my favorite chicks.
May you find faith and gladness in this Easter celebration.
Easter tidings to you and yours.
Angels and bluebirds on branches sing, welcome Easter, welcome spring!
Cute and clever Easter captions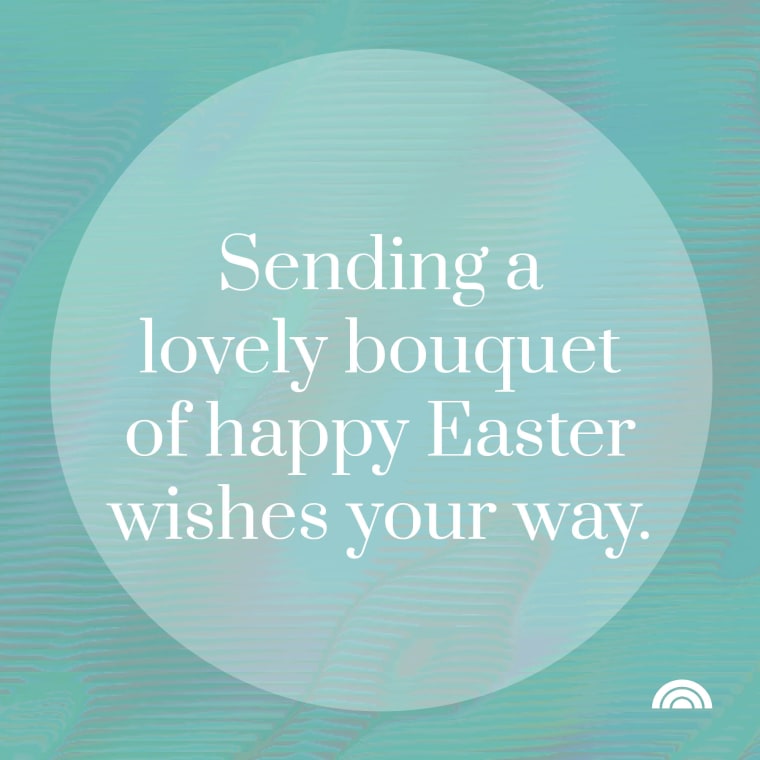 Let this sweet note, my Easter greeting, be with warmest wishes to you from little ol' me.
Here's hoping your Easter is a hop, skip and a jump.
Peep squad goals.
All I need is an Easter bonnet and I'll be the grandest in the parade.
Everything is just fine and candy.
Wishing you an egg-ceptional Easter this year!
Happy Easter greetings from the carrot patch.
Sending warmest wishes on this special day that Peter Cottontail will soon be on his way.
Eggs and chocolate the bunny will bring along with bushels of love to help welcome spring.
Official greetings from Peter Cottontail who wishes you the happiest of Easters.
You are somebunny special.
Did somebunny mention Easter?
Believer in the Easter Bunny.
Just rollin' with my bunnies.
The hunt is on!
Everybunny is welcome at this house!
Sending a lovely bouquet of happy Easter wishes your way.
Wishin' you sweet dreams and jelly beans this Easter.
May the warmth of the spring sun shine on your Easter celebration.
Some bunny is thinking of you this Easter — and it's me.
Don't worry, be hoppy.
Hope your Easter is a bunny-fide delight.
It's Easter, color me hoppy!
Hangin' with my peeps.
Hippity, hoppity Easter's on its way.
Daisies and daffodils in a vase bring a smile to my face.
Me and my Easter crew are chick as thieves.
Snap, crackle and hop.
Hope your Easter is egg-stra special this year.
Go a little crazy this Easter and put all your eggs in one basket.
Sending bunny kisses to all my friends and family.
Keep calm and color Easter eggs.
Easter Bunny crossing.
Live. Laugh. Eat chocolate bunnies.
Happy Easter greetings to you and the crew.
Hip, hip, hurray! Easter's on its way.
Color eggs. Eat chocolate. Smile. It's Easter.
Funny Easter captions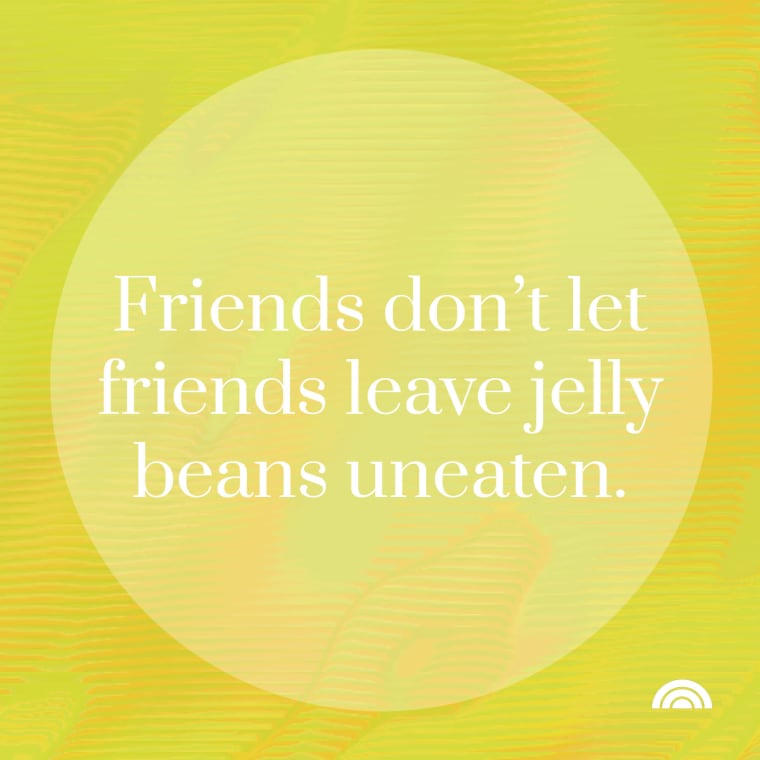 I'm giving up work for Lent. It's a sacrifice, but someone has to do it.
Here comes Peter Cottontail and from what I hear, he's looking for you.
If the Easter Bunny leaves brown eggs behind, don't eat 'em.
It's Easter, aka the perfect day to watch a chick flick.
I carrot even.
Winner winner Easter dinner.
The hunt is on.
I want to believe.
Why does Easter come just once a year? Because it's a hare occurrence.
All's fair in love and egg hunts.
You took my chocolate egg! Omelette it slide ... this time.
I like my Easter eggs over easy.
My favorite celebrity? Eggs Benedict Cumberbatch.
My favorite Easter singer? Egg Sheeran.
Chocolate bunnies? Easy come, easy cocoa.
The lights are on but nobunnies home.
Easter makes me feel like I'm having an eggsistential crisis.
Easter: Hare today, gone tomorrow.
Wherever the bunny goes, chocolate's not far behind.
Oh for Peep's sake!
Friends don't let friends leave jelly beans uneaten.
It's Easter. Don't be afraid to let your hare down.
All I'm sayin' is give peeps a chance.
Officially a chick magnet.
Easter captions for couples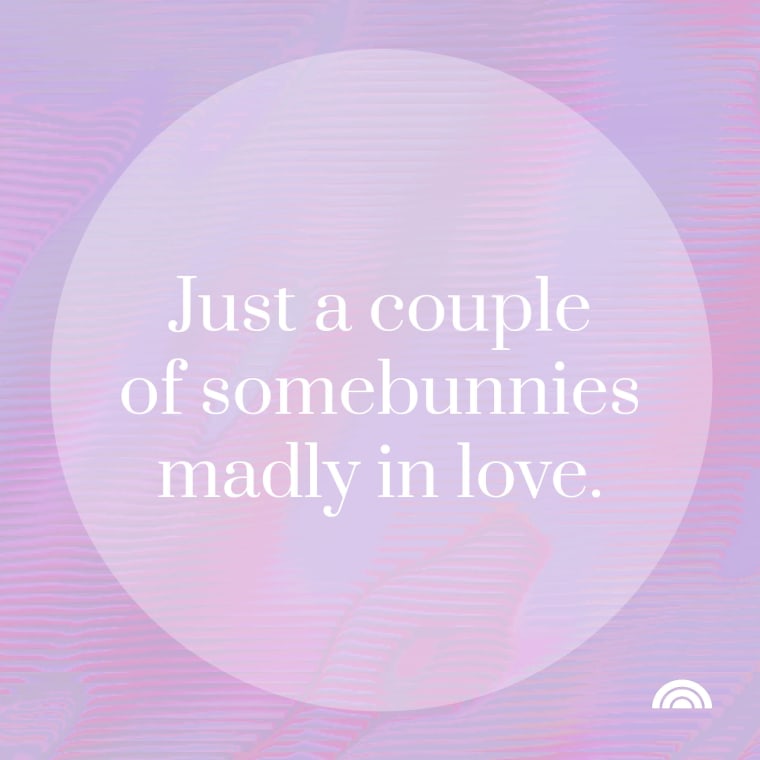 Peeeep! I love you.
You're a good egg.
I love you mind, bunny and soul.
Fancy meeting you hare.
You're really eggcentric. I like that.
I can't hop but lovin' you.
Love is in the hare!
Easter wishes, bunny kisses.
Be my honey bunny.
No bunny loves you better.
Somebunny walked into my life and I'll never be the same.
Are your ears burning? 'Cause somebunny is thinking about you.
Here's hopping you know that I carrot a lot.
I love you to the carrot patch and back.
My heart does the bunny hop for you.
Someone's dreamin' of you this Easter.
Just a couple of somebunnies madly in love.
Spring-inspired Easter captions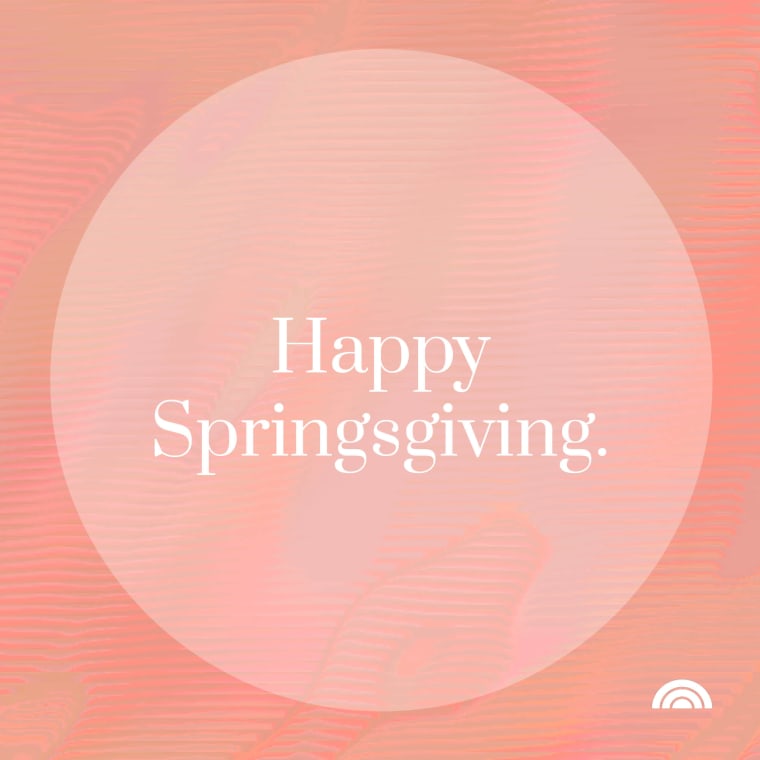 Well, hello spring!
Joyous Easter. Welcome spring. Happy everything!
My soul sings for spring.
Springing into the season.
Happy Springsgiving.
Bright and happy spring wishes to you and yours.
Rejoice and celebrate the spirit of spring.
Make it a hoppy Easter with these ideas