Cinco de Mayo is more than just an excuse to imbibe a margarita.
Rather, "it's a celebration of Mexican American culture," Robyne Robinson, principal consultant at five X five art consultants with an extensive background in the culture of the American Southwest, tells TODAY.com. "Food, drink and remembering Mexican heritage are the highlights of the U.S. festivities."
Contrary to the commonly held opinion, Cinco de Mayo isn't Mexican Independence Day. "Mexican Independence Day falls on September 16 and was established in 1810— 50 years before the battle from Puebla," Dudley Nieto, culinary director Fat Rosie's of Scott Harris Hospitality, who is originally from Mexico and is now based in Chicago, tells TODAY.com.
Below, learn even more Cinco de Mayo facts ahead of May 5.
Cinco de Mayo celebrates the anniversary of Mexico's defeat of the Second French Empire at the Battle of Puebla in 1862
History buffs, perk up your ears: "Because the Mexican treasury was in dire a state due to the war during the reform, President Juárez suspended payment of all foreign debt for two years. This move provoked a backlash from Spain, France and Great Britain, with their forces arriving in Veracruz in 1861 to collect monies," Ellen Riojas Clark, Ph.D., professor emerita at University of Texas at San Antonio, tells TODAY.com. "Though only France continued onto Mexico City, the Mexican army overcame the French."
In short, Cinco de Mayo celebrates the Mexican army's victory over French at the Battle of Puebla on] May 5, 1862.
In Mexico, it's mainly recognized in the state of Puebla
"The victory of Puebla, under the command of General Ignacio Zaragoza, became a symbol of Mexican resistance to foreign domination," Nieto says, adding that "we proudly call ourselves Mexicans" due to this.
So, what does this look like today? "We celebrate Cinco de Mayo with a military and schools' parade in the city of Puebla."
Cinco de Mayo is celebrated throughout America — and beyond
"More than 150 Cinco de Mayo celebrations are held across the U.S.," Robinson says. "But it's celebrated as far away as Osaka, Tokyo and Lagos, Nigeria."
"We, in the USA, use this date to celebrate and extend our knowledge of our Mexican roots, history, heritage, and culture," Riojas Clark says. Many cities in the U.S. from Los Angeles to San Antonio and Houston to New York City hold special events such as parades, art exhibits, seminars, and festivals with music, dances, and food stands in commemoration of the holiday.
Americans actually helped orchestrate Cinco de Mayo celebrations
Did you know the U.S. had a pivotal role in bringing Cinco de Mayo festivities to life? "At the end of the U.S. Civil War, the Union started sending money and guns to the Mexicans, which eventually forced the French out," Robinson says. "Mexican President Porfirio Díaz turned the celebration of the Battle of Puebla into the Cinco de Mayo festival, which was first celebrated in California in 1863."
Cinco de Mayo didn't take off until the 1940s
According to Robinson, Cinco de Mayo became popular around the time of the rise of the Chicano Movement.
As a Chicana activist in the '60s, Riojas Clark recalls their intent to raise the cultural awareness of Mexican Americans since this history was neither taught nor recognized in our curriculum. "For us, it is a day to celebrate because, as mestizos, the victory of Mexicans over a European country marked a distinct event in history," she says. "But the French ended up winning that war, and Maximilian von Habsburg and Carlota came as French royalty to rule Mexico. Even so, for us, it is another crucial recognition of overcoming colonialism in the Americas." Now, the holiday has gone mainstream, with a global reach.
Food is a key part of the festivities
"Now everyone likes to go to street festivals with all kinds of foods largely of Mexican origin," Riojas Clark says. "Street corn, tacos from brisket, fajitas, tripas [chitterlings] and sausage in a flour tortilla are favorites."
Make these recipes from Mexican and Mexican American chefs
There's no traditional garb for Cinco de Mayo
As a cultural expert in Mexican textiles, rebozos, and huipiles, which constitute Riojas Clark's standard dress, she says that the typical dress for women includes colorful dresses and blouses from Oaxaca, which are paired with jeans and are now sold throughout the U.S.
"Men might wear the comfortable guayaberas [a lightweight men's shirt with pockets] from the Yucatán that go from informal to formal use," she continues, pointing out that "there, of course, is not a standard dress for Cinco de Mayo."
Still, there's a chance to see gorgeous Mexican clothing on the holiday
But if you want to see traditional clothing, there are battle of Puebla reenactments and dance performances in select cities. "The costumes in the Ballet Folklorico [a type of Mexican folk dance] are bright and beautiful, with men in traditional mariachi dress and women in swirling, colorful full-length ranchero skirts with Indigenous influenced ribbons," Riojas Clark says.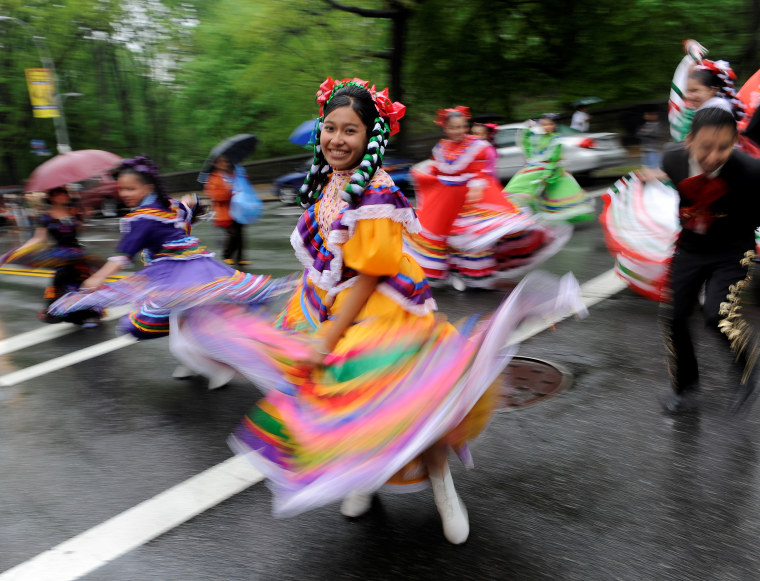 There are some pretty out-there events in celebration of Cinco de Mayo
It's not all about tacos and margaritas.
"A skydiving club in Vancouver, B.C. hosts a Cinco de Mayo skydiving event," Robinson says. "There's also an annual Cinco de Mayo air guitar festival in Montego Bay, Jamaica." Pretty neat, huh?
All are welcome to celebrate
Even if you're not of Mexican heritage, Cinco de Mayo can be an opportunity to educate and inform yourself about another culture. "[Hang] some papel picado [Mexican decorative craft paper], cue up the mariachi music, and fire up the grill," Marquez says. "When it comes to celebrating, we always believe the more the merrier, regardless of your own heritage."
Cinco de Mayo and Mexican Independence Day are not the same thing
Given that it's a popular misconception, allow us to leave you with this. "Since many in the USA, never have been taught the history of Mexico, they confuse the Día de la Independencia or el 16 de septiembre which occurred in 1810 with the Cinco de Mayo [1862]. The Mexican Independence was a declaration of war against the Spanish colonial government in 1810," Riojas Clark says. "A most important distinction."