For better or worse, it's the holiday season — and what better way to celebrate it than to watch a few Christmas movies?
If you're the type who loves a feel-good Hallmark film complete with a happy ending, good news: there are plenty to choose from. But if a serious dose of holiday reality is more your speed, then chances are pretty good that "National Lampoon's Christmas Vacation" is on regular rotation at your house.
More than that, we're guessing you can recite all the best "Christmas Vacation" quotes. There are so many good ones, and all of 'em are holiday gems.
That's because whether we like to admit it or not, Christmas time can get downright stressful, especially when the relatives are involved. And if we're being honest right now, much like Clark Griswold (Chevy Chase), who doesn't have a Cousin Eddie (Randy Quaid) or Aunt Bethany (Mae Questel) in the family?
Even if you don't, "Christmas Vacation" is still an enduring classic. It combines all the dysfunctional aspects of the holiday season, like trudging through the cold and snow to get juuust the right Christmas tree...with an episode of road rage thrown in for good measure.
There's also the uncomfortable family dinner, uninvited guests who show up on your doorstep and, of course, the dang Christmas lights which never (EVER) work right. Obviously, that's something none of us discovers until the very last strand has been carefully hung and it's too late to turn back.
To remind you that you're not alone, we've filled Santa's bag full of "Christmas Vacation" quotes from Clark Griswold, Ellen (Beverly D'Angelo), Cousin Eddie and the rest of the family to use as Instagram captions, funny text messages or Christmas quotes.
And we promise that just like the Griswold Family Christmas Tree, they're all a real beaut.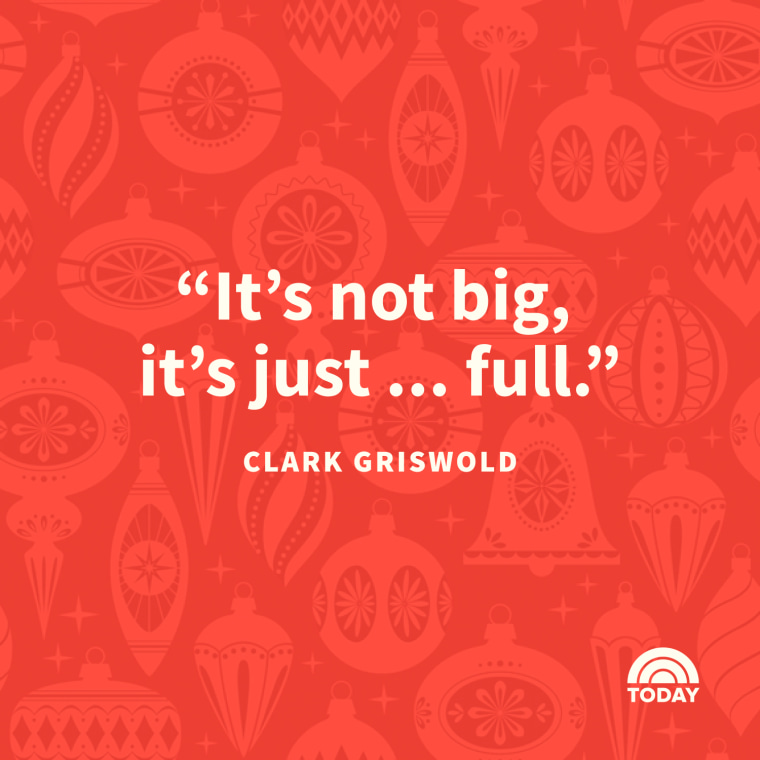 "I dedicate this house to the Griswold Family Christmas." — Clark Griswold
"Where do you think you're going? Nobody's leaving. Nobody's walking out on this fun, old-fashioned family Christmas. No, no. We're all in this together." — Clark Griswold
"Clark, stop it! I don't want to spend the holidays dead!" — Ellen Griswold
"Surprised, Eddie? If I woke up tomorrow with my head sewn to the carpet I wouldn't be more surprised than I am right now." — Clark Griswold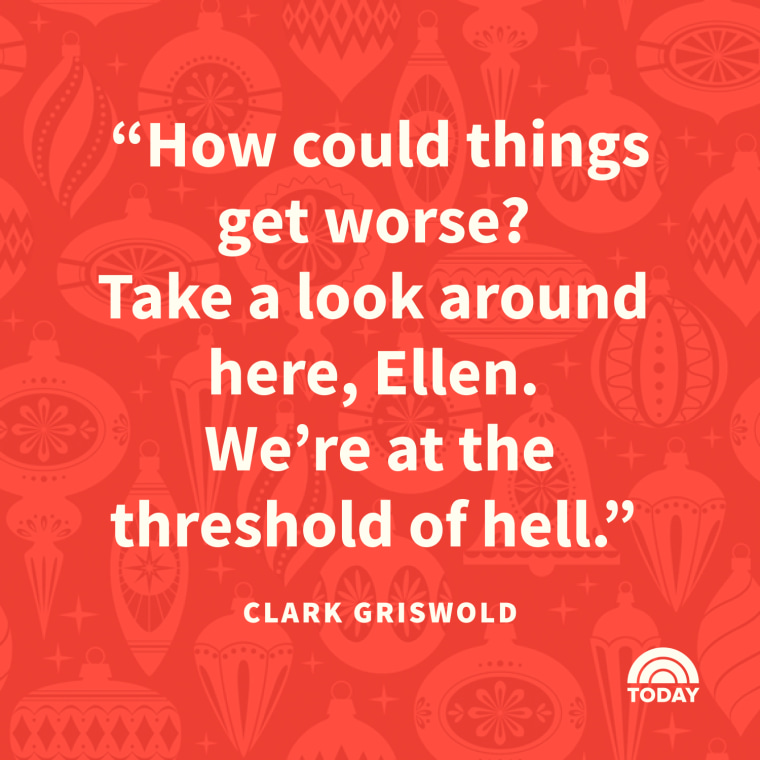 "Eat my road grit, Liver Lips!" — Clark Griswold
"Look at the time! I gotta go to bed. I still gotta brush my teeth, feed the hog, still got some homework to do, still got those bills to pay, wash the car." — Rusty Griswold
"Clark, we're stuck under a truck!" — Ellen Griswold
"There it is ... the Griswold family Christmas tree." — Clark Griswold
"Honey, do you honestly think I would check thousands of tiny little lights if I wasn't sure the extension cord was plugged in?" — Clark Griswold
"This isn't charity; it's family." — Clark Griswold
"It's a beaut, Clark, it's a beaut!" — Clark Griswold Sr.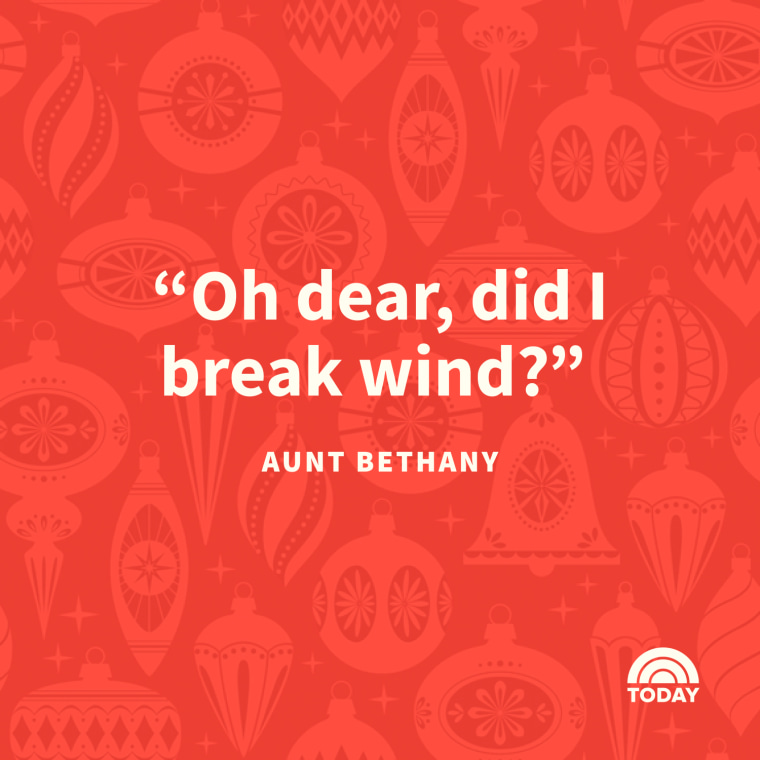 "You want to hurry this up, Clark? I'm freezing my baguettes off." — Art
"It's not big, it's just ... full." — Clark Griswold
"Clark, I think it'd be best if everyone went home...before things get worse." — Ellen Griswold
"Oh boy, this is a surprise, Clark. It's just a real nice surprise. Just a real nice surprise." — Cousin Eddie
"Eat my rubber!" — Clark Griswold
"You couldn't hear a dump truck driving through a nitroglycerin plant." — Uncle Lewis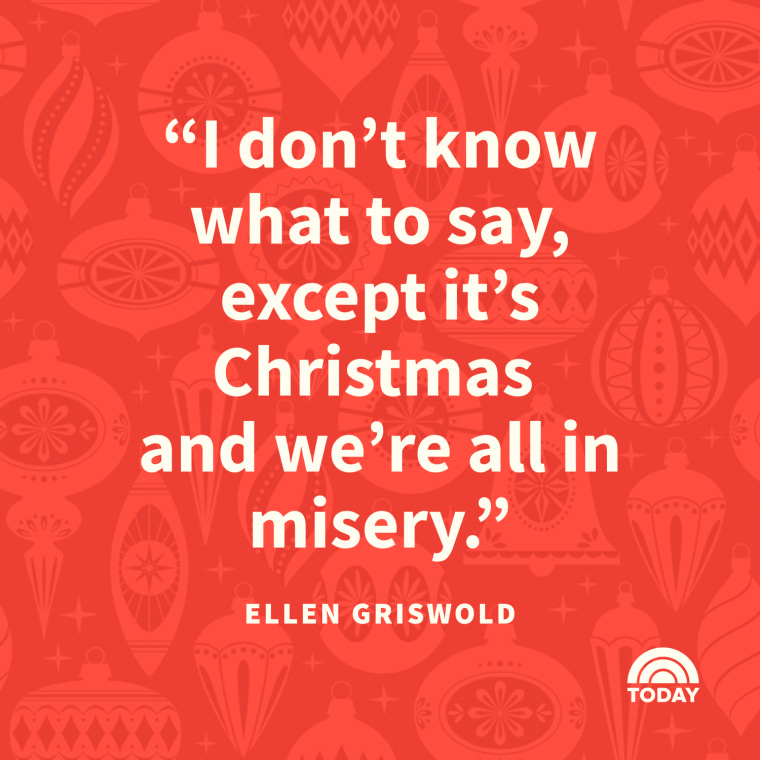 "Can I refill your eggnog for you? Get you something to eat? Drive you out to the middle of nowhere, leave you for dead? – Clark Griswold
"Better take a raincheck on that, Art. He's got a lip fungus they ain't identified yet." — Cousin Eddie
"Grace? She passed away 30 years ago." Aunt Bethany
"And why is the carpet all wet, Todd?" — Margo
"We're gonna have the hap-hap-happiest Christmas." — Clark Griswold
"If that thing had nine lives, she just spent 'em all." — Cousin Eddie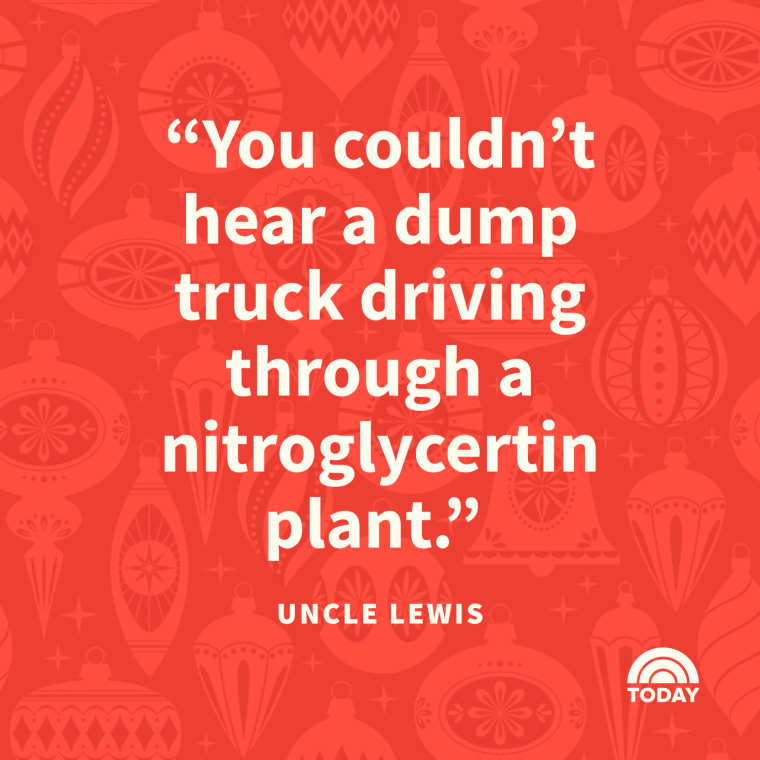 "This is a full-blown, four-alarm holiday emergency here." — Clark Griswold
"We're kicking off our fun, old-fashioned family Christmas by heading out into the country in the old front-wheel drive sleigh to embrace the frosty majesty of the winter landscape and select that most important of Christmas symbols." — Clark Griswold
"It's people that make the difference. Little people like you." — Frank Shirley
"I got hemorrhoids, can you believe it?" — Francis
"Save the neck for me, Clark!" — Cousin Eddie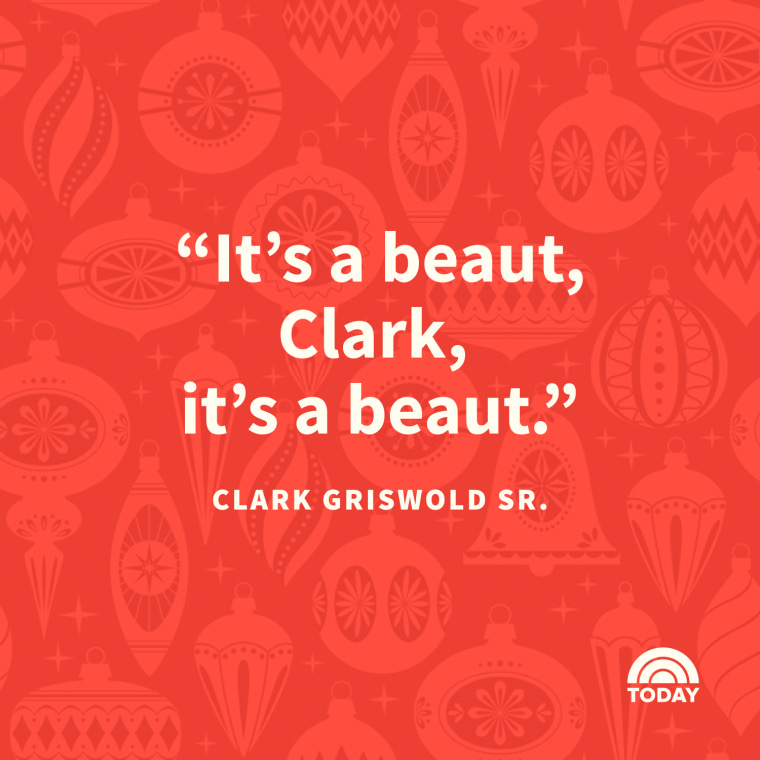 "I don't know what to say, except it's Christmas and we're all in misery." — Ellen Griswold
"I love it here. You don't gotta put on your coat to go to the bathroom, and your house is always parked in the same place!" — Ruby Sue
"It was an ugly tree anyway." — Art
"Grandma Nora has a painful burr on my heel and if you rub it for me, I'll give you a whole quarter!" — Nora
"This here's our pride and joy: Snots. We named him that because he's got this sinus condition. Snots, you roll over and let Uncle Clark scratch your belly." — Cousin Eddie Johnson
"The little lights are not twinkling." — Art
"I just can't believe you're actually standing here in my living room, Eddie. Never thought the day would come." — Clark Griswold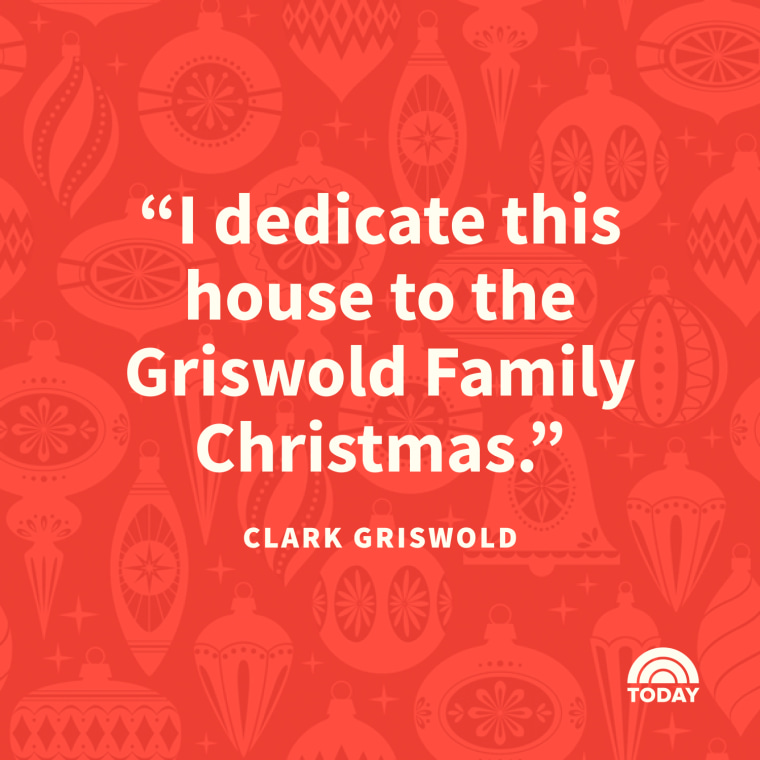 "The most enduring traditions of the season are best enjoyed in the warm embrace of kith and kin." — Clark Griswold
"It wouldn't be the Christmas shopping season if the stores were any less hooter — hotter than they are." — Clark Griswold
"Last season he was a pixie-dust spreader on a Tilt-A-Whirl and he thinks that maybe next year he'll be guessing people's weight or barking for Yak Woman." — Cousin Eddie Johnson
"How could things get any worse? Take a look around here, Ellen. We're at the threshold of hell." — Clark Griswold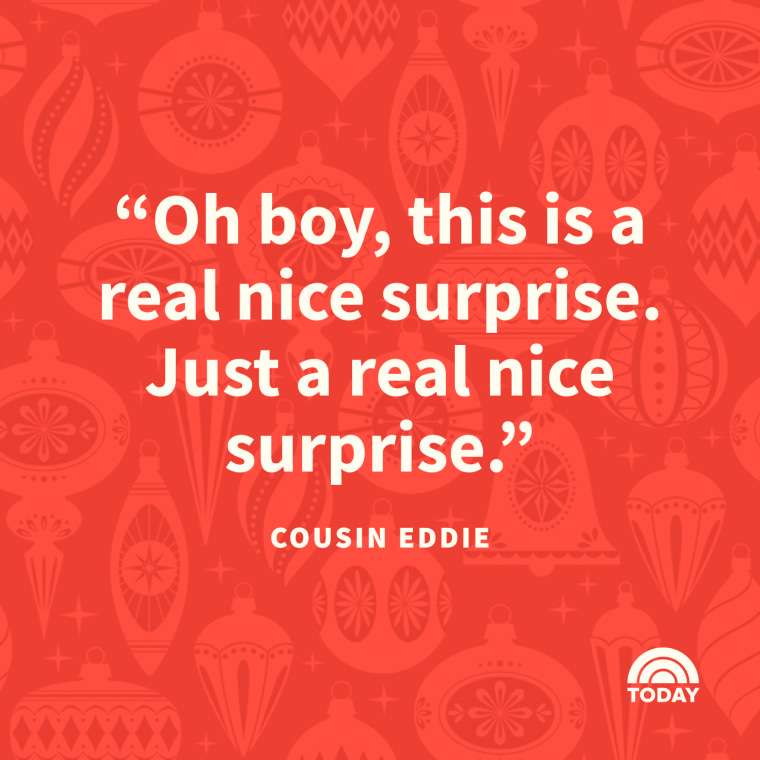 "Oh dear, did I break wind?" — Aunt Bethany
"It's a bit nipply out. I mean nippy out. What did I say? Nipple? Ah, there is a nip in the air. though" — Clark Griswold
"Our Father, who art in heaven, hallowed be thy name, and forgive my husband, he knows not what he does." — Ellen Griswold
"Aunt Bethany, does your cat eat Jello?" — Clark Griswold
"Catherine, if this turkey tastes half as good as it looks, I think we're all in for a very big treat!" — Clark Griswold
"That's a honey of a tree, Clark ... is it real?" — Cousin Eddie Johnson
"Santy Claus! Uncle Clark … are you Santy Claus?" — Ruby Sue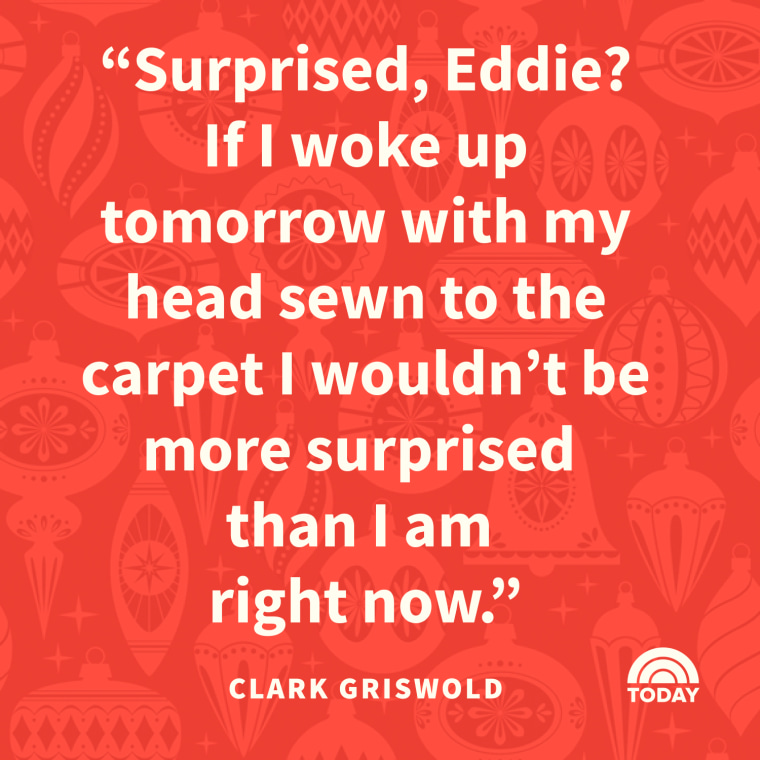 "It's a one-year membership to the Jelly of the Month Club." — Clark Griswold
"Welcome to our home — what's left of it." — Ellen Griswold
"I'm sorry. This is our family's first kidnapping." — Ellen Griswold
"If this isn't the biggest bag-over-the-head, punch-in-the-face I ever got!" — Clark Griswold
"My cousin-in-law, whose heart is bigger than his brain." — Clark Griswold
"Dad, you taught me everything I know about exterior illumination." — Clark Griswold