Celebrities are showing off their best Halloween costumes.
This year, the spooky Oct. 31 holiday fell on Tuesday, which meant people had the chance to party all weekend long before — and maybe even after — the big day. On social media, celebrities shared pictures of themselves in costume.
Online, fans saw many celebrity parents dress their kids up in cute costumes, while some couples donned coordinated looks. Then, there will was some who did a quick, last-minute costume, like Simu Liu, who suffered an injury right before the holiday.
Either way, celebs was dressed to the nines, including the stars who attended Heidi Klum's Halloween party.
Check out the stars in their best 2023 Halloween costumes.
Heidi Klum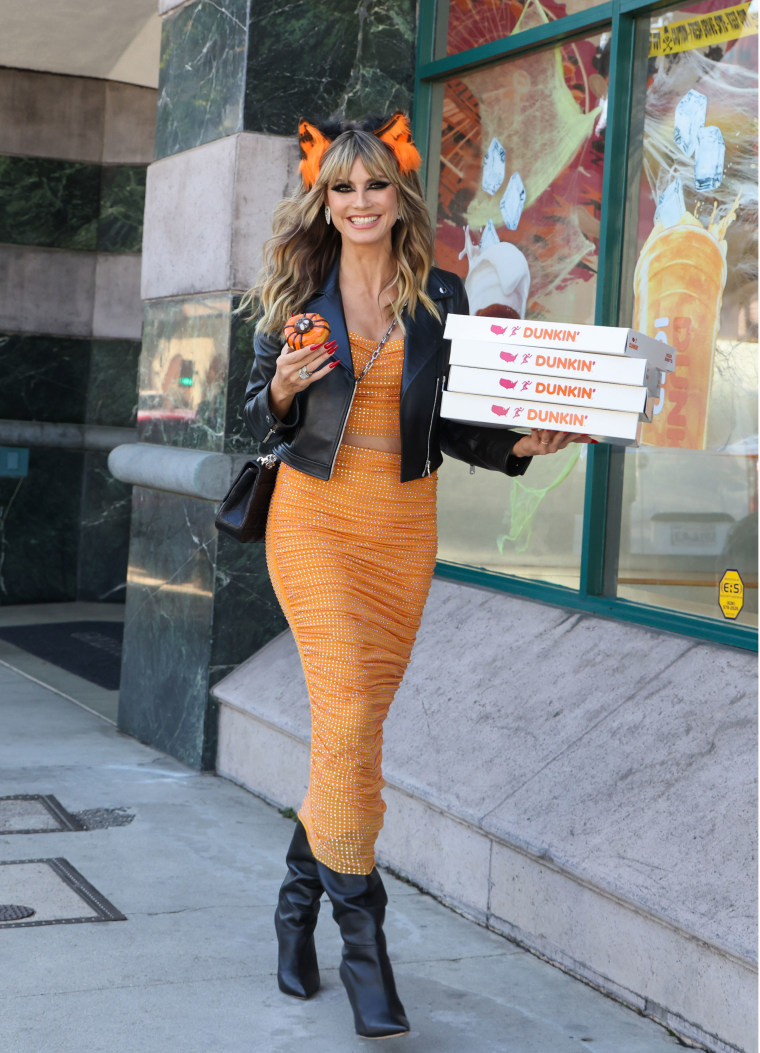 Ahead of her annual — and epic — Halloween party, Klum was seen getting into the spooky spirit. On Oct. 25, she was photographed wearing orange-and-black kitten ears while out and about in Los Angeles.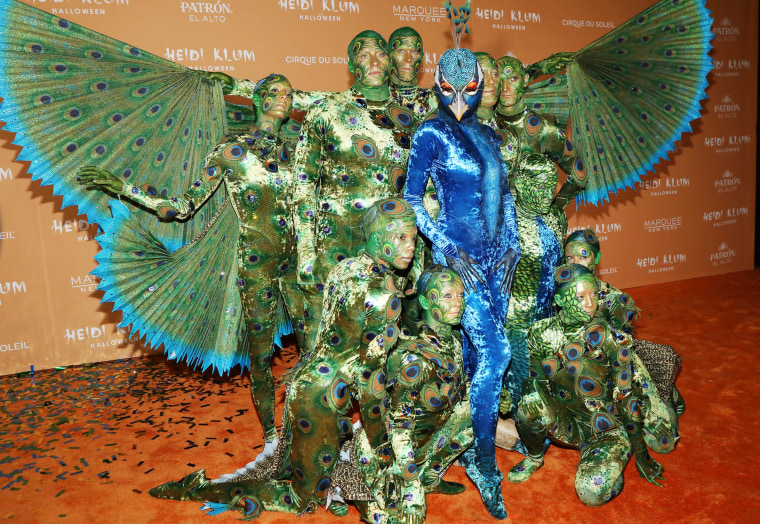 On the day of her Halloween party, Heidi Klum showed up in a jaw-dropping outfit. This year, she went as a peacock and apparently tapped some dancers to help her create the look of the tail feathers.
Janelle Monáe
Janelle Monáe was dressed to impress. On Instagram, she shared pictures of herself dressed as a chameleon, and she also included a video of her outfit changing colors.
Ariana Grande and Elizabeth Gillies
Why do Halloween alone when you can do it with your best friend? This year, Ariana Grande and her "Victorious" co-star Elizabeth Gillies decided to join forces to dress up as Nomi Malone and Cristal Connors from the 1995 erotic thriller "Showgirls."
Dwayne "The Rock" Johnson
For Halloween, Dwayne "The Rock" Johnson paid homage to David Beckham.
The "Jumanji" actor dressed as the soccer star by wearing a blonde wig and a red shirt that had Beckham's name on the back.
"265lb BLA-MOAN BECKHAM #7 on the field #1 in your heart," Johnson captioned the Instagram post.
Beckham commented, "I mean I thought I was looking in the mirror 😂 looking good man you might need a bigger jersey 😂@therock ❤️."
Christina Aguilera
Like Dwyane "The Rock" Johnson, Christina Aguilera also paid homage to a living legend on Halloween.
On Instagram, she shared pictures of herself dressed as her "Burlesque" co-star Cher, whom she called a "legendary queen."
"You ate that Cher baby," Tamar Braxton commented of her outfit online.
"Iconic," Paris Hilton added.
Neil Patrick Harris and David Burtka
Neil Patrick Harris and David Burtka's household was very festive this Halloween. The family of four dressed as Greek Gods — and they completely nailed the look!
Jennifer Hudson
This Halloween, Jennifer Hudson transformed into Missy Elliot to host her daytime talk show. Can you tell what video inspired her Missy look?
Drew Barrymore
This October, Drew Barrymore brought it back to the '80s when she dressed up as "The Joy of Painting" host Bob Ross.
Mariah Carey
Mariah Carey pulled out all the stops for Halloween. Not only did she dress up as Jessica Rabbit from "Who Framed Roger Rabbit," but she also dressed as Regina from "Mean Girls."
Simu Liu
After tearing his Achilles tendon a few days before Halloween, Simu Liu decided to put his injury to good use by dressing up as Aaron Rodgers, who also tore his Achilles in September.
Halle Bailey
Halle Bailey and her boyfriend, DDG, dressed up as one of the most iconic couples in film.
For Halloween, they went as Janet Jackson and Tupac in their 1993 drama "Poetic Justice."
Chrishell Stause and G Flip
The couple really impressed with their costumes. For Halloween, G Flip was Troye Sivan and Chrishell Stause was Ross Lynch from the "One of Your Girls" music video.
"We haven't stopped laughing since😆How'd we do?" they captioned their Instagram.
Chrissy Teigen
Chrissy Teigen and her four kids got into the holiday spirit ahead of Halloween. Esti was Little Red Riding Hood, Wren was Where's Waldo, Miles was Scooby Doo and Luna was Lisa from Blackpink, where Teigen was Pippi Longstocking.
Kerry Washington
The actor dressed up as track and field sprinter Sha'Carri Richardson for Halloween — and pretty much nailed the look!
Shay Mitchell
Shay Mitchell and her daughter Rome were inspired by Elphaba and Glinda from the musical "Wicked."
Kourtney Kardashian Barker and Travis Barker
Pregnant "Kardashians" star Kourtney Kardashian Barker and husband Travis Barker took inspiration from a wedding scene in the spooky 1988 comedy "Beetlejuice." The couple shared pics Oct. 30 on Instagram that showed Barker dressed as the movie's ghoulish title character, played in the film by Michael Keaton, and Kardashian Barker costumed as his reluctant bride, Winona Ryder's goth character Lydia.
"I'm the ghost with the most, babe," she captioned the images.
Kaley Cuoco
Actually, it was Kaley Cuoco's 7-month-old daughter, Matilda, showing off her costumes on the "Flight Attendant" star's Instagram page on Oct. 31. The looks included an old-lady outfit, the Stay Puft Marshmallow Man from "Ghostbusters," a chicken and a football.
Adele
The "Hello" singer was a dazzling version of Morticia Addams from "The Addams Family" that she showed off for her fans during a show at her Las Vegas residency.
Lizzo
The "Truth Hurts" singer paid homage to the late Tina Turner by dressing up as the iconic artist, right down to a blond wig and minidress eerily similar to what Turner would've worn while performing.
"Honoring Tina Turner," she captioned a pair of photos on Instagram on Oct. 29.
Kendall Jenner
Jenner showed off a serious blond look while dressing as Marilyn Monroe in a series of pictures she shared Oct. 29 on Instagram.
"happy birthday mister president," Jenner captioned the photos, referencing when Monroe famously sang "Happy Birthday" to President John F. Kennedy in 1962.
Jenner's sister Kim Kardashian wore the iconic dress Monroe had on while she serenaded JFK to the Met Gala in 2022.
Kardashian's daughter North West, 10, had some Halloween fun, too, dressing up as dad Ye's "Dropout Bear" mascot, which appeared on the cover of his 2007 album, "Graduation."
Demi Lovato
The "Cool for the Summer" singer was seven dwarves shy, but she still pulled off Snow White. "My favorite time of the year.. Happy Halloween," she captioned a quintet of photos on Instagram on Oct. 29.
Keke Palmer
The "Nope" star put a fresh spin on the bride of Frankenstein and the doctor. "He gave me LIFE," she captioned a photo on Instagram on Oct. 27, showing her sprawled on her back with a baby leaned over her. It's unclear if her baby, whom she welcomed in February, is the child in the picture.
Kelsea Ballerini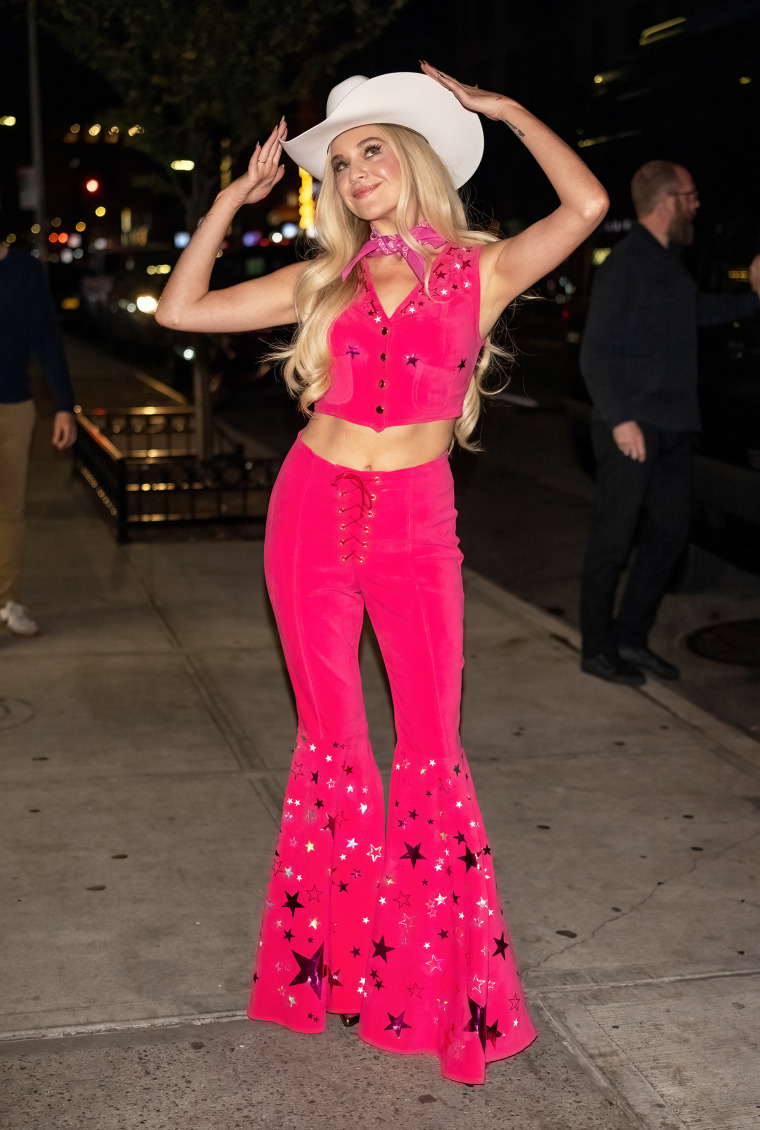 The singer stepped out dressed as Margot Robbie's Western Barbie while attending an event in New York City on Oct. 25. Ballerini looked picture-perfect in her pink cowgirl look, complete with bell-bottoms and a hat.
Padma Lakshmi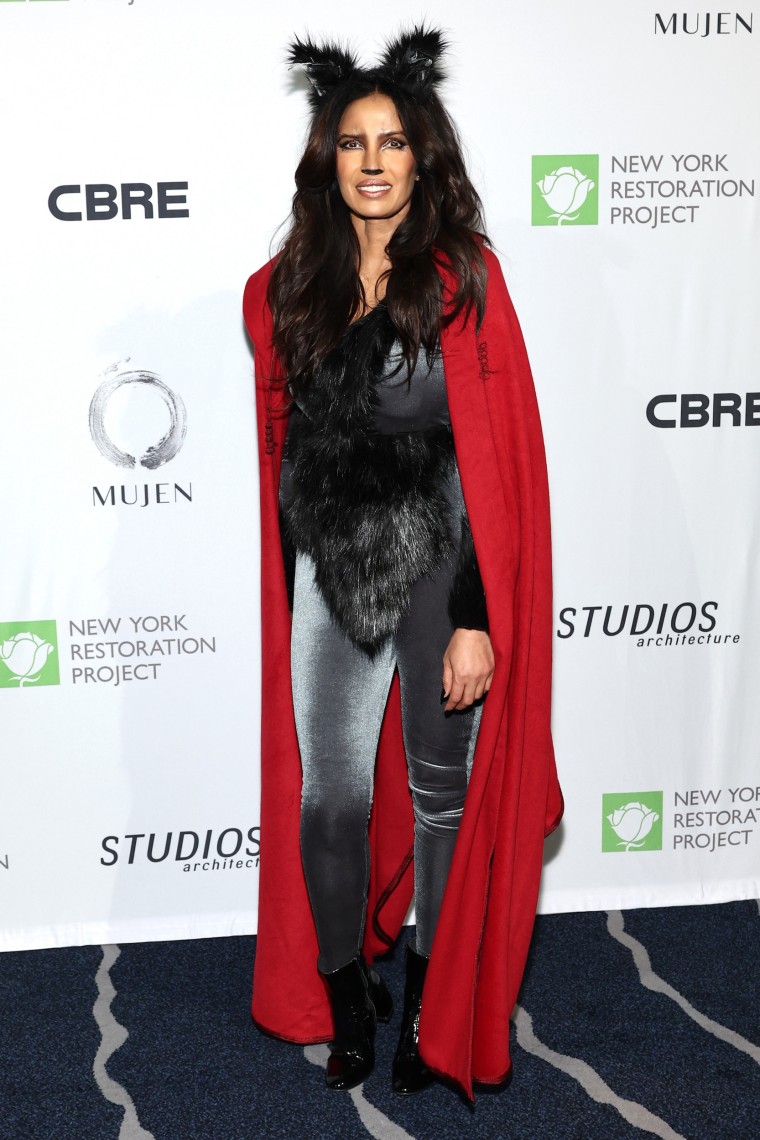 The "Taste the Nation" host attended Bette Midler's annual Hulaween bash in a Little Red Riding Hood wolf-inspired look. The celebration was held Oct. 27 at Cipriani South Street in New York City.
Dylan Mulvaney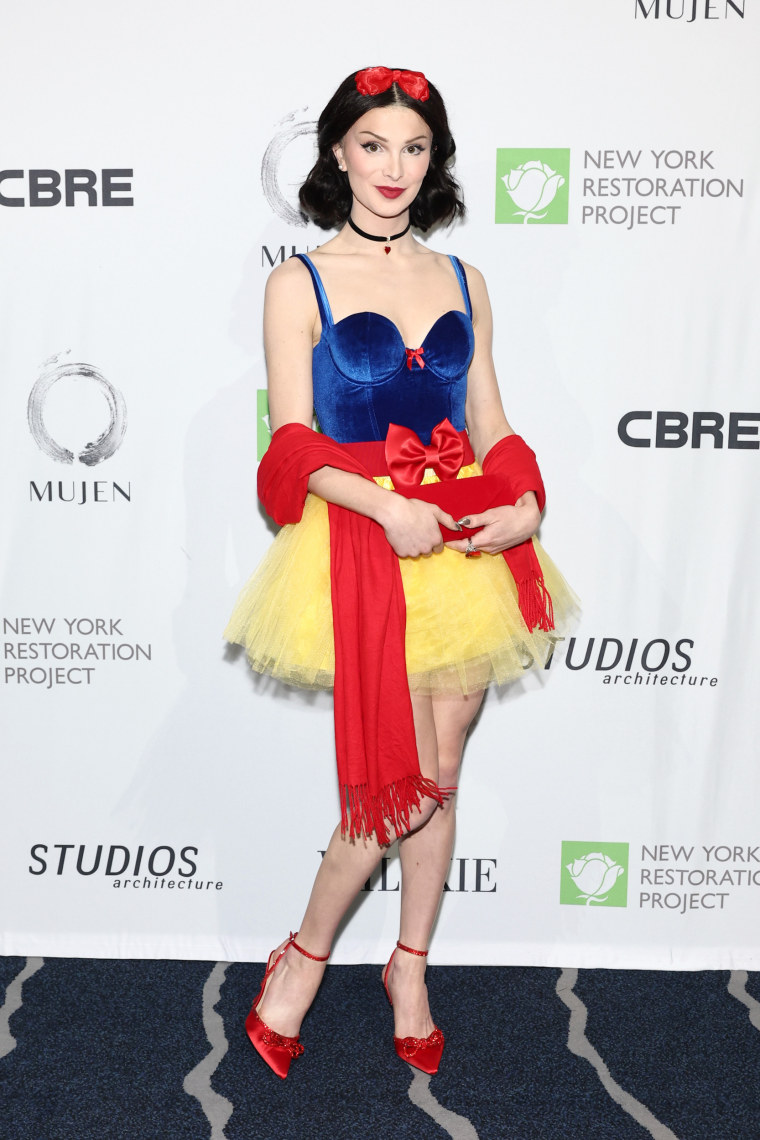 Dylan Mulvaney was also in attendance and looked princess-perfect. The social media star arrived to the Halloween party dressed as Snow White.
Chloe Bailey
Chloe Bailey shut Halloween weekend down when she dressed up as Emilia Clarke's character from "Game of Thrones."
"I am Khaleesi, the Mother of Dragons 🐉," Bailey captioned the Instagram post.
Hailey Bieber
In the weeks leading up to Halloween, Hailey Bieber dressed up as a vampire (fifth slide) and Rachel from "Friends" (seventh slide) and shared the looks in a carousel post on Instagram.
Sarah Hyland and Wells Adams
Sarah Hyland and her husband, Wells Adams, had fans laughing when they dressed up as a bottle of ketchup and Heinz's new condiment, seemingly ranch, which is inspired by Taylor Swift. The meme started after the singer's internet-breaking appearance at Arrowhead Stadium Sept. 24 to cheer on rumored boyfriend Travis Kelce.
Khloé Kardashian
Khloé Kardashian got into the Halloween spirit when she dressed herself and her son, Tatum, up as cows — and as always, Khloé Kardashian's makeup was on point!
Kourtney Kardashian
Amid her ongoing feud with sister Kim Kardashian playing out on Season Four of "The Kardashians," Kourtney Kardashian Barker reminded us all that no one can poke fun at her family better than she can.
Kardashian Barker, heavily pregnant with her and husband Travis Barker's first child together, dressed as Kim Kardashian.
Specifically, Kardashian Barker re-created her sister's controversial 2013 floral Met Gala look, which was panned online.
"Freaky Friday," she captioned the post, while tagging herself as Kim Kardashian.
Paris Hilton
Paris Hilton paid homage to one of the biggest singers in music when she dressed up as Britney Spears from the "Toxic" music video for the annual Casamigos Halloween party in Beverly Hills, California.
Justin Bieber
Justin Bieber was also at the annual Casamigos Halloween party with a slew of other celebrities.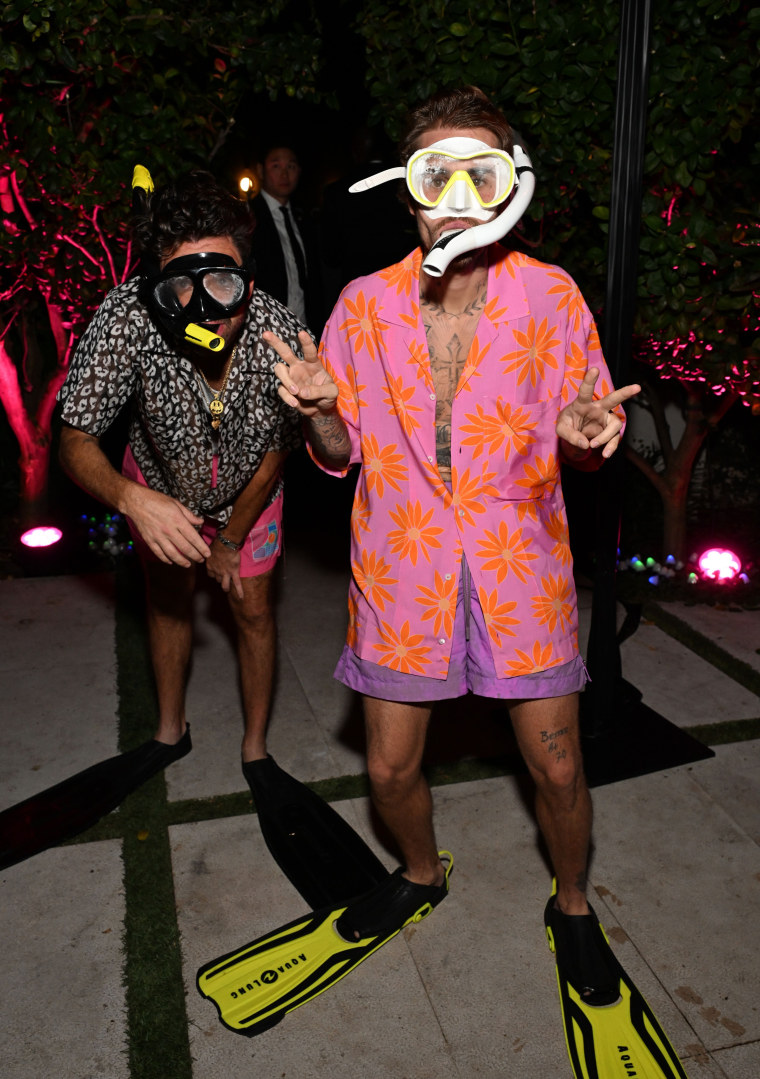 For the event, he wore a snorkeling mask, flippers and a pink floral shirt that matched his shorts.
Megan Fox and Machine Gun Kelly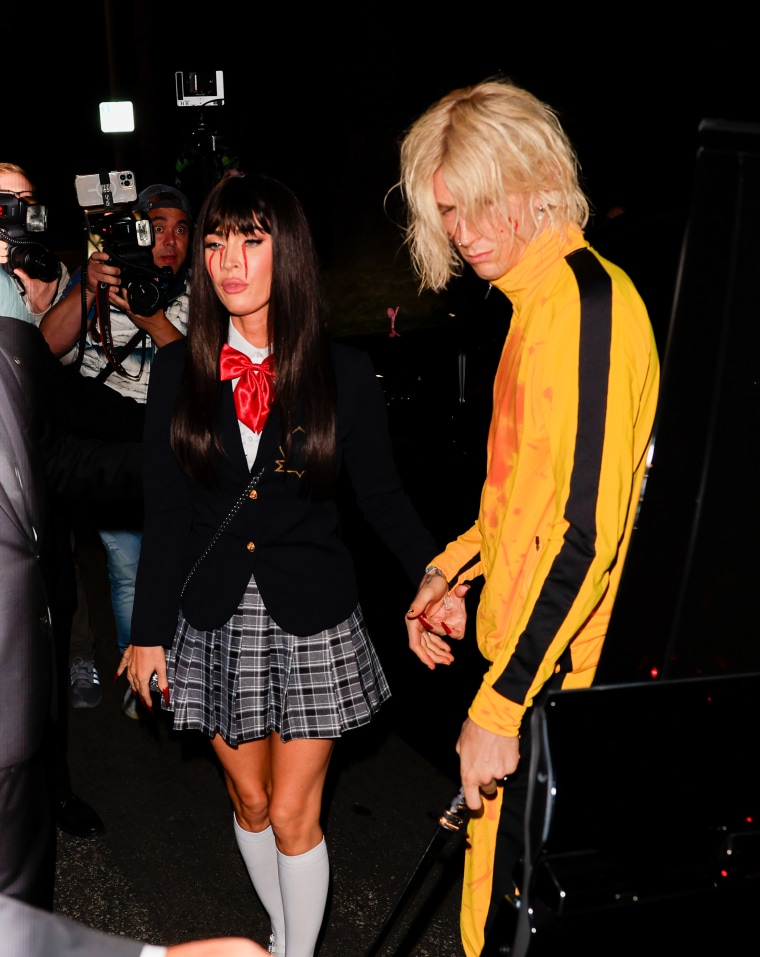 Megan Fox and Machine Gun Kelly showed their fans how to do Halloween right when they donned "Kill Bill" costumes for the 2023 Casamigos Halloween party.
Fox also shared snaps of her look to Instagram and tagged SAG-AFTRA in her caption after the group advised its members not to dress up as certain characters from struck companies amid the ongoing actors strike.
Cindy Crawford and Rande Gerber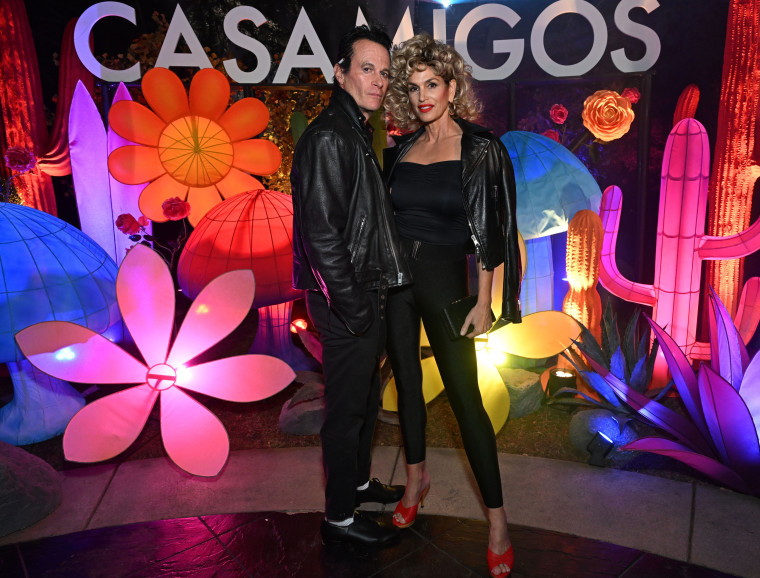 Cindy Crawford and her husband, Rande Gerber, looked like they were about to break out into song when they channeled Olivia Newton-John and John Travolta's characters in "Grease."
Austin Butler and Kaia Gerber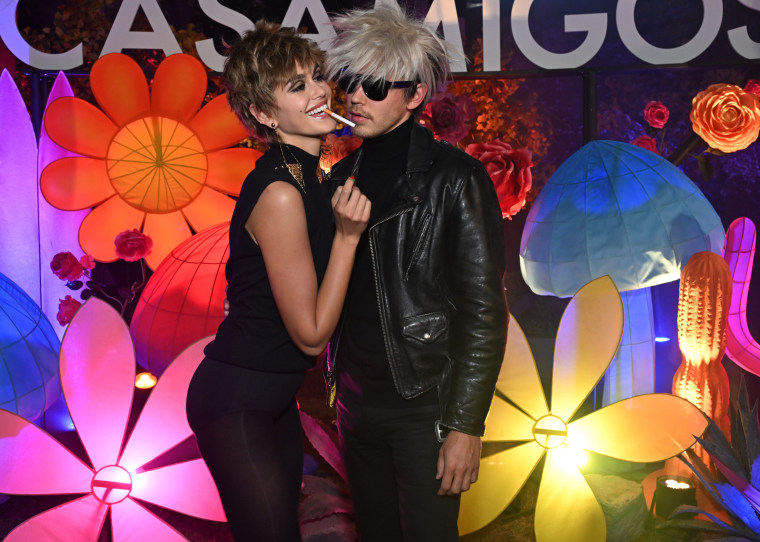 Talk about a couple's Halloween costume! At the 2023 Casamigos Halloween party, Austin Butler and Kaia Gerber went as Andy Warhol and iconic '60s model Edie Sedgwick.
Jessica Alba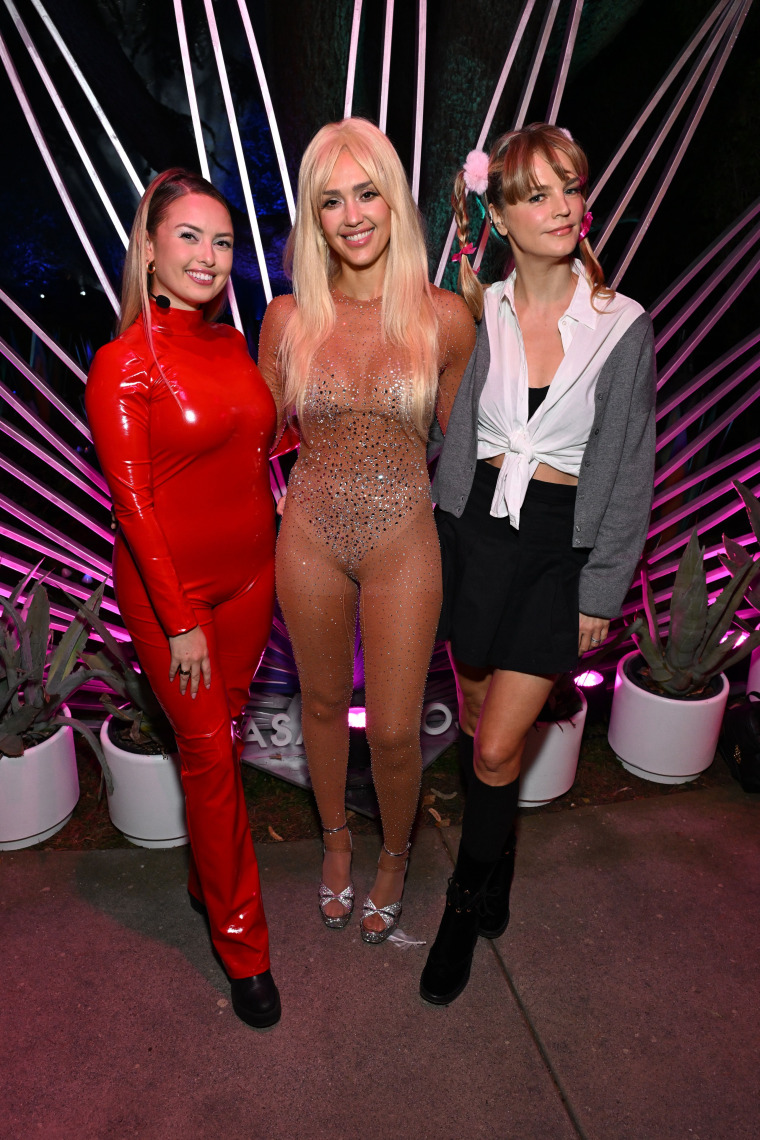 Looks like Jessica Alba is also a big fan of Britney Spears. Like Paris Hilton, she dressed up as the singer with another costume from her "Toxic" music video at the annual Casamigos Halloween party.
Chelsea Lazkani, Emma Hernan and Chrishell Stause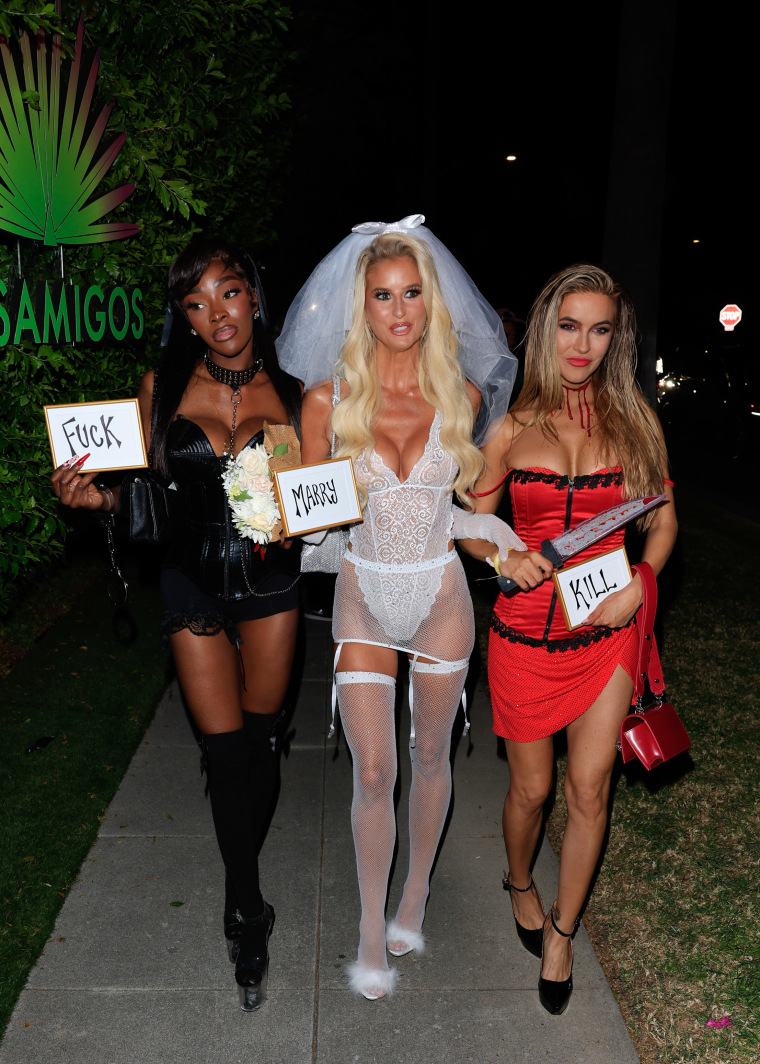 Chelsea Lazkani, Emma Hernan and Chrishell Stause from "Selling Sunset" had one of the most creative costumes Oct. 27. At the 2023 Casamigos Halloween party, they went as the popular game, "F---, Marry, Kill." Can you tell who is who?