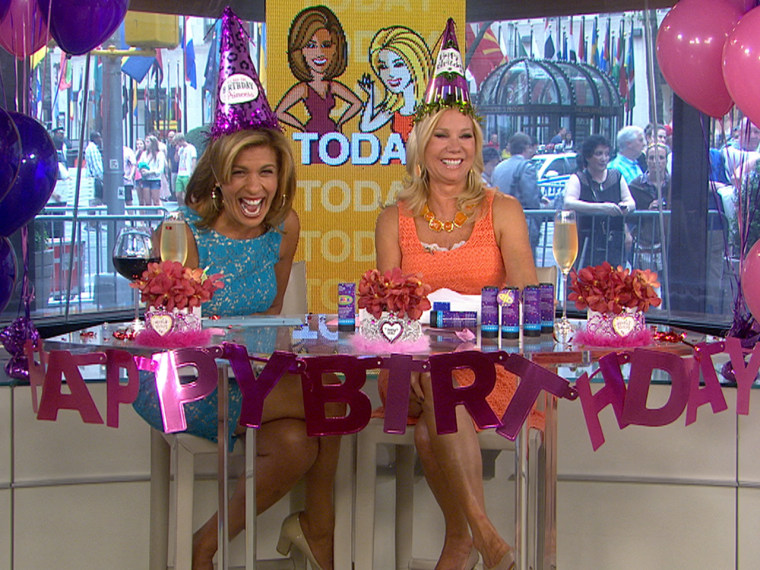 Happy birthday, Hoda!
In honor of her big day, our girl got some very special birthday greetings, from a surprise message from her favorite country singer to an amazing serenade from KLG herself.
Blake Shelton sent over his birthday wishes via video: "I love you and I know this is a special day," Hoda's crush said. "I hope you have a good day and a fun night, and I wish I could be there."
"Did you hear that? He said 'I love you,'" Hoda swooned.
Shelton also sent over a margarita and a glass of wine, and just in case anyone was in doubt about where Hoda's heart lies, she was then gifted a white T-shirt from the NBC Experience store that reads "Blake wants me."
"I'll just say it's about my dog, but we know who it's about," Hoda said knowingly, referring to her pet cockapoo, who just happens to be named Blake.
Then, after donning a giant purple party hat, Hoda got a once-in-a-lifetime gift: A special song tribute from Kathie Lee.
"Hoda woman, princess of the Nile," KLG sang, in a video she secretly flmed at her home last week. "My Hoda woman, your warmth, your wit, your smile, you're like no other woman, no, no one can compare. Who else could compete with those feet, those Spanx, that hair?"
As Hoda giggled, the video continued, complete with cameos from Carson Daly as well as Matt, Savannah, Al and Natalie. KLG's catchy refrain: "I want to Hoda on your Kotb." 
"Let's face it, my career was basically through, til I hooked up with you," KLG sang. "So I'll sing this song for you and lift a glass — the red's for you — and join with all the rest to say, Hoda you're the best! Happy birthday Hoda woman, we love you!"
Overwhelmed by the amazingness, Hoda sat back in her seat with a big smile.
"That was spectacular," she said.