With his innocent smile and baby face, it's hard to imagine anybody fighting with Billy Bush. Alas, he and "American Idol" judge Nicki Minaj have been having it out on Twitter, after BB called her "unprofessional" for walking away during an interview with an "Access Hollywood" reporter.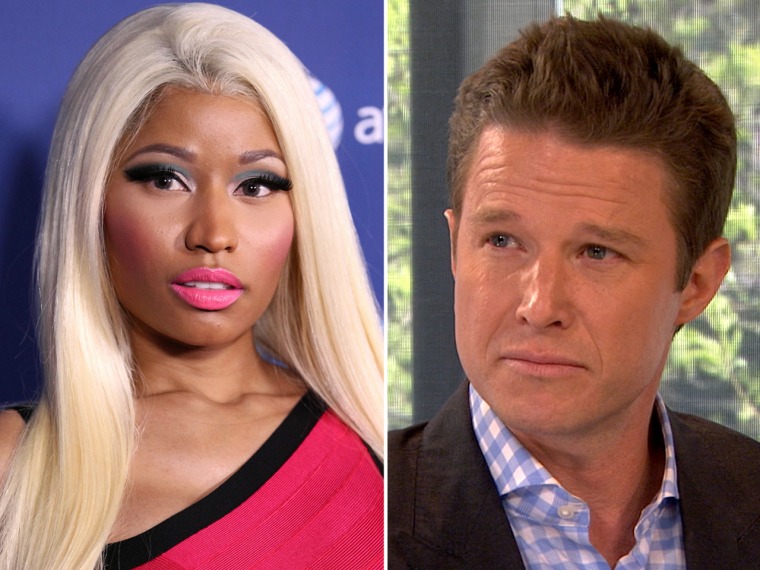 Billy came by the Fourth Hour and explained the feud to KLG and Hoda, saying his feelings were a little hurt when Nicki called him a nasty name. The ladies asked him about what Hoda called "that little confrontation on the red carpet."
"Where is the anger from?" wondered Billy.
Nicki apparently wasn't happy when Access's Laura Saltman asked her for comment about her comments (oy). Nicki walked away from the reporter, prompting Billy to call her "the female Kanye" because of her diva-esque behavior.
"Why does there have to be this level of bitterness and ugliness?" asked Billy, who thinks Idol's slipping ratings reflect the negativity on the show.

Billy challenged Nicki to come talk to him about her anger issues, and told Kathie Lee and Hoda that she may come by his show to discuss "the large chip" on her shoulder, so stay tuned.
Julieanne Smolinski is a TODAY contributor who has never fought with anybody on the Internet.