When Janice Lebrun gave birth 41 years ago as a teen mom, she placed her little girl up for adoption.
"They came in and they took her away," Lebrun told TODAY.com, recalling the day after giving birth. "I remember looking around the room thinking, what am I going to do now? Where is my life going?"
Her daughter grew up to be Maureen Bucell, an only child raised 30 miles away a loving and supportive family. But she always wondered about her birth mother.
"There was never a time on my birthday when I didn't think about her and wondered if she's thinking about me," Bucell said.
So on April 28 of this year, Bucell set out to find out more about her family, tracking down her original birth certificate and searching through documents and databases.
"I took it in my hand and immediately started to cry," she said.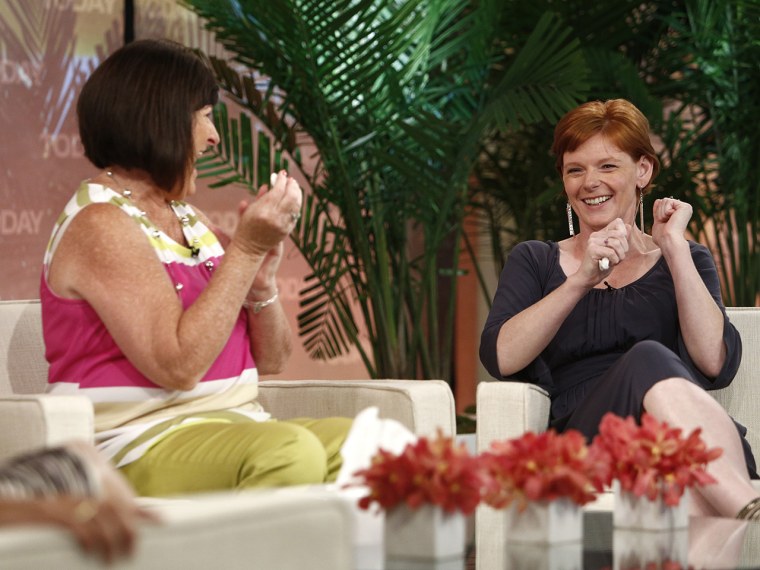 On Facebook, she was able to find her sister Jen's page, where clicking on photos was like opening an album to the family she'd never seen.
In Jen's photos, she saw another sister: Tracy. And on Tracy's page were photos of her younger sister Karen.
Through reading the captions and seeing who was tagged in photos, Bucell finally found a picture of her birth mother.
Bucell and Lebrun were reunited on Mother's Day weekend.
"I feel whole again because there was always that missing piece," Bucell said.
Bucell has now met of her sisters, Tracy and Karen. The only missing piece was another sister, Jen.
TODAY surprised Bucell when, during a live interview with Lebrun Tuesday, her sister walked in with a bouquet of flowers.
"I just always wondered if she was okay," said Jen. "It's surreal. I'm speechless." 
Jen said she couldn't wait to introduce Bucell to her husband and their children, who were "so excited" about the reunion.
Follow TODAY.com digital producer Kyle Michael Miller on Twitter and connect with him on Facebook.