/ Source: TODAY Contributor
In a time when glamorous selfies have become a road to fame and fortune, let's just say most celebrities aren't known for their inner beauty.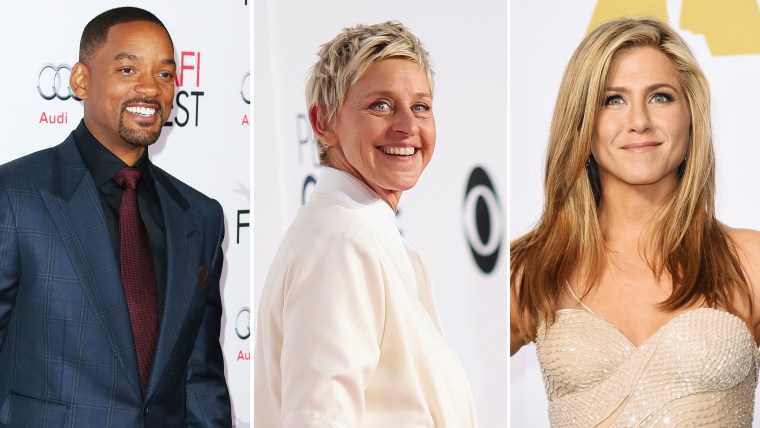 Sure, many have important causes. And, yes, many celebrities have tons of bucks to support those causes. But when it comes to the essential quality of being kind, there seems to be one celeb who is standing out from the rest of the pack — actress, writer, comedian and humanitarian Ellen DeGeneres.
What's better, money or a nice boss? NBC Survey shows what we really think
Most people know her as the host of the eponymous TV talk show, The Ellen DeGeneres Show, which has garnered consistently high ratings since its debut in 2003. Others know her as the voice of Dory in Finding Nemo (and next year's release of its sequel Finding Dory.) And others simply know Ellen as the person who somehow managed to bring just the right amount of mirth as host of the November 4, 2001 Emmy telecast when she boldly said: "What would bug the Taliban more than seeing a gay woman in a suit surrounded by Jews?"
In our NBC News online State of Kindness poll (conducted online by SurveyMonkey), 28% of participants named her as the top dog of kind when given the question: "Given a list of celebrities, who do you think seems the most kind?" She beat out Taylor Swift (11%), Will Smith (5%), Jimmy Fallon (5%), Jennifer Aniston (4%) and Chris Pratt (4%) the celebs who came closest to besting Ellen.
Join us! 40 days, 40 ways to spread kindness this season
And we think that she'd find it quite amusing that 32% of our participants didn't have a clue who the kindest celeb might be.
Nonetheless, we might all take a page from her playbook: "Here are the values that I stand for: honesty, equality, kindness, compassion, treating people the way you want to be treated and helping those in need. To me, those are traditional values."
This story is part of NBCUniversal's Season of Kindness. Together we can grow the good this holiday season. #ShareKindness. Hannah Hartig, Stephanie Psyllos, John Lapinski, Allison Kopicki and Josh Clinton contributed reporting.