/ Source: TODAY Contributor
Snacks like empanadas and waffles are certainly tempting, but one food truck in the Dallas-Fort Worth area dishes out something even sweeter: Random Snacks of Kindness.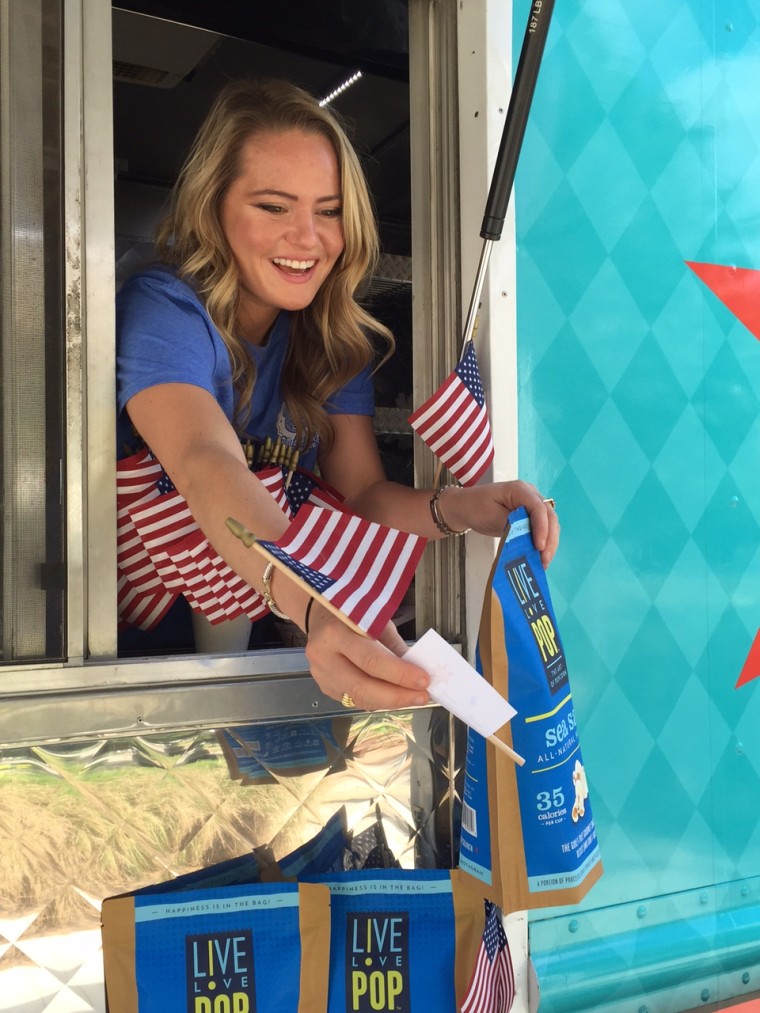 The bright blue Kindness Truck, as it's known, is emblazoned with the words "Do all things in kindness" and makes regular stops to serve free food to groups like emergency workers and veterans. As the truck's website says, "The goal is simple … put a smile on people's faces and joy in their hearts by combining delectable comfort food with a community purpose."
Ashlee Kleinert, founder of both the award-winning food truck Ruthie's Rolling Cafe, which specializes in grilled cheese, and the nonprofit Executives in Action, which provides business guidance to charitable organizations, explains how the idea came about. "We decided to take one of our trucks and move it over to the nonprofit side, and we came up with this idea 'random snacks of kindness,' although it could also refer to acts of kindness, like taking in donations of food or blankets," she told TODAY.
To celebrate Veteran's Day, the truck parked at Klyde Warren Park in downtown Dallas to serve complimentary lunches to veterans. Along with flags and bags of popcorn, staffers also gave out one of Ruthie's most popular menu items: A grilled cheese sandwich called "The Boss," which is made with marinated barbecued brisket.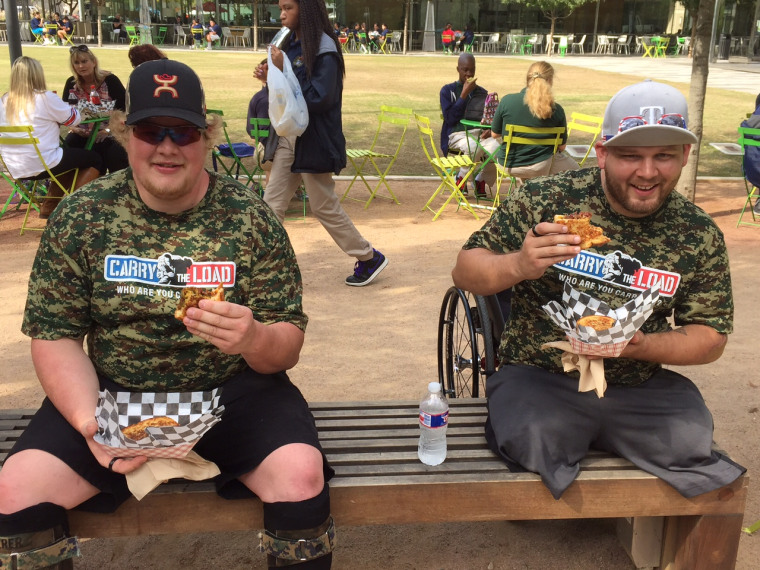 "Love their food, I'm always happy to get some," said veteran Blake Watson, who works for the Adaptive Training Foundation, a group that offers free, customized athletic training to veterans with life-altering injuries.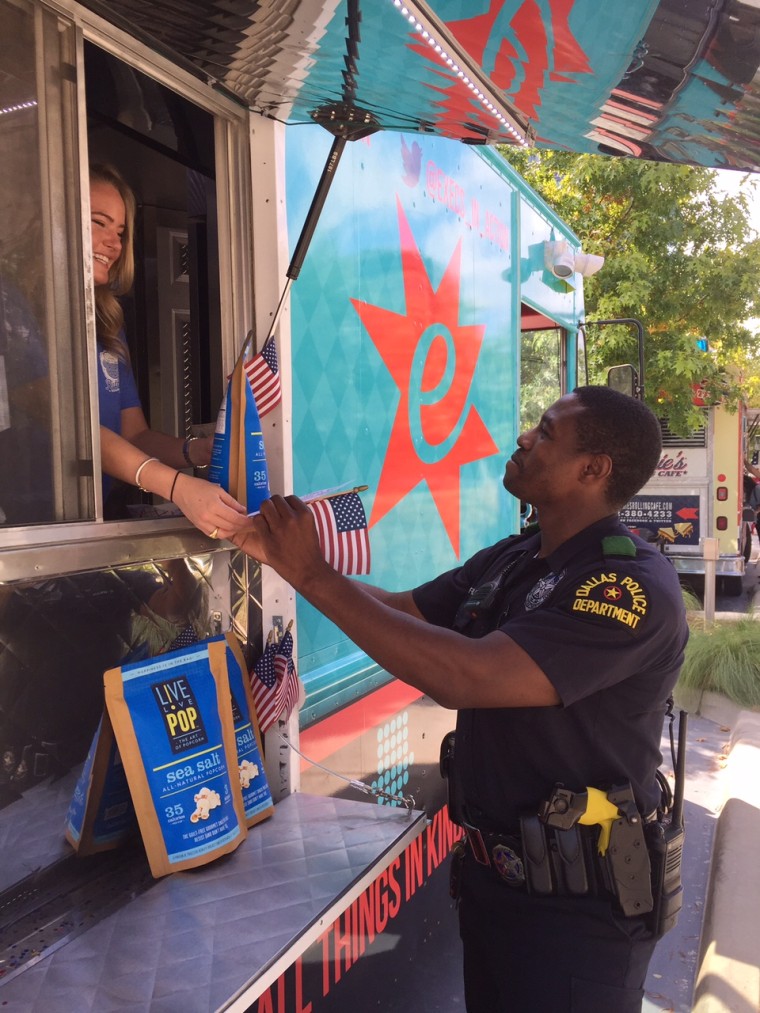 "It's so awesome to see trucks like the Random Snacks of Kindness helping out, and it just shows the kinds of people we have here in Dallas, and how much they care about the community and want to give back," Watson said.
Kleinert said since launching the truck, she's been most impressed by what she calls the "incredible outpouring of support" from local business owners, many of whom have approached her with offers to contribute in specific ways. "I had a caterer call and say he wanted to make breakfast tacos for first responders, so we did that—it's an easy fit for us because we are already working with so many great groups," she said.
For the truck's inaugural event in October, staff members from Executives in Action surprised students and staff at the St. Philip's School and Community Center in Dallas, where they gave out apples and doughnuts.
"It's amazing what kindness can do," said Anyika Herod, who is the school's Senior Director of Individual Giving. "Everyone from the two-year-old beginner students to the principal was so happy, and many smiles were made that morning," she added.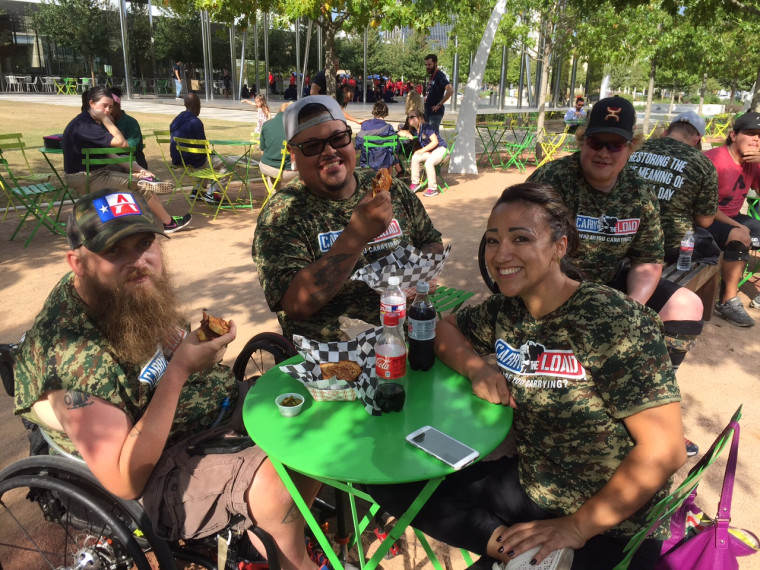 Everyone can agree on kindness, but not all snacks are created equal. When asked which breakfast option he preferred, his apple or a glazed doughnut, St. Philip's fifth grader Jayden Musco gave a candid review to Dallas-Fort Worth NBC 5. "Well, honestly I like the glazed doughnut better," he said, smiling.
This story is part of NBCU's Season of Kindness. Follow the series on Facebook, Twitter and Instagram. #ShareKindness