It turns out, spreading kindness can be as easy as a few clicks on your phone.
As harsh winter temperatures make life miserable for scores of New York's homeless, one man had the brilliant idea to offer some help using Amazon Prime.
"I had been thinking about how popular apps could be repurposed from their original uses, and it came to me that apps that deliver within one to two hours could likely make deliveries to people in need, too," Rob Bliss told TODAY.
Earlier this month, the 29-year-old videographer, who typically shoots for companies and nonprofits, set out to help people in need by delivering socks, shoes, sleeping bags and other basic comforts using Amazon Prime Now, the tech giant's instant delivery feature.
The New York-based director spent five days walking around the city asking homeless people he encountered what they needed.
After chatting for a bit, Bliss ordered the items right away, including notes for couriers that specified the package was meant for someone on the street.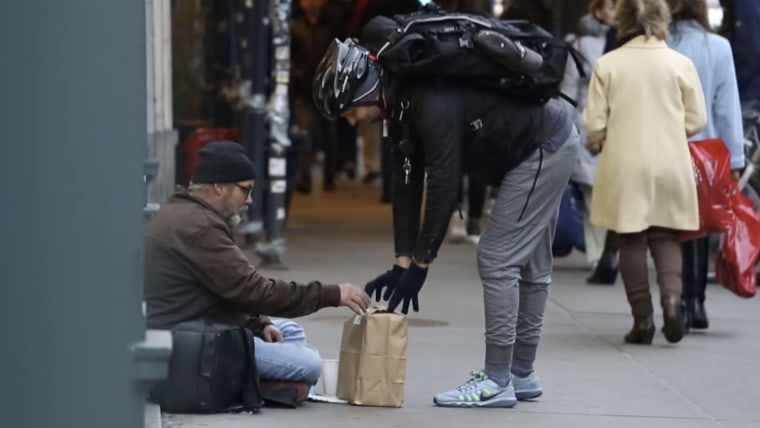 Even the simple act of stopping to talk had an impact, Bliss recalled.
"You would see someone and they would look so depressed, but as soon as you acknowledged them they lit up," he said.
The couriers who delivered the goods also appeared touched by the opportunity to participate in a small act of generosity.
In the video, several offer a pat on the shoulder, fist bump or a handshake as they make the deliveries.
"I was definitely surprised by how sweet and caring the couriers were," Bliss said. "I was concerned that the couriers would have a lot of hesitation or stigmatize these people, but they took to it like fish to water ... you could tell they enjoyed it and it meant something to them."
Bliss placed around 30 orders, and nearly every one made its way to the person in need.
And while Bliss chose Amazon to make his deliveries, he thinks this method of giving could work for other delivery services as well.
"My hope is that (Amazon employees) see this, and realize their potential to help enable giving," Bliss said in the video.
If you are an Amazon Prime user and interested in Amazon Prime Now, go here.