If you were out and about in New York City last weekend, you might have seen 300 bikers zipping through the streets.
Their mission? To feed the hungry.
The group of volunteers showed up ready to ride for this year's "Cranksgiving," armed with bikes, bags, locks, and $15 each. They then set off in a scavenger-hunt style race to round up supplies to help the homeless.
"The way we do it is we make it a puzzle where you have to pick the best route between a lot of options of different grocery stores and hit five of them and find the quickest way to the finish line," event organizer Ken Stanek told TODAY.
Cranskgiving, which was started in 1999 by bike messenger Antonio Rodriguez, benefits the Bowery Mission, which helps provide homeless men and women with hot meals, shelter and medical care.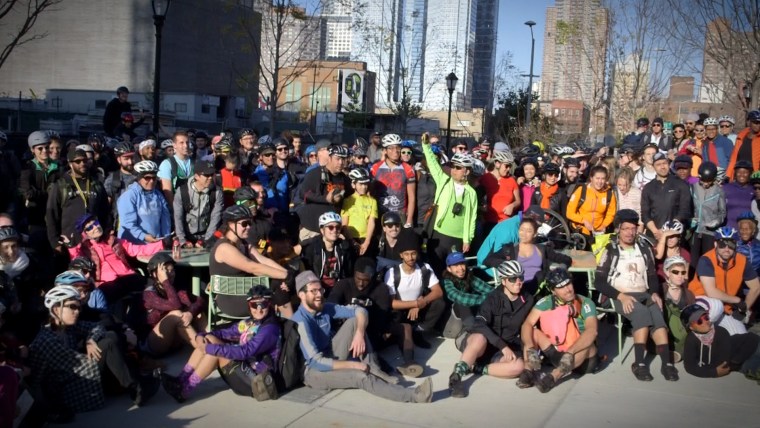 RELATED: TODAY anchors take to road on bikes to help stamp out hunger
While some breezed through their lists and got everything they needed in under 45 minutes, others like Kaitlyn Thomsen got lost quite a few times.
"Biking wasn't challenging," Thomsen, a first-time Cranksgiving participant, told TODAY. "Navigating New York and New Yorkers was."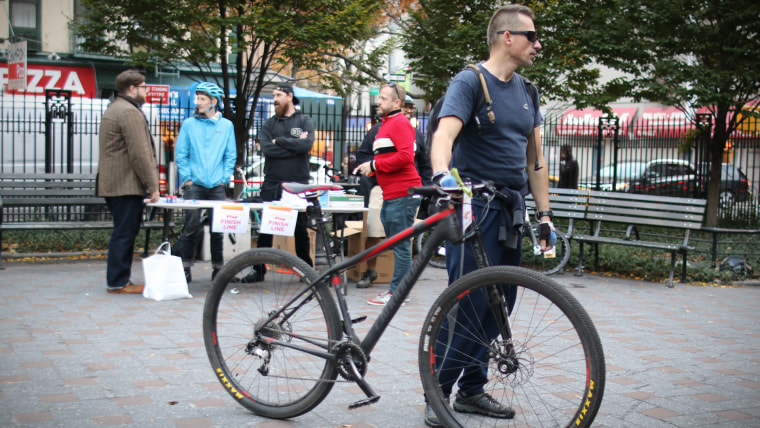 Riders were told to get five of 10 food items on a list, compiled based on what charities around the city have told Stanek they need the most.
"It's a food drive, but it's a different food drive than just bringing something from your pantry in a box to your office," he said. "You have to work together and complete this challenge and then at the end of the day, you see a massive amount of food."
Just after the event, food donations poured in from those who couldn't ride but still wanted to help. At the end of the day, they had collected 3,000 pounds of food, including a dozen turkeys and 600 jars of baby food.
RELATED: 10 easy ways you can help the hungry this holiday season
"Donating all this food to people who are a little less fortunate, it's something we should be aware of all the time, but I think it's especially important around the holidays when people make sure a big deal about coming together and being with family," Nemanya Popovich, Cranksgiving volunteer, told TODAY.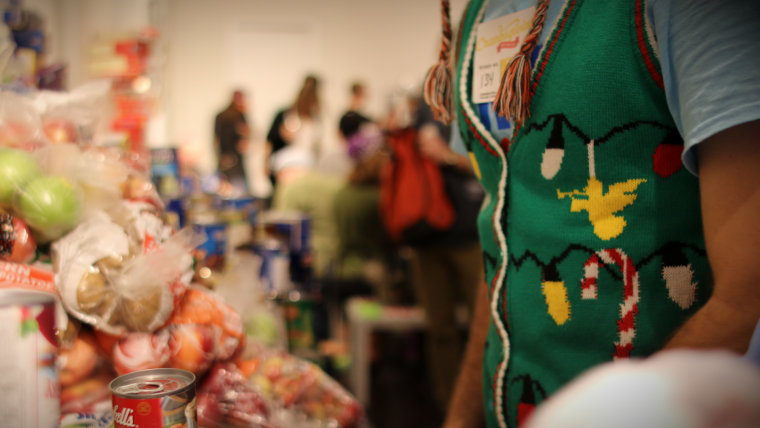 "It's about bringing all your friends and family together and being thankful for what you've got and then remembering that not everybody has it like that," Stanek said.