When a 7-year-old girl from Texas wrote a letter to Santa asking for basic necessities, including food and a blanket, it broke her teacher's heart.
But thanks to the power of social media, the world heard her wish — and now it's coming true in a big way. Hundreds of people have donated blankets and toys to Monte Cristo Elementary School in Edinburg, Texas, where Crystal Pacheco is in the first grade, since her teacher shared the note on Facebook last week.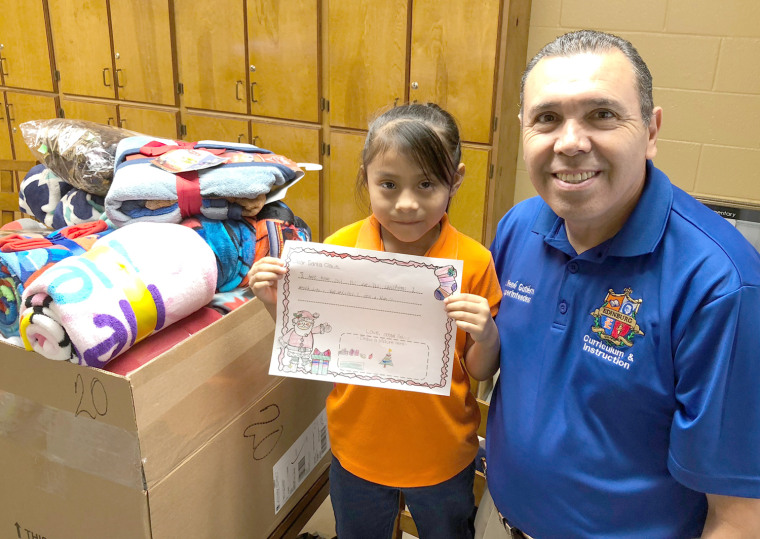 "This makes me very sad," Ruth Espiricueta wrote. "When your students ask for food, blankets or a bed instead of toys. As a teacher it breaks my heart when I hear them ask for things that we sometimes take for granted."
Romeo Cantu, public information officer of Edinburg Consolidated Independent School District, told TODAY that the school has received more than 700 blankets — enough for every student at the school to take one home. They'll be giving them out at a party on Wednesday, and any extras will go to other students in the district.
Santa will also be at the school to visit students.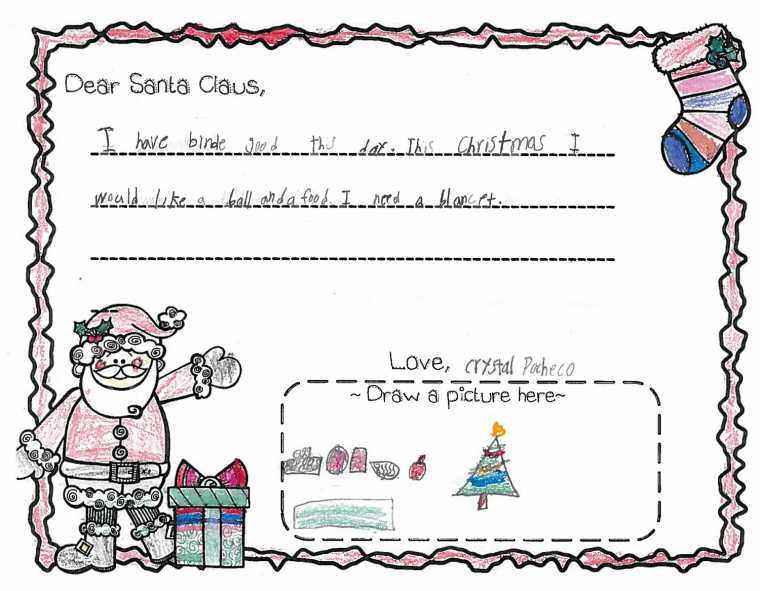 "We're excited," he said. "This little girl is going to see just what her little voice can do."
Cantu added that the school has been getting calls and messages from all over the world, and donations of all sorts continue to pour in. "They have boxes and boxes of stuff," he said. "We don't even know what's in the boxes yet."
In Crystal's letter, which has now been shared widely online, she asked for a ball, food and a blanket. Her mother, speaking in Spanish, explained in an interview with Telemundo that she's proud of her daughter. She's a single mom with two kids, according to the station.
"For me, it reaffirms that community service and what we do on a daily basis for our students, and just that there's still goodness in the world," the elementary school's principal, Diana Cervantes-Smith, said in a video the district shared on Facebook.
Edinburg is a city in southern Texas, in the Rio Grande Valley, and part of Hidalgo County, where more than 30 percent of the population live in poverty.
Espiricueta also posted an update on her Facebook page, thanking everyone for their donations and support.
"Our amazing students make us amazing teachers," she wrote. "There is so much joy in my heart to see all the love and support towards our school from all over the world. Crystal has a huge smile on her face."