Dr. Robert Goldstein had not seen Ashli Taylor since helping save her life when she was an infant. But a touching letter from the Texas teenager moved him to drive two hours to see the young woman she has become nearly 14 years later.
Ashli was sitting in her theater arts class at Temple High School on Monday when she was surprised to see a man wearing hospital scrubs and a gray ponytail walk in holding flowers. Her surprise was understandable: The last time the two had been together, she was 1 year old and dying of congenital cirrhosis of the liver. Goldstein, a transplant surgeon at Baylor Scott & White in Dallas, removed part of her mother's liver, which was used to save Ashli's life.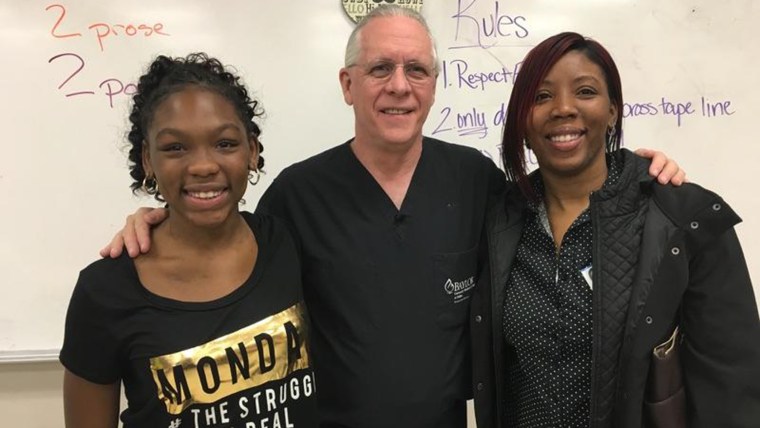 "Once he told me who he was, I started crying,'' Ashli told TODAY.com. "I was really happy. It was really an emotional moment for me, and I appreciate the fact he drove all the way down to see me."
Goldstein has been a surgeon for 28 years and performed more than 4,000 transplants, but Ashli's letter moved him as few other experiences in his career have.
"I thought going to see her was going to be pretty cool, but it was way beyond anything I've ever experienced from an emotional standpoint,'' Goldstein told TODAY.com. "It's all Ashli and what she was able to capture in a page and a half in a letter to a total stranger that expressed what an impact it has had on her life and her parents."
"You probably have no idea who I am, but you had a great impact in my life," Ashli wrote in the letter. "I know you've had a lot of patients over the years and they appreciate your work. But my parents' lives would be totally different if it weren't for you, especially my mom."
The reunion was also memorable for Ashli's classmates, most of whom had no idea of the ordeal she had survived as an infant.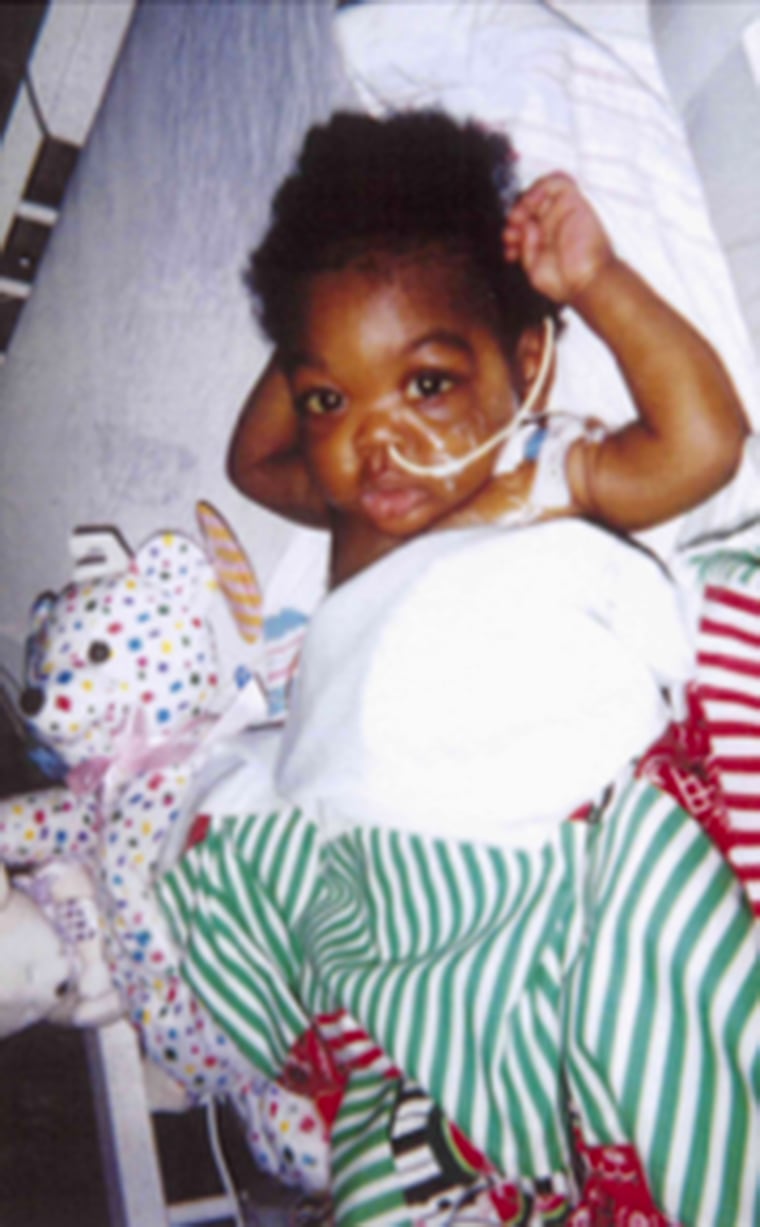 "A lot of them were like, 'Why didn't you tell me?''' Ashli said. "It's not an everyday thing I like to talk about. If anyone asks, I'm really open about it. I'm not over it, but I'm better from where I was."
The letter was part of a project in teacher Brad Billeaudeaux's theater arts class about the power of words. Of course Ashli doesn't remember her medical ordeal, so everything she knows about it came from her mother's stories and old pictures.
"I remember going in the bathroom and crying a little bit when I read [the letter],'' Ashli's mother, Crystal Pope-Taylor, told TODAY.com. "It touched me, how grateful she was. I never thought it would get to the point where she was able to actually meet [Goldstein]. I was just kind of speechless."
Leading up to the transplant, Ashli was jaundiced and losing weight, having to be fed through a nasal tube. The family was traveling to a hospital for Houston for a second opinion when they got a call that seemed to be the answer to their prayers: a liver for transplant was available a few states away.
However, the day they got that call was Sept. 11, 2001. All flights were grounded as a result of the terrorist attacks in New York City and Washington, D.C., removing the donor liver as a possibility as Ashli's condition worsened.
As if that weren't enough, Pope-Taylor got a call from Baylor Scott & White saying Ashli had an infection and they had to come to the hospital immediately. "It was just the worst day,'' Pope-Taylor recalled. "I remember sitting in this hospital with nothing to look at, sad at the state of the world, and you have your child who's not going to make it. That let me know that [another liver donor] wasn't the plan. I was supposed to donate it."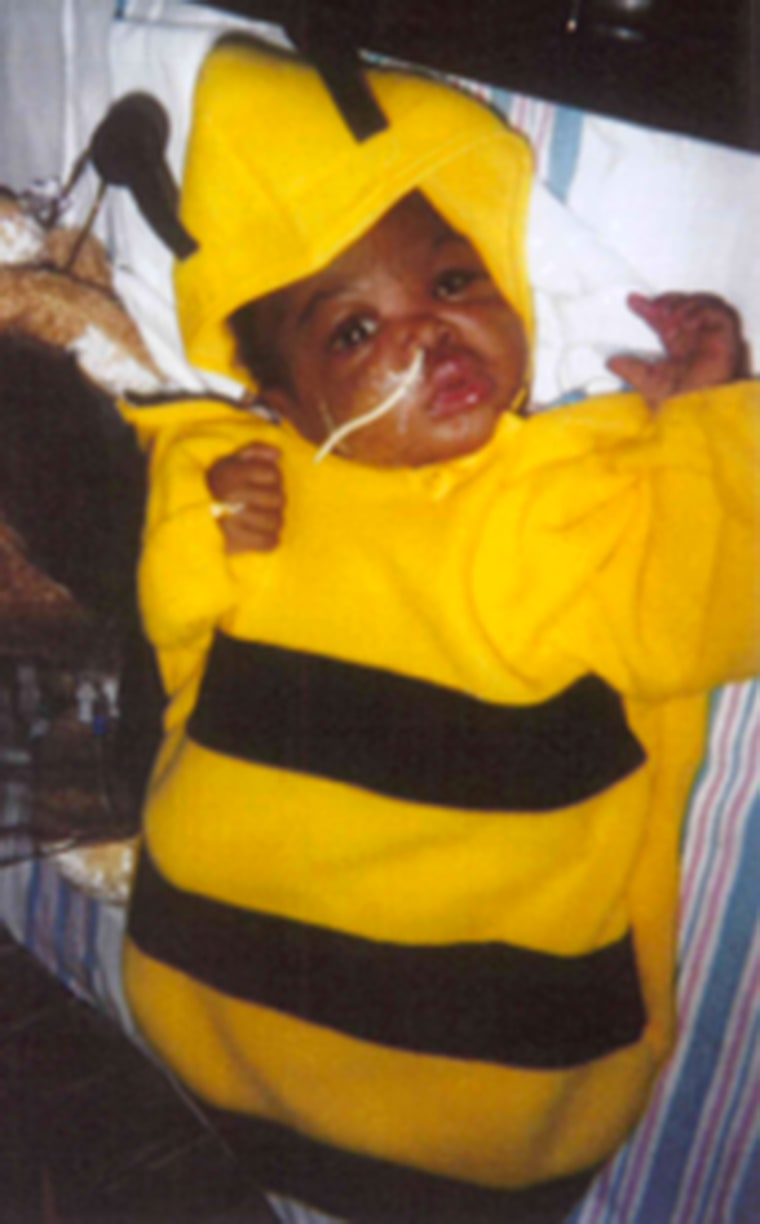 Goldstein removed the left side of Pope-Taylor's liver at Baylor University Medical Center, and then Dr. Jay Roden of Children's Medical Center of Dallas transplanted it into Ashli. (Ashli also wrote a letter to Roden thanking him.)
"We had to move fairly quickly,'' Goldstein recalled. "Ashli's mom came over and said, 'I'm not going to let my kid die.' It worked out incredible. We drove the thing across town, and that was history. It's amazing."
Ashli takes regular medication to make sure her liver doesn't reject the transplant, but other than that, she is a perfectly healthy girl who turned 15 on Sunday.
"After the surgery, she couldn't walk, she couldn't suck on a bottle, she couldn't crawl — she had a lot of catching up to do,'' her mother said. "But she's not behind like we were told to expect. She's an A-B student in high school taking pre-AP classes, in the band and the choir, and she loves to sing."
"When people have chronic illnesses as kids, they usually struggle,'' Goldstein said. "I was talking to Ashli's principal, who said she is one of the best kids in the school. She's in the choir, the band, theater — this kid from 14 years ago has grown into an amazing young woman. You could not have foretold it would turn out like that."
The emotional reunion between the patient and doctor showed the power words on a page can have, while also driving home Ashli's main point.
"A lot of people take things for granted,'' she said. "You don't know what you have until it's gone."
"It's making people appreciate what you have and to really give thanks for what you have, and that was the whole point to that,'' Goldstein said. "The world needs a lot more Ashlis. What an incredible kid."
Follow TODAY.com writer Scott Stump on Twitter.
This story is part of NBCUniversal's Season of Kindness. Together we can grow the good this holiday season. #ShareKindness