/ Source: TODAY Contributor
Jeanean Thomas had her stern "You listen here" mom voice ready to go when her young daughter encountered a clump of intimidating teen boys at a local skate park. But then one of those young men stepped up with an unexpected act of kindness that prompted Thomas to speak out in a totally different way.
Since the skate park near their home in Cambridge, Ontario, opened over the summer, Thomas' 6-year-old daughter, Peyton, had been mesmerized by the boys who zoomed past the playground and into the park. One day, Peyton said she wished she could skateboard too.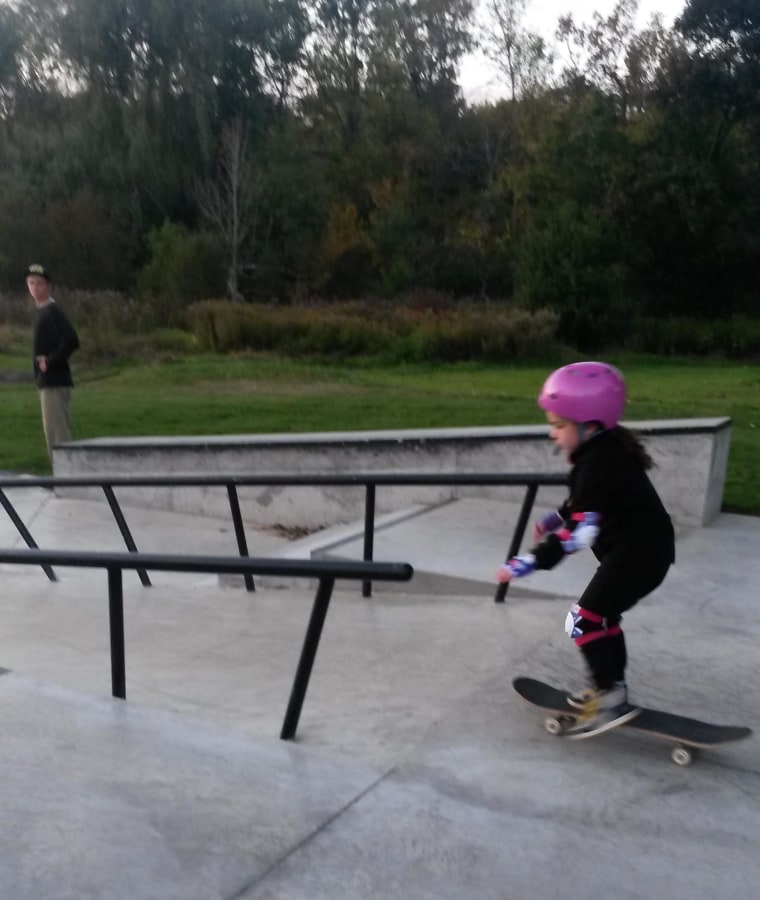 "She'd only ever seen boys skateboard so she just assumed that it was a boy sport," said Thomas, 29, who grew up skateboarding as a teen. "She and I had a long talk — there's no such thing as boy things or girl things, there's just things, so if something interests you, you can do it."
They dug Thomas' childhood skateboard out of the basement, bought a pink helmet and went to the skate park. But when they arrived, Peyton was intimidated by the older boys, some of whom were smoking and swearing, her mom said.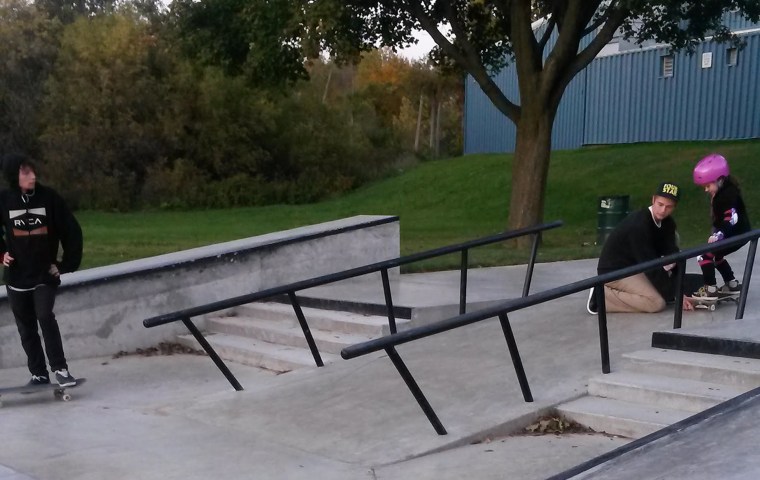 Within five minutes, though, one skateboarder offered a helping hand and tips that made Peyton's first time skateboarding a great experience. Later that night, Thomas was so touched she wrote a "Dear teenage boy at the skate park" letter, hoping his parents would see how wonderful he was.
"I want you to know that I am proud that you are part of my community, and I want to thank you for being so kind to my daughter, even though your friends made fun of you for it," she wrote in the letter that's since gone viral. "She left the skate park with a sense of pride and with the confidence that she can do anything, because of you."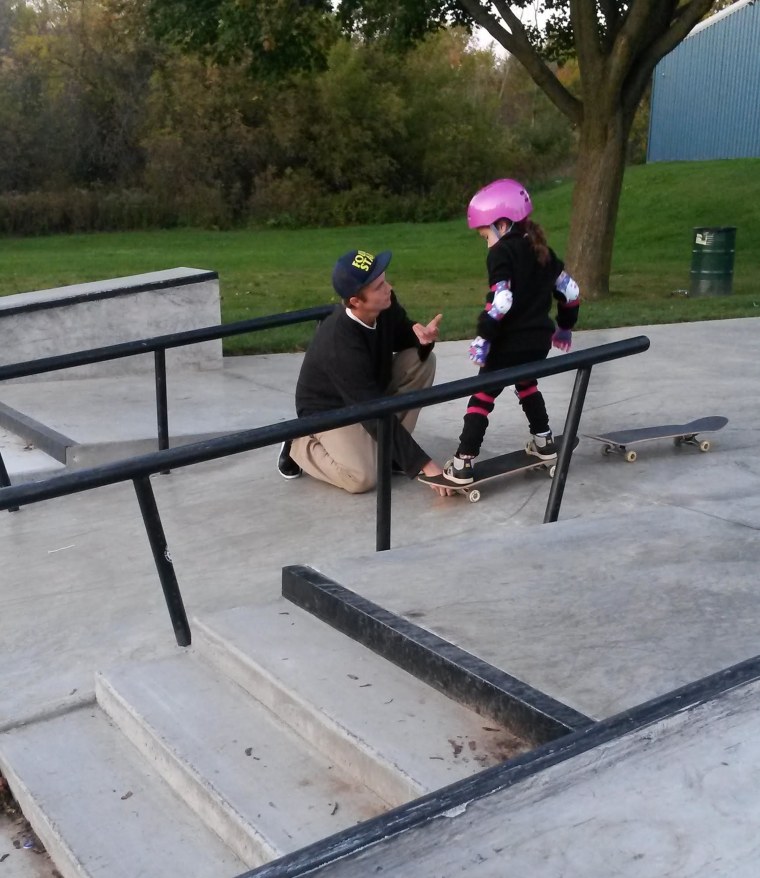 Not only did he help her with balance and foot position, tips that had her riding "like a pro" after an hour, her mom said, he also gave her a feeling of belonging.
"He reaffirmed that anybody can skateboard, and any fear she had going into the skate park, he took that away because the boys all of the sudden weren't scary, they were helpful," said Thomas. "This new task that she wanted to try, she was able to accomplish because he helped her."
By the time they left, Peyton was thrilled, and Thomas was grateful.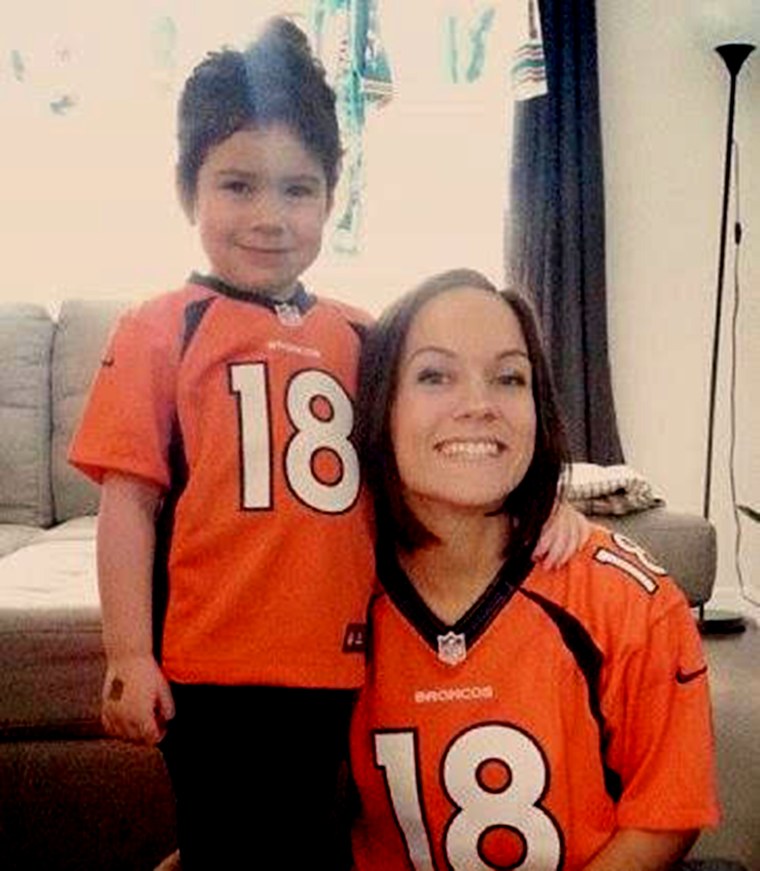 "When we left, my daughter was so happy — the look on her face, she was just elated," Thomas said. "Her experience wouldn't have been that good had he not stepped up and helped her. She might have given up on it."
It turns out that the teenage boy is actually a 20-year-old avid skateboarder and coach, Ryan Carney, who played down his good deed and just did what felt natural, according to the Cambridge Times.
"The day of it … I didn't think much of it to be honest," he told the paper. "I don't really know why it's a big deal."
"I went up there just simply to be nice," he added. "If I didn't know what the heck I was doing, and I was in a place that could be intimidating at that age, I'd want someone to help me."
Thomas says the fact that their helper may not be a teenager doesn't diminish the impact it had on Peyton. And, she hopes the story will encourage people to have a more positive view of teen boys, especially those who skateboard and sometimes get a bad rap.
"I want people to know that the group of boys hanging out in a parking lot by their house might not be up to no good or trouble, they might just be looking for somewhere to skate," Thomas said. "Sometimes as parents we make pre-judgments on teens and we have to remember that they're just good kids deep down."
TODAY.com contributor Lisa A. Flam is a news and lifestyles reporter in New York. Follow her on Twitter.