Bethany Humphrey has been inspiring fellow teachers everywhere to start their days on a positive note.
The 27-year-old instructor at the Stephanie Campus of Somerset Academy in Henderson, Nevada, had grown weary of hearing her fourth-grade class sing the lyrics of "Juju on That Beat" — a viral dance hit by Zay Hilfigerrr and Zayion McCall — so she decided to change them.
"OK we knuckin' and buckin' and ready to fight" is now "OK, OK, let's get ready to learn." She also changed "you ugly" to "you smart."
"I have students literally running to school to get there on time so they can sing the song," Humphrey told TODAY. "As soon as they walk into the room, they put their things away as quickly as possible to sing the song. It starts our day full of positive energy and they are ready to learn."
RELATED: Assistant principal's song and dance makes kids smile, get to school on time
It wasn't the first time Humphrey has changed popular song lyrics to make them more educational, but after posting a video of her class performing her rendition of "Juju on That Beat" on Nov. 8, she started a movement thanks to the help of Heather Finch, a teacher at St. John Catholic School in Memphis, Tennessee.
Finch, 24, introduced the song to her second-grade students and on Nov. 11, she posted it to the school's Facebook page, where it's received more than 8 million views.
Now, teachers everywhere have started to follow suit and are uploading their own videos using the hashtag #classroomjuju.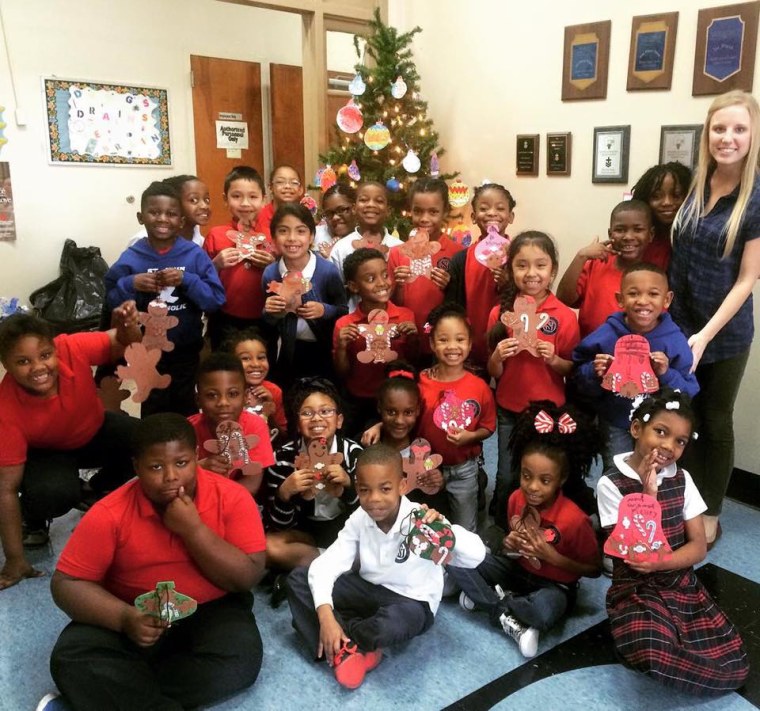 "It's surreal to see the impact our song is having throughout the country," Humphrey said. "I'm excited to see teachers changing their traditional methods to engage and connect with their students in a different way."
RELATED: Does your little warbler sing inappropriate song lyrics?
Finch told TODAY that ever since their video went viral, her students "have gotten even more into the song and now stand beside their desks waiting for the song to come on before I'm even ready."
She's also seen a difference in the way they interact with each other.
"I used to hear them singing the regular lyrics, which are filled with a lot of hate, on the playground, so it's been refreshing to hear them singing these during recess instead," Finch said. "They've also become a lot nicer to one another and are sharing and respecting each other more."
Now when she sees a student upset or notices tension between a group of students, she refers to the song and finds that it really gets through to them.
"A big part of my job is teaching them to love each other and treat others the way they'd like to be treated," Finch said. "This song definitely helps me do that."