There are no words, just horror.
The harrowing photos of a little boy who drowned earlier this year during his family's desperate quest to flee war and poverty in the Middle East caught the world's attention like no others.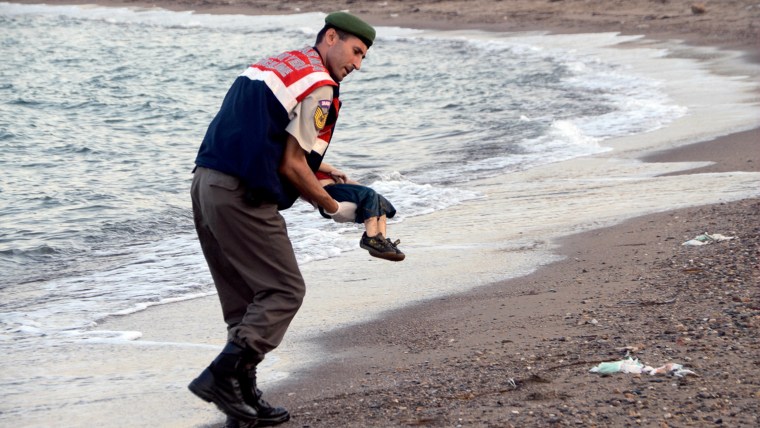 They also prompted many people to look for ways to help others trying to leave the region.
Aylan Kurdi's body washed up on the beach in early September in the Turkish resort of Bodrum. He was 3. The toddler died along with his 5-year-old brother Galip and mother Rehan while their father survived. The mom and kids were laid to rest next to each other in the family's hometown.
More than 800,000 refugees and migrants have arrived in Europe by sea so far this year, according to the UN Refugee Agency. About half of them are from Syria and most are landing in Greece.
Like Aylan, many never make it: more than 3,400 people have died or gone missing during the risky journey so far this year.
Many of those who make it to Europe head north, seeking asylum in Germany and other countries they believe will make a good home. Some make the long journey on foot, with recent drone footage capturing a long line of migrants trekking through fields in Slovenia.
As winter looms, aid organizations are appealing for extra assistance with relief efforts. You can help families and children by donating to these charities:
The UN Refugee Agency: Its winter plans include distributing sleeping bags, thermal blankets, raincoats, socks, clothes and footwear to the most vulnerable refugees. "Harsh weather conditions are likely to exacerbate the suffering of the thousands of refugees and migrants landing in Greece and travelling through the Balkans," UNHCR spokesman William Spindler said.
Save the Children: Supplies food for Syrian kids and supports education in Syrian refugee camps.
Médecins Sans Frontières/Doctors Without Borders: MSF is operating two rescue ships in the Mediterranean Sea that can carry hundreds of people to land.
Unicef: "Another bitter winter is beginning," the organization warns. It delivers vaccines, winter clothes and food for children in Syria and neighboring countries.
International Rescue Committee: The group is in Greece, where thousands of people are arriving per day. Aid workers provide clean water and sanitation, and help new arrivals navigate the transit process and understand their legal rights.
World Food Programme: The agency says it is struggling to meet the urgent food needs of millions of displaced Syrians.
Mercy Corps: Refugees are most in need of clean water, sanitation services, temporary shelter and food, the agency says.
Aylan Kurdi & Syria's Child Victims of War: A fund named after Aylan himself. Money goes to "Hand In Hand For Syria," a U.K. based organization that works with the UN Office for the Coordination of Humanitarian Affairs.
CARE: As winter approaches, the biggest needs are warm blankets, clothes and proper shoes for migrants and refugees in Europe. The group also reaches Syrian refugees in Jordan, Lebanon, Turkey, Egypt, Yemen and those displaced inside Syria with food, hygiene items and emergency cash.