Meghan Markle is opening up about the cost of celebrity — but not necessarily the ones related to her newfound fame as Prince Harry's girlfriend.
Instead, in a new essay for ELLE UK magazine, the American actress reflects on the difficulties of balancing her professional life with her personal passion for humanitarian work.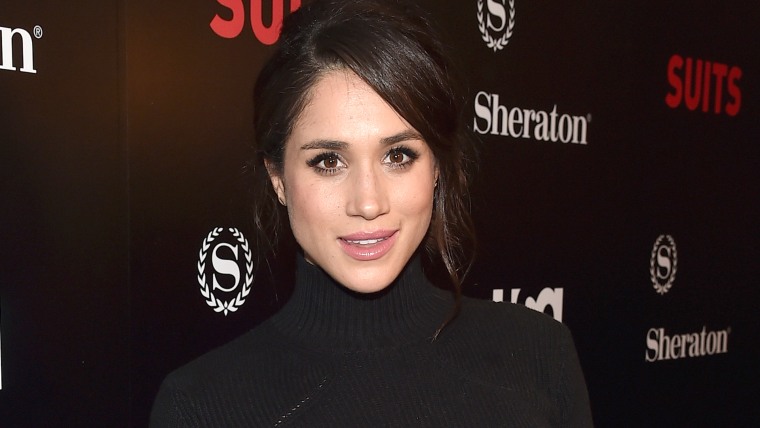 The 35-year-old "Suits" star recalled a situation a year ago where she received an invite to the BAFTAs, the British equivalent to the Oscars.
Markle was in Rwanda at the time, visiting a refugee camp and doing other work in her role as an advocate for UN Women.
RELATED: Prince Harry condemns 'abuse' of girlfriend Meghan Markle in rare statement
"I had never been (to the BAFTAs) and had always romanticized it," she wrote. But the idea of zipping to from Rwanda to London — "straight ... to the make-up chair and on to the red carpet" — didn't sit right with her.
"My brain, heart and spirit couldn't shift gears that quickly, from the purpose-driven work I had been doing all week in Rwanda to the polished glamour of an awards show. 'No,' my heart said. And it wasn't a soft whisper; it was a lion's roar," she said.
"And in that moment, my gut said no because while my two worlds can coexist, I've learned that being able to keep a foot in both is a delicate balance," she wrote.
Markle's reflections come as her new beau faced an awkward moment over their relationship during his tour of the West Indies on behalf of the British monarchy.
While visiting Antigua on Monday, the prince was invited by the island's prime minister to return for a honeymoon.
RELATED: Meghan Markle and Prince Harry: Here's what we know
"I understand that there may be a new addition to the royal family very soon," Gaston Browne told the prince in a speech before hundreds of guests.
"We have been voted consistently as the best honeymoon destination in the Caribbean — and one of the best in the world — so there will be nowhere in the world as special to spend your honeymoon, when that day arrives," Browne said.
Harry handled the moment graciously. Though he's been less gracious with the press over the coverage of his relationship with the actress.
In a rare statement earlier this month, the prince said the media had crossed the line when it came to his girlfriend's safety and blasted coverage he found sexist and racist.
Meanwhile, Markle has kept mum about their relationship, instead focusing on her work and her philanthropy, a passion she inherited from her parents.
Markle said her mother raised her to be "a global citizen" and she now uses her celebrity to raise awareness about it when possible.
"With fame comes opportunity, but it also includes responsibility — to advocate and share, to focus less on glass slippers and more on pushing through glass ceilings. And, if I'm lucky enough, to inspire," she said.