Musician Chris Leamy seems to be one of those lucky artists who has found solid footing in the music industry. He's written songs for big artists like Shaggy, has been offered record deals, and currently has a distribution agreement with Sony. And while most people in his position would likely focus on making it big, the 28-year-old spends a big part of his time giving back in the best way he knows how: through music.
Leamy started a campaign called #HePlaysForMe, where he plays guitar on behalf of homeless people in New York City about once a week. He has already raised about $6,000 since he started last year with over $4,000 going to the Bowery Mission charity, and the rest going to individuals.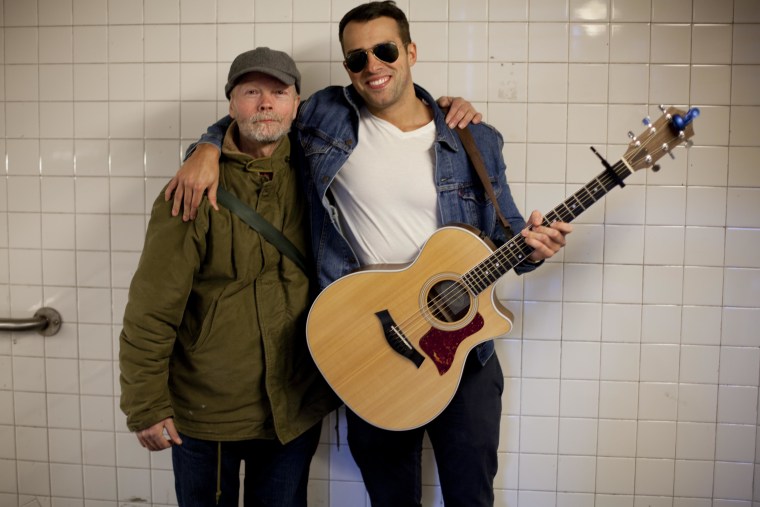 "It started last year when I was coming home on the subway late one night carrying my guitar and a homeless woman holding a cup said, 'This would be much easier if I had one of those,' and pointed to my guitar case," Leamy told TODAY. "She said that people who play instruments often get more charity than those who do not." That conversation sparked the idea, and that weekend he went and played with several homeless people and found they always made at least some money. The effort grew from there.
RELATED: Teen's 'Gotta Have Sole' shoe charity kick-starts hope for 31,000 homeless kids
Now, Leamy has a system down for his weekly visits. "These are people who have so little, and they sometimes get nervous when a stranger sits down trying to help them," said Leamy. "I usually give them a dollar or two and ask if it is OK if I sit down. That tends to relax them."
From there, they usually chat for a few minutes and then Leamy asks if it would be all right to play a few songs, explaining that they can keep all the money. "I don't sit and play with everyone the same amount of time, usually three to four songs depending," he said. "And sometimes I will do a few sessions back to back, playing with different individuals."
The result has been thousands of dollars raised over the year. Leamy personally donates whatever amount he raises during a #heplaysforme session to the Bowery Mission. For example, if he sat with someone and made $15, that individual would keep that. Then he would go home and donate $15 more to Bowery and ask people to match these donations.
RELATED: Homeless woman offers emotional hug to stranger who bought her a warm meal
More than starting an impromptu charity, Leamy says it's what he has gained from this experience that's been the biggest reward. "The best moments by far were in the stories that these individuals told me," he said. "A man named Mike 'Spoons' was sitting in Union Square using spoons as drums since someone stole his banjo. He was asking for spare change to get enough money together so he could afford a bus ticket home for Thanksgiving." Leamy added, "I'll never forget when he said, 'I'd like to see my family; I feel like I just need to get home to figure it all out.' I sat there for around an hour or so and we earned the 24 bucks."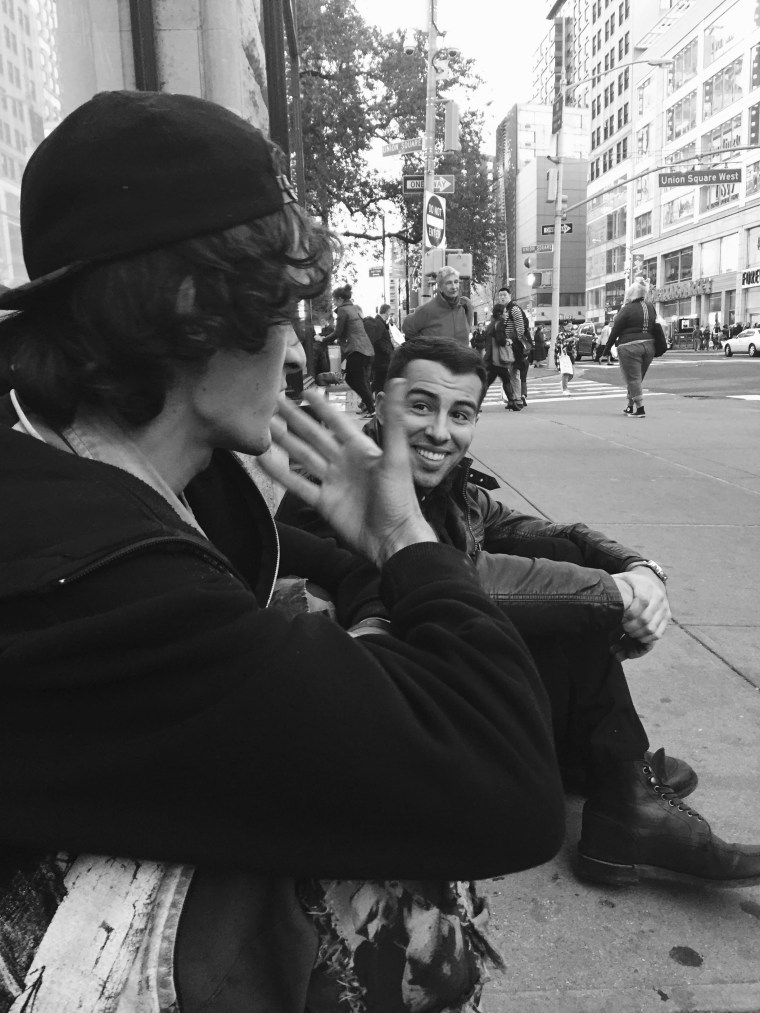 This story is just one of many that have touched Leamy and taught him so much about the homeless culture in New York. "Almost every person I sit with wants to split the money we make," he said. "These people don't even have a roof over their head, and yet they still want to share."
RELATED: Photography project shows city through the eyes of the homeless
Leamy said he continues to be inspired each time he sits down and plays his guitar with someone. "In a competitive place like New York City, it is so easy to lose appreciation for all the fortunate things I have and focus only on the things I want next," he said. "There is no better reality check than having a chat with someone who keeps all the possessions they own in a small bag. I leave each session incredibly humbled."