Six years ago, Jim Glaub and Dylan Parker received nearly 400 letters addressed to Santa at their New York City apartment — for no apparent reason.
"It was one batch after another," Glaub told TODAY. "We would dread opening up the mailbox because we knew 25, 30 letters would pour out."
Since then, the letters have continued to come, although not always in such large quantities, and the couple, now living in London, still has no idea why so many people think Santa lives at their former address on 22nd St. in Manhattan. But every year they answer the wish lists, tapping into social networks for help, and sending clothes, shoes and other presents to the return addresses.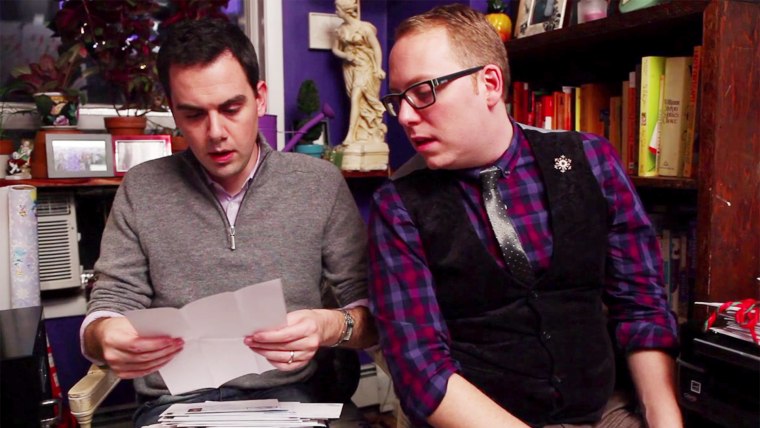 "We're just trying to help," Glaub, 36, said, adding that answering the letters has become part of their holiday "tradition."
RELATED: Thanks, Santa! Watch this military dad surprise his little girls for Christmas
The letters come mostly from children in the New York area, who ask for clothes and list their sizes, or request turkeys for Christmas dinner. Sometimes parents write the letters on behalf of their children too, explaining that they've fallen on hard times and could use some help buying presents.
Before 2010, the couple received a few letters addressed to Santa each year, which were brushed off as "a weird occurrence." But that year, when all the letters came, Glaub and Parker, his husband, realized they had to do something.
"I was telling people about the letters and didn't feel right about it at all," Glaub said. "My friends were like, why don't we each take a letter? It inspired me."
He began to distribute the letters to anyone who wanted to answer one — to people at work, family and friends, and even briefly passersbys on the street.
RELATED: Window-washing Santa and elves make spirits bright at children's hospital
"I was so desperate," Glaub said.
The New York Times covered their story, and there was even a short film made about what they were doing.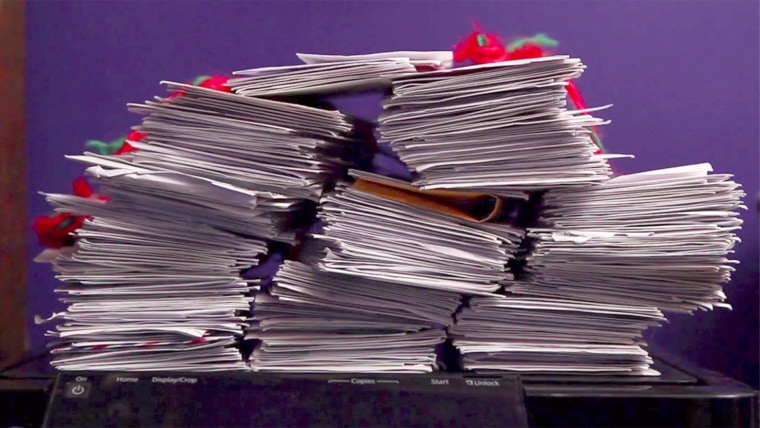 This year was another big one for letters — they received more than 350, and have answered them all. While Glaub and Parker no longer live at the address, the current tenant gives the letters to one of their friends in New York, who scans them and sends them digitally to the couple in London. They distribute them in a Facebook group for people who want to help send presents. Now they're also in the process of making Miracle on 22nd Street an official organization, and they're even in talks with Tina Fey about doing a movie based on their story.
"Everybody wants to help," Glaub said. "So we're going to create a nonprofit to help families in need hopefully year-round."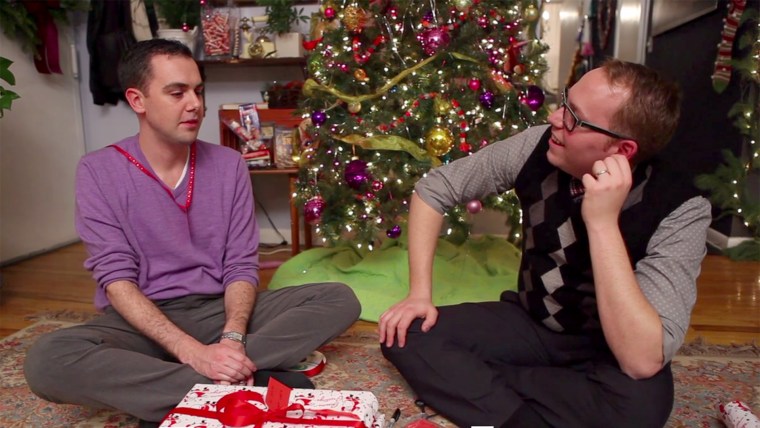 While they still don't know why they got the letters in the first place, they have some theories. Maybe their address was printed in a school newsletter or mistaken for Macy's, or maybe someone who lived in the apartment many years ago did the same thing, Glaub said.
"Everyone wants an answer to this, and maybe the answer is just that it's a mystery," he said.
RELATED: More than 800 animals find loving homes after woman covers all adoption fees
He doesn't like to think of the possibility that some of the letters are scams, and tells a story about a New York City woman who tracked her package to the doorstep of where it was delivered, just to make sure.
"She was across the street watching, and like it was out of a movie, a bunch of kids run outside and catch the postman," Glaub said. "She was crying, mascara going down her face. So yeah, maybe some of them are (scams). But God, I really think a lot of them are real."