It was a home run! Adam Dowell, a 26-year-old Sergeant in the United States Army, gave his son the surprise of a lifetime on Friday when he showed up where the boy was least expecting it.
Brayden Dowell, 5, was chosen "randomly" from the crowd during the first inning of a Tennessee Smokies game to participate in a "Dancing in the Dark" competition. Little did he know, it wasn't random at all.
After taking off the blindfold he had to wear for the competition, he found his dad — who had been deployed for 10 months — standing right in front of him.
Dowell says he could barely contain himself as he anxiously waited for his son to turn around.
"Oh man. It was just excitement and joy. I was watching him dance on the field and I just wanted to grab him up before he took his blindfold off," Dowell told TODAY.com. "I was just really excited to be back home with him."
MORE: 'Oh my gosh!' Watch this military dad surprise his family with early homecoming
The emotional reunion had the entire stadium on their feet, applauding the moment Brayden yelled "daddy!" and jumped into his father's arms.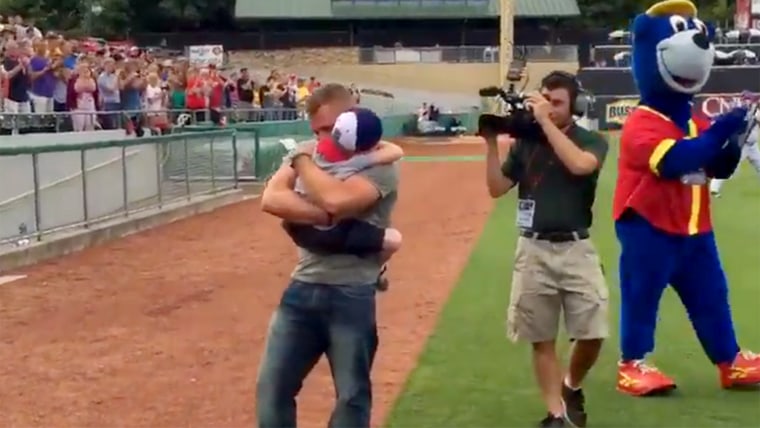 "It was really awesome and a great feeling to do that in that kind of limelight," Dowell said. "The surprised look on his face was great."
It was really important for Dowell to surprise Brayden in this setting because the two have been playing baseball together since the boy was just a year old. Although his little league games are over for the summer, Brayden is already talking about the possibilities of his dad coaching football in the fall.
Dowell worked alongside his wife Lisa to plan out the surprise, and made sure that his daughter also got one of her own.
Emma walked outside to find a giant box wrapped as a present. When she opened the it, her dad popped out!
The father, who has been deployed twice now, was thrilled to surprise his two kids. But he was even more excited to tell them that he's now home for good.