One man wanted to give his girlfriend a proposal with style, so he decided to propose 148 times — without her knowing.
So from July 31 until Christmas Eve of 2015, Ryan Smith, 33, only proposed to Claire Bramley, 28, by taking a photo while strategically hiding a card that read "Will you marry me?" Smith took 148 photos in total, which are now part of a video that's been viewed more than 400,000 times.
Smith told Metro UK that he was able to get Bramley to agree to so many photos because she recently became pregnant.
"I told her I was taking the pictures to track the progress of the baby, which was a little bit of a ruse," he said.
Throughout the vide, Smith's proposals show up in any number of creative ways: On signs, notes, even a TV screen. And Bramley never caught on.
"I had no clue, I was totally oblivious to it all," she told Metro UK. "He told me he was taking the pictures to create memories for the baby so I just let him get on with it."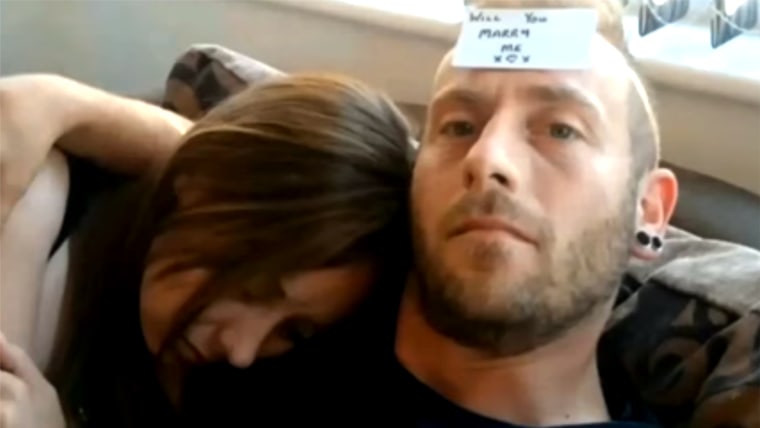 MORE: Man's McDonald's wedding proposal wasn't what his girlfriend ordered
But after 147 proposals, Smith realized he had to do it the old-fashioned way: Face-to-face.
"It was all a bit chaotic on Christmas Day morning, so I took her away and set it all up on the laptop," he said. "I got down on one knee and gave her a bit of spiel, and then popped the question."
And he got the answer he hoped for!
MORE: Man surprises his girlfriend with 365 days of proposals
"I said 'yes' straight away; I didn't need to think about it," said Bramley. "I got a bit emotional, but I am pregnant after all."
However, Smith isn't the first man to think of this idea. Earlier in 2015 another fiancé-to-be (Dean Smith, no relation that we're aware of) proposed for a full 365 days before getting his answer. But it's a great gimmick no matter how many days you do it, we say.
Congratulations to the adorable (and enterprising) soon-to-be-Mr. and Mrs.!
MORE: Tim McGraw shares romantic story of proposal to Faith Hill on 19th anniversary
Follow Randee Dawn on Twitter.