For Lady Gaga, kindness has been the key to finding peace in her own life.
"I've been searching for ways to help myself. And I found that kindness is the best way," she told TODAY recently while on a visit to Harlem's Ali Forney Center, a shelter for homeless LGBT youth, to surprise the teens living there.
She's a superstar singer and passionate activist, but when Lady Gaga meets a trauma survivor, she's just one of them.
"I told the kids today, 'I suffer from PTSD.' I've never told anyone that before. So here we are. But the kindness that's shown to me by doctors as well as my family, and my friends, it's really saved my life."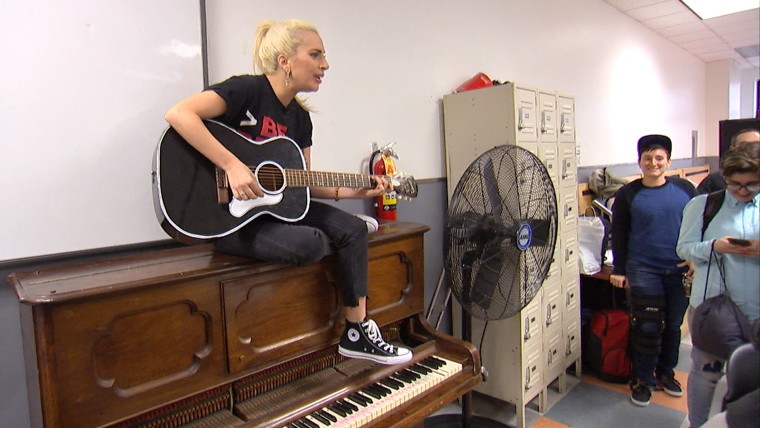 "Meditation helps me to calm down," she told the teens, whom she led in a brief meditation exercise during her visit. "I don't have the same kind of issues that you have, but I have a mental illness and I struggle with that every day so I need my mantra to help keep me relaxed."
RELATED: 'Your bill has been paid': 15 amazing acts of kindness that will give you hope
Gaga invited TODAY to join her on the visit, which aired Monday, as part of the #ShareKindness campaign, TODAY and NBC Universal's celebration of kind acts both big and small.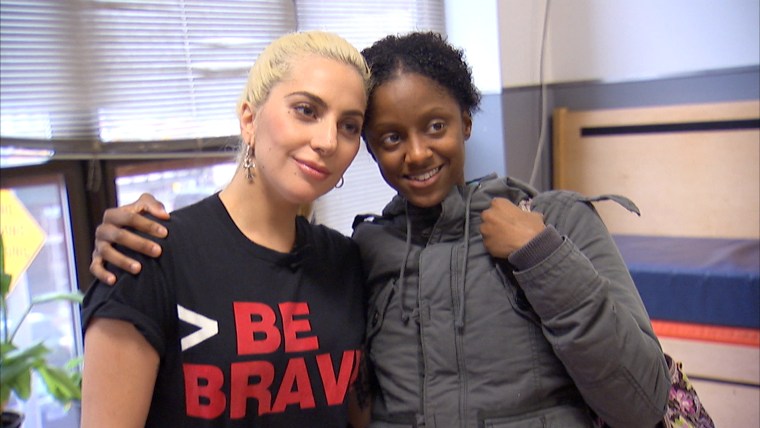 According to the Ali Forney Center, 80 percent of the youth there are kicked out of their homes because of their sexuality. The rest run away because of neglect, abuse, rejection, or a combination of those.
RELATED: Rock out like Lady Gaga with her #ShareKindness playlist
"How's it going? I'm Lady Gaga; it's nice to see you," she said to the shocked crowd. Needless to say, the introduction was not necessary.
One teen told her, "When family was, like, kind of, like, pushing me away because I'm gay, all I had is you and 'Born This Way' album on repeat."
The goal of the #ShareKindness campaign is to inspire one million acts of kindness by the end of the year.
Gaga's involvement goes beyond her visit to the center. TODAY partnered with Gaga's Born This Way Foundation, which she co-founded with her mom, Cynthia Germanotta, for the Share Kindness Experience, located at 30 Rock in NYC, where visitors can commit kind acts, from writing a kind letter or decorating a lunch bag for a child in need.
For those not visiting New York City in December, using the hashtag #ShareKindness on Twitter and Instagram, and sharing or commenting on a kind story from TODAY's Facebook will also contribute to the goal.
RELATED: Lady Gaga reveals her struggle with chronic pain
Hoping to inspire, Gaga wrote a note to each and every teen living in the center.
"I am no better than any of those kids. And I'm no worse than any of them," she said. "We are equal. We both walk our two feet on the same earth. And we're in this together."
This story is part of NBCU's Share Kindness. Follow the series on Facebook, Twitter and Instagram. #ShareKindness