When Kati Vander Pol-Legnon competed in her first pageant, she hoped to win money to pay for college. Little did she know, pageantry would spark a new passion in her life that would help her make a difference in people's lives.
Vander Pol-Legnon did not win her hometown pageant, the Miss Blythe pageant in California, during her first attempt in 2007, but that did not stop her from trying again the next year. At the time, she was the first person to ever return to the pageant a second year—and good thing she did because she won the competition, earning the title of Miss Blythe.
She used the money she won from the Miss Blythe competitions to pay for college in Arizona. Attending school in Arizona made her eligible to compete in the Miss Arizona pageant, where she met a fellow competitor, Alyson Tozer. Despite the naturally competitive environment, the two teens quickly became best friends, and Tozer changed Vander-Pol Legnon's pageant experience forever.
Vander-Pol Legnon learned early on that Tozer had cystic fibrosis, a life-threatening illness that causes mucus buildup in the lungs, when she saw her use a special vest that vibrated and helped break up the mucus in her lungs.
Tozer eventually needed a double lung transplant, right around the time she was set to be a bridesmaid in Vander Pol-Legnon's wedding. She scheduled the surgery early enough so she could recover in time to be there on her best friend's day, despite Vander-Pol Legnon insisting that she put health needs first.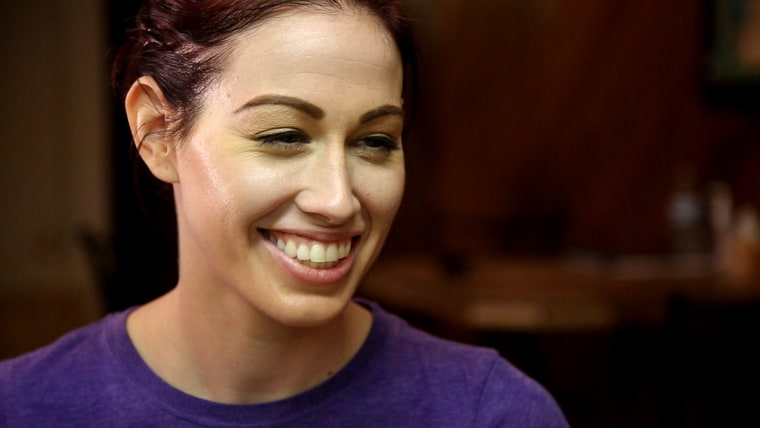 "Instead of doing what she needed for herself she always just wanted to give," Vander Pol-Legnon said.
Eventually, Tozer, who could no longer compete in pageants due to health complications, convinced Vander-Pol Legnon to enter the Mrs. California America pageant, a competition similar to Miss California America but for women who are married. In 2014, Vander Pol-Legnon finished second-runner up, decided she was finished with pageants, and began to sell her pageant apparel.
Around the same time, Tozer became very sick, and was in the hospital for months on end.
One day when Vander Pol-Legnon was visiting Tozer, Tozer told her that she could not give up on pageantry no matter what happened to her. Tozer insisted, telling Vander-Pol Legnon, "You have to promise me that you'll keep my legacy alive."
In September of 2014, Tozer died due to complications from a second double lung transplant.
While Vander-Pol Legnon had no plans to continue competing after the loss of her best friend, she could not ignore what Tozer had urged her to do. She said, "I knew Aly would have wanted me to do it."
So Vander-Pol Legnon entered the Mrs. California competition for the second time, to honor her best friend's wish. After seeing Tozer's passion for helping people and constant kindness towards others, Vander Pol-Legnon adopted the Cystic Fibrosis Foundation and Donate Life as her new platforms. It became her way to continue Tozer's legacy.
Vander-Pol Legonon said that Tozer motivated her through every step of the competition, all the way to the last round of the pageant, with the top five contestants, and then down to the final two. When the votes were in, Vander-Pol Legnon was named first-runner up.
"I was happy but at the same time, I knew that I wanted to win and that I wasn't going to give up," she said. "So still in my mind, pageantry wasn't over."
The next move was the 2015 Mrs. National Runner Up, a competition for all of the runner-ups from each state pageant. One runner up would get a second chance to raise awareness and money for many foundations, including their own and advance to the Mrs. America pageant.
Vander-Pol Legnon turned to social media to ask people to vote for her to be titled Mrs. National First Runner Up. For every vote she received, money was donated to the foundations.
Two weeks before the Mrs. America Pageant she learned that through the votes she received, she raised $10,000 for those foundations — more than anyone had ever raised in the National Mrs. First Runner Up competition. Raising the most money for her platform earned her the title Mrs. National First Runner Up and the right to continue to the Mrs. America Pageant.
She placed in the top 15, the furthest that any National Mrs. First Runner Up has ever made it. No, she did not win, but winning was not what was most important to Vander-Pol Legnon in the end.
Vander Pol-Legnon has since started a non-profit organization called "Aly's Pageant Closet" to honor her best friend and raise money and awareness for the disorder that she suffered from.
"Aly's Pageant Closet," allows girls who cannot afford expensive pageant dresses, swimsuits, shoes, jewelry, talent costumes and interview outfits to rent them for $5 to $15, and the proceeds benefit cystic fibrosis.
"You can be a loser and still be great and still change people's lives," she said.
This story is part of NBCUniversal's Season of Kindness. Together we can grow the good this holiday season. #ShareKindness