Trekking 500 miles across Spain is no easy task for anyone, but for wheelchair userJustin Skeesuck, achieving the dream seemed nearly impossible. However, Skeesuck's lifelong best friend, Patrick Gray, simply didn't accept that idea. "We've done everything together so far. Why not have one more adventure?" Gray told TODAY. "So there was just no other response in my head than yeah, I'll push you."
That's exactly what he did — pushing Skeesuck, whom he has known all his life — across northern Spain's Camino de Santiago trail. Skeesuck, who has Multifocal Acquired Motor Axonopathy, a neuromuscular disease similar to ALS, first got the idea to go on the journey after he watched a travel show about the trail.
"I knew instantly my heart was just telling me, 'You need to do this'," Skeesuck said.
RELATED: After an accident left her paralyzed, this woman started a wheelchair dance team
With Gray on board, and the blessings of their families, the best friends from Idaho set off to make Skeesuck's dream of taking the journey a reality. However, neither man realized how physically and emotionally taxing the trip would be. Not only did they have a strict time limit — about six weeks to get from start to finish — but they also faced incredibly challenging obstacles. With Gray pushing Skeesuck in a three-wheel aluminum wheelchair, the pair traversed mountain ranges, crossed rivers and navigated a desert.
"I've never been that depleted physically in my entire life," Gray said.
The pair says they encountered countless kind people during their trip who were eager to help them complete their journey.
"We have people that surround us that carried up these mountains, they have given so much," Gray said. "And I want that to be a testament to how we're supposed to live our lives, is that whoever we come in contact with, whatever their walk is, the greatest gift we can give them is to love them."
Skeesuck was surprised by how many strangers were eager to help him achieve his dream.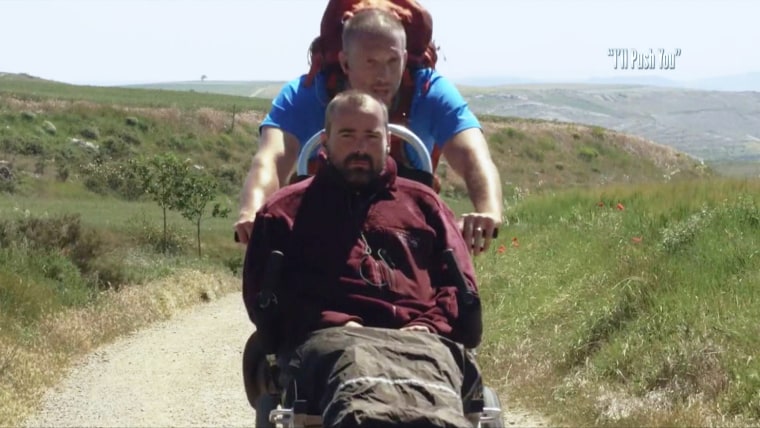 "I think faith in humanity was restored," he said. "Being the recipient of such grace and such help and love - it was truly amazing."
RELATED: Meet Cassie De Pecol, first woman on record to travel alone to every country in the world
After 34 days, the best friends finished their journey, culminating a quest that helped them learn about themselves and each other.
"The pilgrimage has taught me for sure that when you do step out in faith, watch out because amazing things can really happen," Skeesuck said.
The men documented their incredible trip in a book — appropriately titled "I'll Push You: A Journey of 500 Miles, Two Best Friends and One Wheelchair," which is due to be released on June 6. Skeesuck and Gray are also working on a children's book that will tell the story of their trip, with Skeesuck's artwork helping to illustrate. The pair hopes that their books will inspire people to push themselves, no matter what challenges they face.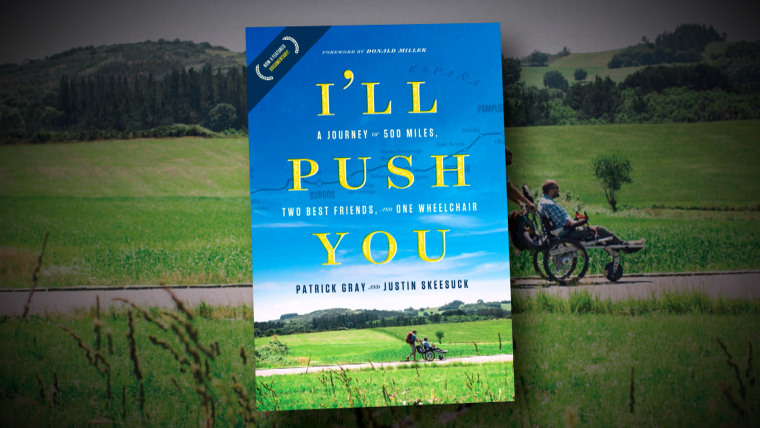 "You don't have to be defined by your limitations," Skeesuck said. "It's what you do in spite of those limitations that defines you."