In an ongoing tribute to his late son, a New York City taxi driver has a sweet new ride that continues to provide passengers with candy, karaoke, flashing lights and endless smiles.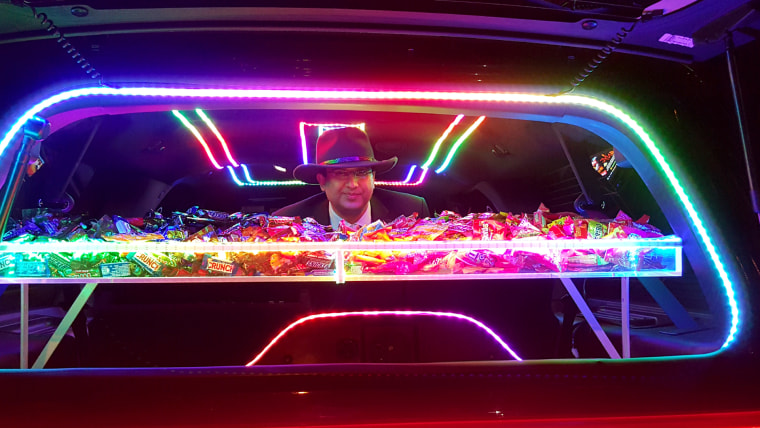 With a little help from fans and a former TODAY anchor, Mansoor Khalid is rolling in a swanky new Candy Cab, outfitted with complementary candy, state-of-the-art lighting and sound for delighted guests along for the ride. The cab driver finds joy and catharsis in other people's smiles — something he's done since his 2-year-old son, Saad, died in April 2012 after a battle with heart disease.
"I just celebrated my son's birthday," Khalid told TODAY.com this month, when his son would have turned 5 years old. "I always celebrate his birthday. It doesn't matter if he's not with me. I just miss him. I miss him a lot."
A 39-year-old Pakistani immigrant and Bronx resident who started driving a city taxi in 1996, Khalid searched for ways to bring happiness to other people's lives, as well as his own, after his son's death. That's when he remembered how doctors and nurses at the hospital where Saad received treatment had responded to his gifts of coffee and snacks, and decided to invest that kind of spirit into his taxi.
Stocked with chocolates and other treats, the Candy Cab was born.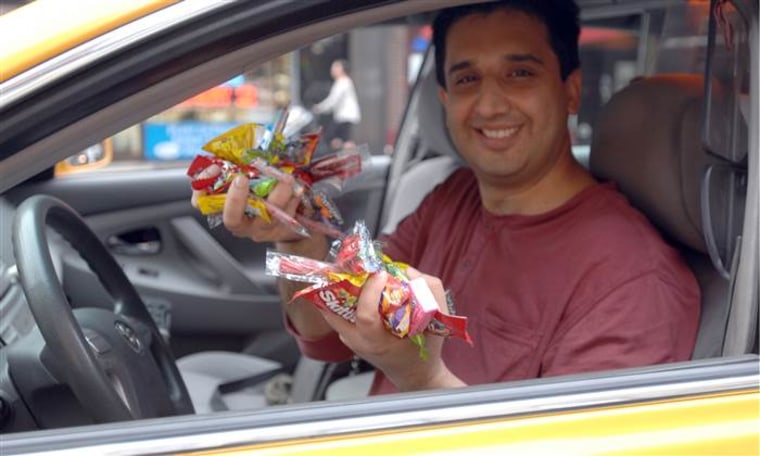 His sweet story and even sweeter Candy Cab quickly became a huge hit with both locals and tourists in the city, and Khalid soon amassed a solid social-media following on Facebook, Instagram and Twitter.
Two years after Khalid's story went viral, he found himself financially running on empty. Years of replenishing his joyful cab with candy (often at a monthly cost of up to $600, he told TODAY.com), installing lighting and sound upgrades and keeping up with basic maintenance took a toll on his bank account. After 215,000 miles, the 2011 Toyota Camry he'd been driving broke down Sept. 3, 2014, bringing the Candy Cab to an immediate halt.
Thankfully, fans chipped in to get him back on the road.
In addition to more than $6,500 raised by fans via a GoFundMe account, Khalid's cause got a major boost in late September 2014 from former TODAY anchor Meredith Vieira, whose daytime talk show initially facilitated a $25,000 donation toward a new vehicle as well as 250 pounds of candy to fill it.
A few weeks later, Khalid was shocked when he received a check from Vieira's show for $35,000 — $10,000 more than what had been announced when he appeared on the program.
"I was amazed," recalled Khalid, who suspected the gift amount increased because of unexpected delays in processing the check.
Pooling his donations, Khalid bought a brand-new 2015 Lincoln Navigator, as well as its touch-screen karaoke system, colorful interior disco LED lights and custom plexiglass trays that can hold more than 100 candies at a time.
"It was a lot of work to make this new Candy Cab," he told TODAY.com.
But the financial and emotional investment appears to be paying off, as fans have been flocking to the new-and-improved Candy Cab in droves. He told TODAY.com he's finally turning a profit and "doing much better than before" he received his new vehicle, thanks in part to advance booking that allows weekday passengers to enjoy all that the ride has to offer at a rate of $75 for one hour, or $140 for two hours.
"I am blessed I am in this country, and its people are helping me stand on my feet," he said. "If I were living somewhere else, I'd be hand-to-mouth."
Even with the flat rates helping him earn a living, he's still has that giving spirit: Since March, he's been offering "totally free rides" on Saturdays to groups of five to seven people at a time. He obviously doesn't make as much during those shifts, but the reward, he says, is priceless.
"People love it, especially a lot of mothers," Khalid added.
He's also made a lot of new friends along the way, including at least one A-lister. On Aug. 31, he chauffeured two-time Academy Award nominee and "very friendly" Jonah Hill around the city in the new-and-improved Candy Cab.
"The whole time he was video recording the conversation by his phone," Khalid told TODAY.com, adding Hill spent most of the ride interviewing the now-famous cab driver. "[At the end of the ride], he told me, 'Mr. Mansoor, you made my day.' I got very happy to hear that."
The Candy Cab's also become a date destination on wheels, with one momentous occasion unfolding in the back seat on Halloween eve.
"One guy, he wanted to surprise his girlfriend. He was sitting in my car and offered to marry her. She started screaming," laughed Khalid, who confirmed the woman accepted her date's proposal.
Whenever one of Khalid's customers smiles, sings or screams with joy, he thinks about Saad, the baby boy who inspired it all.
"I hope he's out there watching," he added, "and I hope he's proud of his dad."
Follow TODAY.com writer Chris Serico on Twitter.
This story is part of NBCUniversal's Season of Kindness. Together we can grow the good this holiday season. #ShareKindness