Here's a million-dollar question: How do we teach our kids kindness?
Two moms who have taught their superstar daughters the importance of giving back shared their secrets.
Cynthia Germanotta, mom to Lady Gaga, and Natalie Hawkins, mother of gymnastics gold medalist Gabby Douglas, talked kindness, surviving bullying and difficult diagnoses and how to be brave in the face of adversity on Wednesday night.
The veteran parents, along with TODAY's Parenting editor Rebecca Dube, revealed their failures and triumphs in a "Kindness Conversation" at NBC's #ShareKindness Experience in New York City.
RELATED: Moms of Lady Gaga, Gabby Douglas: We're teaming up to fight for a kinder world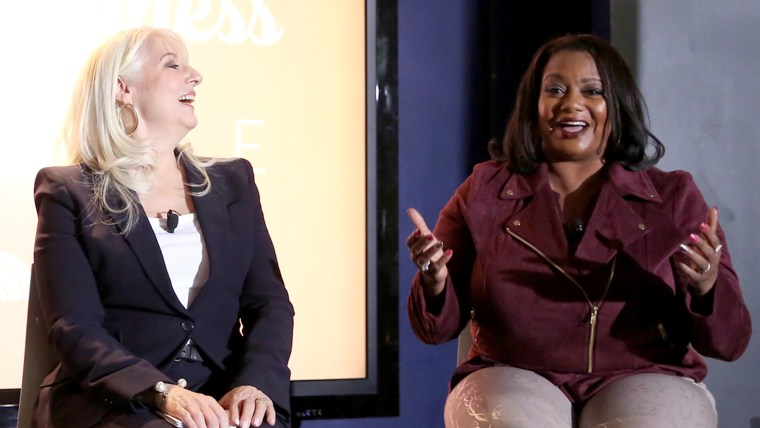 Here are 9 of our favorite lessons from the evening.
1. Kindness is contagious
Hawkins, a single mom of four, revealed the she has navigated nastiness from other parents in the gymnastics world, and that when she had to help Douglas through an onslaught of social media abuse, kindness was the key to survival.
At this year's Olympics in Rio, Douglas was cruelly bullied on social media after people perceived her as unpatriotic for not placing her hand on her heart during a national anthem. What's worse, the online bullying came from peers and grown adults alike.
But when Saturday Night Live star Leslie Jones stepped in on Twitter with #LOVE4GABBYUSA, it set off an outpouring of love, support, encouragement and kindness. One tweet literally changed everything.
"Leslie Jones came to the rescue," said Hawkins.
The lesson? "Where there is hate, love is more," she said.
RELATED: This is the moment one dad realized he was raising his sons to be good people
2. We're all equal
"We all walk with the same two feet," said Germanotta who, along with Lady Gaga (also known, to her mom, as Stefani), founded the Born This Way Foundation.
As Gaga likes to say, "We came in this world the same way and we're going out the same way."
Germanotta is proud of how her daughter embodies those words every day.
When Gaga was in Kindergarten, she saw another young girl, new to her school, who was alone and seemed scared. She befriended the girl, who had moved all the way from Korea, and the two are friends to this day. From an early age, Germanotta taught her daughters (Stefani and her younger sister, Natali) that they should never speak poorly about others and should learn to accept everyone's differences.
3. Emulate, educate and engage
Kindness, both moms shared, is something you can learn. It starts with being surrounded by people who live it on a daily basis.
Hawkins believes you have to set the example for your kids.
"Your kids will come back to do what they see you doing or say what they see you saying," she said.
RELATED: Optimistic outlook on life may help you live longer, study finds
4. Being kind feels good.
In the audience during the talk was Scarlett Lewis, who lost her son, Jesse, in the Sandy Hook massacre four years ago. Through her Jesse Lewis Choose Love Movement, she has learned through research that kindness has actual psychological and neurological effects, and can extend your life.
Jesse saved nine of his friends before losing his own life at age 6. "In any situation, there's always something to be grateful for," said Lewis.
RELATED:How to compliment your friends and family
Hawkins also told a story about a time when Douglas became aware of a mom who didn't have the means to buy her sons new shoes. While Douglas could have easily given them the shoes for free through her sponsorship,she instead purchased them with her own money.
"She said it didn't feel like a gift. She wanted to take from her own abundance and share it with someone else," said Hawkins about Douglas.
5. Gain strength by helping others
Being kind can be incredibly healing, Germanotta said. Lady Gaga has spoken openly about how her work with Born This Way Foundation has helped her cope with her PTSD.
"She gains strength and heals by helping others," said Germanotta about her daughter.
Germanotta continued, "She said to me, 'You know, mom, of course I want to be remembered by my music, but I want to be remembered most for helping people.'"
It takes courage and bravery to be kind, like when Gaga befriended her young Kindergarten classmate. That bravery, Germanotta said, will give you strength.
RELATED: Lady Gaga reveals how kindness has helped her heal while visiting LGBT teens
6. Celebrate failures
Just because you failed, doesn't mean it was bad. In fact, each time one of Hawkins children fails at something, they go out for the same celebratory dinner that they would have had if they had won. Why? Because it takes courage to just put yourself out there and give something a shot.
7. Communicate face-to-face
"Kids live online, but love and support don't," said Germanotta.
Social media can be a vicious place. One of the best ways to resolve any issue is still through face-to-face communication. At Germanotta's children's elementary school, they were taught to always have an in-person discussion and she thinks this is an incredibly valuable lesson that continues with her kids today.
RELATED: Could our social media connections actually hurt our relationships?
8. Encourage siblings to support one and other
Hawkins taught her children the importance of supporting each other from an early age. With four kids and lots of activities, all of her children had to attend each others' events, performances, games, meets and more. There was no excuse that got them out of it.
And, as her son got older, she joked, he was suddenly happy to attend his older sister's cheerleading competitions. Funny how that works.
9. Make a lasting impact
As a single mother of four, Hawkins has told her kids that when they leave this world, it should be a better place.
This story is part of NBCU's Share Kindness. Follow the series on Facebook, Twitter and Instagram. #ShareKindness