Frederick Callison has been using his piece of prime real estate outside a Sacramento, California, grocery store to actively seek work for the past two years — and it finally paid off, with a little help from one man who brought attention to the effort.
Michael Marteen noticed Callison while shopping at a Smart & Final store with his fiancee, Sandra Canto, and two sons, Adrian, 9, and Santi, 1, on Feb. 24. Accustomed to seeing homeless people ask for food or money, Marteen found it refreshing to witness someone making an effort to find work despite difficult circumstances.
RELATED: Jobs, but no homes: Meet the working homeless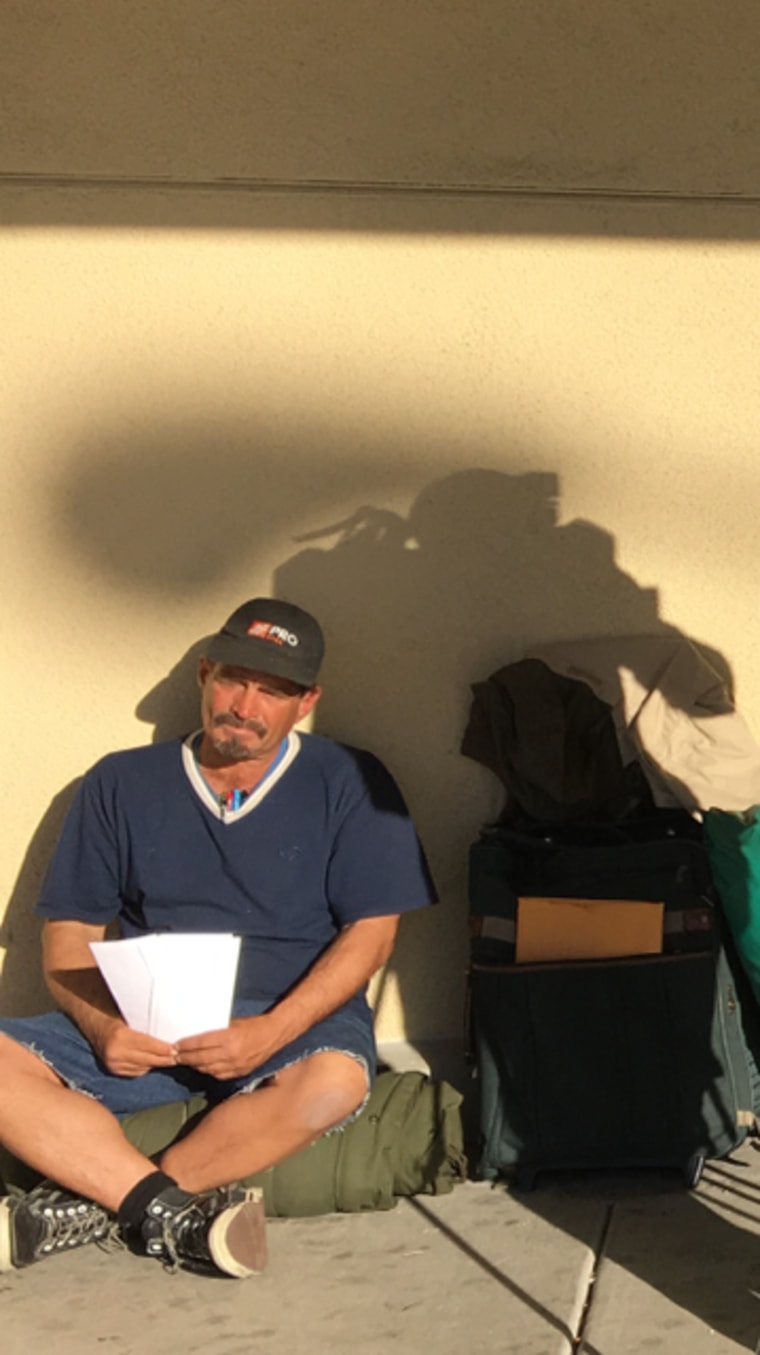 When Marteen found him, Callison was sitting on a sleeping bag with multiple resumes neatly laid out, along with a sign that read "need work and food." He also had his food handler's certificate, Social Security card and ID on hand to show that he was serious about finding work.
RELATED: Why this man plays music for the homeless
"When I asked if I could see his resume, he hopped right up to hand one to me and then started telling me all about his experience as if it were an interview," Marteen, 25, told TODAY.com. "I've been in situations where I had nothing and had to bust my butt to get work, and there he was doing that, so I have a lot of respect for him."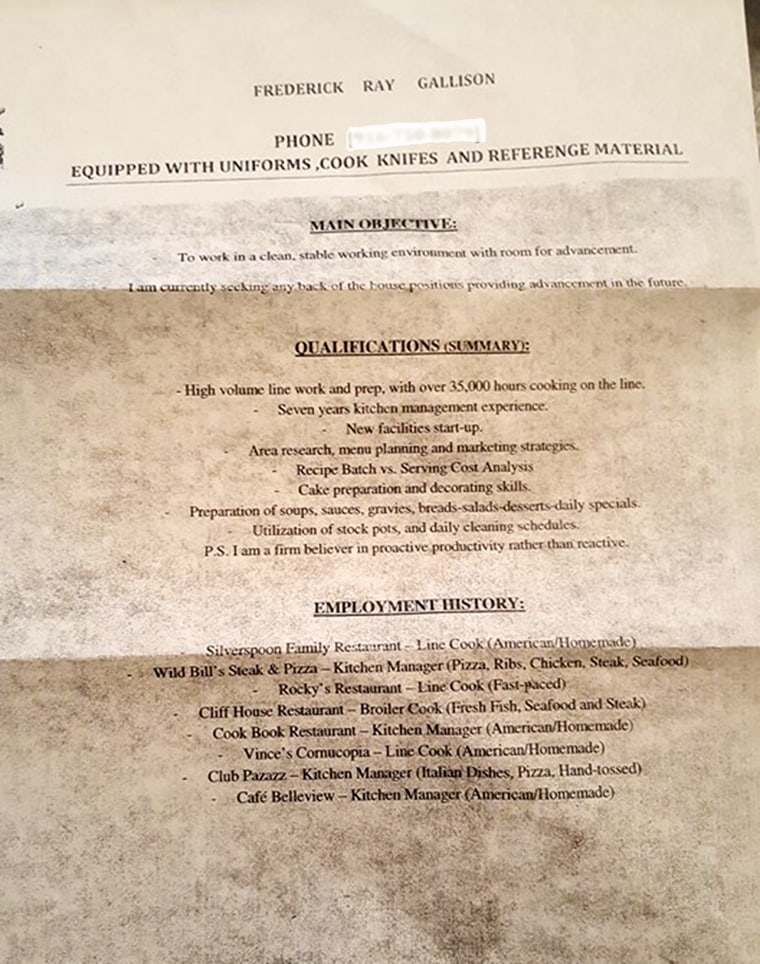 Callison, 52, a former line cook, came to Sacramento two years ago from Washington hoping to be a cook for the Salvation Army. It didn't end up working out, so he's been out on the streets ever since. Smart & Final allows him to stay on the premises because he helps push carts at no charge.
RELATED: Woman who handed out resumes on street corner lands job
Marteen, who worked for a catering company years ago, thought he could pass Callison's resume along to people he still knows in the industry. He bought him a jug of water and some raviolis and then took a picture of his resume to post on Facebook, not knowing if anything would come of it.
RELATED: Writer blasts fellow millennials on entitlement, 'complete lack of work ethic'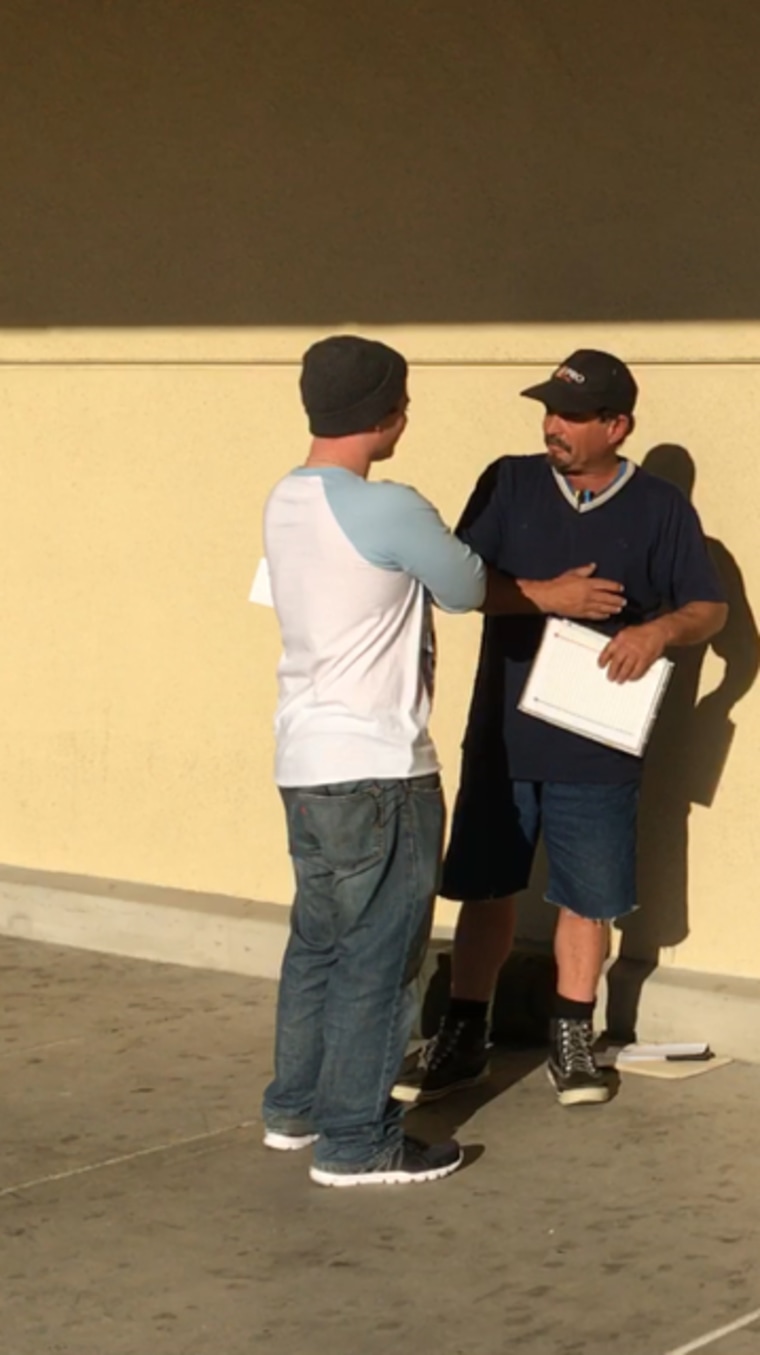 Sure enough, someone came across his post and offered Callison a job as a cook at a downtown restaurant called Pizza Rocks.
RELATED: 12-year-old girl collects piles of coats for the homeless using her little red wagon
"He was ecstatic about landing a job and very grateful for the opportunity," Marteen said. "He was up the night before studying the menu for hours."
The restaurant gave him clothes to wear and a friend is providing Callison with a place to stay until he can get back on his feet.
"It's easy to look at someone and not see anything but a homeless man, but after talking to him I realized he's so much more than that," Marteen said. "He's a well spoken, cool and friendly guy who knows what he wants and is going after it."