When a homeless vet named "Johnny" came to the rescue of a woman stranded on Interstate 95 outside of Philadelphia last month, he returned with gas for her car purchased with the his last $20.
Now, he has $319,000 and counting to his name.
Touched by his act of kindness, that woman, Kate McClure of Florence Township, New Jersey, and her boyfriend, Mark D'Amico, launched a GoFundMe account 13 days ago. Her original intention was to raise $10,000 for Johnny to pay first and last month's rent on an apartment, to buy a vehicle and have money left over for four to six months of expenses.
By Thanksgiving, donations had passed a quarter of a million dollars.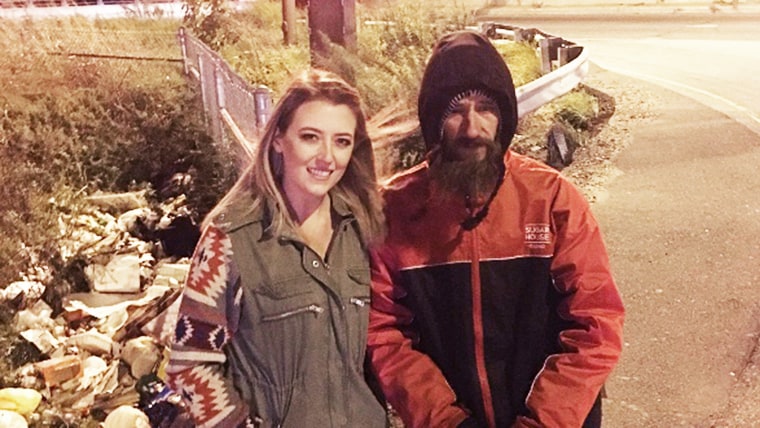 "Johnny did not ask me for a dollar, and I couldn't repay him at that moment because I didn't have any cash, but I have been stopping by his spot for the past few weeks," McClure wrote in her post on the charity giving site.
"I repaid him for the gas, gave him a jacket, gloves, a hat, and warm socks, and I give him a few dollars every time I see him. I wish that I could do more for this selfless man, who went out of his way just to help me that day. He is such a great guy, and talking to him each time I see him makes me want to help him more and more."
"Johnny" turned out to be Johnny Bobbitt Jr., 34, a former Marine and paramedic from Raleigh, North Carolina. A friend from back home who wished to remain anonymous told the Philadelphia Inquirer that Bobbitt's life was upended by drug and money problems, which ultimately led him to a year and a half of homelessness on the streets of Philadelphia.
"Johnny said, 'Yeah, tell me about bad luck. But don't get me wrong. I'm here because of my own decisions. I got nobody to blame but myself,'" D'Amico told the Inquirer.
But seeing a woman in need at 11 p.m. on a darkened exit ramp last month, he made a good and kind decision that changed his life.
"This changes my life right there," Johnny said in a video posted to McClure's GoFundMe page after the first $1,700 had been raised.
McClure wrote that Bobbitt said the staggering amount was well more than he would take and will donate the rest to a good cause.