Senior-year pranks aren't exclusive to Wichita High School North, but Emily Jones' commitment to a positive practical joke on her principal wound up being more than just a drop in the bucket.
Late last month, Emily convinced her principal, Sherman Padgett, to stand in the school's hallway and hold an empty, paint-spattered bucket. Although Padgett knew something was up, he did not expect dozens of seniors to deposit individualized thank-you notes in that bucket.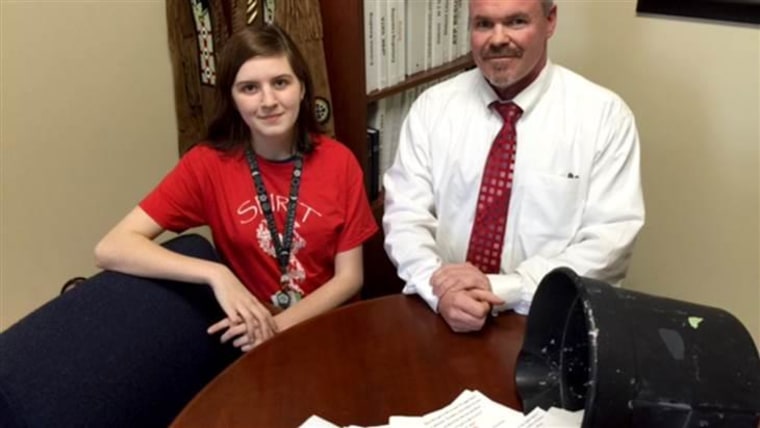 "I wanted to do it for him, because he oversees everything," Emily, 17, told TODAY.com. "Through complimenting him, we compliment the school, in general."
She said it wasn't hard to convince her classmates to participate, but Padgett — a former art teacher in his eighth year as North's head principal — insisted her initiative required more bravery than she lets on.
"Emily wasn't afraid to go in front of her peers and say, 'Hey, let's do something nice,'" Padgett, 48, said. "There are so many other kids who maybe have the same heart and spirit, but maybe it's just intimidation, or they're worried about what peers might say. So, for her to be able to do that — she's got the kind of personality to do what's right or nice. 'I'm just gonna do it.' To me, that's what's amazing."
Last month, Emily was brainstorming with classmates about potentially irreverent senior pranks, but reconsidered when she bounced those ideas off her mother, Raven Bills. "She said, 'Why don't you guys do something nice?'" Emily recalls. "And I said, 'Like what?' And she said, 'Why don't you give your principal a bunch of cards or something?'"
Emily embraced her mother's suggestion, and the idea quickly spread to a third generation: Emily's grandmother, Kathie Bills, who works in the printing department at nearby Newman University, agreed to print the stationery that students would use. As a result, the cards boasted a personal touch even before students shared their thoughts, as each card's front cover features the school's logo and a Dr. Seuss quote.
"How did it get so late so soon?" the Seuss quote reads. "It's night before it's afternoon. December is here before it's June. My goodness how the time has flewn [sic]. How did it get so late so soon?"
Emily said she picked that quote because the school year passed "way faster than I ever thought it would."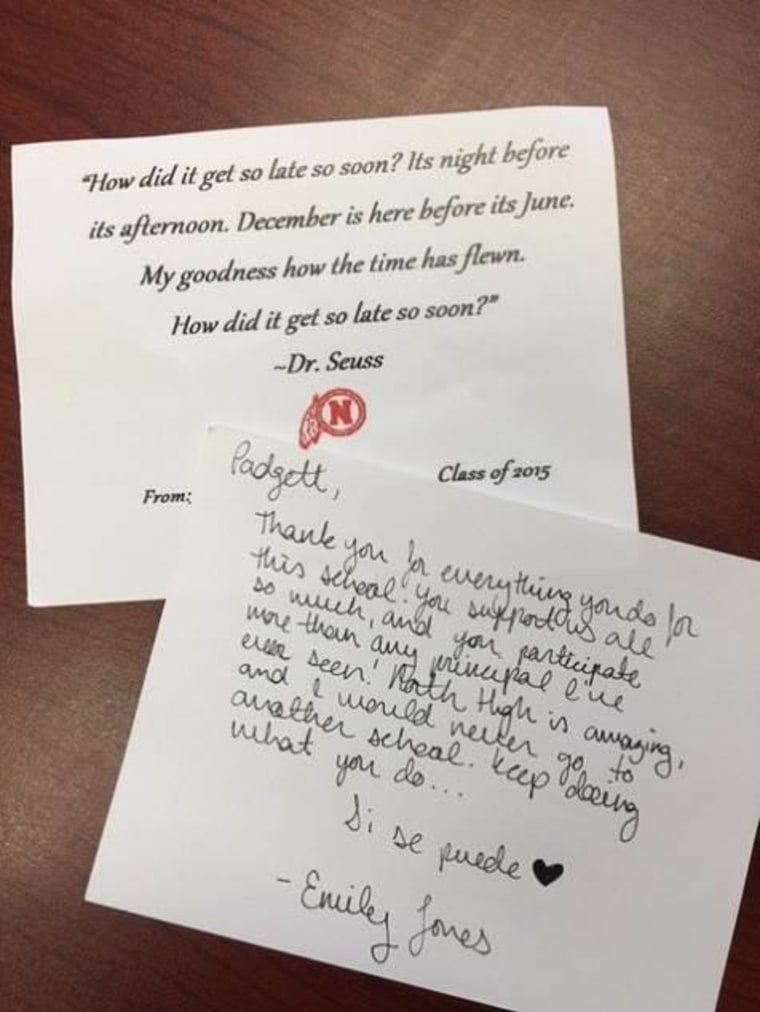 Coordinating the logistics of the positive stunt with a school counselor, Emily selected an unassuming paint bucket in the school's theater workshop. With all the pieces in place, Emily handed her principal the bucket and told him to wait in the hallway, where students, one by one, began filling it with handwritten expressions of thanks.
That first day, "about 55 or 60" notes filled the bucket, and Padgett has claimed another 30 or 40 since then.
Padgett said he was moved by the kind words of students, whose experiences ranged from seeking support while battling an eating disorder to feeling welcome in the school as a first-generation immigrant. Although he wouldn't pick a favorite, he appreciated the universality of a sentiment expressed in one note, which reads, "I love how anybody is welcome in this school by staff and students, no matter their race, sex, weight, height or sexuality. Thanks for making North High the awesome school that it is."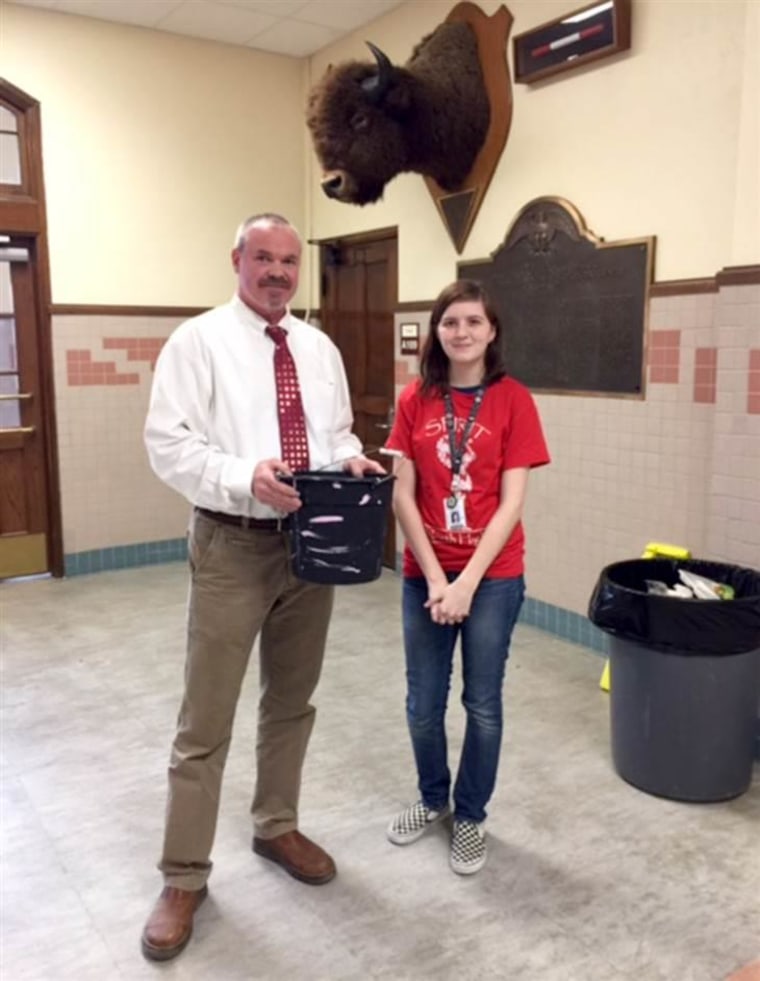 Added Padgett, "It's interesting, because I don't make it that way; it's kids like him, who love [the school], that make it that way."
With news of Emily's gesture going viral and national in recent days, Padgett says there's been a "ripple effect" of kindness throughout the building.
As the school year approaches its final months, Emily is looking forward to her freshman year at Wichita State University, where she plans to major in illustration. But she hopes that future graduating classes add her act of kindness to their senior-year Bucket List.
"I hope this becomes a tradition at my school," Emily said. "A few juniors asked if they could do it next year, and sophomores and freshmen [did, too], so, I hope this continues."
Follow TODAY.com writer Chris Serico on Twitter.
This article was originally published Mar. 11, 2015 at 5:20 p.m. ET.