Dan Weese was heartbroken. Last Saturday his beloved bulldog, Indy, stopped breathing shortly after getting home from the veterinarian's office, where she'd delivered seven puppies by cesarean section.
Weese, 33, and his wife, Katie, 31, tried to save Indy — their family pet whom they also used for breeding. They gave Indy CPR, then raced to get their dying dog to the animal hospital. But they didn't get there in time; Indy didn't make it.
Desperately sad and grieving, the family came back to their home in Wadsworth, Ohio, to Indy's hungry newborn puppies — who, to survive themselves, would now need round-the-clock care.
That night, Weese posted news of Indy's passing to his Red White and Bulldogs Facebook page, along with photos celebrating her life. It wasn't to solicit help, but because he "just had to do it," Weese told TODAY. "My way to honor her, immortalize her."
RELATED: ASPCA Kid of the Year helps dogs, cats, geese, orcas — even goldfish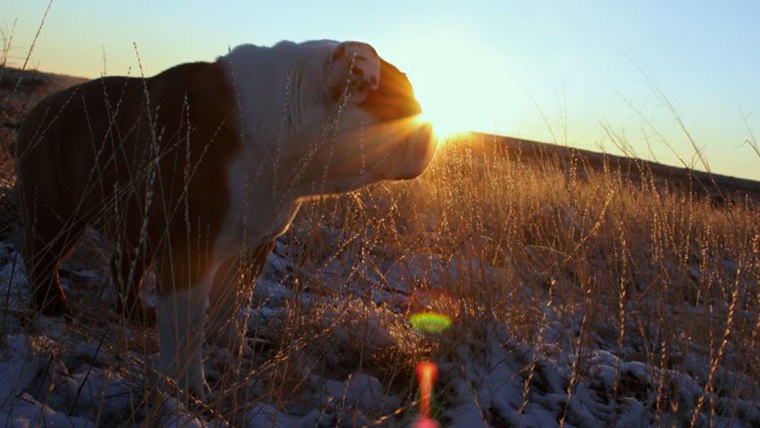 Then something happened — which Weese describes as "straight out of a Hallmark movie."
It started with a message from Macy Grubbs, who breeds Labrador retrievers in Kentucky:
"Hey guys I am terribly sorry to hear of your loss. I want to throw an idea your way, it may or may not help. I have a lab that gave birth yesterday and she lost her pups. She is grieving and producing milk like crazy. If you're interested it might be worth a try. If we can help let's (sic) us know."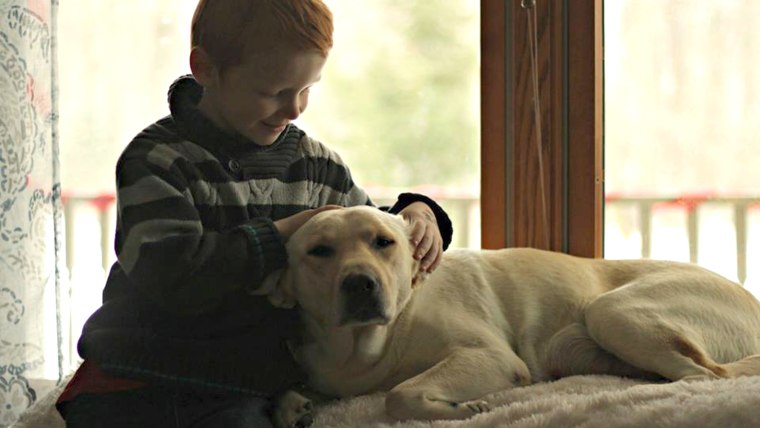 RELATED: At this special ranch, veterans find hope, healing after wounds of war
The dog, Pixie, had lost her own litter of pups on the very same day — and nearly the same time — that Indy died. They'd been killed by another dog, and Pixie wasn't coping well. She was crying, and roaming the house looking for her missing pups.
"She was just a grieving mother," Grubbs, 33, told TODAY.
Grubbs and Weese thought it was worth trying to see if Pixie would nurse and tend to Indy's pups. Pixie might feel better that way, they figured, and the pups would also have a better shot at survival.
It took about seven hours for Grubbs and Pixie to get there by car. When they arrived, the puppies were brought out one by one, to make sure Pixie would accept them. She did, and quickly; Pixie was soon sniffing, licking and feeding the pups.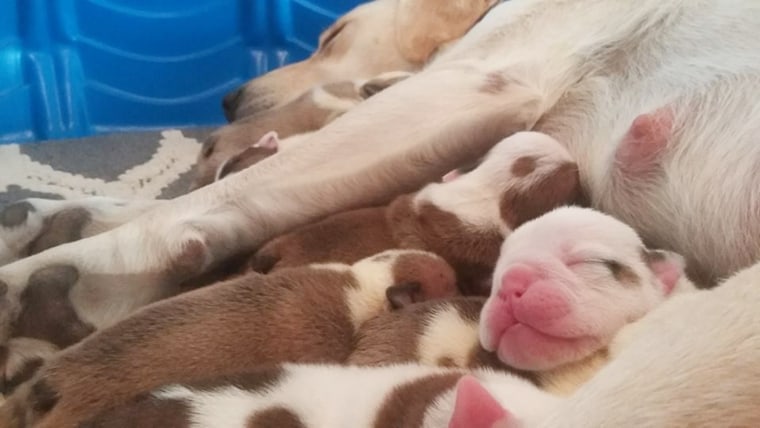 RELATED: See this girl's amazing reaction as her stuffed animal transforms into real-life puppy
"It's like they were hers and she was theirs," Grubbs said.
"It was just incredible," said Weese. "How incredibly sad a story it is. But how overwhelmingly touching it is."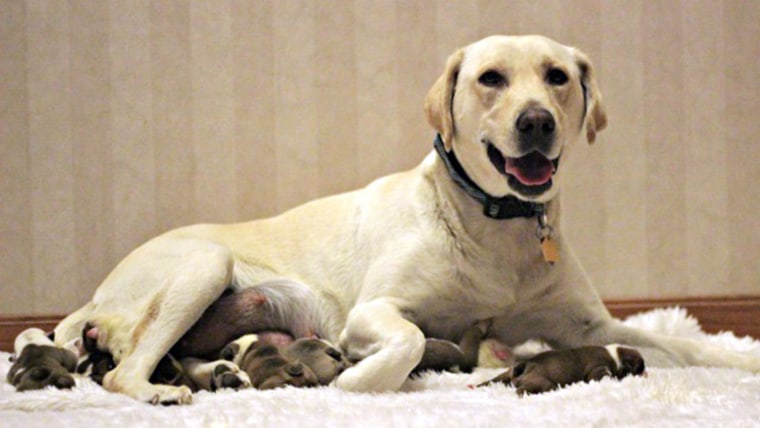 The bittersweet story came about due to what animal advocates say are problems inherent with bulldog breeding.
A Washington Post story from earlier this year called "Why breeding bulldogs is borderline inhumane" outlines some of these problems. They include congenital breathing issue and skeletal disorders, as well as the fact that bulldogs are bred to have humongous heads that can't fit through their mothers' birth canals. This means that nearly every bulldog birth is by C-section.
"A breed of dog that is unable to give birth to their own puppies without surgical intervention is not one that could flourish in nature," veterinarian Katy Nelson told TODAY. "It's inhumane to breed for traits that we find 'cute' that cause long-term suffering in the creatures we are supposed to love."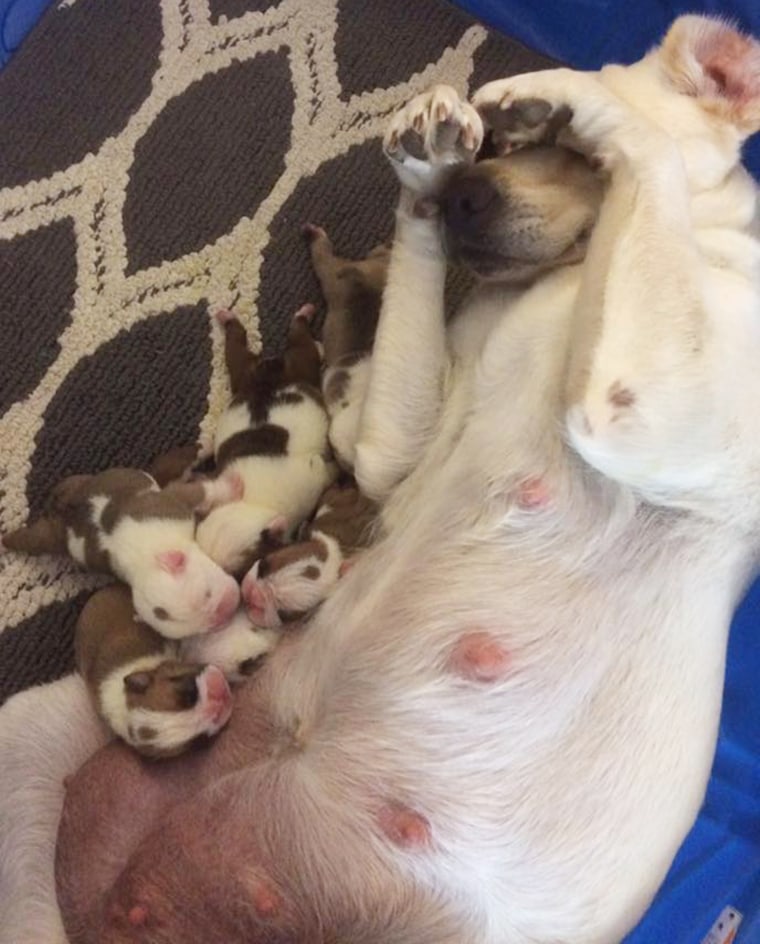 RELATED: Dog says goodbye to dying owner in heartbreaking moment at hospital
In light of this, Weese told TODAY he and his wife are reconsidering how to protect their dogs, and themselves, from this kind of heartbreak in the future. They've only bred about 10 litters in a decade, and the family prides themselves on being careful, and ethical, and taking good care of their dogs.
But Indy's loss has hit them hard, Weese said, and "we're definitely taking a step back."
Weese remains astounded by Grubbs showing up at the door with Pixie, who has settled in perfectly, and acts, he said, like "those are her puppies."
The family is planning to hang onto one of them. "The one we keep," Weese said, "will be named 'Indy's Legacy.'"