Adopted at 3 months, Kieron Graham was always curious about his roots — but even he couldn't have imagined what he would discover when he started digging into his background.
(By TODAY with our sponsor Ancestry)
Graham, 20, was able to track down his brother after his adoptive mother gave him an AncestryDNA test as an early Christmas present. His long lost brother, Vincent Ghant, 29, lived just 15 minutes away, attended the same university — and was pursuing the same major.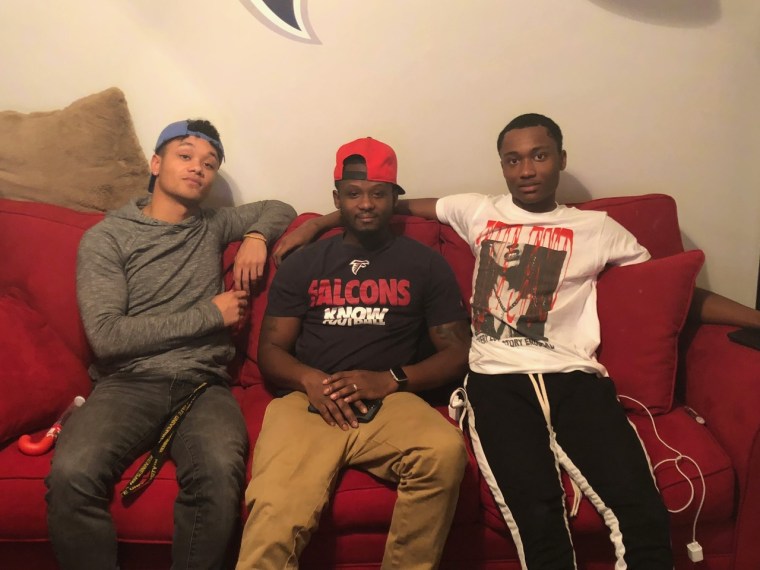 Graham knew he had a brother named Vincent, but didn't know his last name until he got the DNA results. From there, he found Ghant on Facebook and messaged him.
"We looked alike," Graham told TODAY. "He just looked like a darker version of me. I knew that it was definitely him."
Soon after, the two men met at a local tea shop and realized they both attend Kennesaw State University, and are both majoring in political science.
"It was amazing," Graham recounted. "We just stared at each other and we both were crying … I knew my mom was in a tough position: She was a single mom and was working 12 to 15 hours a day as a nurse."
Ghant told TODAY that he remembers giving his younger brother bottles and changing his diapers when he was just a baby.
"It was very surreal how much we looked alike … We were laughing and giggling and hugged. I was elated and excited," said Ghant.
The trip of a lifetime
The brothers now hang out once or twice a week, going to the gym or discussing their experiences with professors in their shared major.
"Every time we get together, we're creating memories and strengthening that bond," said Ghant.
"The day we met I actually asked him to join a local Atlanta [flag football] league that I've been a part of for 10, 11 years. Now we play on the same team twice a week. It's been pretty exciting to have him on the field."
Graham has also been reunited with his birth mother and has learned he has a 17-year-old brother, Christian, whom he has also met.
Graham's adopted family and his biological family even spent Christmas together this past this year.
"It's multiple families, but it feels like one big, happy family now."
The duo is even planning a big trip to Florida this summer with both families. "We have to catch up on a lot of missed times," said Ghant.
But Graham's quest isn't restricted to these shores.
After learning of their story, Ancestry offered Graham and Ghant the opportunity to travel to Benin, Africa to learn more about their biological roots. Unfortunately, Ghant's work schedule kept him from traveling, so Graham took the trip alone.
While on the trip, Graham discovered his family is related to the King of Porto-Novo, who represents the capital of Benin. The two men had a chance to meet and learn a little about each other.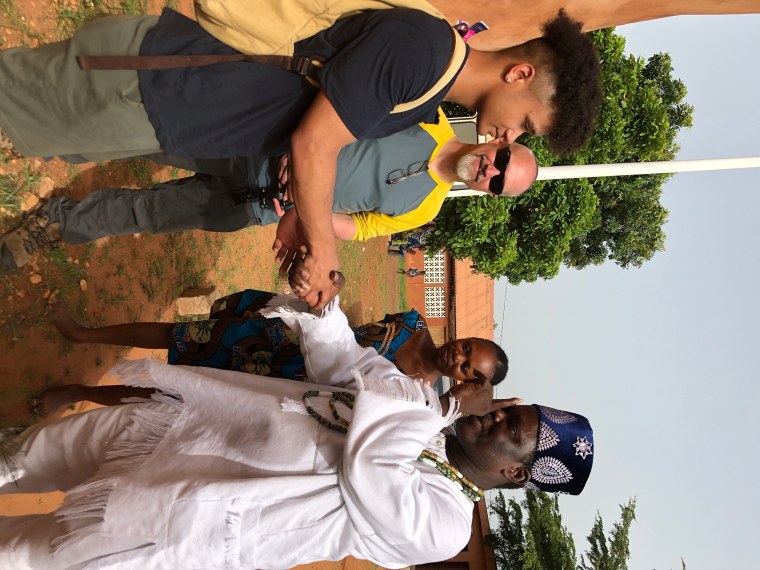 "I went from knowing nothing about my biological family, to meeting my birth family and getting to know about my ancestors."
Check out more from the trip here:
Editor's note: You can get an exclusive offer from our sponsor Ancestry — $59 for an AncestryDNA test plus a 30 day World Explorer Free Trial. For more information visit: http://www.ancestry.com/todayshow. Offers end 4/29. Terms apply. Limited to the first 3,000 free trial sign ups.