William Bell knows he should have taken better care of his teeth long before discoloration and decay set in, but the 49-year-old Arkansas veteran lacked dental insurance.
Then, about three months ago, his mouth began aching "as if I had 19 toothaches at the same time," he recalled.
His teeth also started breaking or falling out completely. So Bell turned to his usual source of medical relief: the Department of Veterans Affairs.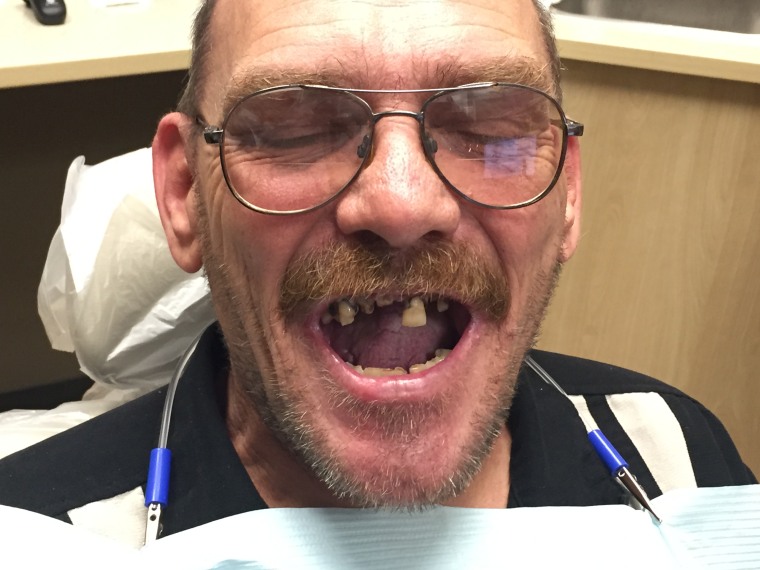 Doctors at his local VA health facility have treated Bell over the years for diabetes, kidney cancer and post-traumatic stress disorder related to his five tours of duty in Iraq and Afghanistan.
RELATED: Cop hailed for buying homeless man a pair of boots
Yet, since he was considered 80 percent disabled by VA standards, Bell wasn't eligible for the agency's dental care, which requires 100 percent disability.
Treatment also is provided to former prisoners of war or veterans with service-related dental conditions.
"I've been to the VA three or four different times trying to get them to help me somehow," he told TODAY.com. "If I have major surgery, I can go to the VA and I can get it done, but when it comes to dental work, they just overlook it and won't help."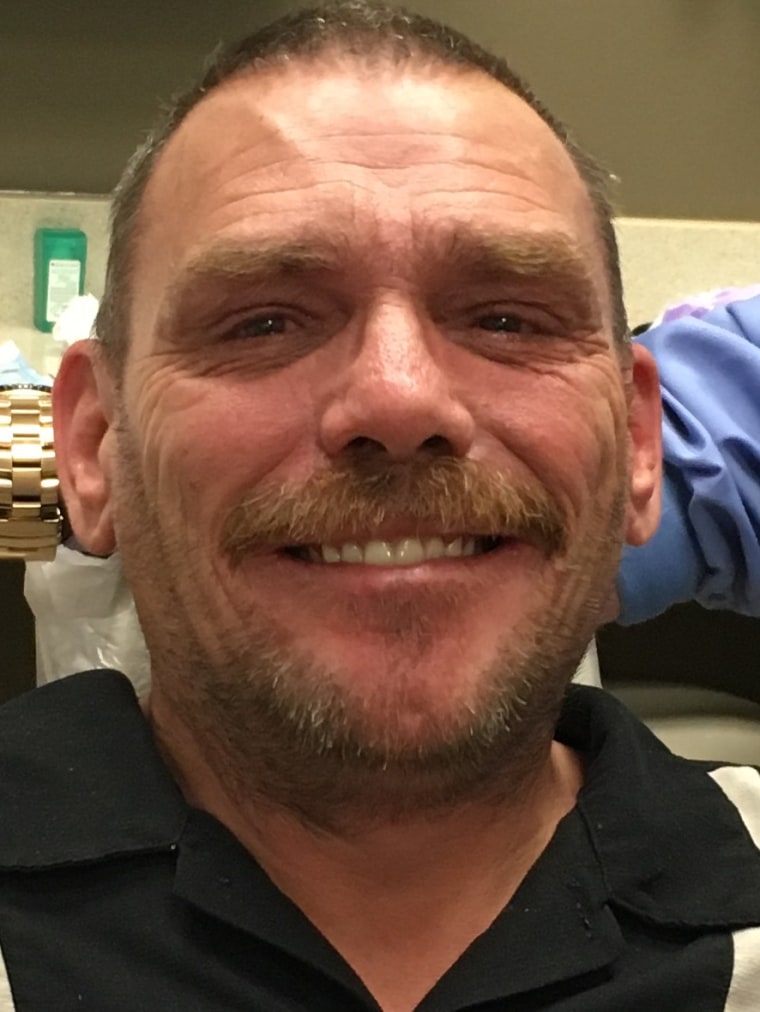 His VA doctor eventually connected Bell with the Healthy Mouth Movement, a program by Aspen Dental that provides free dental care to under-served communities.
SEE IT: WWII vet reunites on Skype with love he thought he lost 70 years ago
Last week, a program-affiliated dentist pulled out 19 of Bell's 20 teeth as part of an hours-long surgery to remedy his problems.
The experience, however, concluded with Bell walking out of the office with a new set of dentures — and a new outlook on his future.
"I didn't like to go out a whole lot because I'd have to meet people face to face, and I didn't like the way I looked," he said.
RELATED: Upscale salon offers homeless women free haircuts
His self-consciousness affected his ability to look for a job, as well as his social life.
"Since I've had my teeth pulled, I've been getting more confident and going out more," he said. "I even went to play bingo last night with my sister, and that's something I wouldn't have done before."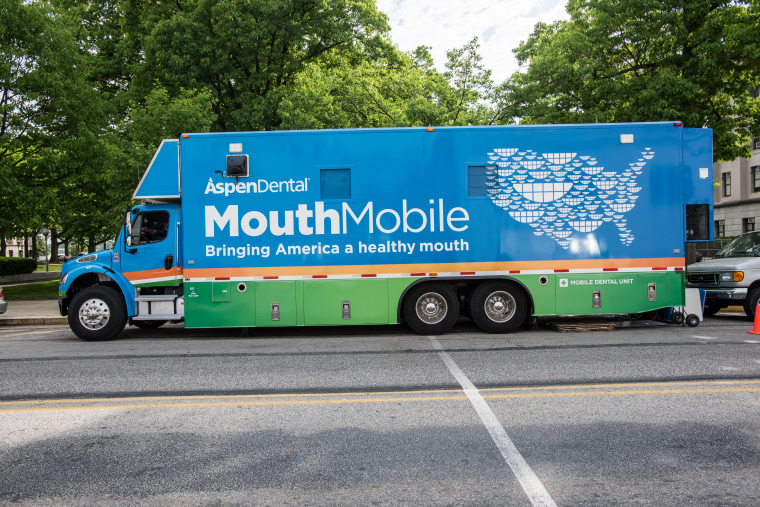 The Healthy Mouth Movement began in 2014, but this year the program partnered with the veteran-support organization, Got Your 6, to specifically target veterans after learning how many of them fail to qualify for VA dental benefits, said Dr. Chedly Vincent, Aspen Dental's director of clinical support and community giving.
The program has helped more than 4,000 veterans nationwide so far this year, donating nearly $3 million worth of dental work through partner offices and a 42-foot-truck that serves as a mobile dental office.
The VA does offer veterans who do not qualify for VA dental care the option of buying outside dental insurance through two companies, Delta Dental and MetLife, at reduced rates.
But for many veterans who still can't afford lower-cost premiums, that means they will continue to ignore their dental health.
Dr. Eric Sharks, the dentist who treated Bell through the Healthy Mouth program, said Bell's periodontal disease had become so severe that the bones in his mouth had deteriorated and his arches had to be rebuilt.
"It was an extensive surgery, but we got him fixed up," he said. "He was feeling and looking like a brand new man — once we got him to stop crying."
Sharks said veterans often are in desperate need of dental care because of the various medications they take to treat service-related conditions.
"A lot of the guys come back with post traumatic stress. They're taking different medications that affect your teeth. Lot of the guys become diabetic, and that affects your teeth," Sharks said.
Vincent added that a lack of regular dental care and treatment has an impact beyond a person's teeth.
"There's deterioration that occurs physically and aesthetically but also, it's not safe health wise because the mouth is the gateway to our bodies," she said, noting that periodontal disease can increase the risk for stroke, heart disease, and other health problems.
Bell has seen that first hand.
"I guess a lot of my (recent) health issues had to do with my teeth because since I've had my teeth pulled I've been feeling excellent," he said. "This is the best I've felt in a long time."
Follow TODAY.com writer Eun Kyung Kim on Twitter.