When a Florida woman was evicted from the house she had lived in for decades, neighbors rallied to help, including one who gave her the ultimate gift: she bought back the house.
Angie Tyma moved back into her longtime home in Hudson, Florida, last Tuesday, which happened to be her 89th birthday, after three weeks of staying at a Days Inn hotel. She told TODAY that losing the house was a scary time, but she was glad to be home.
"I went through hell and back," she said. "I've lived in this house for 35 years."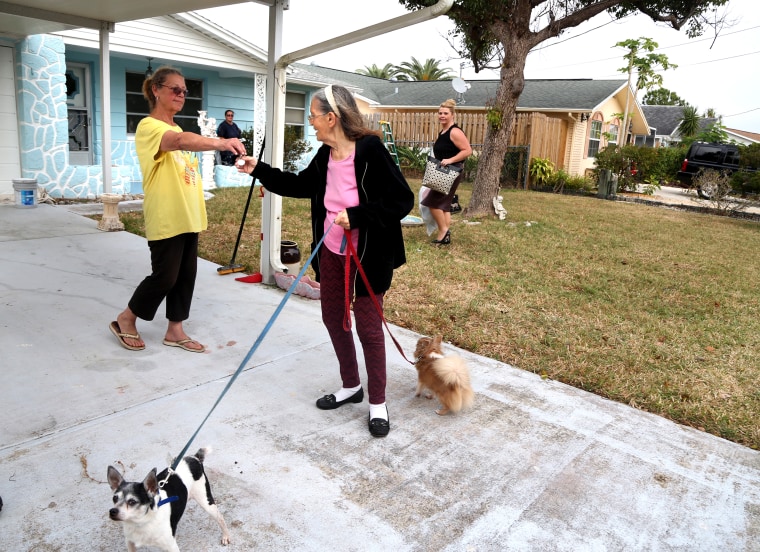 Tyma was evicted last month after learning the person she had sold the house to several years earlier, who lives in Europe, had stopped paying the mortgage, and the house went into foreclosure. Despite a warning, Tyma, whose husband died nearly 20 years ago, didn't think she would be tossed onto the streets.
RELATED: Grateful student pays off grandparents' mortgage to thank them for raising him
"They threw me out," she said. "I couldn't believe it."
Once the neighborhood saw Tyma's belongings being taken out of the house, they jumped to help. But it was Danielle Calder, who lives a few houses away, who made the decision to buy back the house.
She contacted the company that had purchased it at auction and bought it back for $167,500. Now she's Tyma's new landlord.
"Quite honestly, I didn't need another house," Calder, 65, told TODAY. "But I needed her. I couldn't see her living in a motel room... she's been here so long. Everyone looks out for her."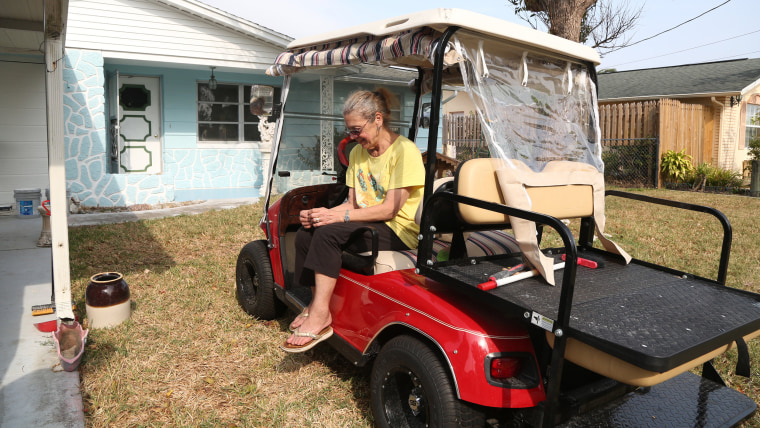 Calder, who splits her time between Massachusetts and Florida, described Tyma as "the fabric of the neighborhood." Hudson is on Florida's west coast, about an hour north of Tampa.
RELATED: Man fights to keep 104-year-old woman living at her home: 'It's her last wish'
"Everybody knows Angie," she said. "She has two little dogs that she walks. She's an elderly woman, but she's pretty feisty, and she has lots of energy."
Tyma, who now pays rent to Calder (they declined to disclose the amount), said returning home was her best birthday present yet.
"Usually one of my neighbors bakes me a cake every year, but this time, when I got out of the car, and saw all these people, and the media... I was in a state of shock," she said. "I was speechless. I couldn't even talk."
The Tampa Bay Times attended the homecoming and was the first to report Tyma's story.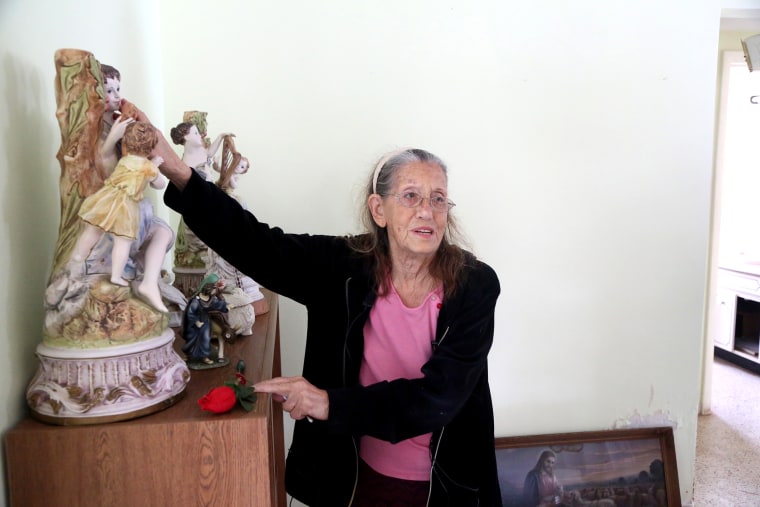 "I never expected I would make the front page!" she said.
Now Tyma's in the process of making her house a home again.
"I'm unpacking all the boxes. I had a lot of stuff that was broken," she said. "I'm cleaning."
RELATED: #ShareKindness: Join TODAY in elevating 1 million acts of kindness
She added that she's grateful for Calder, whom she called a "very good friend and a good neighbor."
As for Calder, she just wanted to help.
"It was the right thing to do," she said. "We're family — the whole neighborhood."