For one firefighter, the job isn't all about battling flames.
At the scene of a recent car accident in Chandler, Arizona, firefighter Russell Whaley stopped what he was doing to comfort a young boy jolted by the wreck. And a photo a passerby took of the touching moment last Friday has since gone viral.
"Firefighters wanted to check me and my daughter out first because we had the most visible damage," Shana Pacheco, whose 4-year-old son Lucas is the boy in the photo, told TODAY. "And my son started getting worried and scared. He was nervous seeing me with an oxygen mask and all this stuff on me."
That's when Whaley distracted Lucas with a book, giving the mom some time to tend to her 2-year-old daughter and give a statement to police.
"He was wearing a Ninja Turtles T-shirt, so we started talking about that," the firefighter told TODAY. "And the next thing I know, we have a book in front of us and he's sitting on my lap and we're reading a book on the side of the freeway."
Pacheco, 32, said she was "so grateful."
"Another crew member made him a little hand balloon from a glove and drew a silly face on it," she said. "You know, that's not part of their job."
RELATED: Police officer dishes out ice cream, not tickets, to people he pulls over
"And the whole crew stayed with us until my husband got there and was able to take us home," she added. "They obviously didn't have to do that; I'm sure they had other calls."
Keith Welch, Battalion Chief for Chandler Fire, Health & Medical who's worked for the department for 13 years, told TODAY he wasn't surprised to see the inspiring photo.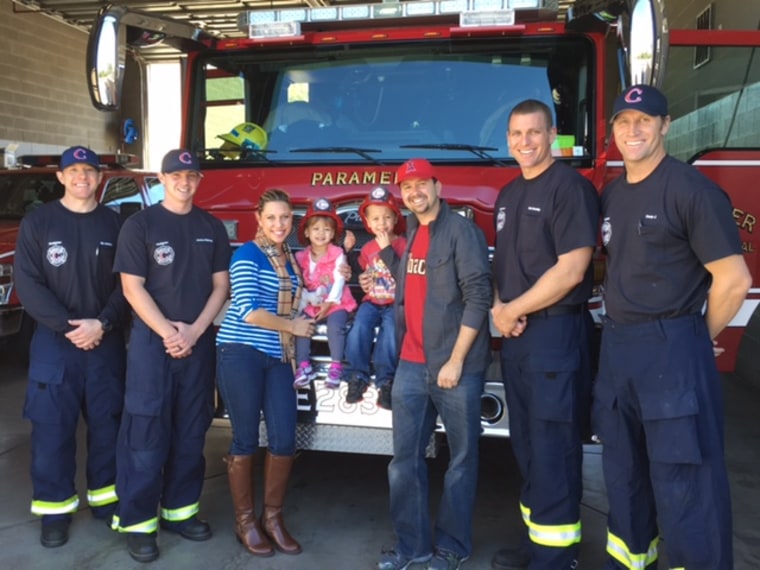 "That's part of our job," he said. "A lot of times we're dealing with emotional needs. It's not just putting out a fire, or putting a Band-Aid on a wound. I'm proud of our guys for doing that."
The accident left Pacheco and her daughter with seat belt burns and some bruises, but everyone involved in the two-car crash is expected to be okay. Over the weekend, the family paid a visit to the fire department.
RELATED: Firefighters sing 'Let It Go' to soothe girl stuck in elevator
"We took them some baked goods," Pacheco said. "We really just wanted to thank them and hug them in person. They gave Lucas a sticker, a little badge of bravery, and let him ride in the fire truck."
Steffani Blair, a nurse who stopped at the scene to help before firefighters arrived, said she's shocked by the attention her photo has gotten, but happy it's spreading a positive message: "I never expected it to go viral like that," she said.
As for Whaley, he said he was just doing his job.
"There's only one thing I was disappointed about that day — we never got to finish the book!" he joked.