Becky Bradley, 33, got engaged on Valentine's Day — and wanted nothing more than to marry her fiancé, Jarrod. Sadly, the bride-to-be has a serious brain tumor, and between chemotherapy and countless doctor's appointment, her dream wedding seemed to be just that, a dream.
But on her birthday, September 22, she received the surprise of a lifetime.
Her team of doctors and nurses at Levine Cancer Institute in Charlotte, North Carolina, threw her a birthday party during her treatment. When she opened the card they got her, she was surprised to find an invitation inside — to her own wedding.
The staff enlisted their community and made everything happen in just two weeks. St. Mary's Chapel was happy to host the ceremony on October 9 with 60 guests in attendance, and Olde Mecklenburg Brewery did the same for the reception — all at no cost.
Becky and Jarrod had met in July 2013. That summer, a bad sinus infection sent Becky to Levine Cancer Institute to get checked out. Doctors found a brain tumor and immediately operated on her to remove it. She was doing well until December 2015 when the tumor came back.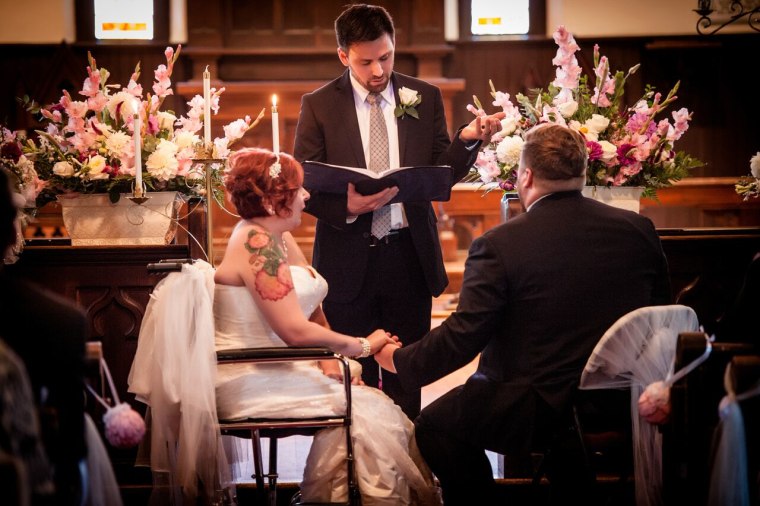 "I didn't want to waste any time," Jarrod, 36, told TODAY, about his Valentine's Day proposal.
RELATED: Teen with cancer marries sweetheart at hospital, with 78K people watching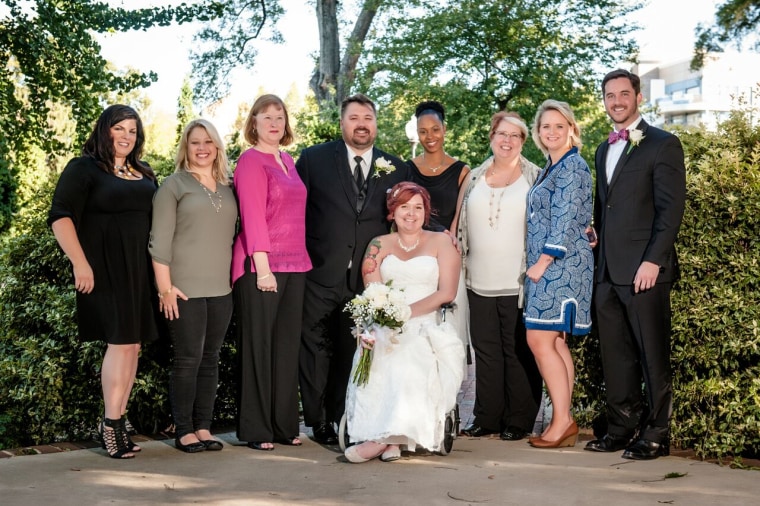 Becky was treated to hair and makeup and had everyone from a local DJ to Pastor Lee Jock provide their services at no cost, for a night to help make Becky and Jarrod's dream come true.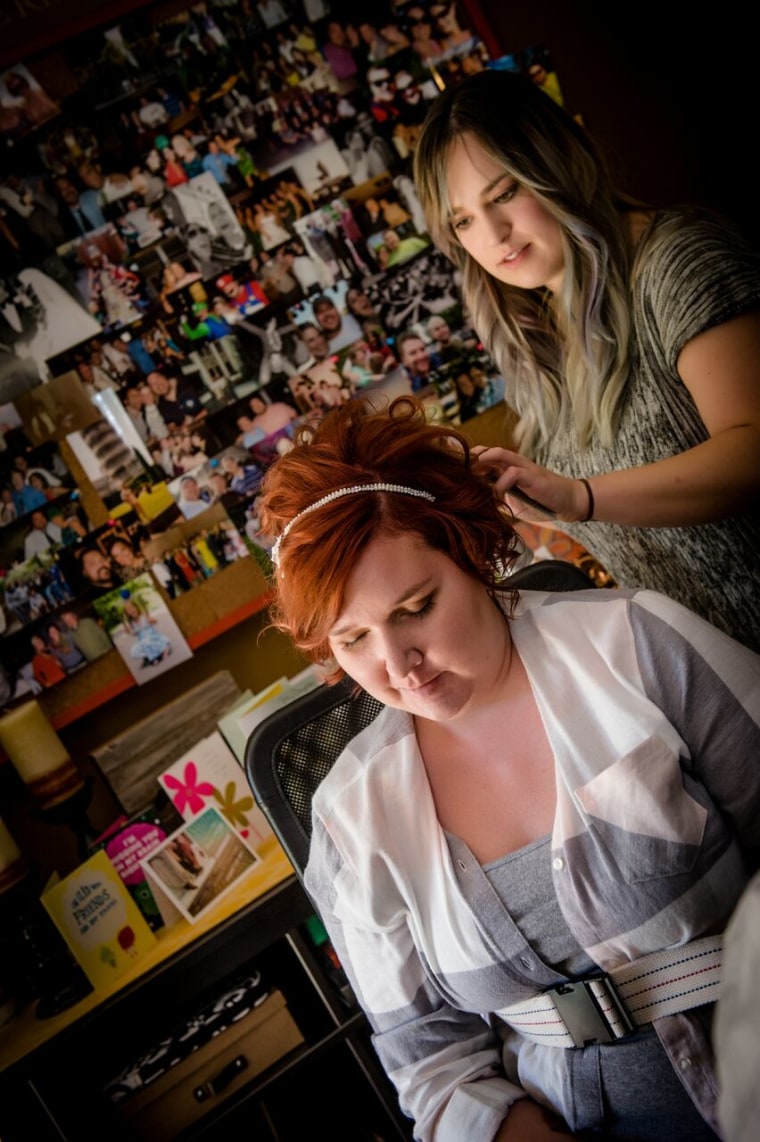 "I was at a loss for words," Jarrod said. "I can't believe all of those people donated everything just for us and all the friends we had fly in from all over the country."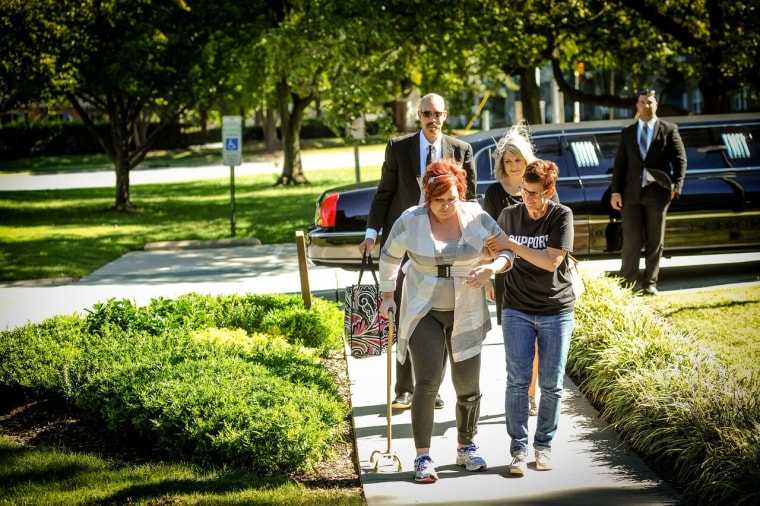 The only person who wasn't able to make it was Becky's brother, who is serving in Afghanistan. Though friends found a way to include him in the wedding — they made a life-size cutout that walked down the aisle and stood at the altar.
RELATED: Couple throws impromptu hospital wedding to include father on life support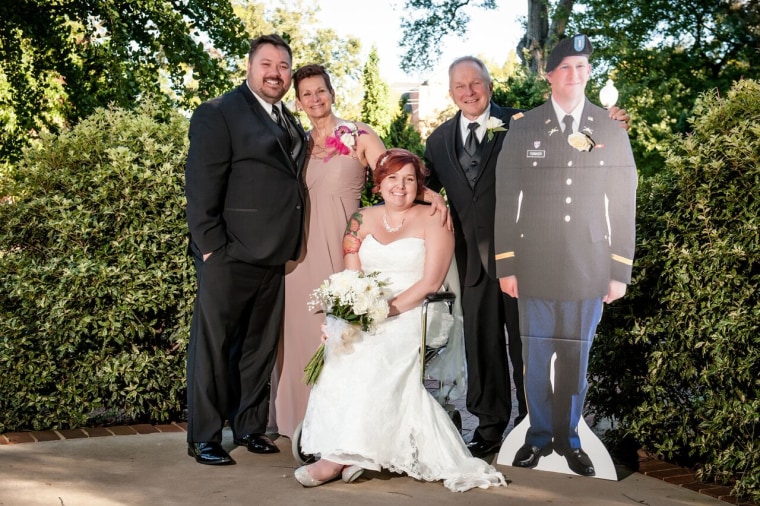 As the night went on, emotions ran high, especially during their first dance as man and wife to Michael Bublé's "Hold On".
"The hardest part of the night was our first dance," Jarrod said. "She was in a wheelchair so it was pretty heartbreaking."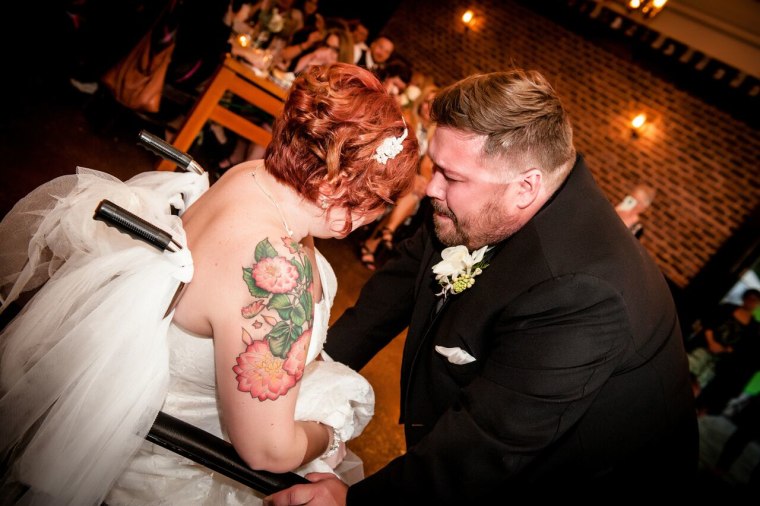 "Becky has such a good heart, this was the least we could do for her," Serena Perera, Becky's nurse, told TODAY.
This story is part of NBCU's Share Kindness. Follow the series on Facebook, Twitter and Instagram. #ShareKindness