In today's digital age, it's easy to take for granted all the photographs that surround us.
But when Margaret and Ferris Romaire got married on Nov. 24, 1946, taking a photograph was the furthest thought from the minds of everyone at the ceremony.
"It was right after the war. I'm sure someone had a camera, but nobody thought to bring one," Margaret told TODAY. "It wasn't a big thing for us."
No pictures marked the day — until 70 years later, when a photo shoot organized by one of their grandchildren helped recreate the special moments they failed to capture the first time around.
They laughed the entire time, in part because "they felt kind of silly at first," said their granddaughter, Amanda Kleckley, who arranged for a professional photographer and family friend to take the pictures near her Pearland, Texas, home.
"We said, 'You'll thank us later. You'll love it!'" she said with a laugh. "My grandparents just truly have a wonderful love for each other that shines through the photos. We just let them be natural and everything turned out great."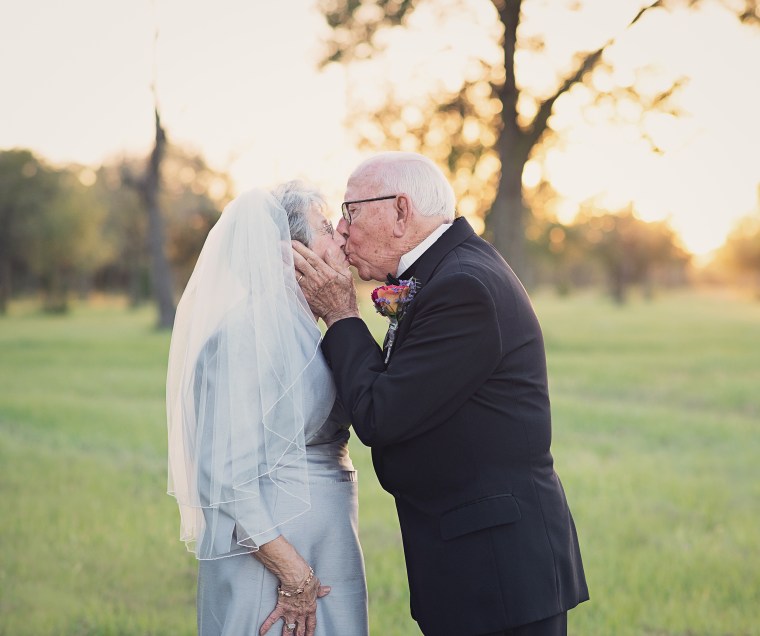 Margaret, 89, first met Ferris, 90, at a high school dance.
"He told his friend, 'I want to meet that girl.' I was dancing with someone else. The friend introduced us and that was history, I guess," Margaret recalled.
After graduation, Ferris went to serve in the Navy. They wrote to each other every day. After he returned, the couple got married in a simple ceremony at their local Catholic church in Morgan City, Louisiana.
"At that time, we didn't even send out invitations. It was by word of mouth, or it was announced in the church," Margaret said.
Friends and neighbors from throughout their small town filled up about a third of the church.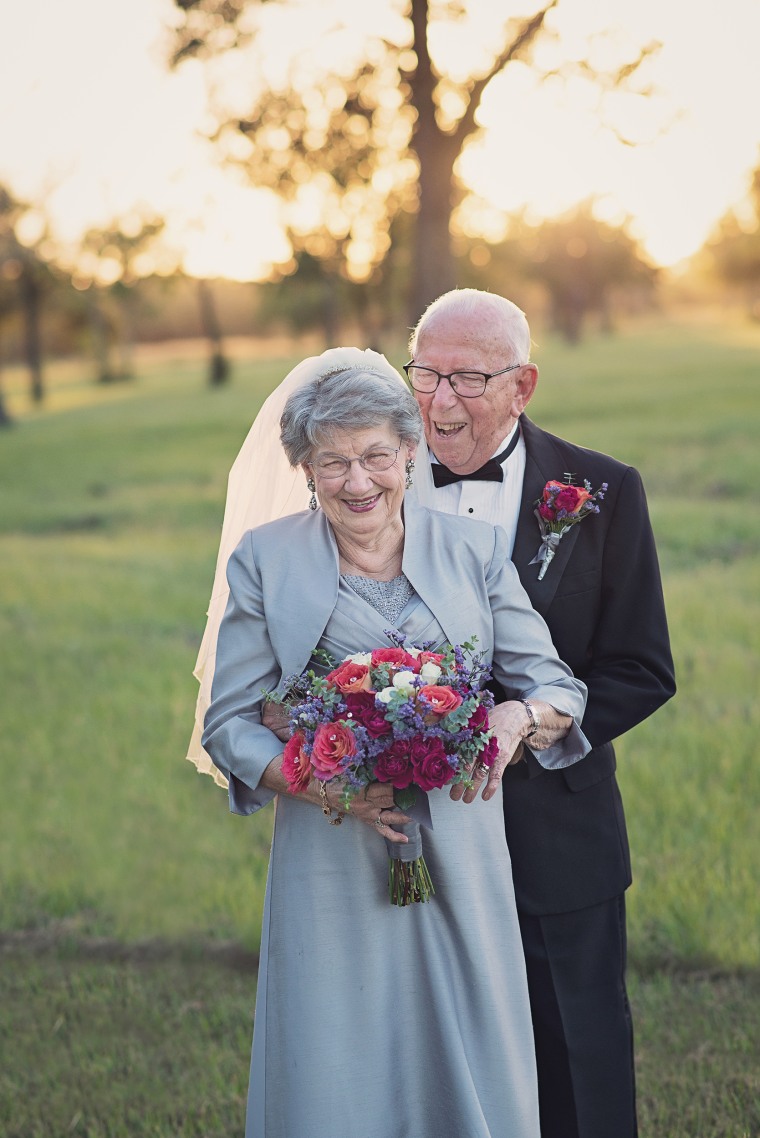 "It was a 15-minute ceremony, and we all walked around the corner to the reception," Margaret said.
RELATED: At 80, first-time bride weds widower, 95, 'worth waiting for'
The couple raised four children and have lived in the same house for the past 65 years. Neither went to college, but worked hard to make sure their children did. On Christmas Eve, 2001, they lost one of their daughters to colon cancer. A few years later, a grandson was injured by an IED while serving in Iraq. He eventually recovered.
The couple relied on their faith to pull them through both dark times, said their daughter, and Kleckley's mother, Kim Romaire Noto.
"As a child growing up, I remember walking into their bedroom in the evening to kiss them goodnight." Many times they were on their knees, each by their side of the bed saying their prayers," she said.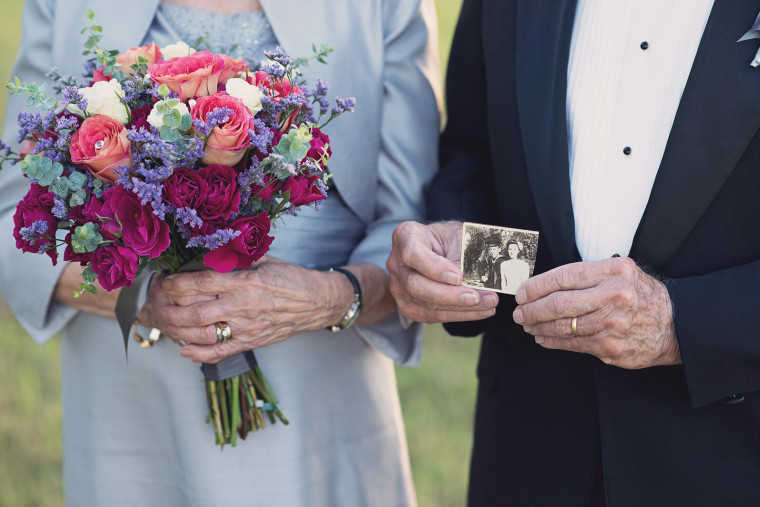 Kleckley, 34, said she wanted the photo shoot to not only honor her grandparents' anniversary but their commitment to each other and their extraordinary family, which now includes eight grandchildren and eight great-grandchildren.
So she reached out to the photographer, called her mother and set a plan in motion.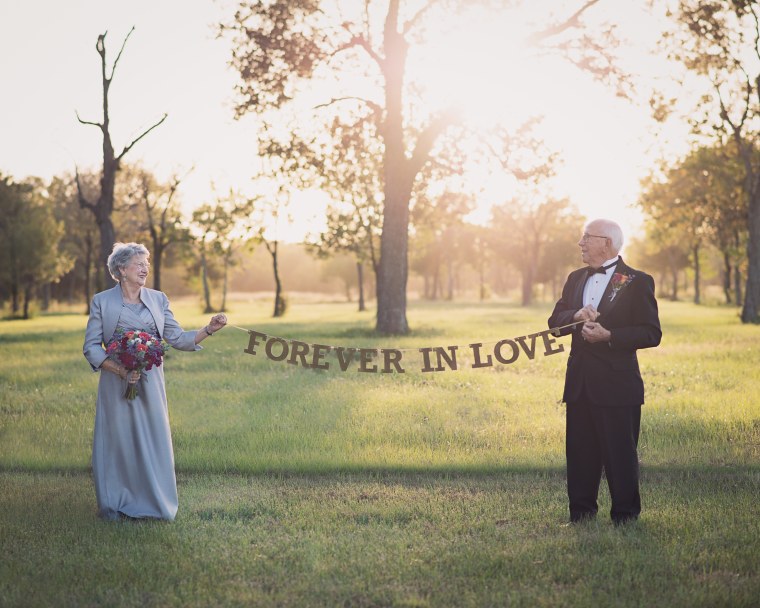 A few weeks later, Margaret Romaire found a dress for $5 at her local resale shop. The gray, full length gown and matching bolero jacket fit her perfectly. She got her veil from Kleckley, who loaned her the one from her own wedding.
Ferris, meanwhile, brought along a tux he already owned.
RELATED: 'It's a piece of us:' Wedding gown worn by two generations found after tornado
"They were all smiles," said photographer Lara Carter, a family photographer who had never shot an anniversary event before meeting the Romaires.
"They're beautiful people inside out. The fact they've been together for so long and that you can still see the love between them is just amazing."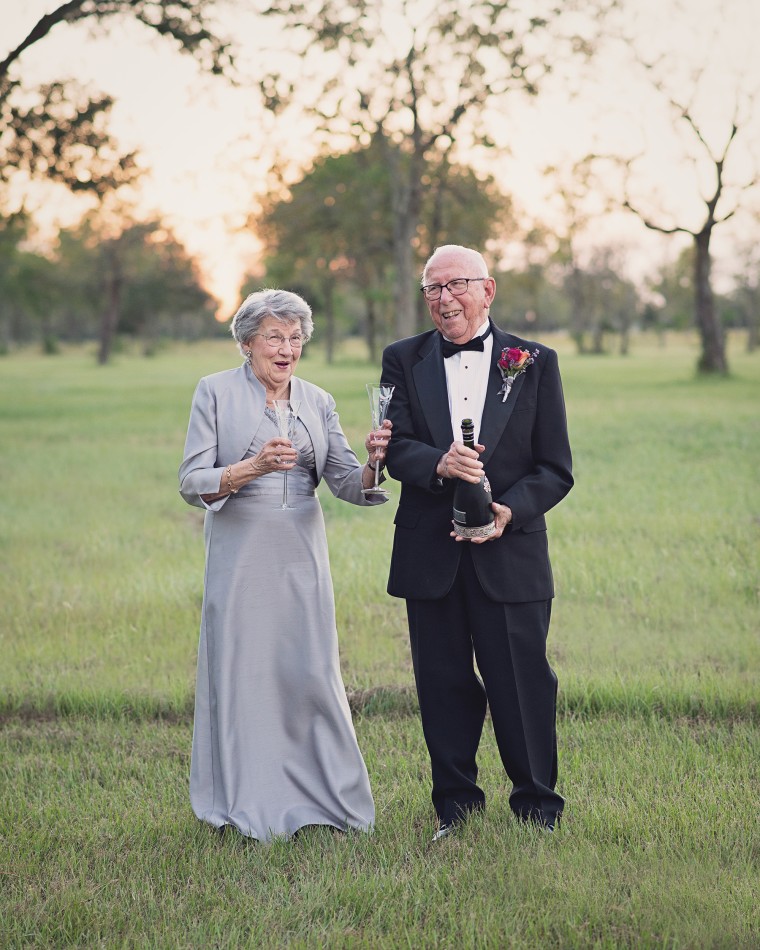 Ferris Romaire said a key to their marriage has been keeping busy.
"She does her thing and I do my thing. We're always doing something," he said, adding that it also helps that they still like one another.
"We enjoy each other's company," he said.
Margaret said she and her husband had great role models to learn from: Each had parents who were married for more than 60 years.
"We had a good family history. It was just a tradition. If you had a problem, you solved it. You didn't run off to Mommy and Daddy," she said.
She feels too many couples these days don't work hard enough at their relationships.
"There are so many divorces. They're not even marriages today," she said. "We are fortunate. Our four children followed in our footsteps. They've had long marriages, too."
But they also know that good health has played a critical role in the longevity of their matrimony.
"I always say God has blessed us. He's blessed us with good health and he's blessed us with good morals," she said.
As for the photo shoot of their "wedding," she feels humbled by all the attention it has received.
"I'm so flabbergasted. I'm just thankful that we're of sound mind and able to contribute to this."
Follow Eun Kyung Kim on Twitter or Facebook.
This story is part of NBCU's Share Kindness. Follow the series on Facebook, Twitter and Instagram. #ShareKindness