Lynn Turner Johnson was halfway through a 5K run when she started to lose steam.
It was Oct. 2013, she was four chemo treatments into a 12-round cycle for breast cancer and two months removed from a double mastectomy. Exhaustion took over.
Her sister, Amanda Hood, had run a bit ahead of her. As Johnson started to wander, looking for a way to turn back, they ran into each other.
"When I started, I was doing good, and then I just couldn't run anymore," said Johnson, a 42-year-old mother of four from Brookhaven, Mississippi.
"When my sister saw me trying to find a way out of the race, she said, 'What are you doing?' And I said, 'I can't. I can't finish.' She said, 'You're doing this. You get on my back. We are doing this together.'"
RELATED: 'Hug Lady' gave 500,000 hugs to returning soldiers — now they're hugging her back
Johnson resisted, but her sister was persistent.
And though Hood, 36, an avid runner and triathlete, is extremely competitive, she stood there while runners passed until Johnson agreed to get on board — literally.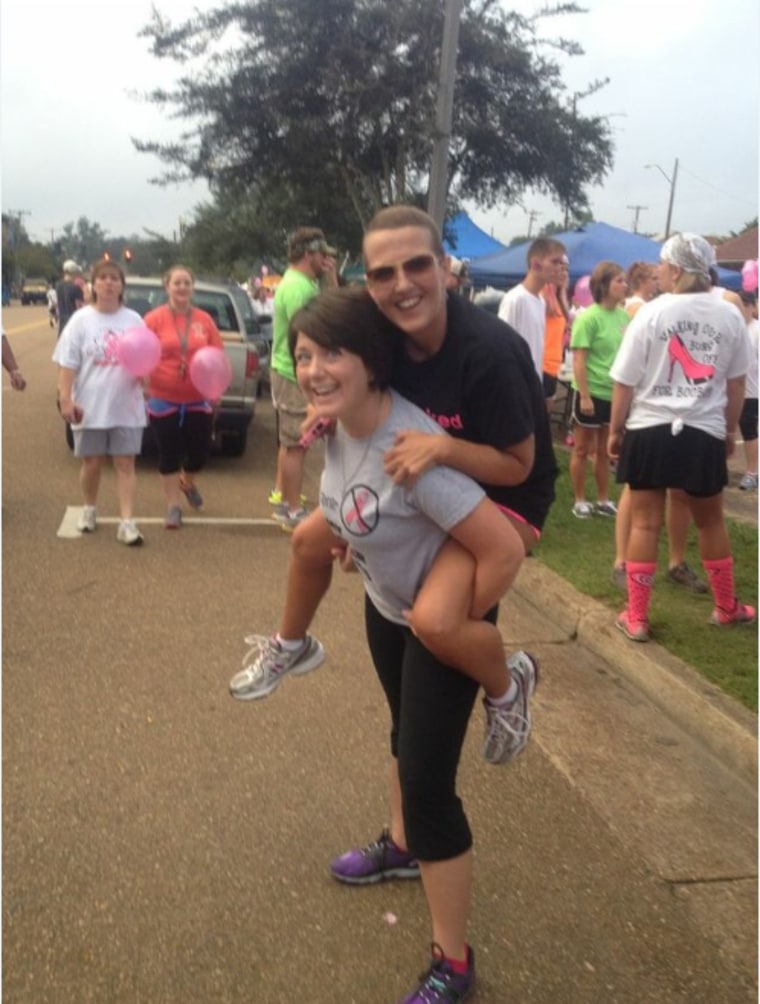 Hood carried her older sister the rest of the race, running well behind her usual pace, until they crossed the finish line as a team.
Their mom happened to be standing there at the moment Johnson got on Hood's back, and snapped a photo as the crowd cheered.
"It was one of those moments that you just don't ever forget when you look back and say, 'Wow, how amazing that was,'" said Johnson.
Johnson shared her sister's awesome act on TODAY's #ShareKindness Facebook callout, as part of the 40-day Season of Kindness.
RELATED: Marathon mom who kissed mystery man gets funny reply from his wife
Johnson, who has been cancer-free for two years, was inspired to make a career change as the result of her cancer experience. This past June, she graduated from nursing school.
Today Johnson works in pain management and makes an extra effort to inspire her patients suffering from the after-effects of chemo and radiation.
For her part, Hood possesses a super-heroic ability to multitask.
A math professor at a local community college, she also cares for her step-grandson who has autism.
And somehow, while her sister was going through the toughest year of her life, she found time to write funny poems and sing songs in videos.
"She's awesome," said Johnson. "I would look back at those videos and on days that I felt I [couldn't] go any further, she would just be like, 'You're not quitting.'"
"A lot of people when you get sick don't know what to say or do, but she did. She's wonderful."
When Johnson speaks to cancer patients, she knows just what to say.
"I'll say, 'She was my rock. Find your rock. I'm sure you have one somewhere. This is what your rock will do.'"
You can see more of Amanda Hood on her YouTube page:
This story is part of NBCU's Season of Kindness. Follow the series on Facebook, Twitter and Instagram. #ShareKindness