Children usually ask mall Santas for toys and games, but 4-year-old Prestyn Barnette hoped his Santa would help deliver something much more profound.
His aunt, Rebekah Sharpe, posted an Instagram photo Sunday of the boy lowering his head and kneeling beside a Santa at the Dutch Square Mall in Columbia, South Carolina. Sharpe says the boy asked the gift-giver to pray for the health of a sick baby named Knox Stine, a 2-month-old boy who's been fighting for his life at Sunrise Children's Hospital in Las Vegas.
Within hours of its posting, Sharpe's photo of Presytn's genuflect warmed hearts and prompted shares on social media. "It's amazing to see the response," Sharpe told TODAY.com via email Tuesday. "It was completely unexpected. And it is such a blessing to see so many people praying for baby Knox!"
According to NBC News' affiliate in Columbia, South Carolina, Prestyn also asked for a Lionel train set, and had learned about Knox through his grandmother, who's part of a prayer group on Facebook.
Knox's mother, Mindi Stine, told TODAY.com on Tuesday she and her husband, Carl, have been moved by Presytn's gesture ever since they saw Sharpe's photo Sunday on the Stines' public Facebook page for Knox.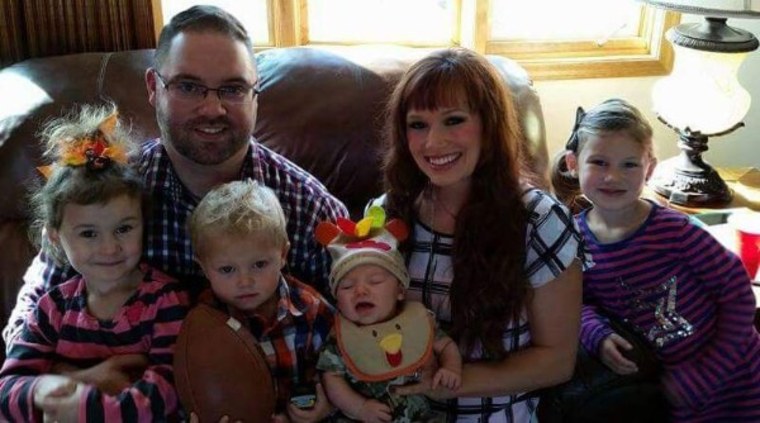 "I never met them," Mindi said. "I don't know them. I don't know how they know of us or heard of us or anything, but I recognized their names, and I knew that they had said that they were praying for baby Knox, and for a miracle for us. … I showed my husband [the photo], and we both just smiled at each other, like, 'Something amazing is happening.' It was just beautiful."
Mindi said that on Nov. 30, her husband Carl found Knox unresponsive and not breathing, and revived the newborn via CPR while speaking with a 911 operator. Knox was airlifted 100 miles from their home in Kingman, Arizona, to Sunrise Children's Hospital in Las Vegas, where they've remained ever since to monitor the health of their fourth child.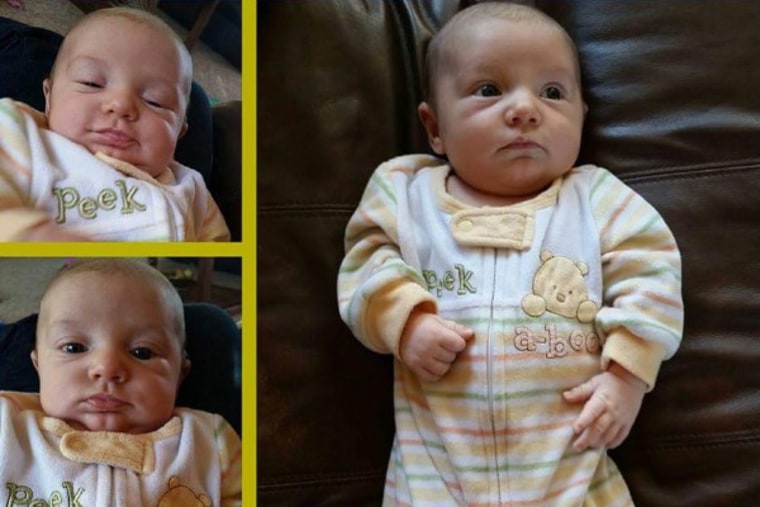 Despite being "declared brain dead" on the first exam, Knox has been fighting to stay alive, his mom said. "When [doctors] removed life-support, and were just staring at him, he started to take breaths on his own," she said. That breathing, however, was not "life-sustaining" or consistent, she said, so the family continues to hope for a miracle.
"At that point, they told us we have two choices: We can take him off life-support and let nature take its course, or we could choose to help him," Mindi added. "I prayed afterward for wisdom, and searched through the scriptures in our Bible and we knew that God wanted us to choose life for Knox and go forward with [tracheotomy] surgery."
Knox received a tracheotomy and a feeding tube Friday. Two days later, Prestyn would ask Santa to pray for the newborn, 2,200 miles away.
Mindi believes every prayer counts. "We don't even have words to express how we feel, and how thankful we are," she added. "We have confidence and we have faith that God is going to work a miracle for Knox. He has so many people asking him for that."
In addition to the prayers and kind words the Stine family has received, Mindi expressed thanks to friends and strangers who donated to a GoFundMe fundraising page established by one of Carl's coworkers. Mindi said Carl took three months of unpaid leave while the family deals with their medical emergency. Launched Dec. 3, the page had collected more than 200 donations totaling over $11,000 as of Tuesday afternoon.
"We're just in awe in everyone's giving spirit," Mindi added. "We've been here since the 30th, and we just don't know what that means on the financial end of things. It's the last thing on my mind, to be honest, but it is reality. … But I've had so many people reach out to us, [saying] 'I want to send [your kids] Christmas gifts.' People have been bringing us food here in the hospital. It's just been amazing."
Although Knox's recovery remains the Stine family's primary focus, they were so touched by Prestyn's gesture that they decided to take care of his other request to Santa.
"My dad just bought that train for him," Mindi said. "I was like, 'Oh, Dad, that's sweet. Thanks for thinking of that.' … We just appreciate the prayers of God's people, the way they've offered them up to God, begging God for a miracle for our baby boy."
Hopefully, both of Prestyn's prayers will come true.
Follow TODAY.com writer Chris Serico on Twitter.
Do you know or have a little one who's helpful and kind? Go to SproutOnline.com to submit your little one's kind act and it could be featured on Sprout.
This post is part of NBCU's Season of Kindness. Follow the series on Facebook, Twitter and Instagram. #ShareKindness