It's always exciting to learn which co-worker or family member chose your name in the annual Secret Santa exchange.
But finding out one of the world's richest people chose little ol' you? That caused a Reddit user named "Aerrix" to completely freak out.
Aerrix revealed in a excited, frequently all-caps post that she was "flipping out" to learn billionaire Bill Gates chose her in Reddit's annual Secret Santa Gift exchange.
Gates, she wrote, overnighted her a "freakin HUGE BOX." Inside the box? For starters, a photo of the 61-year-old Microsoft co-founder wearing a Santa hat with a note revealing he'd chosen her.
That's when Aerrix called her husband to tell him the the exciting news. "(D)ear, please tell me you can talk right now," she recalled telling him, before blurting out, "BILL GATES IS MY FREAKIN SANTA!!!!!!!!"
RELATED: Bill Gates loves chores, does not play video games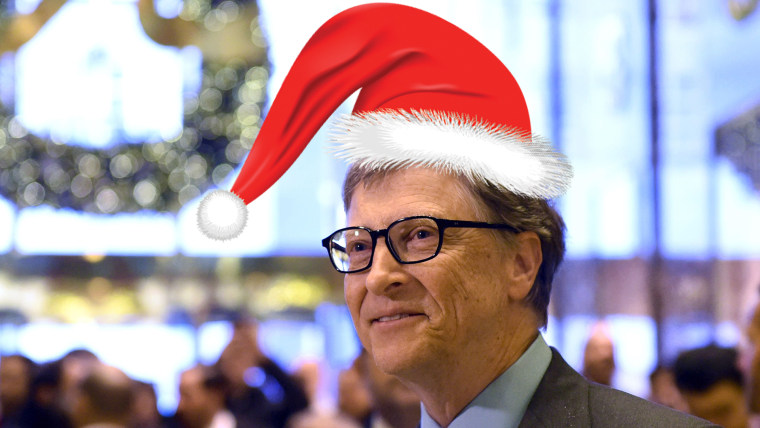 So what kind of gifts does a man worth about $84 billion, according to the latest tally by Forbes, send during the holidays? Gates chose thoughtful gifts that showed he did his homework — that is, he studied Aerrix's Reddit profile to learn she loves video games and Harry Potter — and that she's a Louisiana native who cherishes her dog, Claire.
Aerrix's "haul" included matching "Legends of Zelda" mittens for her and her pooch, a Minecraft edition Xbox One, Harry Potter slippers and a Cajun cookbook the billionaire inscribed himself, among other goodies.
Gates even sent along a framed family portrait of the couple, along with tiny Claire — with himself Photoshopped right into the pic!
RELATED: 12 times Sarah Michelle Gellar proved no one does Elf on the Shelf better
To top it off, the legendary philanthropist made a donation in Aerrix's name to Code.org, a nonprofit that helps students learn about computer science.
This is Gates' fourth year participating in the exchange, but he isn't the only celebrity to do so.
Hip-hop icon Snoop Dogg sent one lucky user a box of luxurious Snoop swag with a sweet note wishing her — you guessed it — a "Merry Xmizzle."