/ Source: TODAY Contributor
Kindness and kids are like peanut butter and jelly. They just seem to go hand-in-hand. After all, who doesn't melt when you see a child being kind, whether that's sharing a favorite treat with a friend or giving someone a hug, just because.
Still, maybe it's the barrage of social media, or the kid-on-kid bullying that seems to permeate too many aspects of a child's life today, but 62% of the more than 2,600 participants in the NBC News State of Kindness Poll, conducted online by SurveyMonkey, believe that kids are less kind today than they were in the past. Women (66%) feel more strongly about this kindness deficit than do men (58%).
Kindness and politics: The presidential candidate you'd most want a drink with
The overwhelming majority of our respondents (77%) are blaming parents for the seeming lack of kindness among children today, with few blaming the community, schools, or friends.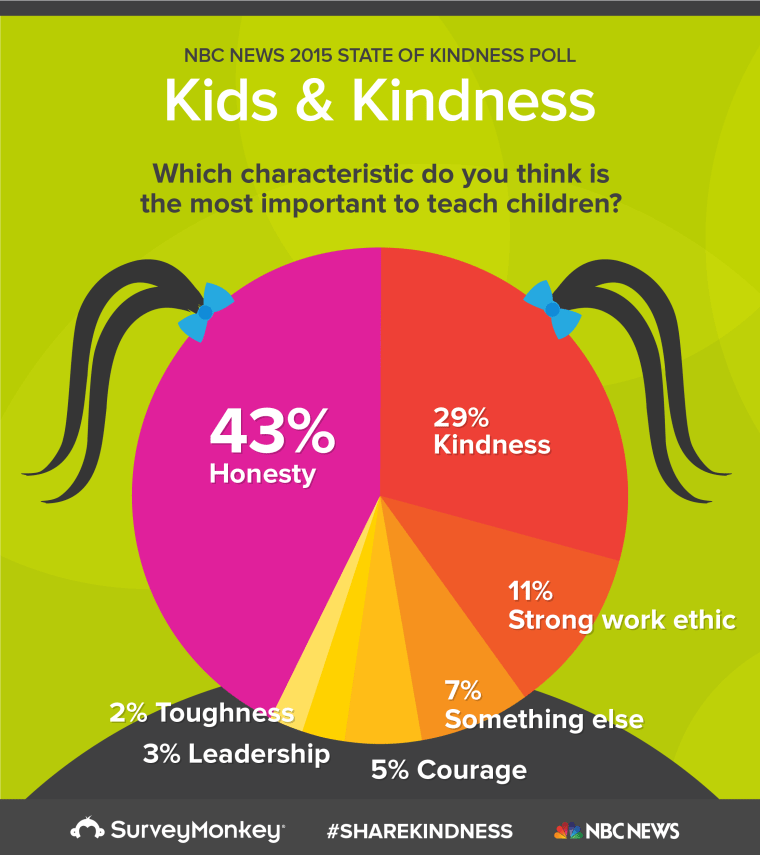 At the same time, Americans say they don't put kindness first when it comes to teaching kids values.
Among all participants, teaching children honesty trumped kindness, as well as other characteristics like courage, leadership and a strong work ethic.
RELATED: TODAY viewers share photos of their kids being kind
But a younger generation — those 18-24 — thinks kindness rules, and these millennials chose kindness by 10 percentage points over honesty as the most important quality to teach kids.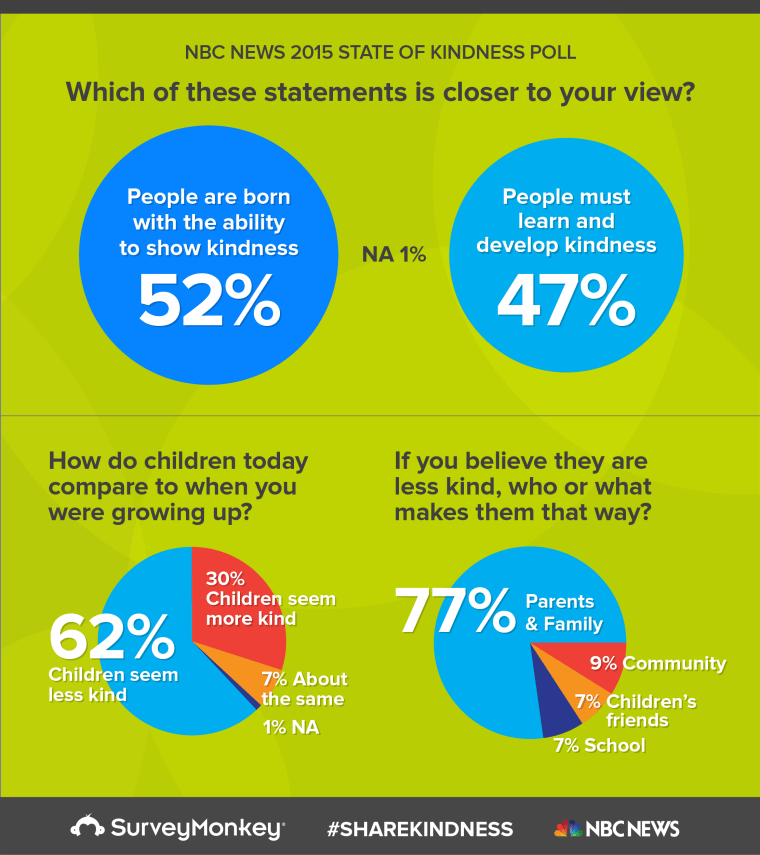 The question of whether kindness is learned or taught — or somewhere in between — was divisive. Our survey results show that Americans are split on whether kindness is innate or needs to learned and nurtured over time. Slightly more than half (52%) of survey participants believe that all of us are born with the ability to show kindness, while 47% believe kindness must be developed.
Parenthood makes a difference as to your thoughts on the origins of kindness. Those without kids (56%) were more inclined to think that people are born kind, while 50% of participants with kids thought nurture trumped nature.
Gender makes a slight difference, too in the nature-nurture debate.
Men (51% of dads and 54% of men with no kids) believe nature is innate. Women were more divided. Slightly more than half of moms say kindness must be learned, while 48% believe it is inherent. But 58% of women without kids believe kindness is an inherent trait.
This story is part of NBCU's Season of Kindness. Follow the series on Facebook, Twitter and Instagram. #ShareKindness