An aspiring chef and television personality thought it was just going to be another day of culinary college classes until her twin sister helped turn it into one she will never forget.
Sasha Sinjic's jaw was on the floor when Al Roker paid a visit to Valencia Community College in Orlando on Wednesday for the latest installment of TODAY's Turkey Trot series in which he is running around the country in search of the next Thanksgiving super chef.
Sasha, who was nominated by her twin sister, Sonja, received an extra surprise when Food Network star Sunny Anderson also joined her in class.
RELATED: Al Roker, Bobby Flay make local turkey frying hero's Thanksgiving dreams come true
"Oh my God I'm shaking,'' Sasha said. "You guys got me so bad."
After surprising a local turkey maven in Maryland on Tuesday, Al went to the Sunshine State to pay a visit to Sasha, who is a minute older than Sonja. The younger sister knew her twin was perfect for the Turkey Trot spotlight.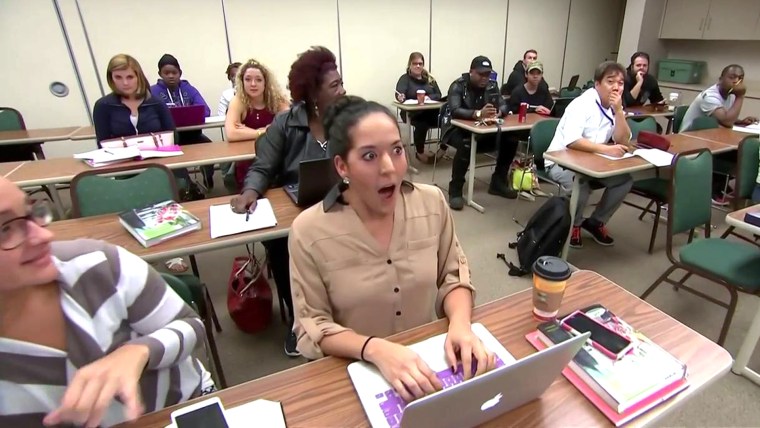 "She's super outgoing, just very captivating, definitely an entertainer,'' Sonja said. "(She's) very determined and just a hard worker overall."
RELATED: Sunny's easy holiday Brussels sprout salad is both festive and fresh
Sasha's goal is to have a cooking show of her own in which she can share her passion with others. She already has a signature dish.
"Every year for Thanksgiving, she's cooked her Brussels sprouts dish, which is so good, and all the family always wants her to cook it,'' Sonja said. "It's something that everyone always requests."
Sasha's family also joined them for the big surprise, leaving her breathless before Al and Sunny invited her out to the Turkey Trot bus to whip up a Brussels sprouts recipe. Sunny showed how to make a Brussels sprout salad for the holidays.
"I'm speechless,'' Sasha said.
Follow TODAY.com writer Scott Stump on Twitter.