At 9 years old, Leila Revis knows when someone needs a hand to hold or a shoulder to cry on.
She sits down with kids at lunch who are eating alone and tells bullies to back off when she sees them being mean.
Her mom, Liz Revis, 34, has always recognized this special gift in her daughter, but was blown away by her latest act of kindness.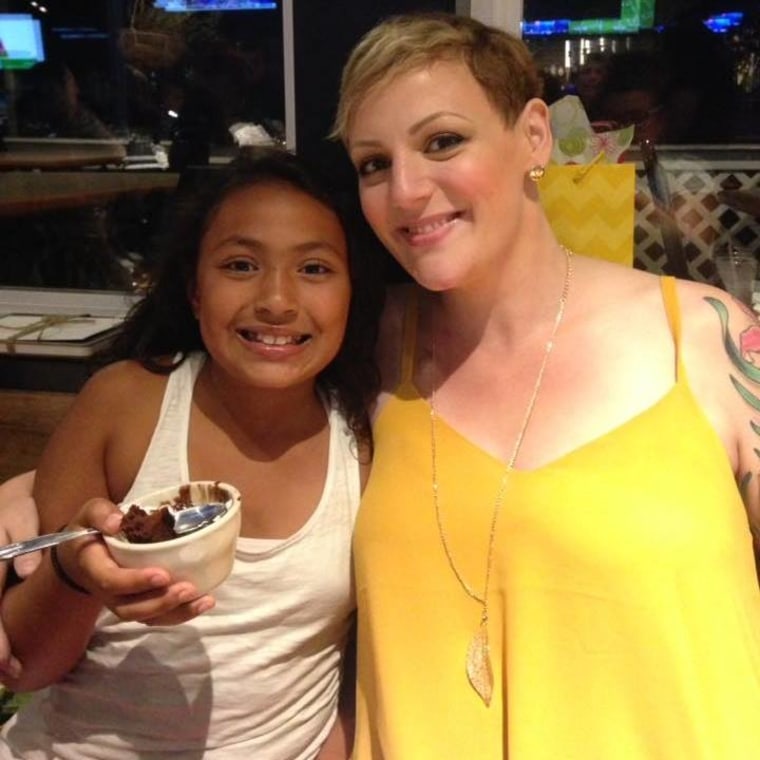 Since being diagnosed with ovarian cancer in February, Revis' hair started falling out in clumps, so she decided to throw a shaving party.
RELATED: Valiant teen shaves head to support homecoming date with cancer
"I figured I could either wait for it to all fall out or take charge myself — and have fun doing it," Revis, told TODAY.
On November 13, the former hairdresser, who stopped working shortly after receiving the diagnosis, had a small gathering at Steel Magnolias Salon in Bremerton, Washington, where her friend Alida Schreier works.
While drinking champagne, Schreier got to work on shaving Revis' head, when another customer asked if she could shave part of her hair too.
This wasn't just any old customer. It was Leila, who was eager to support her mom.
"I didn't want my mom to be alone and have no hair all by herself," Leila told TODAY.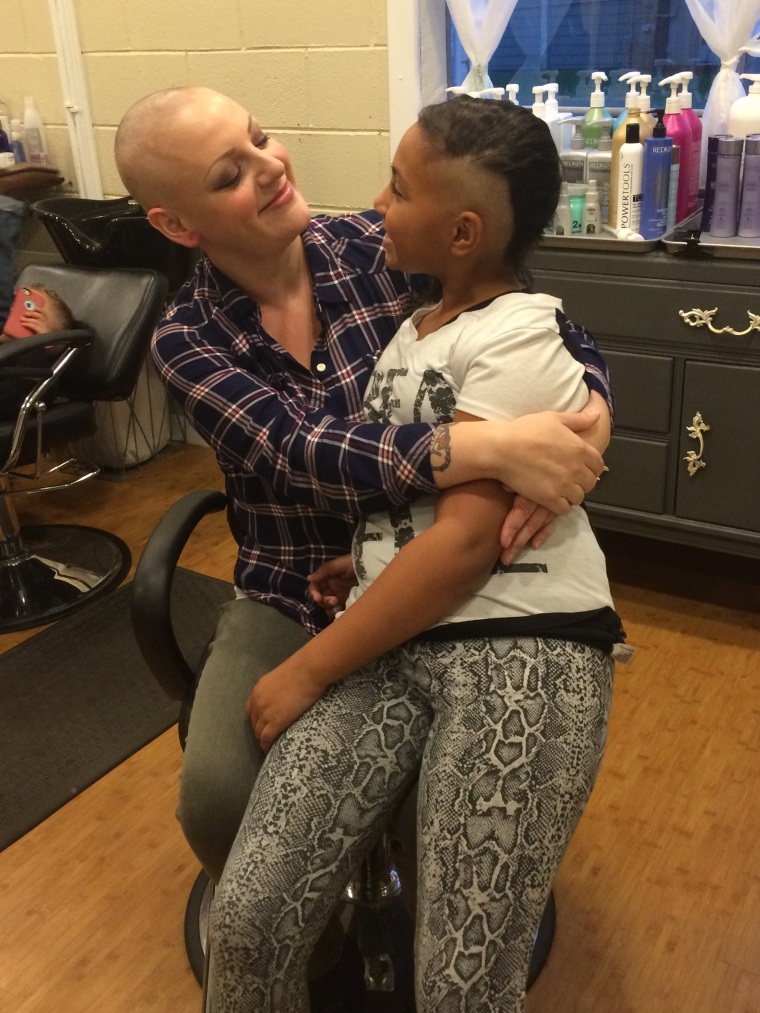 RELATED: Shannen Doherty: Cancer has 'made me a better human being'
"I'm not as surprised by her willingness to shave her head as I am about the fact that she thought to do it on her own," Revis said. "We could all take a page from her book on solidarity and unity."
Leila is having a hard time watching her mom struggle, but now proudly walks around with a constant reminder on her head of her mom's strength.
"Everyone at school thinks my new hairdo is really cool," Leila said.
Revis' 4-year-old son Hendrix doesn't quite have the same understanding that his sister does. The day after the "shaving party," he asked why her hair hasn't grown back yet. When she broke the news that it may not be for a while, he said, "You still look pretty mama."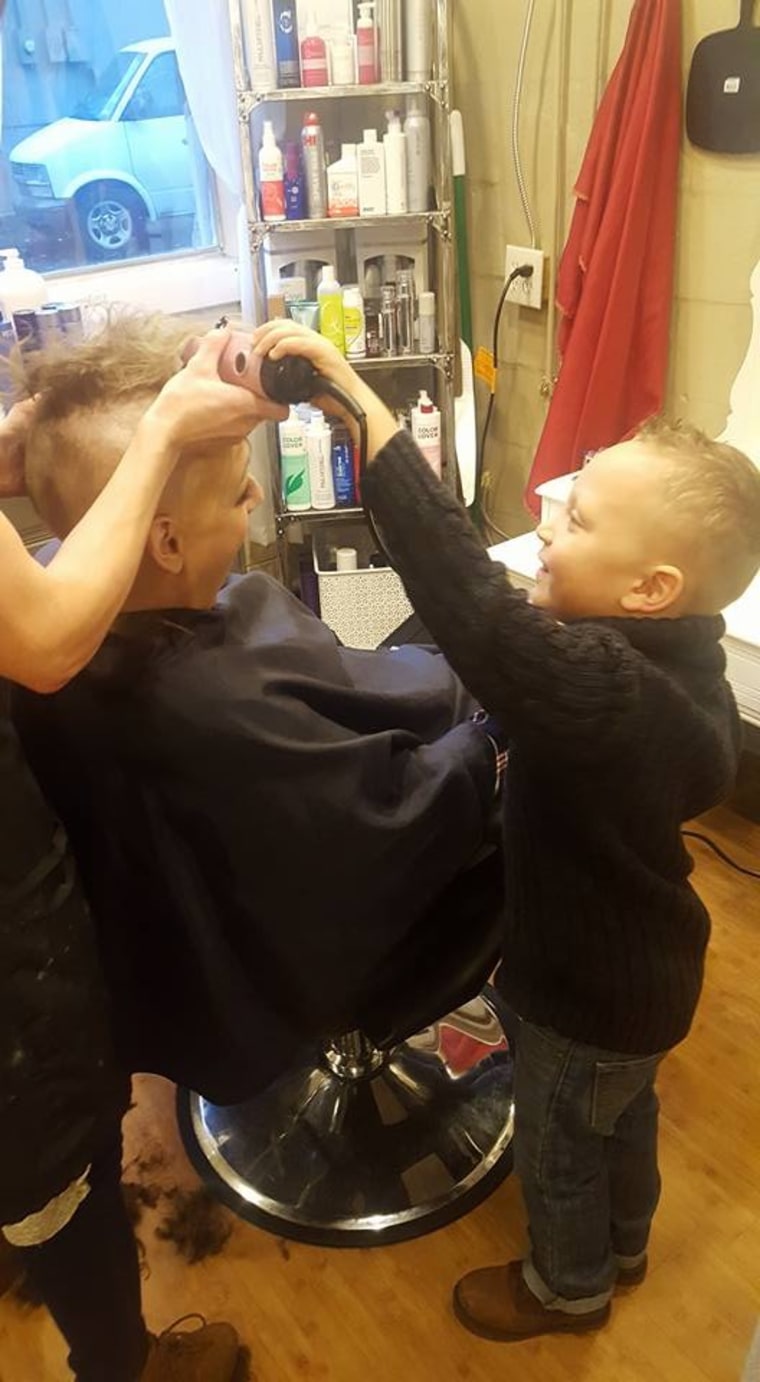 RELATED: Hoda Kotb surprises beloved woman battling breast cancer
Even though she spent much of her life working as a hairstylist, she doesn't mind her shaved head as much as she thought she would.
"There's much bigger problems in my life right now than my hair and I don't even hate how it looks, to be honest," Revis said. "The fact that I can't go anywhere alone with my son because I can't run after him — that I care about."
She recently started a new chemotherapy treatment and is hoping it will make a difference.
"For however long God grants me time on this earth, I'm going to do everything I can and attend every game my kid is in and walk my daughter down the aisle at her wedding," Revis said. "I'm never going to give up."