It's the LEGO container of your childhood dreams.
An enormous vessel built by The LEGO company was built to hold one million LEGO bricks, each representing one act of kindness.
Who performed all these kind acts? You did! It's all a part of #ShareKindness, TODAY and NBCUniversal's celebration of acts of kindness big and small. LEGO partnered with TODAY to create this giant kindness barometer, which appeared on the show every Friday morning for a dramatic brick drop.
Fans got involved by using the #ShareKindness hashtag on Twitter and Instagram and by sharing TODAY kindness stories.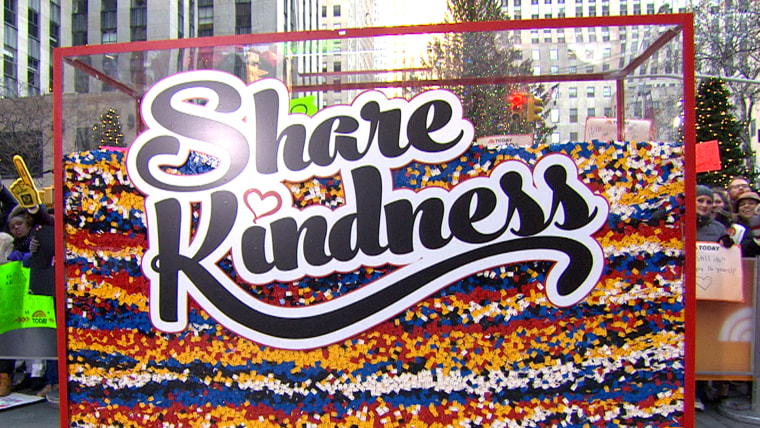 Just how big is this thing? Check it out, by the numbers:
13 people collaborated for months to build the LEGO container. The masterminds include three fabricators, two event planners, five movers, one printer, one designer and a mechanic.
5 colors of LEGO bricks filled the vessel — red, blue, white, yellow and black.
10,000 acts of kindness were pledged by our sponsor YMCA. Acts included food drives and volunteer hours in a food bank — all counting towards the goal of one million!
2 LEGO bricks made one #ShareKindness heart. The two pieces were snapped together to represent of one act of kindness.
500,000 LEGO hearts filled the LEGO vessel. Each completed Lego heart represented two acts of kindness.
1,100 pounds is how much the LEGO vessel weighs — before any LEGO bricks were dropped inside! It took several strong people to wheel it around.
5 LEGO brick drops on the TODAY Plaza took place throughout December 2016, on Friday mornings on TODAY.
6 feet 6 inches is how tall the vessel stands. That's taller than the average man, and only 7 inches shorter than Shaquille O'Neal (there's a good chance this thing could dunk). The vessel is over 8 feet long and 2 feet wide.
1,114,622 acts of kindness were elevated by the end of the year as part of the #ShareKindness celebration.
This story is part of NBCU's Share Kindness. Follow the series on Facebook, Twitter and Instagram. #ShareKindness